One of my bad habits with food is that when I find something I like, I stick with it until I get so sick of it that I never want to see it again. In a never ending effort to keep things fresh, I've been trying oldies but goodies near and dear to my heart. Dynamite is one of my favorite things to order when I go out to Japanese restaurants (except sushi!) I try not to have it as much as I crave it since it's mayo based but every now and then it's nice to indulge. It's a treat and we decided to make it the other night, so instead of just another chicken dinner, we made it extraordinary by topping it with scallop dynamite.
Scallop Dynamite
Scallops
1 lb scallops
1 tbsp butter
Juice of one lemon
Sauce
¼ cup mayo
¼ cup Sriracha
2 tbsp dark sesame oil
2 tbsp soy sauce
2 tbsp green onions
2 tbsp panko crumbs
Cook scallops on the stovetop medium heat with butter and lemon for about seven to eight minutes. While they are cooking, mix all ingredients except panko in a mixing bowl. Once scallops have finished cooking, place on a cookie sheet or baking pan then top with dynamite sauce and panko crumbs. I separated the portions so it would be easy to scoop up and used about 2 tbsp so I could use it on leftovers throughout the week.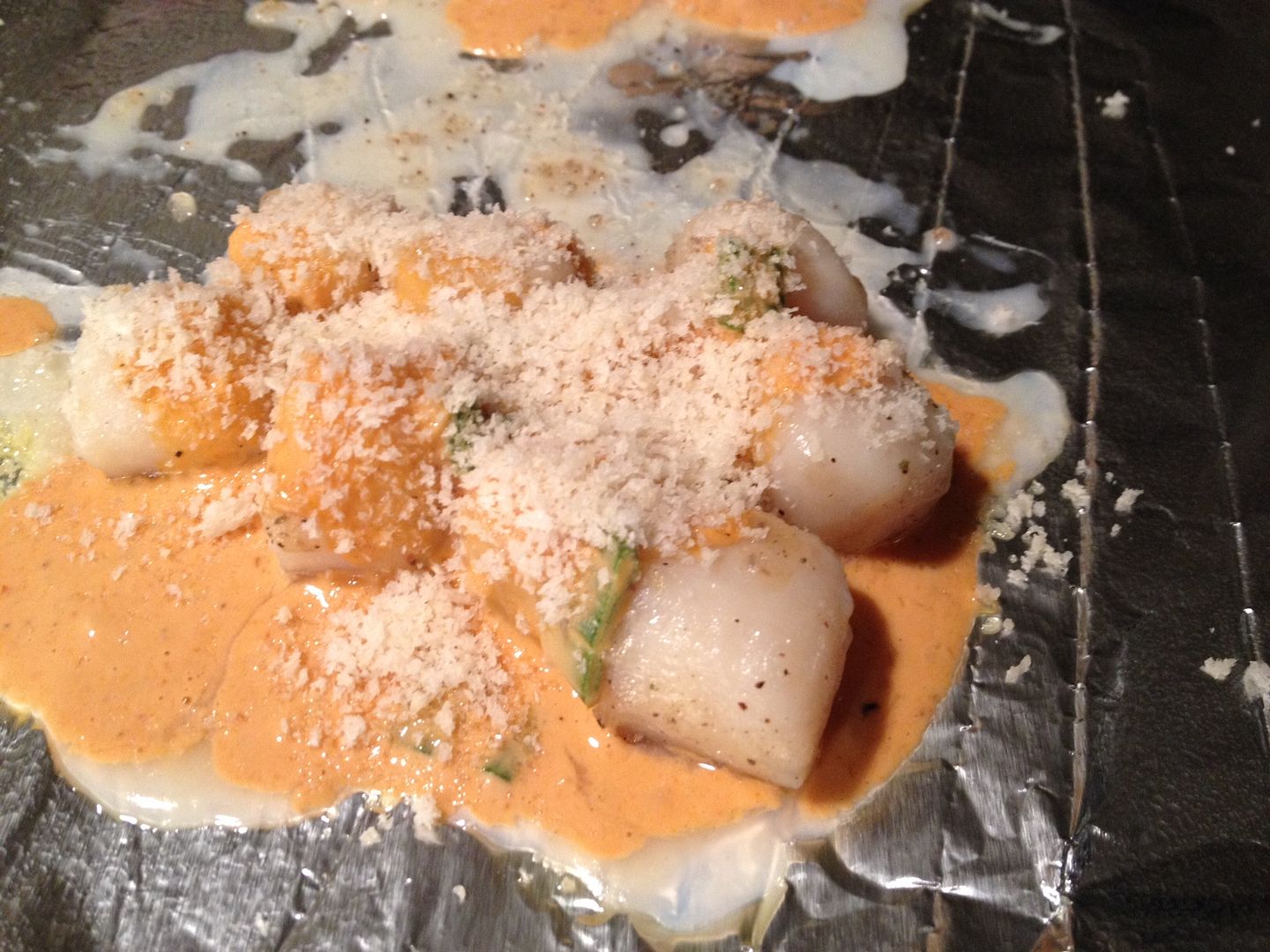 Broil for 10 minutes at 525 degrees then place atop chicken, rice, pasta, whatever your heart desrires! I made quinoa and tossed with lime juice and basil, topped with chicken then the scallop dynamite. The panko gave it a nice crunch that complimented the tender scallops. This was like a restaurant quality meal for a helluva lot cheaper and healthier!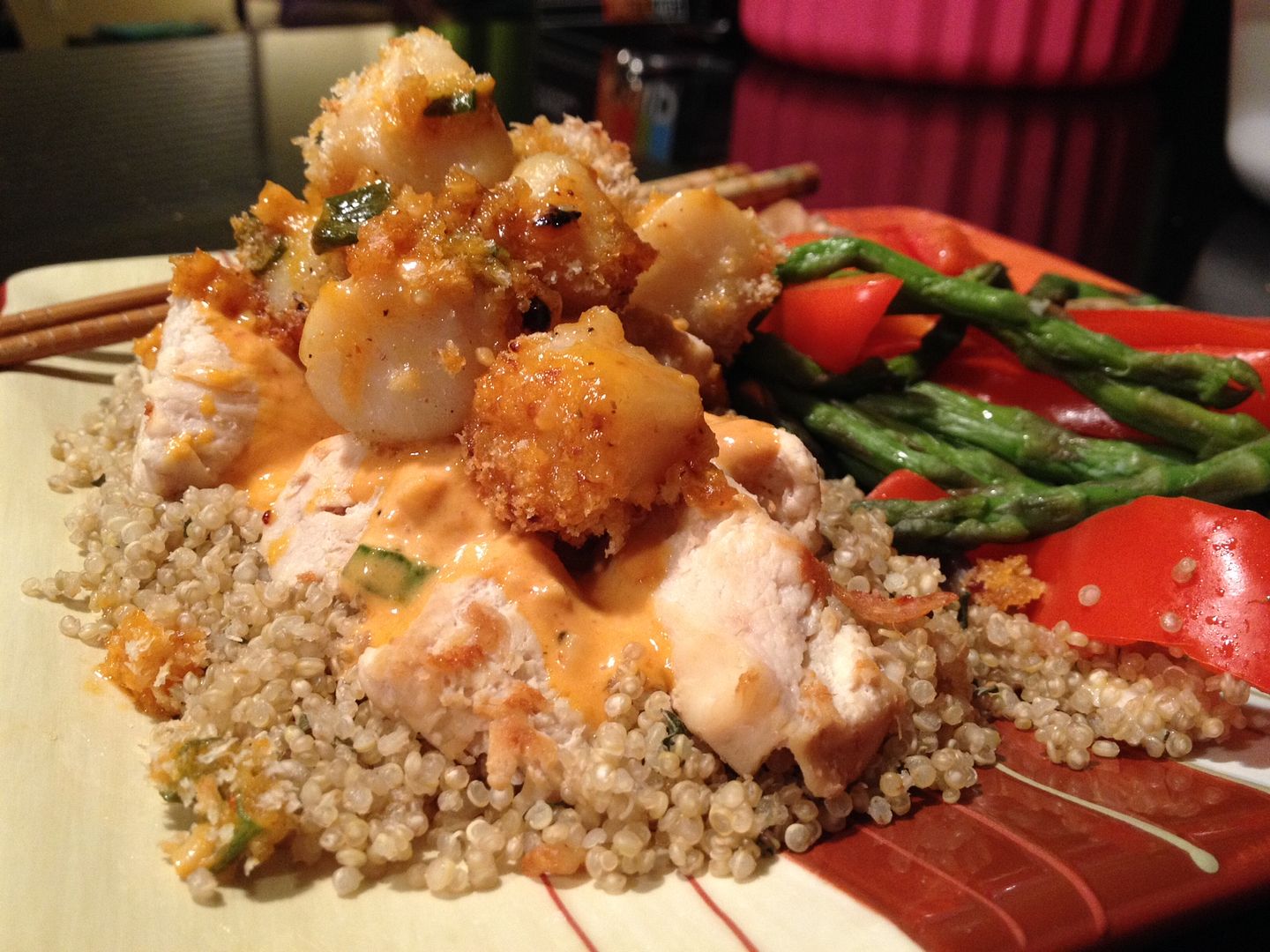 Another thing that enthralled me was caulirice aka steamed cauliflower pulsed to a rice-like consistency. I've seen this time and time again in the blog world and wanted to try it out but my food processor was on the fritz. I finally got a new food processor and this was the first thing I made with it! I saw orange cauliflower at the supermarket and had to buy it once I saw it packaged as Fiestflower.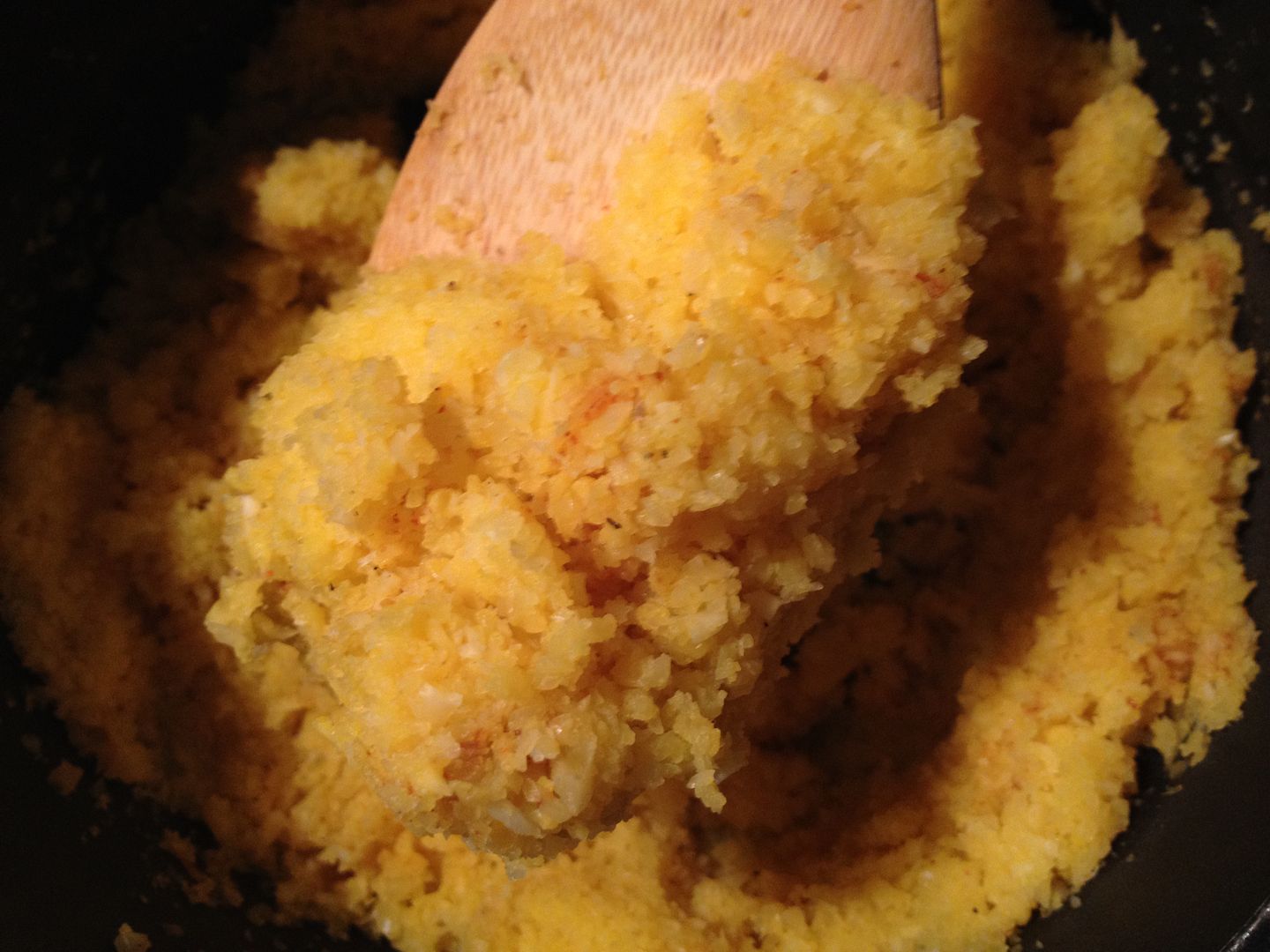 Fiestaflower? Um, ok. Call me a sucker but I had to buy it (I was thisclose to buying the purple cauliflower but it was $.40 more so maybe I'm not that big of a sucker).  I steamed the cauliflower for about 10 minutes then let cool and threw into the food processor. I pulsed for about six seconds and it was instantly turned into a much easier and more pleasing way to eat cauliflower. It's just so damn bulky and cruciferous that I can't bear to scarf down it at times unless it's garnished nicely. But that could be a lot of work so this was a fun and easy way to choke down way to have cauliflower. Unfortunately the orange coloring faded during the steaming process so it looked more like polenta once it was pulsed. I added 1 tbsp butter, 1 tsp cumin, ½ tsp cayenne pepper, salt and pepper, this is completely optional but I was making burrito bowls and wanted to spice it up instead of it having no flavor. I threw in a bowl then topped with chicken, black beans, red pepper, jalapeños, onions and cheese, it was a great to use this as a base instead of the same ole rice or quinoa!
Both of these items were fantastic and then these two things converged one day during lunch. I went to the gym and by the time I got home from the gym and had to shower then out to run errands so I needed something quick. I made a plate of nachos using chicken, cheese, caulirice and dynamite sauce. I hate to waste food so I tried to use whatever was in the fridge and this was it.  Call it Asian fusion, call it lazy, call it genius, this lunch was awesome.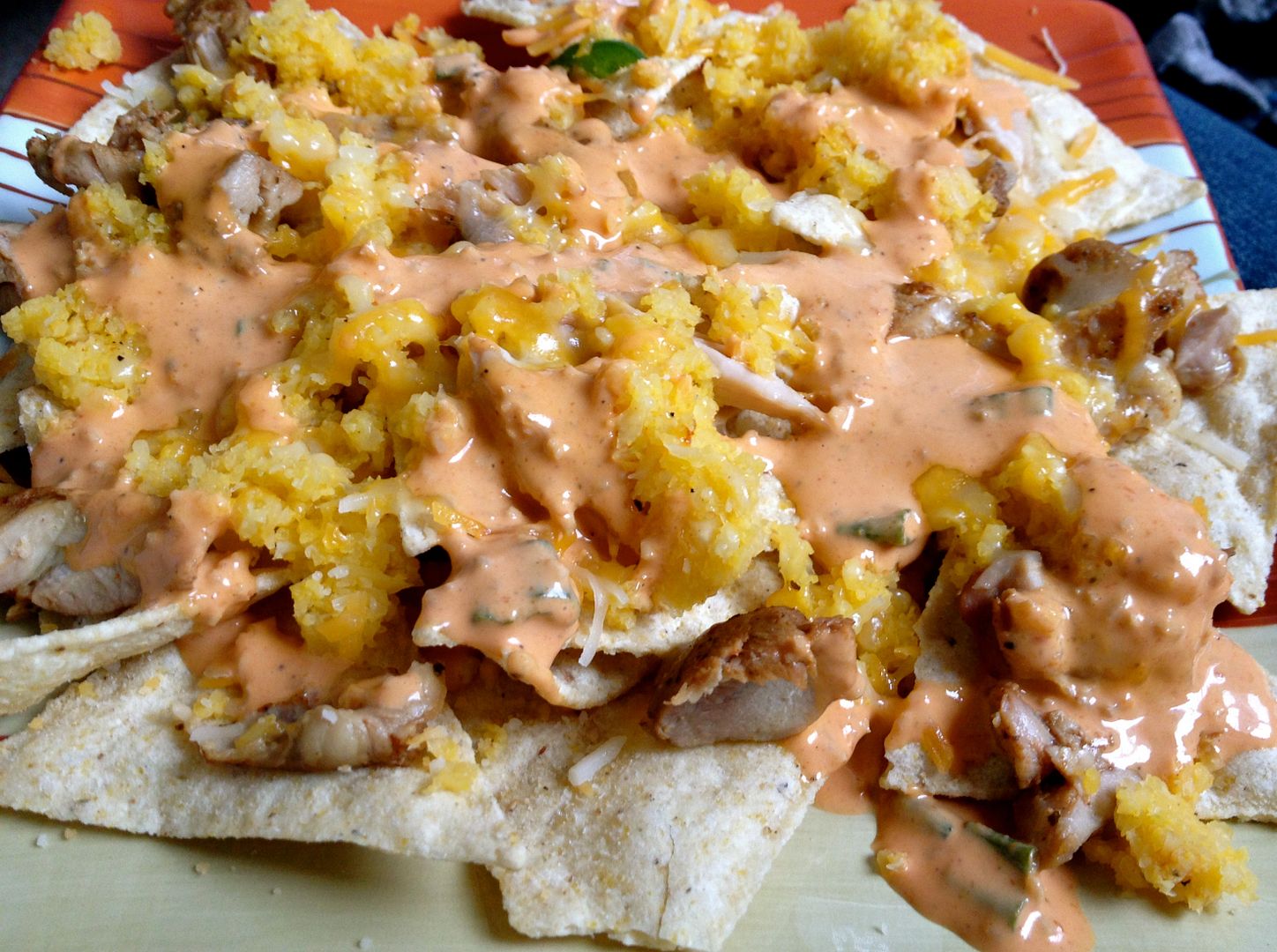 Psh, like you could ever go wrong with nachos!
What foods are you loving lately?