Saturday morning started out perfectly thanks to some semi- free coffee and breakfast at Coffee At The Point. I bought a Google deal a few months ago for $10 worth of food and drink for only $5. I've cut back on the number of deals that I've been buying in order to save money and ensure they don't go unused. This one was expiring on Sunday and I've been meaning to stop in but just have never got the chance (perhaps my weekend trips to Starbucks got in the way?)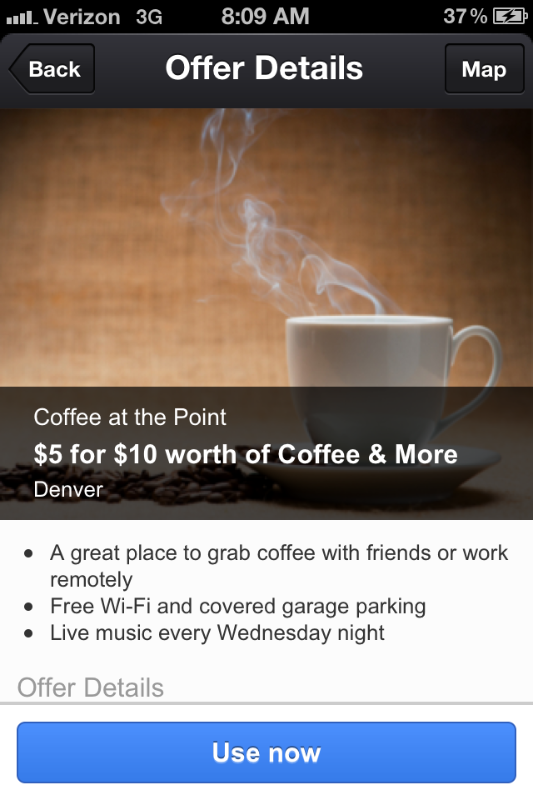 The neighborhood that it's located in, Five Points, is a bit questionable. It has major potential to be a hip, trendy area but there are still some sketchy pockets sitting around. Color me surprised when I walked in and found this little oasis of a coffee shop in this neighborhood! It had a funky vibe to it along with an industrial and artsy feel to it. Most of the time when I get a coffee I just run in and out but places like this are the reason I love local coffee shops—a more personal feel, big comfy chairs, local art on the walls.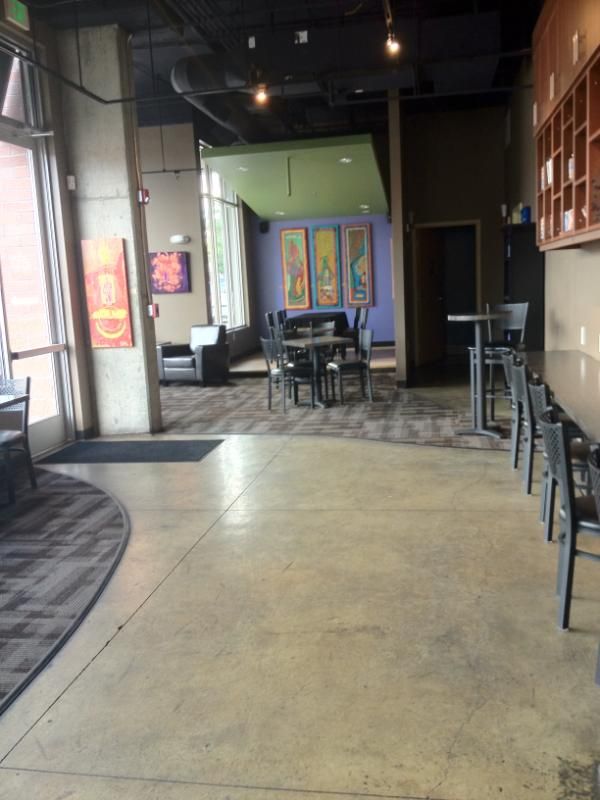 Ordered my standard drink for when I go to a new coffeehouse, non fat latte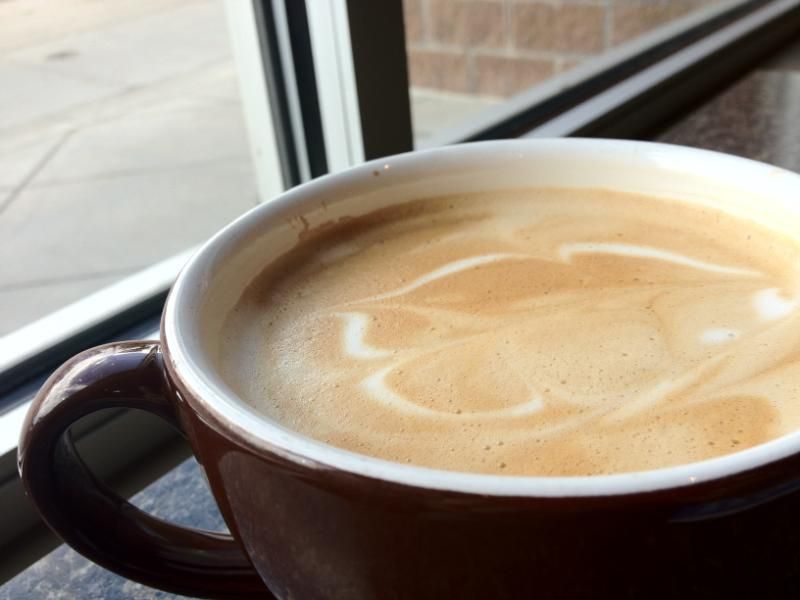 And a roast beef and fontina ciabatta sandwich? For some strange reason this sounded wonderful at 8am and you know what, it was wonderful. Random yet wonderful. I had $10 to spend and a breakfast burrito wasn't going to get me there so why not splurge on the beef?
Then Lincoln and I made our way down south for a little staycation action.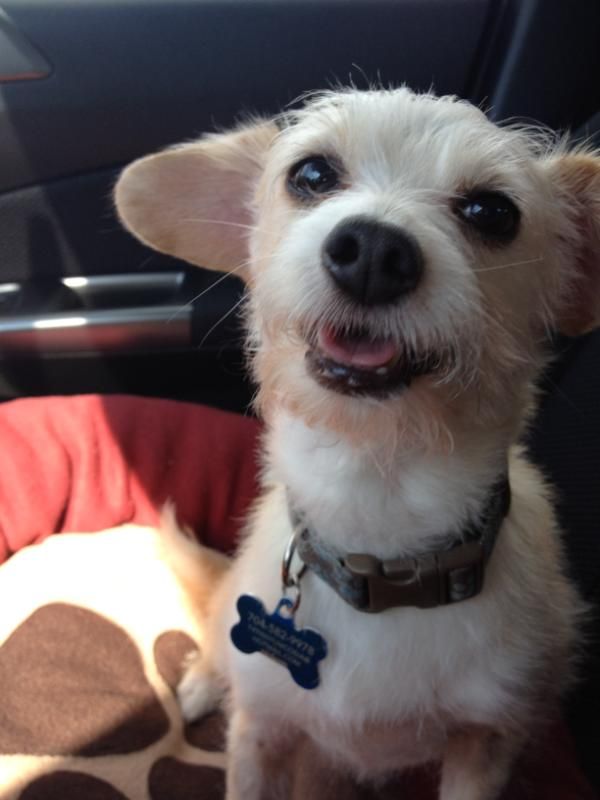 Other than running errands, getting my eyes dilated and seeing some interesting bumper stickers, the day was pretty boring.
And yet for another meal, I went backwards. My boo was at work and I wanted to make a nice meal for him. I started on dessert first. I never make dessert so I'm not sure what was going on with me but I wanted something sweet and blueberry honey cheesecake sounded delicious. I got my inspiration for the cheesecake from this recipe for blueberry cheesecake bars. I felt all confident while prepping this then there was an incident with the blueberries, of course there was.
Damn you, Blueberrygate. The amount of blueberries on the ground was insane along with trying to get Lincoln out of the kitchen before snagging one of those bag boys. I cleaned them up in a hurry, put those aside and was on my way—good thing blueberries were on sale this week!
Blueberry honey cheesecake ingredients
*One graham cracker pie crust
*Two packages cream cheese (8 oz each, I used one regular and one low fat)
*Two eggs, beaten
*One cup reduced fat sour cream
*One cup blueberries, mashed or pureed
*12 Splenda packets (I am still frugal and swipe them from Starbucks. Why pay for a bag of Splenda when I can snag a few extra when buying a latte?)
*Two tbsp honey
I mixed all the ingredients sans blueberries and honey together and poured into the pie crust. I poured the blueberries over then ran a knife through to give it a marbled look. I never knew it was so easy to give it that look, why have I been holding out this whole time? I baked at 325 degrees for an hour and was hoping the center would be done by that time but no dice. I let it bake for another 20 minutes and finally it was ready to go into the fridge for four hours. I was in an unfamiliar kitchen and it's frustrating not knowing the quirks of certain appliances and not knowing where everyone is like you do in your own kitchen. Since I was baking I was a bit nervous because when it comes to baking, I never know how something is going to turn out. Add that to baking for a boy and I was praying to the baking gods that everything would turn out well and edible.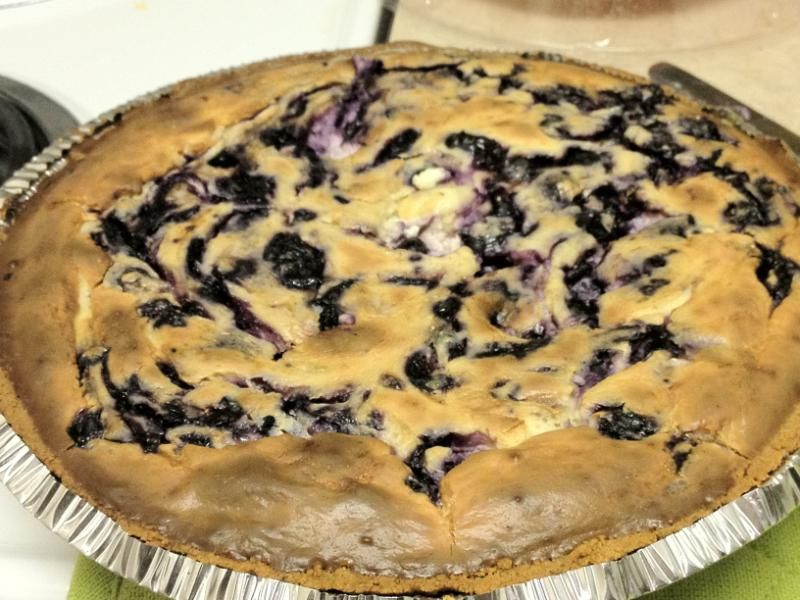 It tasted awesome—baking success! After cooling off in the fridge I drizzled the honey over the cheesecake then dug in, it was a blueberry dream come true!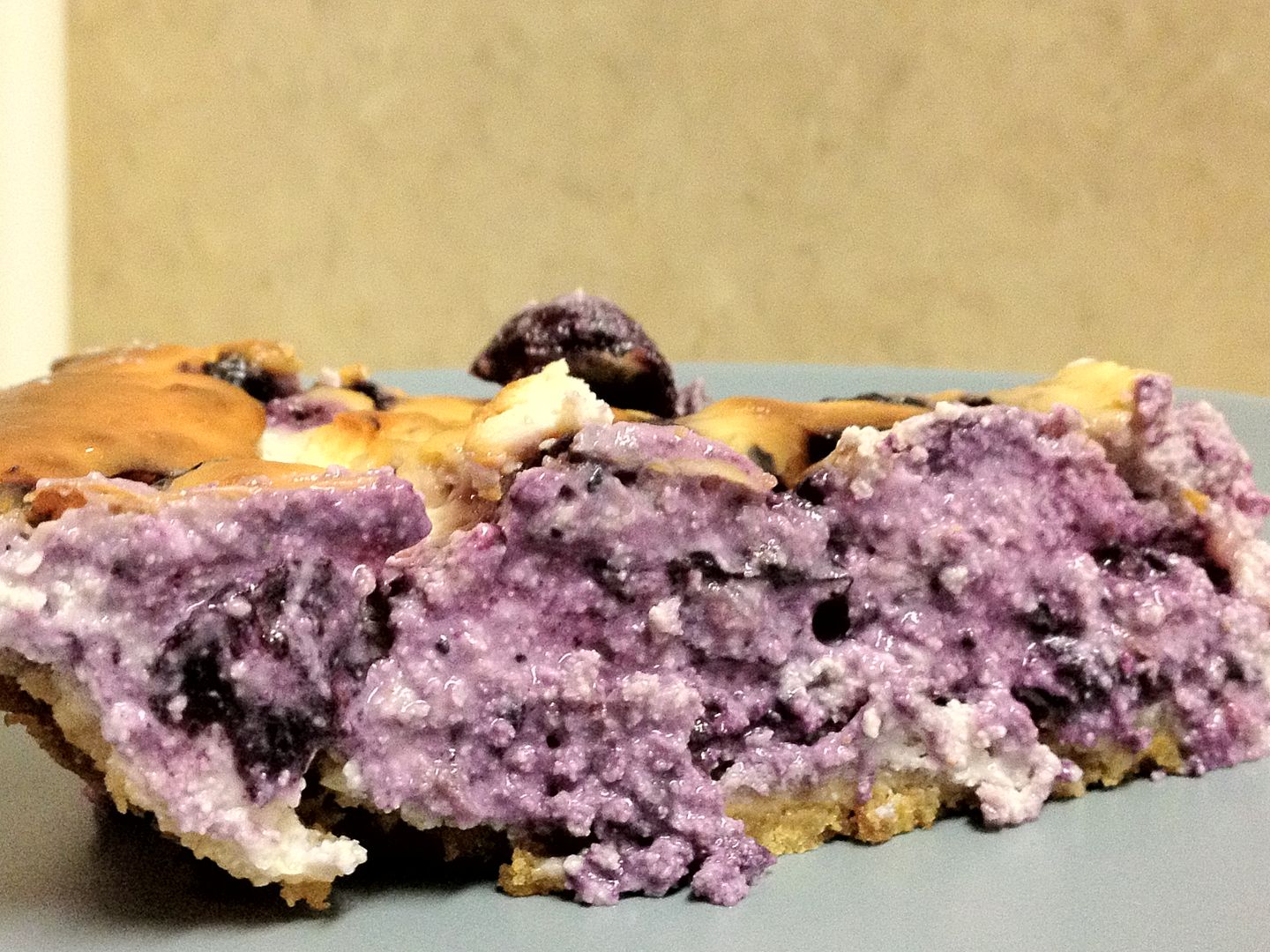 Then started on dinner-lasagna with spicy sausage, spinach, mushrooms and onions.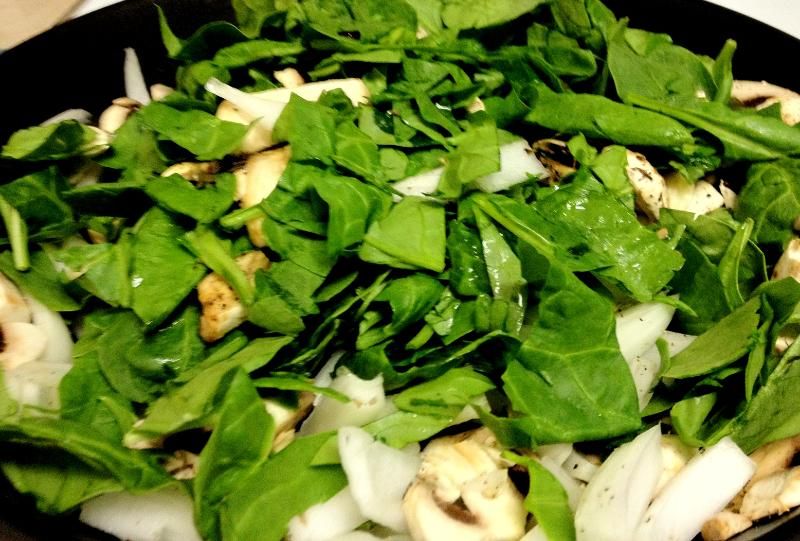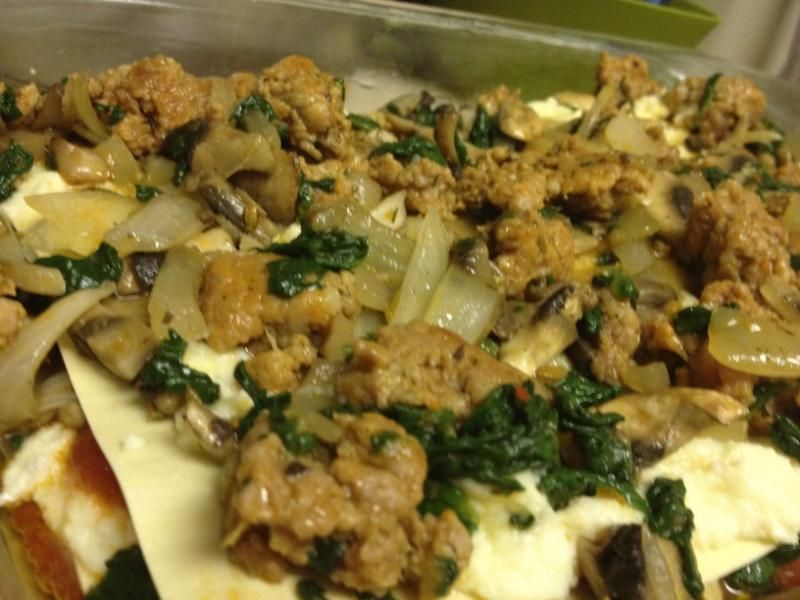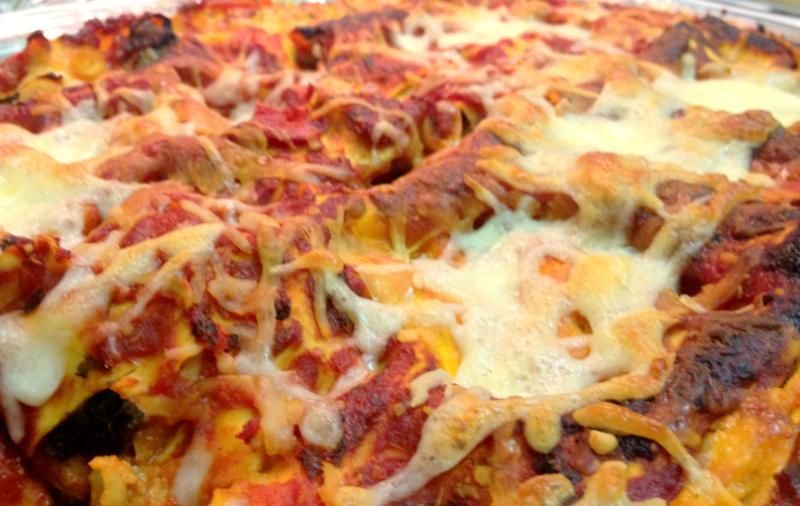 Again, the curse of the unfamiliar oven hit me and the top layer turned out crispy with a capital C! Luckily the rest was cooked perfectly plus lasagna always means leftovers!
Another backwards theme of the day? Starting shows that I should have watched long ago, like New Girl.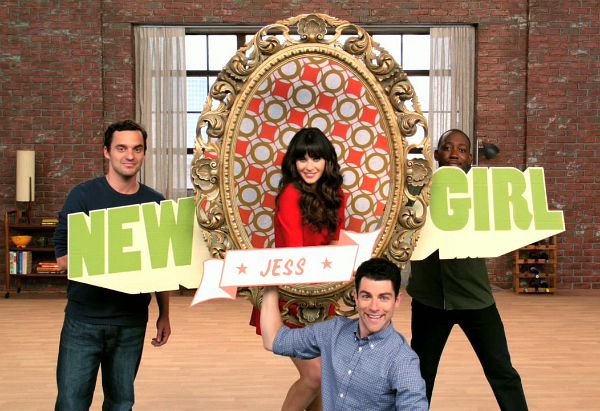 Why didn't anyone tell me how great this show is? And is it still on? I need deets!