The Blend fun continued on Saturday afternoon. After Mountain Sun we made our way to Avery Brewing for some beer based fun!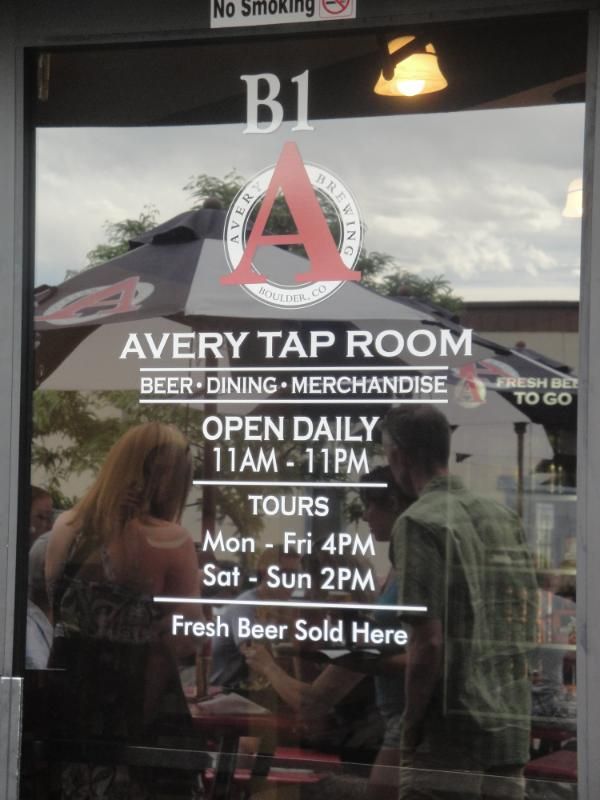 Look at that all of hose beautiful names and contents on tap! Most tasters are only $1 a piece and not only is it an awesome deal but also the bet value to try beers that you may not have tried in the first place. I'm a commitment -phobe when it comes to beers and don't want to commit to a pint if I've never tried it before.  This proved to be a great place because we ended up killing three hours there. It was a perfect afternoon spent with bloggers, beautiful weather and pups on the patio!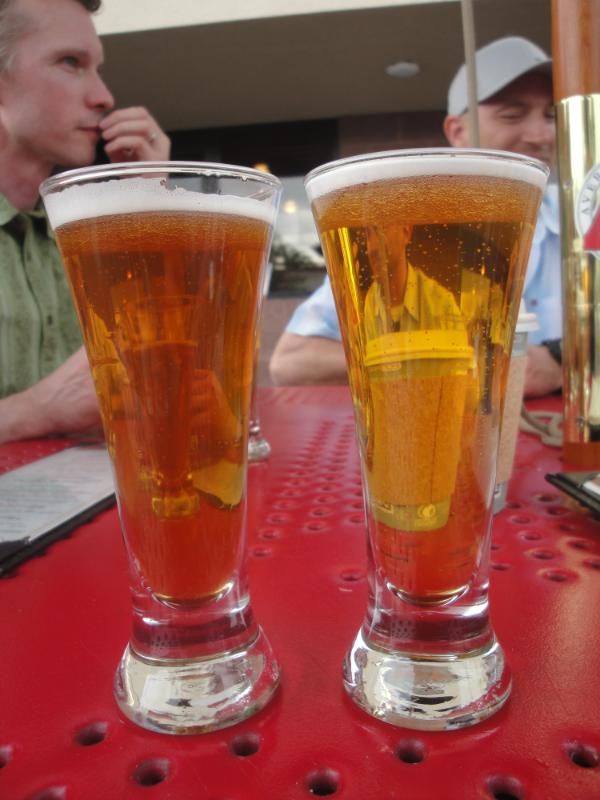 I love how Lauren's husband is in the background like he's saying "C'est Magnifique!" The beer indeed was C'est Magnifique, the Karma and Salvation were my picks for the day. I should have kept trying others because I walked out of there paying only $15 with tip included. Cheap date whaaaaa?
Afterwards a huge group of us went to Rio Grande to celebrate Cinco de Mayo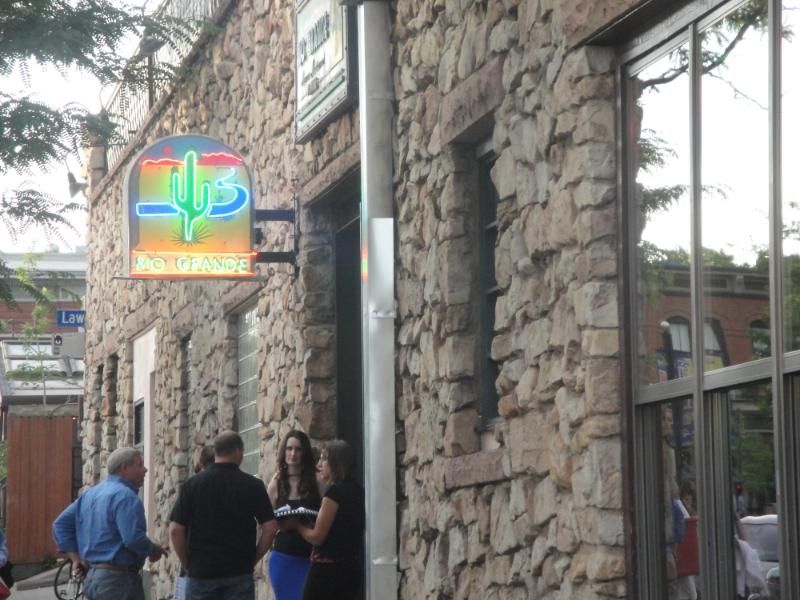 As if you didn't guess, Rio Grande was an absolute madhouse on Cinco de Mayo. But luckily we found a spot by the bar while waiting for our table and even got a free round of tequila shots to celebrate because everyone is Mexican on Cinco right? Well….I'm not. I'm too scarred from tequila thanks to spring break 2003 in Cancun so I just took a sip and that was it.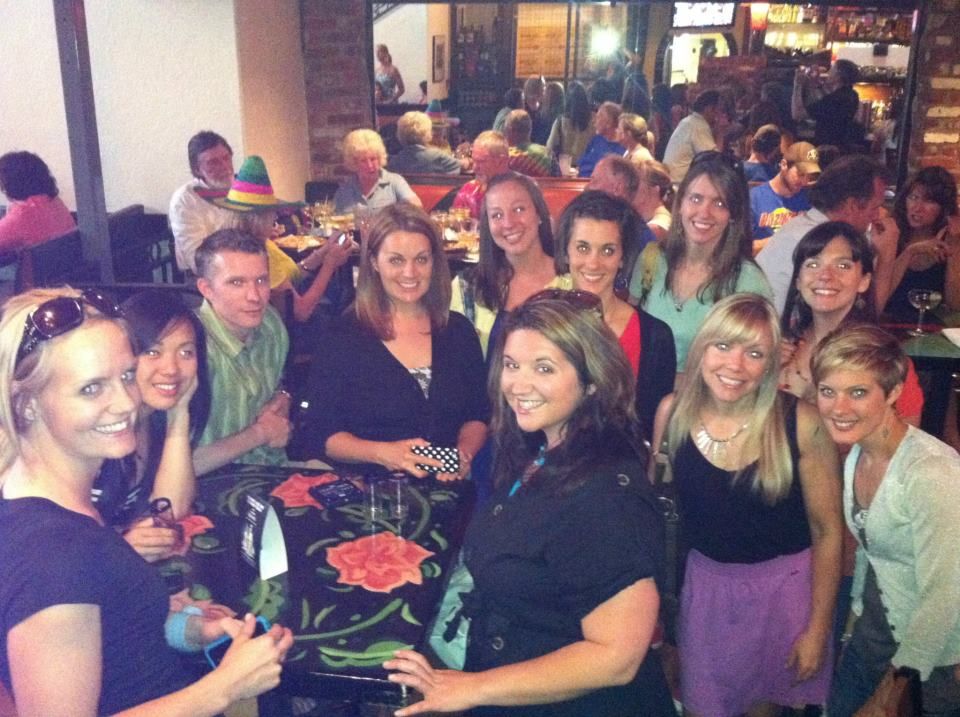 Lynne and I drove up once again on Sunday morning (after a much needed Starbucks stop before hitting the road) Some of the gals did the bootcamp before hand and when we got to breakfast we saw a ton of good eats provided by Chobani and Love Grown Foods. Peep all the granola that had on hand, of course some went in my purse and I am proud to say I will never need to buy granola ever again!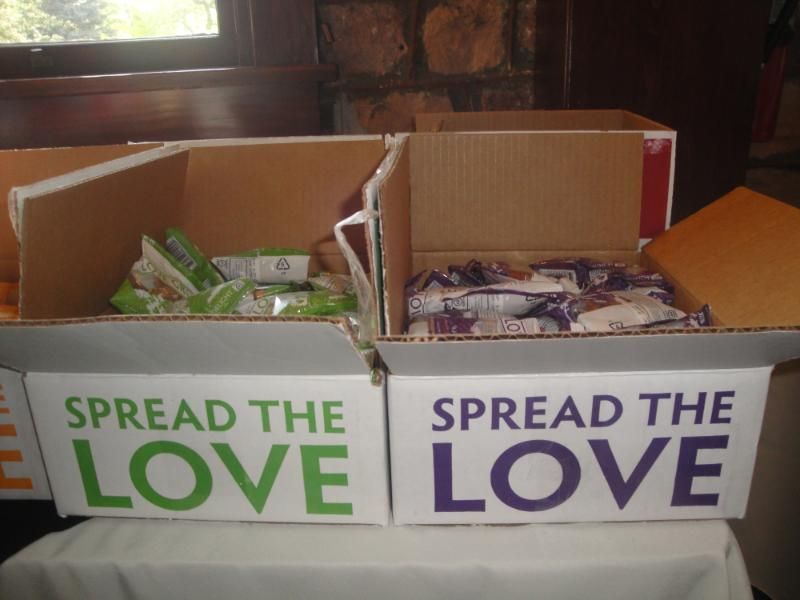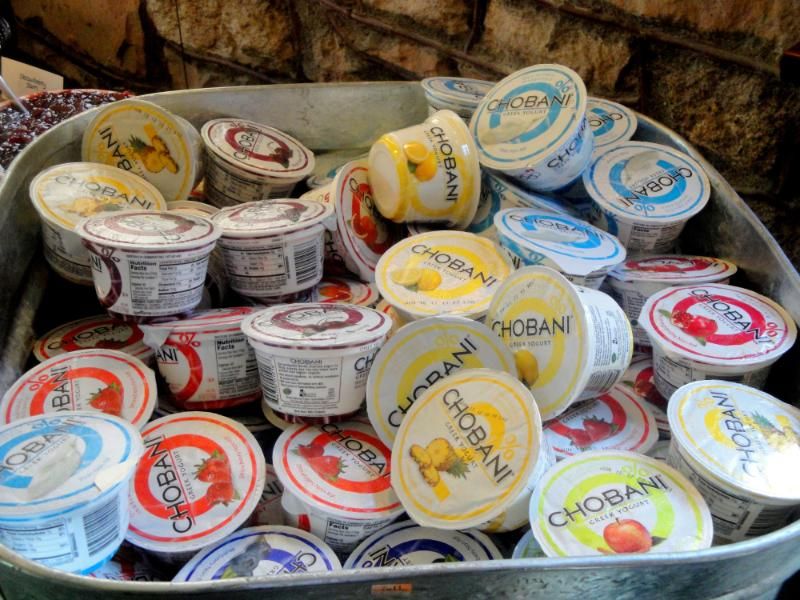 Good thing we came back that day because not only did we get hooked up with good grub for breakfast but there was also a raffle in which everyone was a winner.I was stoked to win not only a reusable shopping bag from Chobani but also a ChobaniFit shirt (which sadly is a small and there is no way that's going over the girls.
So instead of destroying the shirt, I did the next best thing…..put it on Lincoln!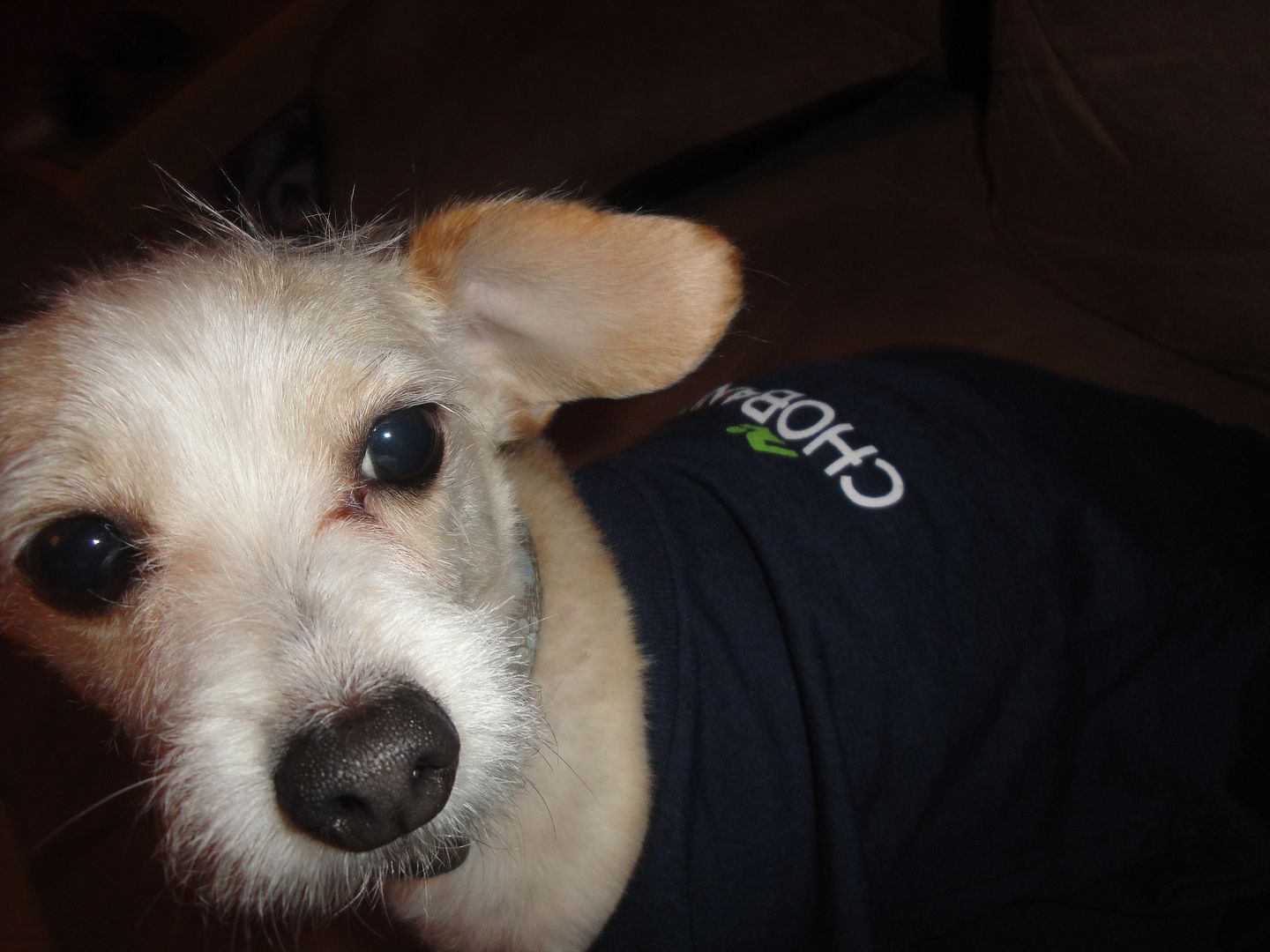 Which was too big for him but any opportunity I cross that allows me to dress up, I jump on it. He was a good sport so I rewarded him with a peanut butter lid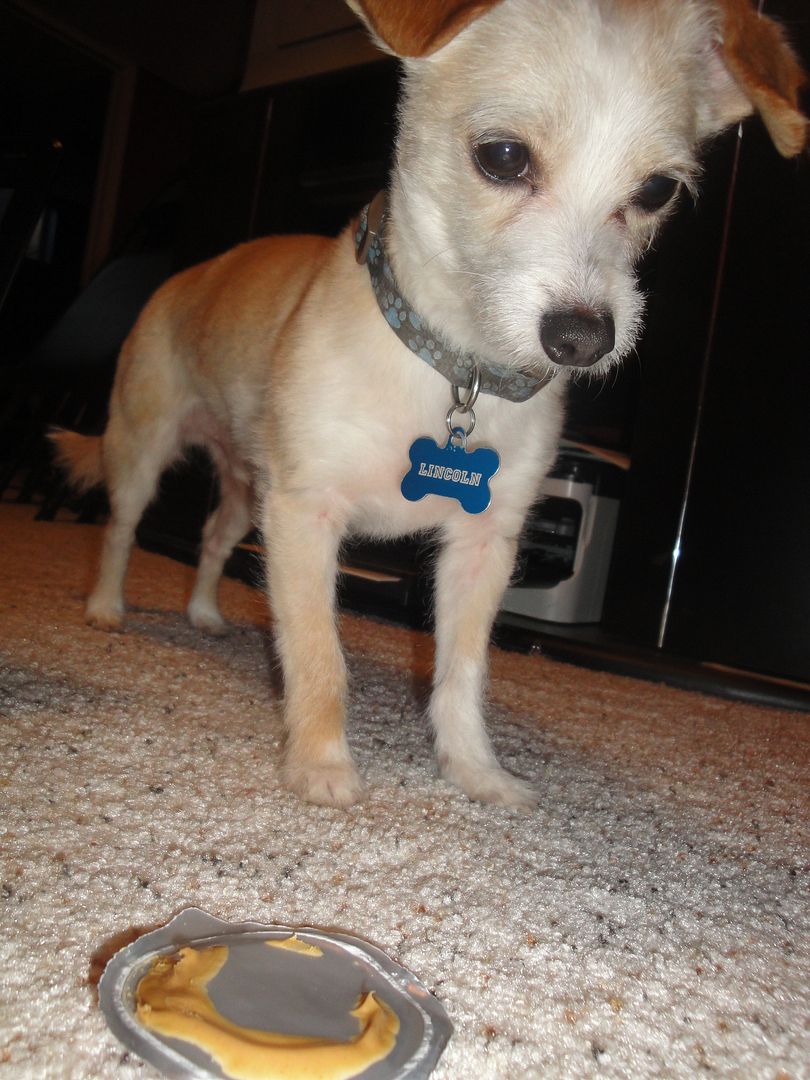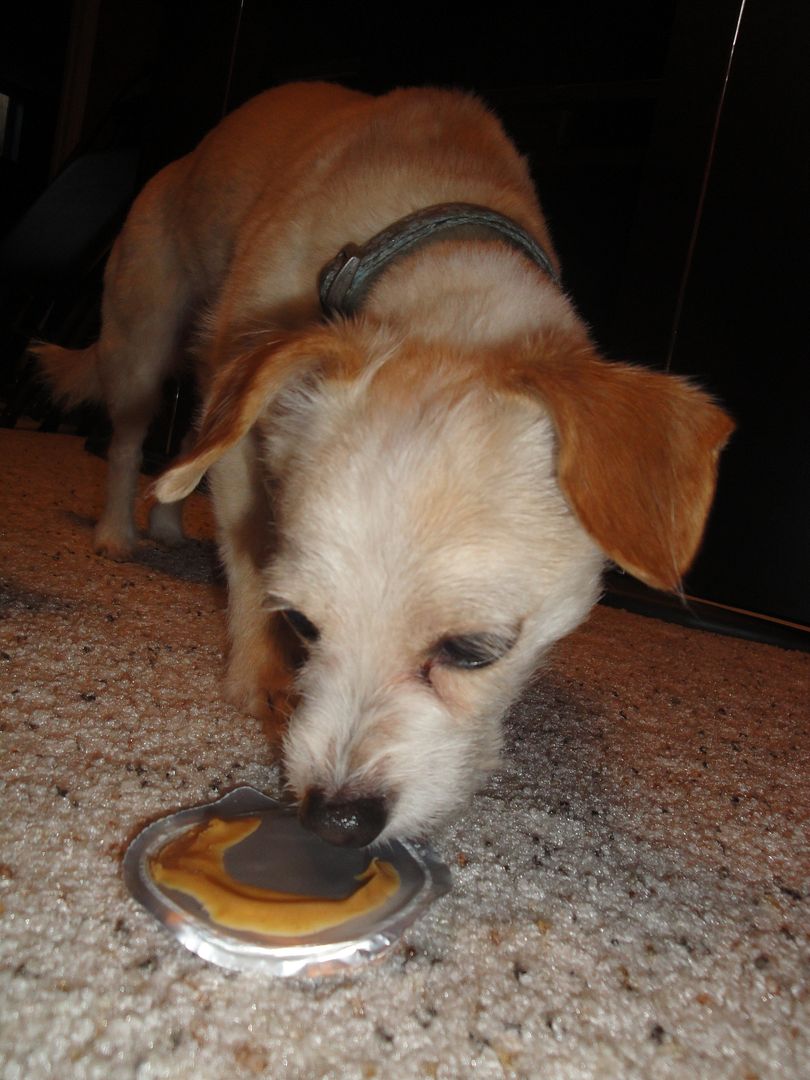 But back to Blend…..not only did I get hooked up with some Chobani gear,  I also snagged a huge container of Xagave. It's a big containing clocking in at five pounds and I can also use it for bicep curls. Two birds, one stone.
Breakfast seemed longer thanks to the raffle and it was nice to lounge, eat, pass out and collect business cards of other bloggers and even get DSLR lessons. Oh beloved DSLR, one of these days I will leave my Sony Cyber-Shot for you.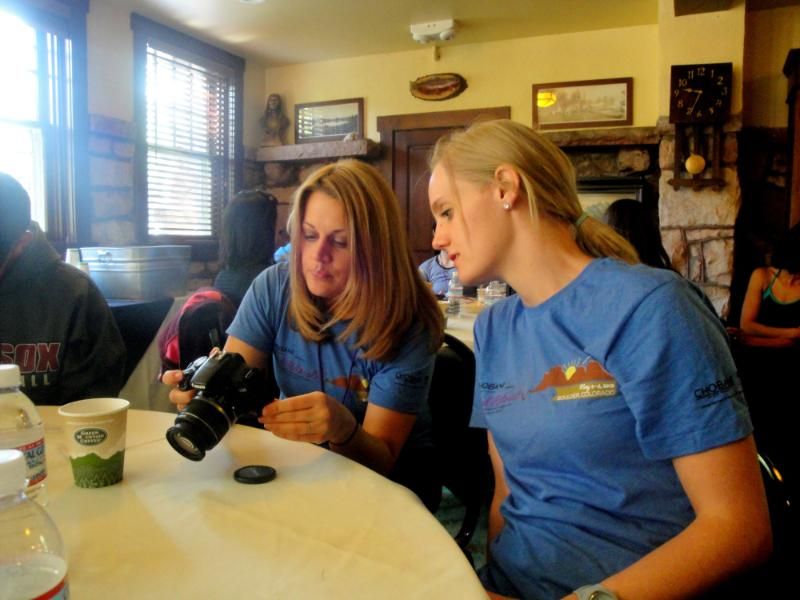 It will be mine, oh yes, it will be mine. Now I know how Wayne felt about his beloved guitar.
Not only did I get to meet bloggers from around the country but soon found that there were tons of other Denver/Colorado bloggers at the Blend Retreat! Represent yo!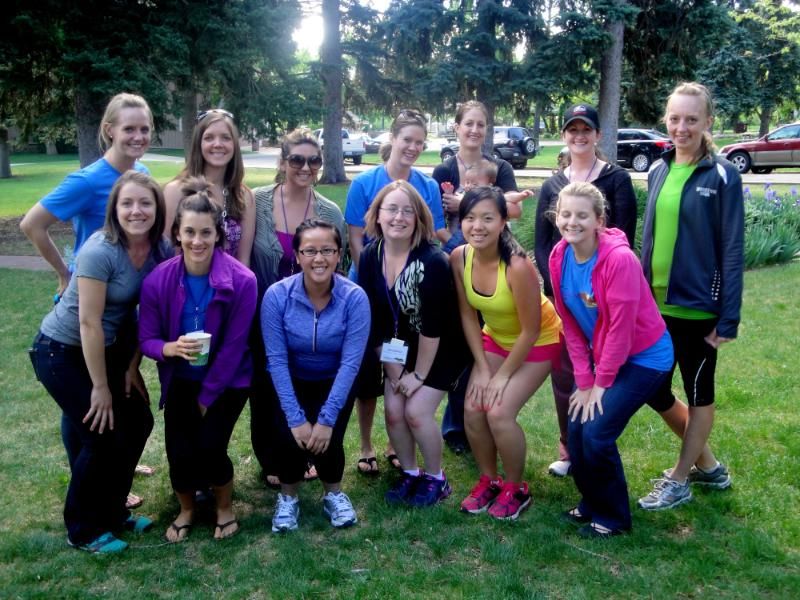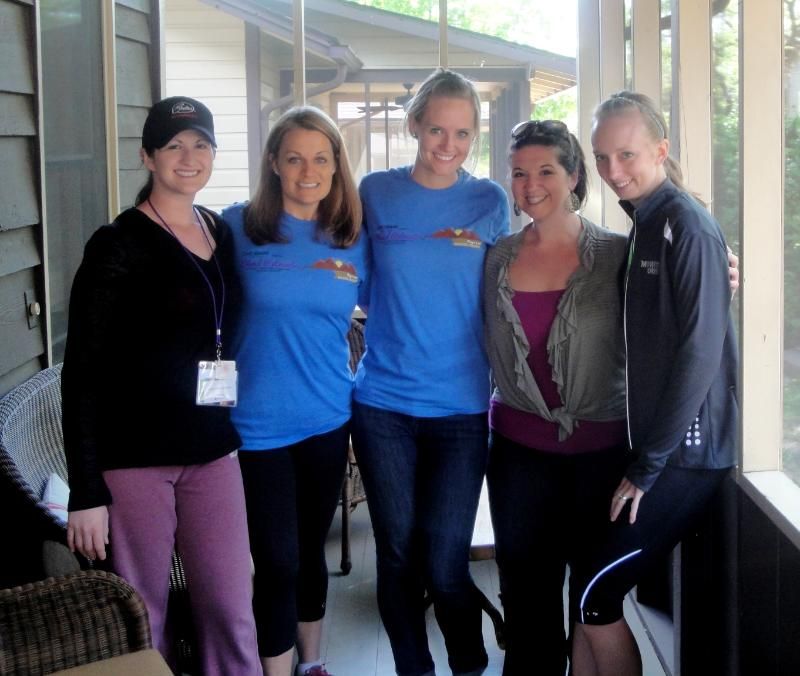 Meghan, Lauren, Lynne, me, Heidi……Lauren isn't a Colorado blogger but she is honorary since she will be moving here any day now
As tired as I was from driving up Saturday and Sunday, I was sad to see Blend end. I felt like it started and ended within minutes of each other but even so, fit a lot in in just two days and met some really great ladies. But I must say, I was anxious to find what was inside of the swag bag. The bag was so heavy and full of stuff I thought it was going to break at any second. As for the contents, well,  I'll let you all look for yourself. We got hooked up!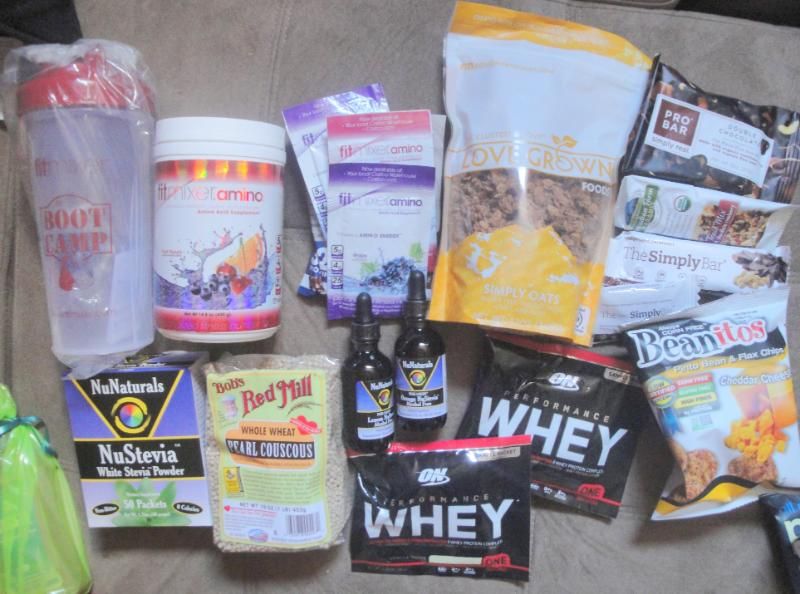 Goodies from The Simply Bar, Bob's Red Mill, Larabar, Pure Bliss Eats, Nuts About Granola, Fitmixer, Core Power, ProBar, Love Grown Foods and more!
Apparently I'm not the only one who the swag bag appealed to…..
Hands off pupperoni–it's all mine mwahahahahhaha! Until next year, Blend……