Reason # 419 why I love Yelp:
They hook you up with free stuff.
After a few months of getting the cold shoulder from Yelp Miami, I 'm getting the feel of Yelp Denver and going to different events. I got a free ticket to the opening night of Bring It On: The Musical at the Buell Theater here in downtown Denver last night. Normally I am not one to go do stuff on a work night, especially when Monday and Tuesdays are my 10 hour day, but I couldn't pass up on the opportunity to see a musical for free! I've only seen one in person before and that was Phantom of The Opera when I was in middle school and naturally I don't remember much about the experience. Besides that I really don't have that much of a history with musicals, the last one I sat down and watched was Mamma Mia! and that was the movie version with some horrible singing (staring right at you Pierce Brosnan). In a quest to make 32 a wonderful year, I thought I wanted to class it up a bit and be a patron of the theater.
The Buell Theater is located downtown in the Denver Performing Arts Center and when I saw it from the parking deck, it reassured me that I was now in a real city as opposed to the big town of Charlotte that I spent the last five years of hell in.
Now the turnout didn't look reassuring at first but when I walked in there were tons of people already in, waiting for the doors to open, buying merchandise, etc. They have a bar where you can buy snacks and drinks and I wanted nothing more than a glass of red (cup of red actually since you can't take glass into the theater). But at $8 a pop, that just wasn't in my budget so I got the next best thing-coffee! And pulling a 180 from what I belief system, I mixed in some decaf with it. I just want to hang my head in shame thinking about it since decaf is for quitters and all.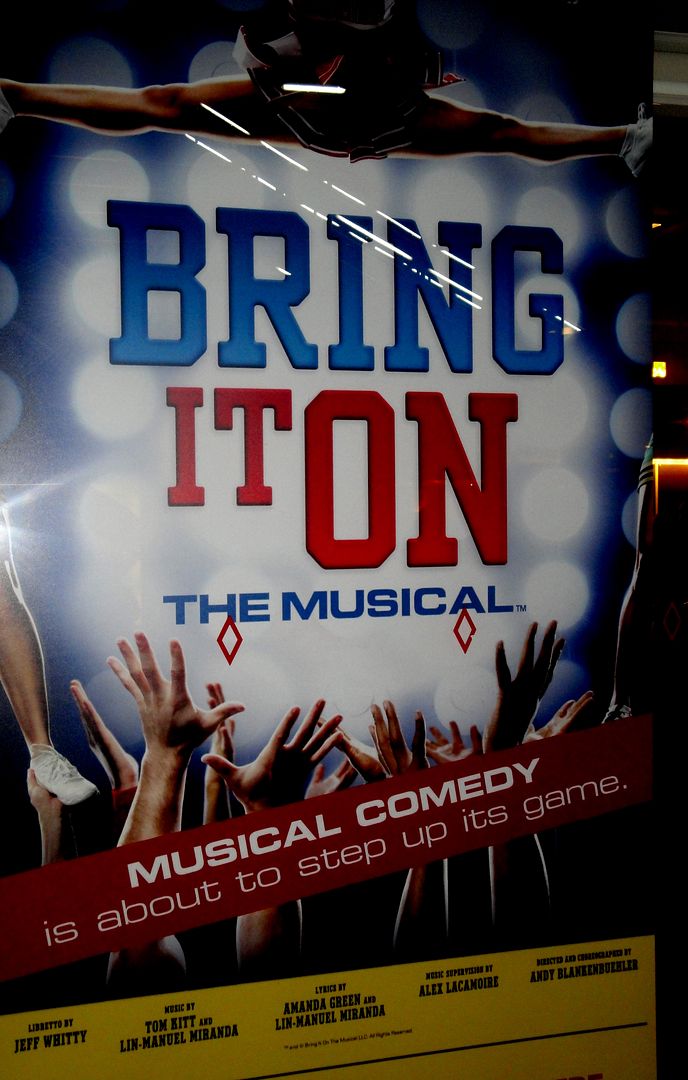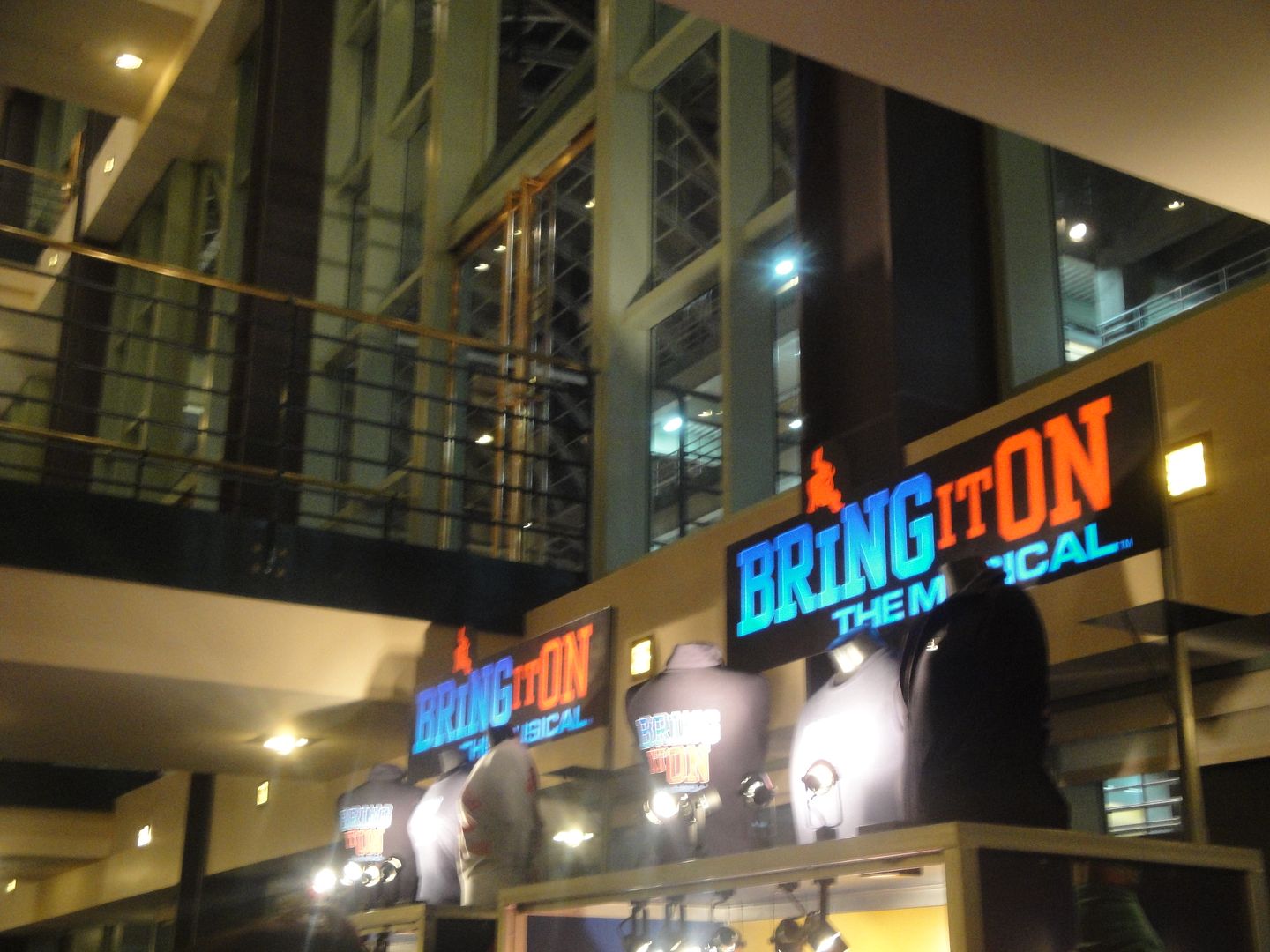 Since Yelp provided the ticket, I picked up my ticket at the press table. Press table? Say what?? I can actually say I'm using my journalism degree for once by saying "Ahem, where is the press table? I have a ticket waiting for me". That made me get into a baller state of mind….a baller who doesn't have time to get a decent manicure that is.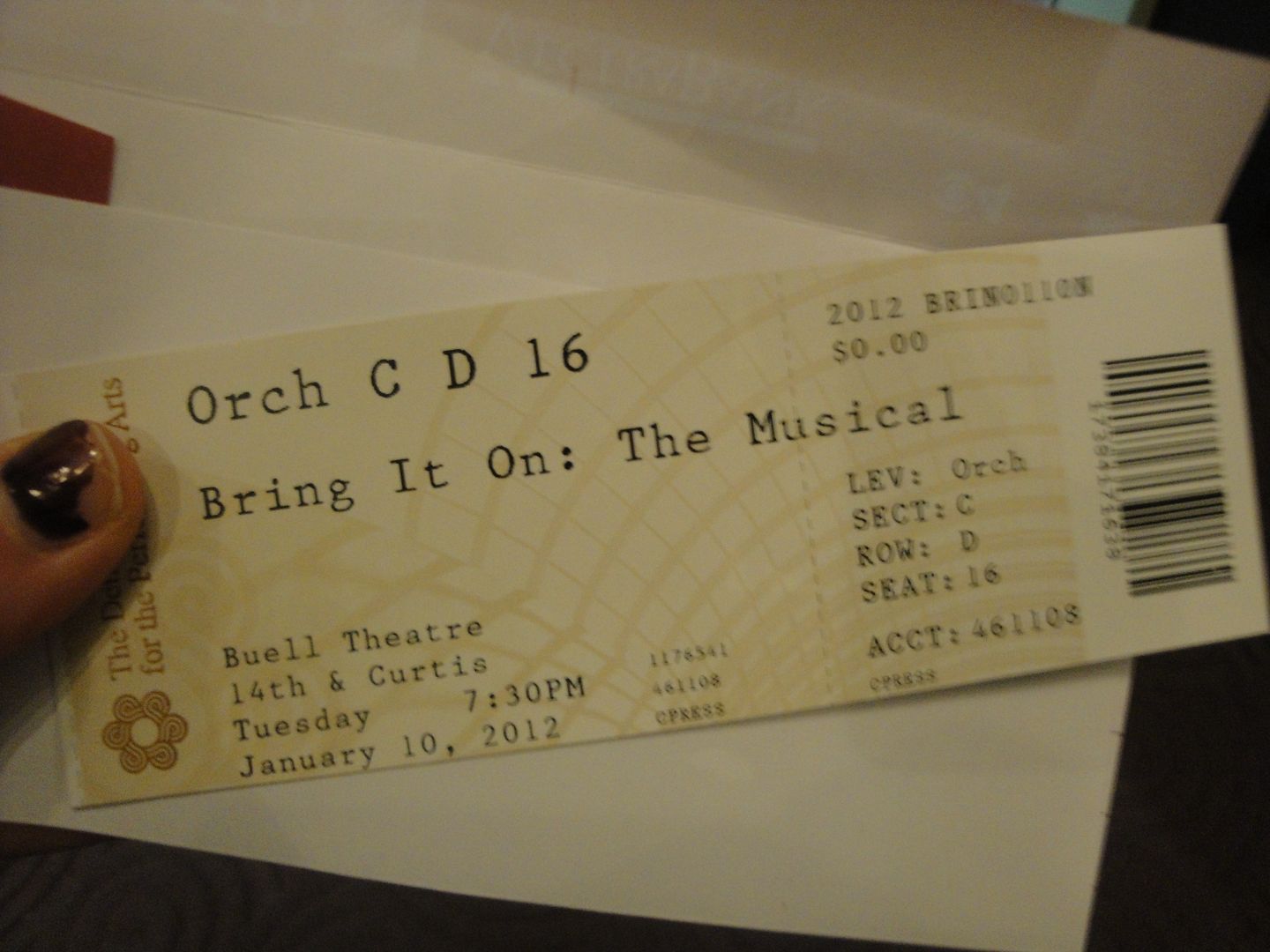 Being a plebe to the theater scene, I had no clue what the ticket meant in regards to where I was sitting. Lev: Orch, Sect: C, Row: D Seat:16meant absolutely nothing to me and I basically just walked up to someone who looked like they knew what they were doing and thankfully they pointed me in the right direction. I had to go downstairs which is a positive indicator I had decent seats and kept passing off my ticket to usher after usher. A taller and more mobile Sophia Petrilllo led me to my row and I had to catch up with her because I couldn't believe how close I was to the stage.
Six rows if we want to get technical. At first I thought this was some kind of joke. Since it was a free ticket I thought I would be in the nosebleed section (which probably has a more prim and proper name being a theater and all) and that was fine with me. I was actually preparing for that so this completely took me off guard and was ancy thinking an usher was going to kick me out at any minute due to a ticketing issue. I got there about 30 minutes before the show started which was ample time to read through the program and enjoy my coffee. I learned that the musical is about the high school cheerleading world with changes from the movie (I wasn't sure if it was the movie but the musical version) It originally opened in Atlanta this past year and has a very young cast (one of the oldest is 27) and a majority of them have past experience in theater.
Soon others started to fill the theater and one of the things I hate most happened (be prepared for a mini rant here) -I got the look of pity. I like to call this the solo look of pity since it seems to happen when I go places by myself…..which I am totally fine with doing things by my lonesome (because, hello, I rock) but for some reason, people seem to take pity on me. When I told three co-workers I was going by myself, they all responded in a similar fashion of "Well, that's sad that you're going alone".  Personally, I don't know why many feel this way about my choice to do things by myself but it gets annoying after awhile, especially in instances like this at theater when I kept getting the pity look from the lady sitting two rows in front of me. She would turn around in her seat and look at me every now and then with the look which led me to turn around and see if she was looking at someone behind me. But there was no one behind me so I guess it was all me and Esther was driving me crazy with the pity look. Is her name Esther? Negative but I had to give her a fake name since I felt like we were besties at that point.  Rant over, now to the fun stuff, like the actual musical!
So I really can't give an educated theater review since I'm not a frequent patron but I think I can sum it up in one word: WOW
This was one of the most high energy things I've seen in awhile, I don't even know where to start so here is a small list of things I loved about:
*The set design: It was minimal but just enough to reveal a high school feel. Add the amazing colors of the show that showed not only vitality but also youth of the characters such as blues, purple, pink, red, green along with strobe light and smoke machines.
*The songs: One of the main reasons I don't like musicals is because they tend to be so dramatic, drawn out and serious. Not the songs in Bring It On! Yeah, you had some ballads about perseverance and determination but many of the songs have a fun, playful theme to them. Another reason I loved the music was it branched out into different genres of music like hip hop, rock, reggae, soul, etc. One of the songs reminded me so much of Outkast's Rosa Parks that I am dying to get the cd when they come out with the recording.
*The script: HILARIOUS! This is definitely a musical for a younger crowd as they had a lot of topical humor that ages 40 and under would understand (Yoda, Mrs. Garrett, Bristol Palin, Grateful Dead, YouTube) along with more sexual references that I thought it would have. Again, the references were fun but I don't feel like they have went too far especially since the theater was packed with high school aged kids. Go on with your bad self Bring It On! Or as Bridget would say "Shut the front door and slap my ass with the screen", I was damn surprised that it was as witty as it turned out to be.
*The characters: If you can't fall in love with these characters, something is wrong. In true high school form, they represented a wide variety of stereotypical characters: the mean girl, airhead cheerleader, big boned girl, girl and guy next door, jocks and the best…..a trans woman, gender confused or drag queen character (really never got great clarification on them since it was a supporting character. Even though I didn't love love love the main character Campbell as I felt her character embraces personal growth but lacked pizazz, the supporting characters were really the stars of the show.
*The stunts: My sister used to own a cheerleading gym so I'm more familiar with the competitive cheerleading world than one would ever guess. In the first half of the show they were a bit shakey with their jumps and holding the position but in the second half of the show (show runs 2hours and 20 minutes with 15 minutes intermission) they really brought it on. Kudos!!
Bottom line-this show was awesome and perfect if you're a light hearted person like me. The Buell Theater was an amazing venue to hold it in and I felt like a classy patron of the theater for the night. If you have the opportunity to see Bring It On: The Musical, take a chance. And if it's not your cup of tea, you can go tell Helen Keller to screw off (want to know what this means, see the musical!) And as always, thanks to the kind people at Yelp for hooking a frugal girl up with a free ticket and the chance to try something new. Bounce to the beat y'all!