Another edition of Denver Dining Adventures! So I've been visiting some new places ever since moving to my new hood (which I love!) and while most experiences have been good, some have not. Take Jelly Café for instance, this is a brunch spot and thought I would fall in love with this place based on it's bright, retro décor and of course– the name. I like jelly and I like café's so I thought it would be a fabulous experience. Sadly enough, it was anything but.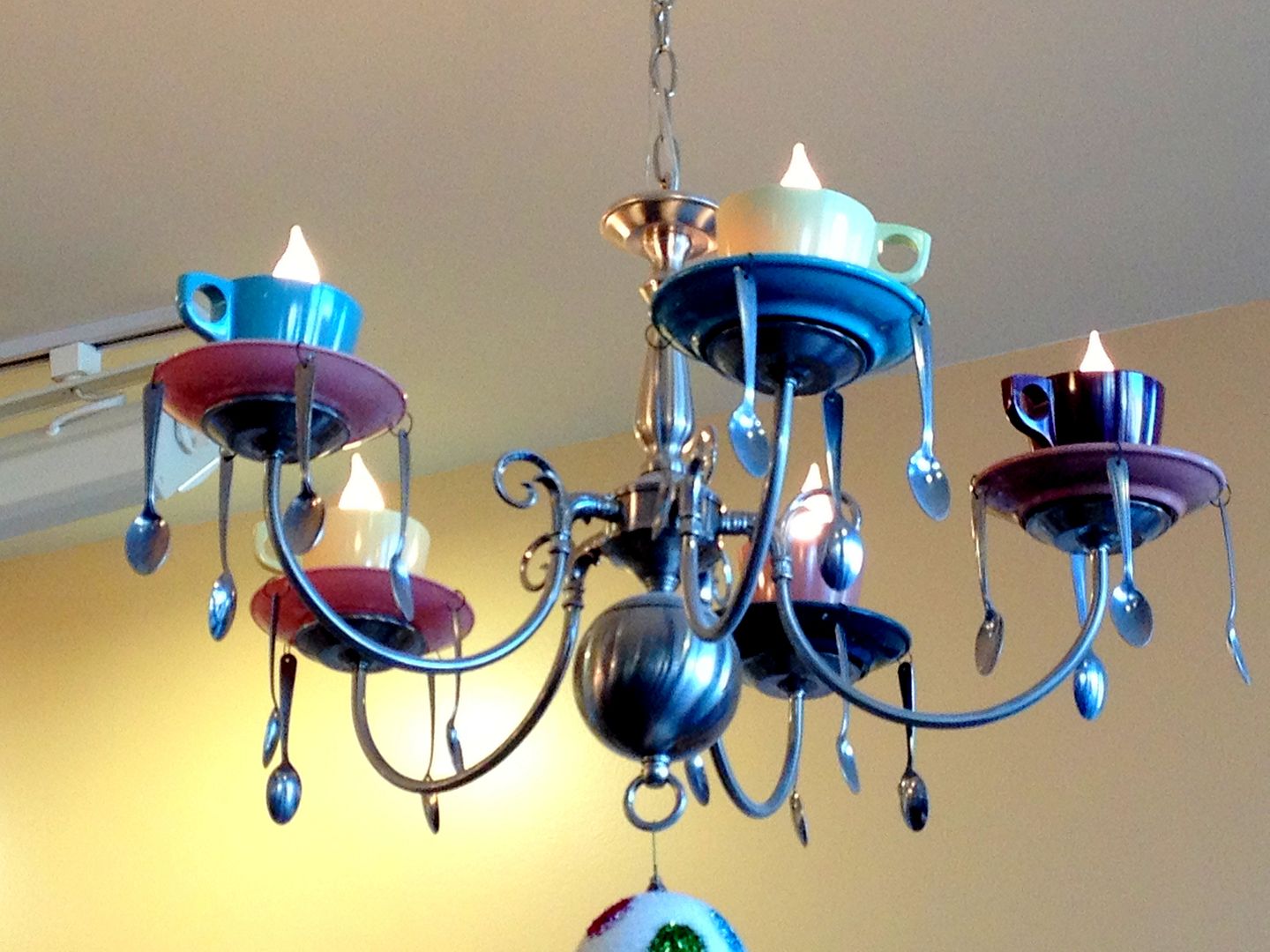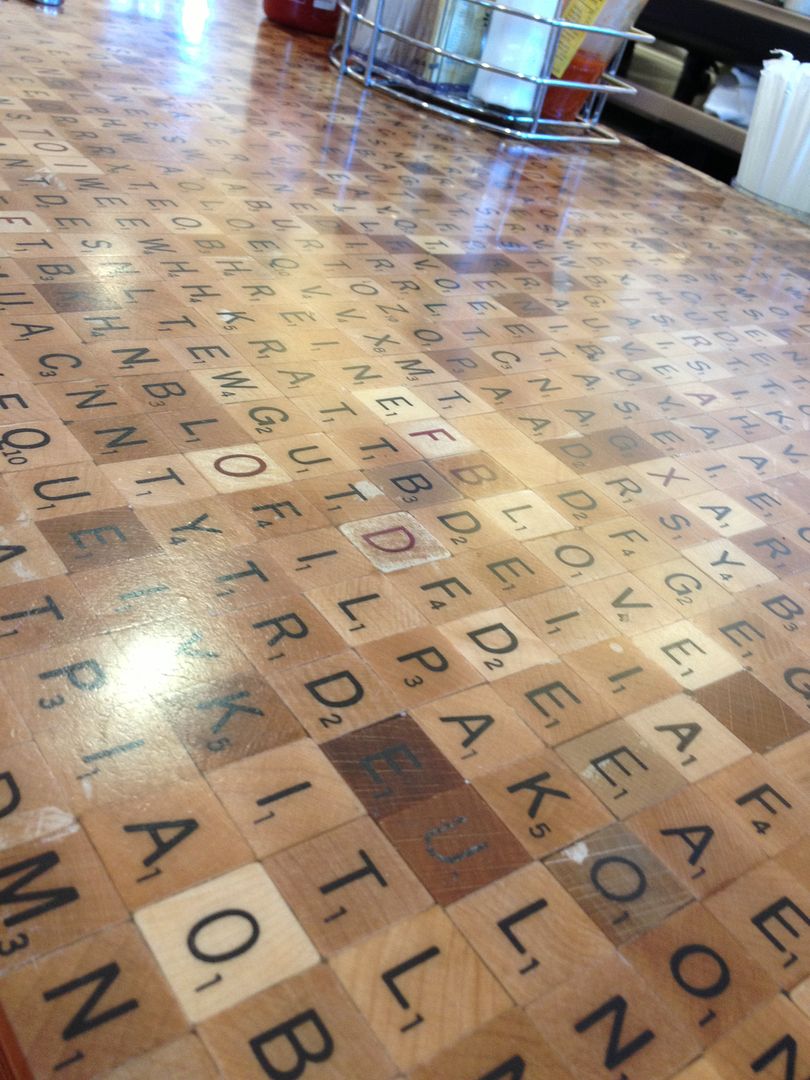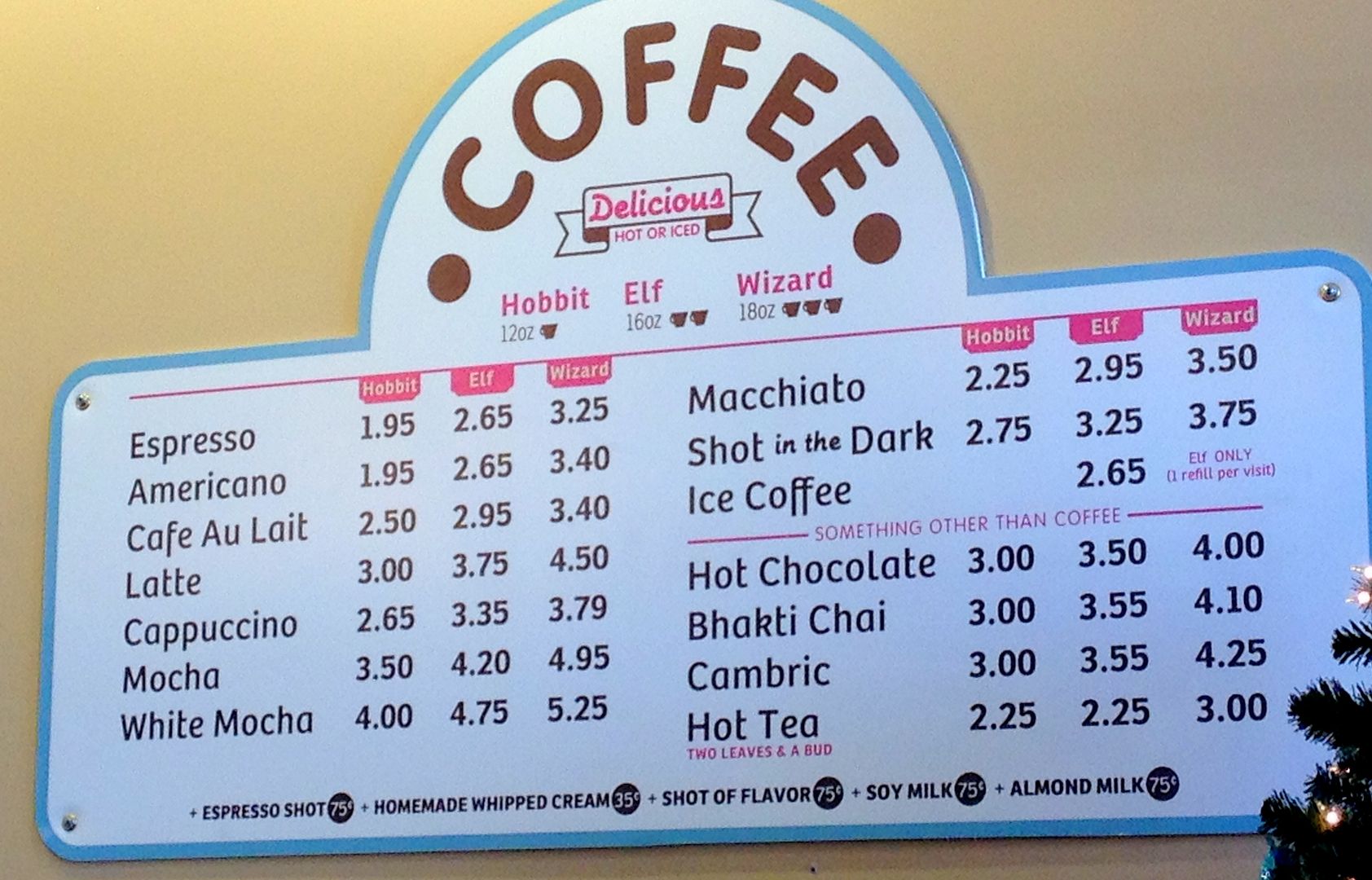 Walking in, it reminded me of a smaller, poor mans version of Snooze complete with retro décor including a Scrabble counter top (um, 9 points for LOVE), coffee cup chandeliers and old school cereal boxes displayed on the pale yellow walls. The hostess told us it would be about 25-30 minutes for a table of two which was fine because they have a little coffee bar where you can order a ridiculously priced latte, macchiato and other coffee house favorites that come in cutesy named sizes like Hobbit, Elf and Wizard. There were two people in front of me and I saw one of them order a drink and the girl was taking forever just to make it but it all worked out because less than 10 minutes into our wait, the hostess called my name.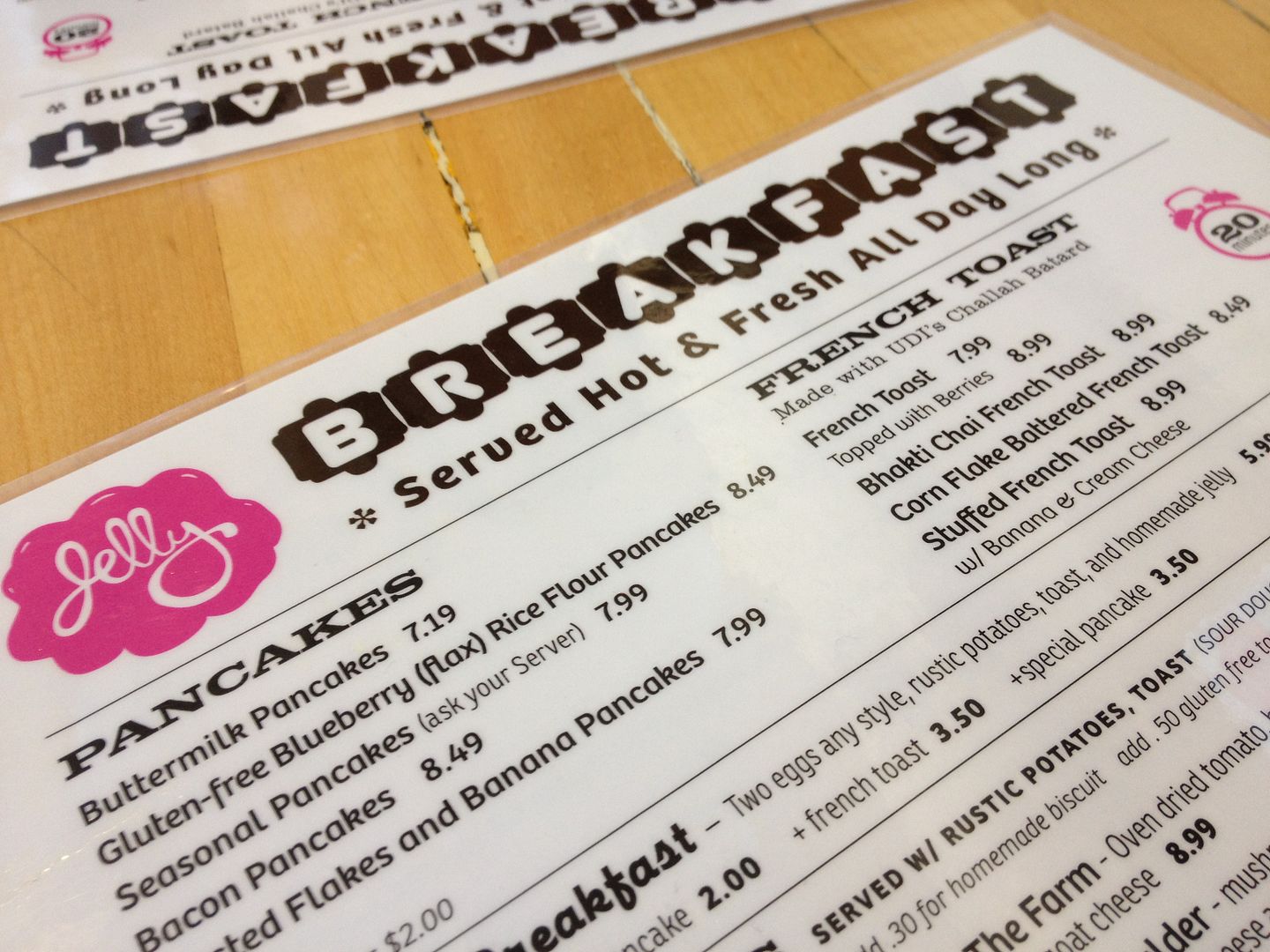 We sat……and sat……and sat some more and our server finally came over, apologizing for how long it took for her to come over. No worries at all! I hate horrible and slow server but if you acknowledge it, it makes the pill a little easier to swallow. We started with water and I ordered a latte which-shocker-took forever to come out. When she brought our waters over, we promptly ordered because we had a feeling we wouldn't be seeing her again soon and we should be on the Psychic Friends Network because we were right—did not see her again! 30 minutes later, we finally got our food.
Eggs take about four minutes to cook at home and neither of us ordered the French toast (which specifically states on the menu that it takes longer to make). My boyfriend ordered the sliders and I ordered the sweet potato hash. Now when I think sweet potato hash, I think of one of the most fabulous I've had at Zada Jane's in Charlotte and this wasn't stellar whatsoever–despite it having potatoes, sweet potatoes, chorizo, onions and pepper, it lacked flavor and didn't gel together whatsoever. The marble rye it was served with was stale and the only saving grace of the meal was the jelly which was delicious.
No check back from our server to see how everything was and I had to flag her down to get our bill, which at that point I was pretty damn close to throwing my credit card at her because….well….she sucked. I tweeted about my experience then and they responded to me wanting to get more information. I DM'ed them my review on Yelp giving their establishment one star and they never responded, I'm not shocked one bit given the lack of service we received at their restaurant.
Pho Saigon Star
I'm still conflicted about how I feel about this place…..even after two visits in one weekend. A couple of weekends ago I had a couple of days where I had the nasty flu that seems to be going around and I felt like hell. In the beginning of it when I felt like I was getting a cold, I stopped into Pho Saigon Star for a bowl of warm, comfort. You go up to the cashier, order, pay and they give you a number to put on your table. A few minutes later, my go to pho (rare beef and brisket) came to me without the sprouts, jalapenos, basil or lime. I couldn't get a hold of the waitress so I ate it after I pimped it out with Sriracha and it was good but it seemed to be missing something.
The following day I felt like udder hell and all I could think of was pho. I got their delivery service which was quick but ordered the Central Pho instead of their regular pho. On the menu the Central Pho is described as a spicy pho so I thought it would be the normal broth but with all the fixings that I missed so much the night before. Nope, it was a darker, spicier and oily version of pho but this time they brought the sprouts, jalapeños and basil so I was somewhat pleased. I slurped it down but was turned off by how oily the Central Pho broth was.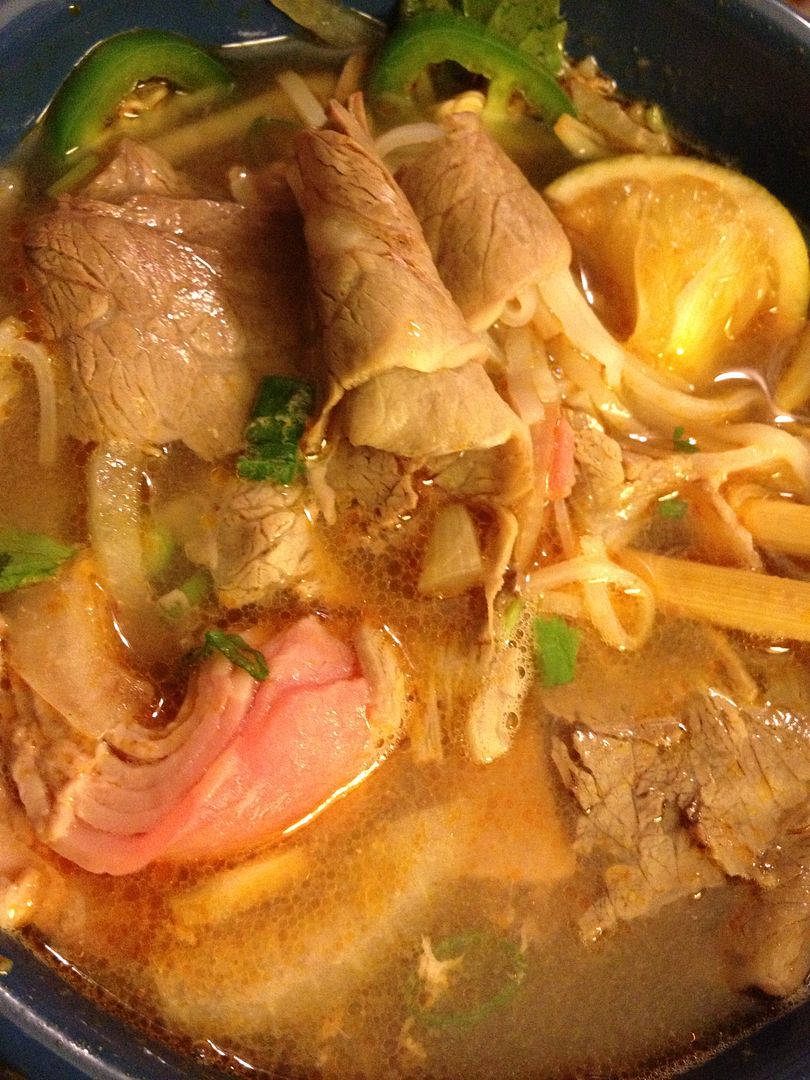 My sister bought me a Groupon to Bara Sushi and Grill for my birthday and I was excited to try out somewhere new. We went a few weeks ago and it is by far, the worst dining experience I've had in Denver. And you'll notice that there are no pictures from Bara and soon you will find out why. When we walked in we were greeted by a man in his mid-twenties and we asked to sit at the sushi bar.
His response? No.
Hold up, what? There were three seats available at the sushi bar yet we can't sit there and without explanation? Instead, he sat us at a little table by the window and when we got there it felt cooler since it was next to said window so I asked if we could sit at a booth and he looked annoyed that I asked. He said he had to go check and we just hung out there then he said it was ok so we went over there.
This is where the real fun begins. We sat down around 6:35pm (there was a clock on the wall by the door) and our server didn't come over for 15 minutes. The host stopped over and asked us if she had gotten our drink order and we told him no, so he brought them over and the iced tea was almost clear as water. We had no clue who our server was because she didn't even stop over to say "Be right with you" or anything to that effect and it seemed like a total s***show with tables waiting for their bills, drinks, etc. She finally came over, wasn't personable, got our orders (at this point it was 6:50p) and once again darted off. We ordered two house salads, nabeyaki and the TnT roll and seeing that it wasn't a large order didn't think there would be any issues. Our salads came out right away and the nabeyaki soon followed but my sushi roll never showed up. At first I thought it was timing thing with hot and cold dishes but nope–the sushi never showed up. No words from our server to let us know it will be coming out or a check back to see how my boyfriend's nabeyaki was. I found out it was quite tasty because he ended up sharing with me since my food was taking forever. So we flagged down yet another girl working there and she said she would check and shocker—she never followed up with us! She passed us by and I asked for an update and her response was "I'm new and in training". Yeah, that's not an answer or explanation. At this point it was 7:30p and we finally found our server and told her we never got the sushi roll and she just used the excuse that there were only two sushi chefs working tonight. I have my own eyes and could clearly see that however when "sushi" is in the name of your restaurant, that's really not an excuse. We told her to cancel the order at this point and she seemed happy about that and got our check to us right away—weird how fast the service was when she was bringing us our bill.
We paid, left and when we were walking out the new girl and another man were standing at the host stand. We asked if there was a manager or owner we could speak with and they said no. We told them how horrible everything was and again the excuses "I'm new" "We only have two sushi chefs tonight" came out and they handed us a card with the business name but no owner name and said "Come back soon". I don't know what they were smoking but did they not hear what I just said about our experience? We ended walking over to Chipotle instead which was tasty as always but the whole experience at Bara was a huge let down and I am letting everyone know how horrible it is.
Ok so some of you may see Cici's Pizza and think craptastic pizza (god knows that's what I thought) but don't hate, their pizza is not only decent but edible! Bf and I are always buying Living Social and Groupon deals and he got one for CiCi's. Now when he told me this, I scoffed and made fun of him but I think I may owe him an apology because I actually enjoyed our dinner there.
The CiCi's we went to was right next a high school so there were a ton of teenagers (think of a knock off of the Max from Saved by The Bell) and we were the only adults there without a kid. All good though because bf found his inner child and played video games in between pizza runs.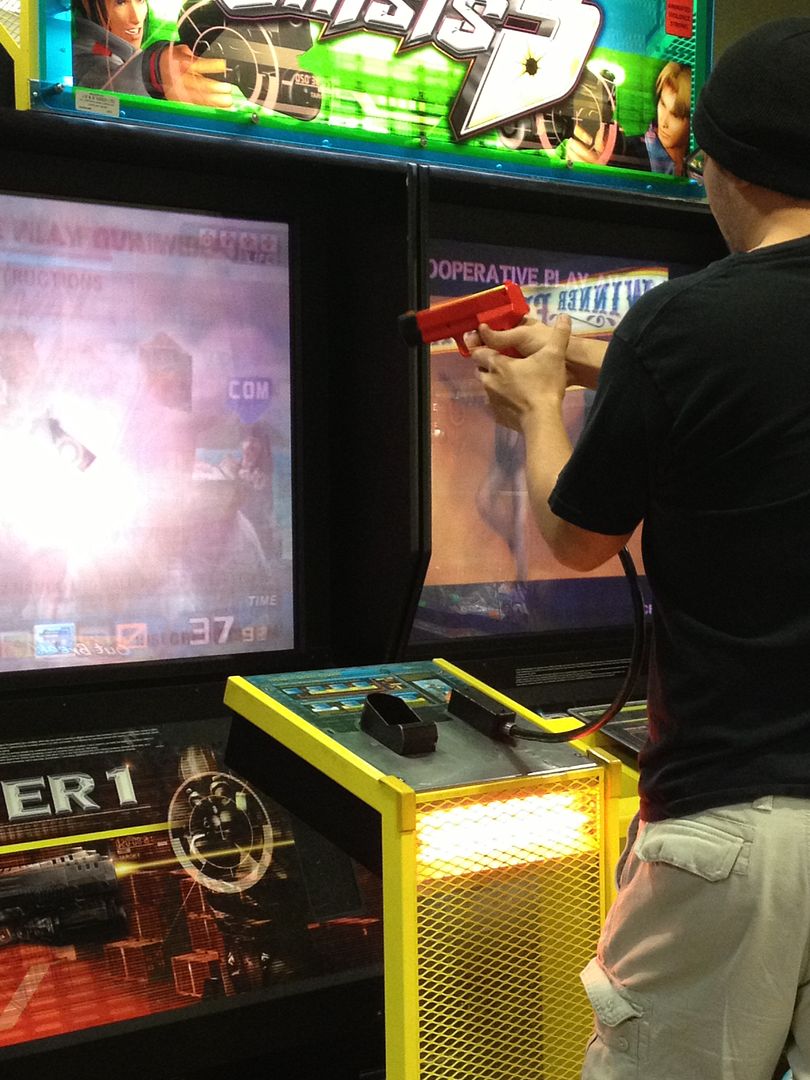 The pizza isn't the best but it was edible and some were tasty like the mac and cheese pizza along with the buffalo chicken. And their garlic knots? Dear God, I wanted to wrap some up and take some to go!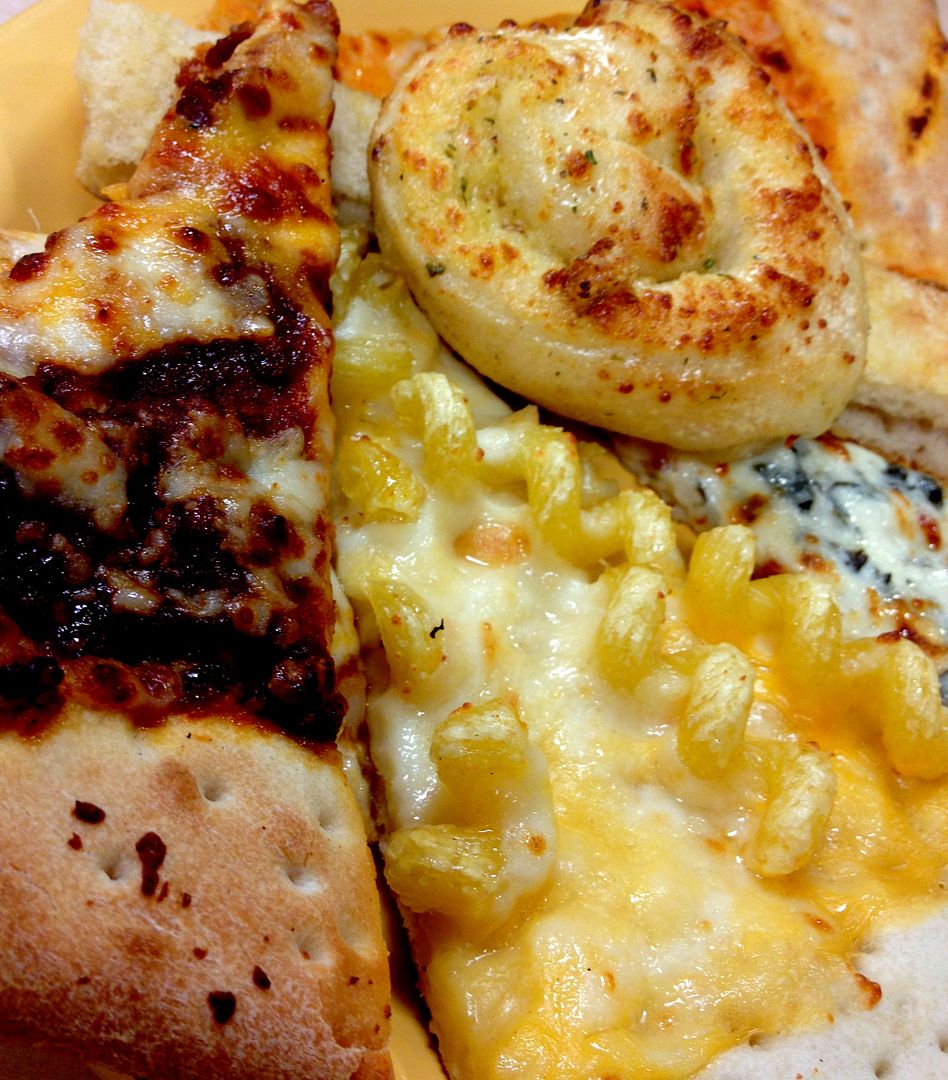 After multiple trips up to the pizza bar (hey, I had to try different kinds to get a true feel for the place), I discovered the dessert pizza. Why I never!
I'm still shocked that I actually like CiCi's and while I don't think I can go back there for awhile (I still need my stomach to forgive me), I won't be so defiant in the future.
And on an ending note, I recent;y went to The Hornet a few weeks ago and it was awesome. I haven't ventured out that much onto Broadway but The Hornet was the first place I've been to and I can't wait to go back and explore the area! We went on a Friday night around 9pm and there were a ton of people there and we had to wait awhile. They had a good mix of people—the ever present hipsters, yuppies, old folks and an odd number of tall people (it didn't help that I was there with Lynne and her husband who tower over me).
We finally sat and the service was awesome, we started with the artichoke fritters with a spicy aioli sauce. I've never heard of fried artichokes and they were absolutely amazing. I could have had a basket for dinner and been done but I figured I should have ordered an actual meal instead of being the girl licking the basket for scraps of artichoke fritters. I'd been craving a burger like crazy which is a good and bad thing because they have a decent sized selection of burgers but they all sound good. You can sub veggie and turkey burgers instead of the real thing but I don't roll like that—when I want a burger, I want the real deal.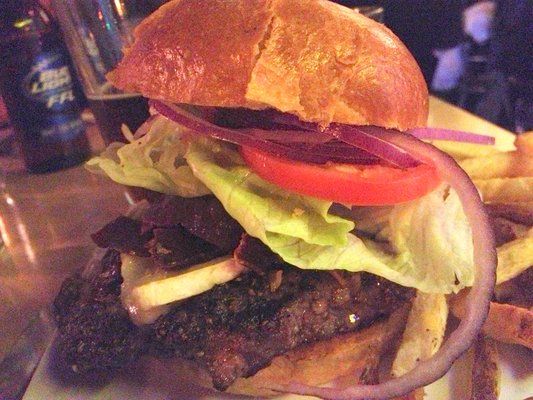 I ordered the Parisian burger complete with a peppercorn crusted beef patty, brie, prosciutto with a light dijon mayo on it. Even though it doesn't look liked it, the burger was on the smaller side which I dig because I wanted a burger but didn't want a beef baby sitting in my stomach. It was heaven…..the only thing I didn't like was that my meal had to end. Guess I'll just have to go back again and try some other stuff!