If you follow me on Instagram or Twitter, you know I love to go out to eat. I've discovered some wonderful and not so wonderful places in the Denver area as of late. Let's just jump into the good, the bad and the ugly!
First we will talk about Bastien's, an old school steakhouse with a Rat Pack appeal that's been on the famous Colfax Ave since the 1930's. We went here last week because of my Living Social deal that was expiring. I've been pretty excited about coming here since I first saw it because it looks like a total dive from the outside with a sign that reminiscent of old Vegas.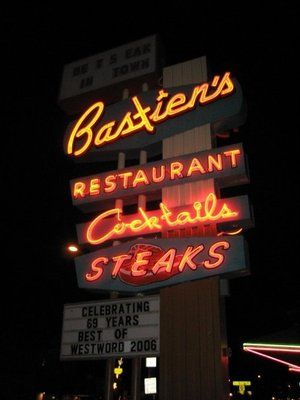 I could have swore I was going to fall in love with it but fall in love with it I did not. We went pretty early around 6pm or so and besides two other tables in our area, the place was empty. We walked through the bar area and it was a random small bar complete with neon lights, shabby décor and such and I love that! Once you get to the dining area, it's a bit more classed up but looks like it belongs in 1970's Vegas or an old mob bosses house—very dated with an odd feeling. We sat in the area right behind the hostess and it was intimate and had a mellow feel to it. Once we sat down our server greeted us and she was terrific throughout the whole thing but she didn't look like she was prepared for work. Her hair looked like she just rolled out of bed and I expected a neater appearance at an expensive place. Petty yes but that's just me having worked in the restaurant industry for a number of years.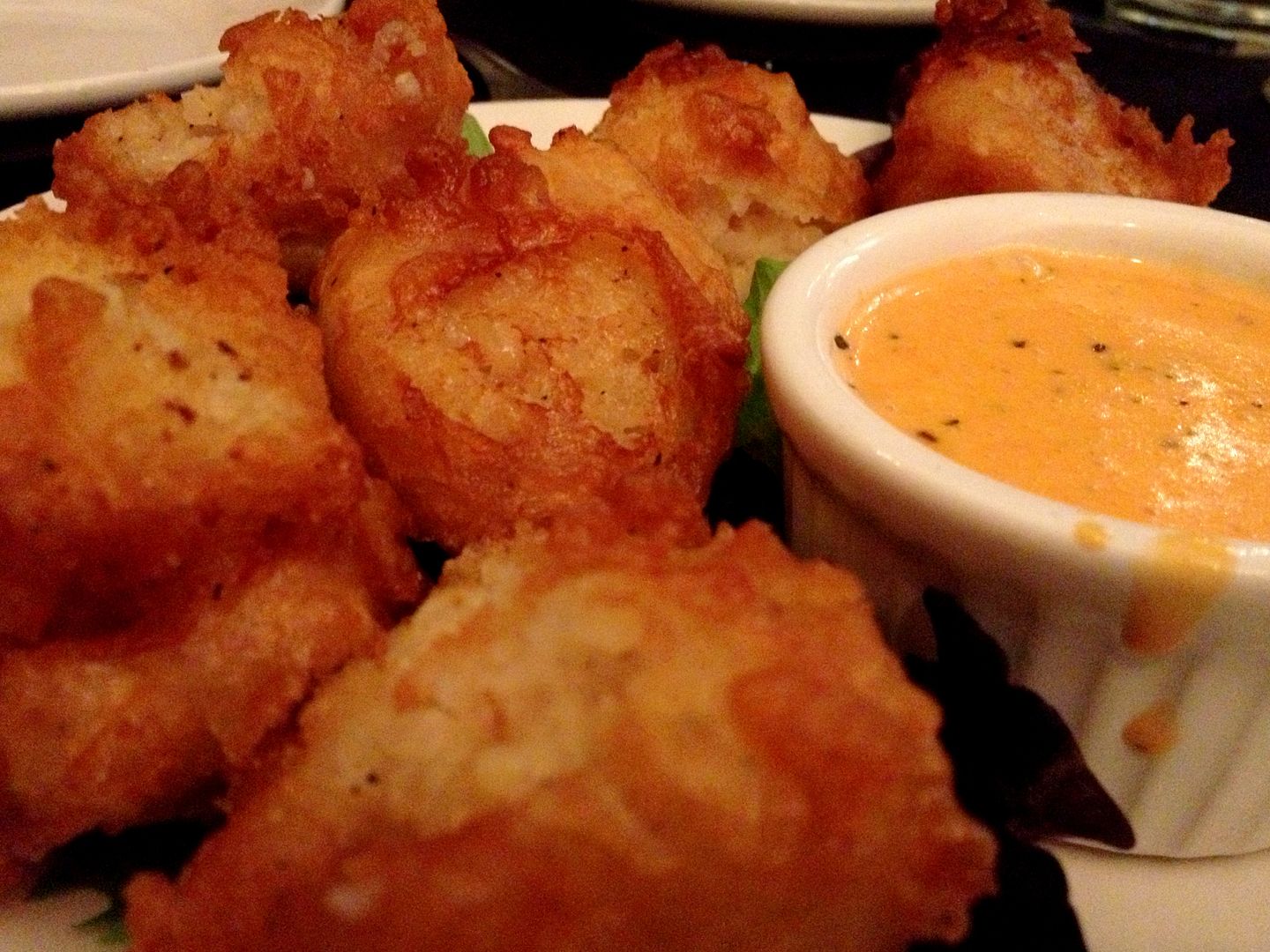 To get the most out of our $40 Living Social deal we shared the Risotto Fritter appetizer which is basically fried risotto balls. While I love anything fried, it was good but didn't have any spices or real flavor to it like I was expecting. Also, on the menu it said it's server with marinara and we received another kind of sauce that I can't still tell what the flavor was. We split the Black and Tan steak and each got a full size salad and side (split plate charge is $7), they had a pecan vinaigrette dressing which was absolutely delightful. Besides that the salad wasn't anything really special so it made it pop big time.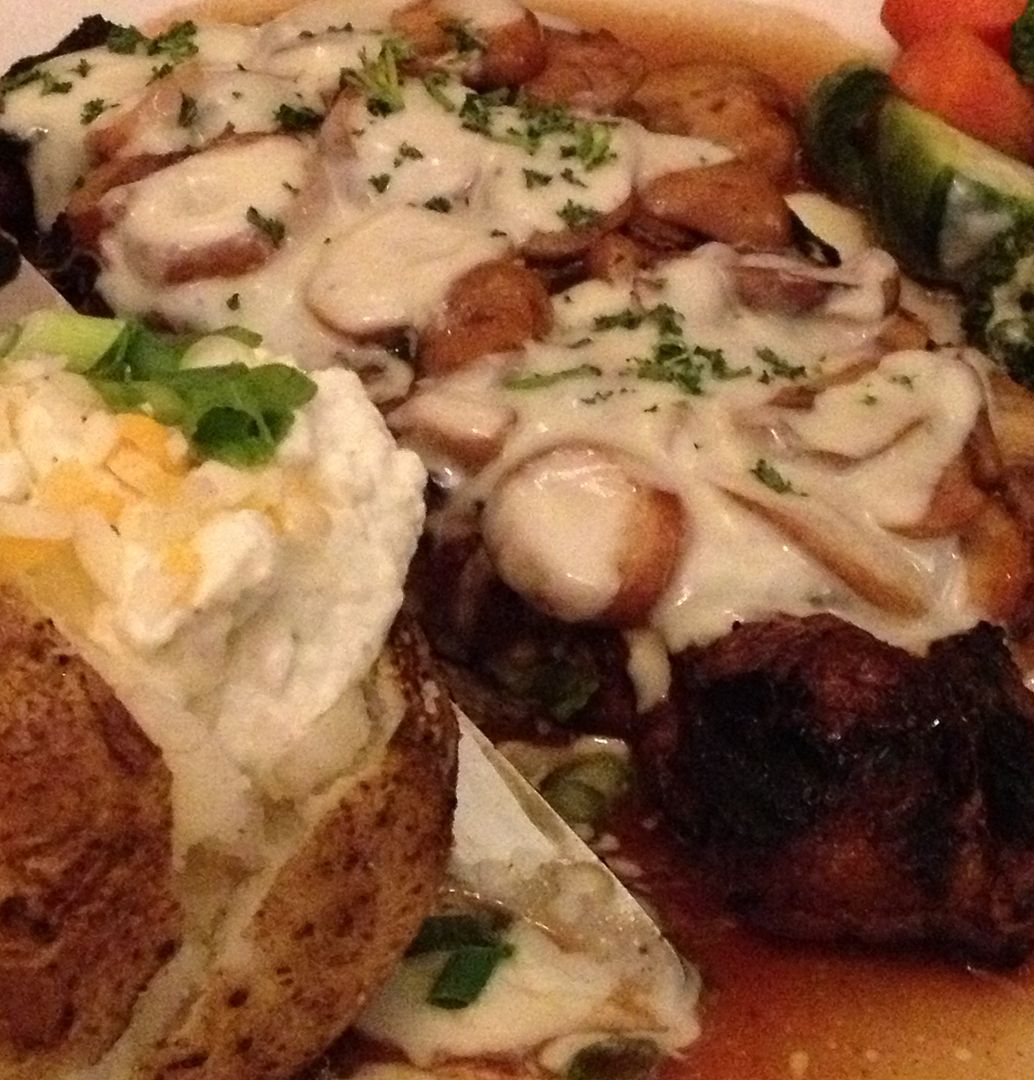 He had a loaded baked potato and I had the garlic cheddar mashed potato of the day and just like the risotto fritters, it lacked flavor. I couldn't tell if that there was either garlic or cheddar and had to season it myself. It was pretty depressing seeing that I was practically jumping for joy when I heard about the union of garlic and cheddar in mashed potato form. The steak was cooked to order and the gorgonzola reduction it came with was amazing.
The service was great but food was really hit or miss. Our bill came to about $54 then we applied $40 from the Living Social which I paid $20 for. Still not worth it in my opinion and walking out, I just wasn't wowed although nothing was completely horrible. I'm a numbers girl so I'd say if you're going to spend some cash, go elsewhere where the price to value is a better deal.
We went to Blue Ocean six hours after I have not one but two emergency root canals (we wont even start on the amount of the bill for that bad boy) so needless to say, I really wasn't in the mood to be chewing anything at that time. This was still when I was doing the no meat experiment so I started with hot and sour soup then we split the shrimp in garlic sauce. Thanks to my Italian roots, I love all things garlic but I've never order anything in garlic sauce when I go out for Chinese so I thought I would try something new. OMG it was absolutely amazing. We started chatting with the server and turns out that all the sauces are made by hand and there is just one guy in the kitchen cooking his little heart away each day .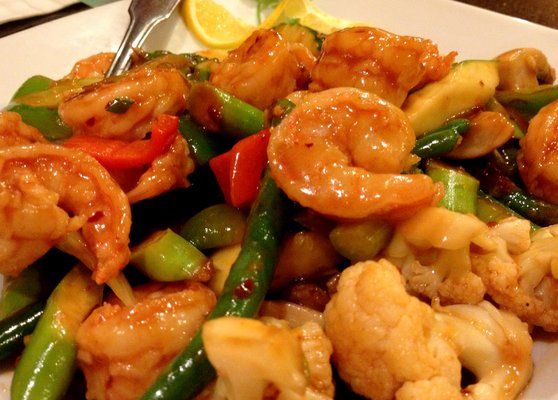 The best part is that they have super cheap lunch specials for $7 and $8 including soup, rice and an eggroll so I can mosey over there on my lunch break. Win win!
But all good things must come to an end and that's when Jason's comes into the picture. Maybe it's just me but when I go out to eat, I am paying not only for food that will make me happy and satisfy my belly but also good service. We went here around 7 on a Sunday night and there were a few table there but nowhere near full. Given the appearance of the dated strip mall it's in right by DU, the place actually pretty nice inside with two little dining areas + sushi bar. There were a few servers working and their takeout people were constantly walking in and out the entire time we were there. One of the girls told us to sit wherever and soon after she came to get our drink orders. We got waters then when my boyfriend asked for straws, she only brought one (even though there were three of us), we just sat there all "Ummmmm ok". He made a remark once she had left about how she figured no one else wanted one and just like that (picture me snapping!), she was over with two more straws–you go server with the bionic ears! Other than that, she was awkward and seemed confused by the whole refill idea or patrons asking for chopsticks (such a foreign idea at an Asian restaurant!) and looked confused whenever I asked for refills. I don't know what's up with the awkward service in Denver but I don't like it. The thing that sucks is even though how weird the service was, I will be back for their pad Thai. It was some of the best I've had in Denver!
It came out in no time and I ordered it spicy and it came out spicy but not too spicy that it overpowered the peanut flavor. The dinner portion was large enough where half of it left my belly happy and enough for lunch today. It just bums me out that the service was awkward and not what I expected it to be because I really like the feel of this place.
Walking past this place, I've always seen such long lines during lunch which have always deterred me from stopping in. But then I won a $25 gift card to Mod Market and decided to take my chance by going at night and I must have the golden touch because this place is near empty compared to what it's like at lunch.  And what do you know? It's fabulous! I don't know what I loved more, the $2 glasses of wine……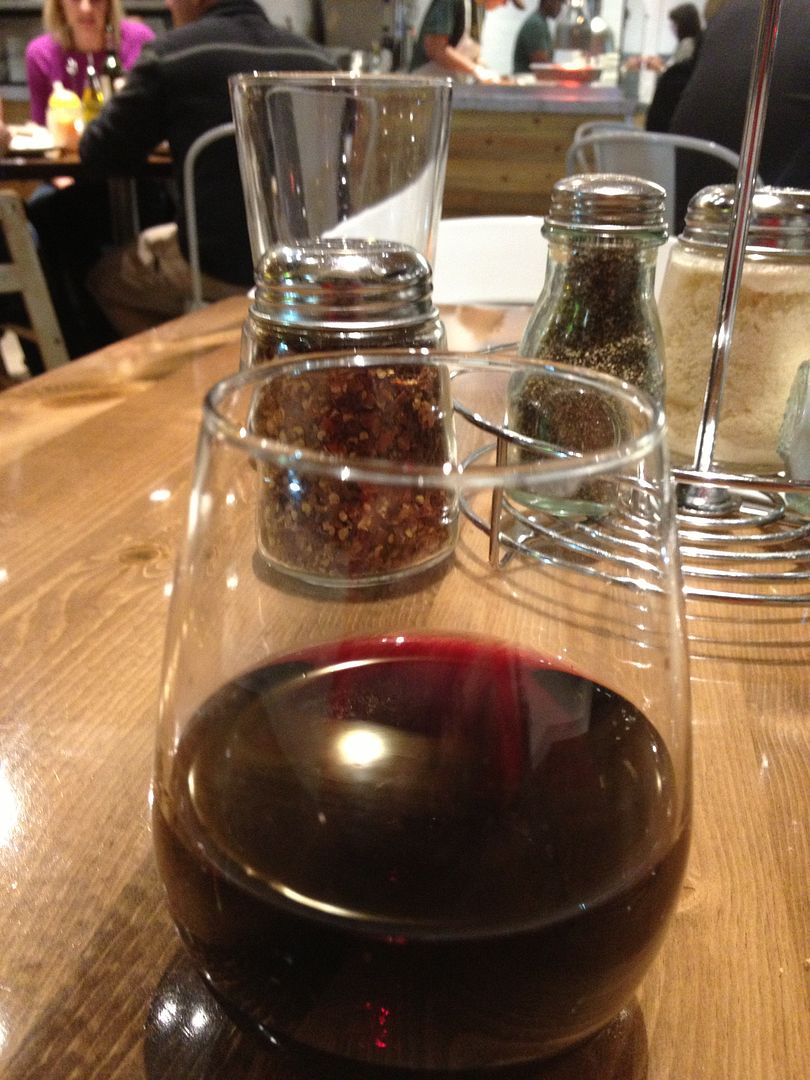 ….or when they print out your receipt, not only is your total on there but the nutritional content of what you ordered! I couldn't stop gushing over the receipt since I thought it was one of those coolest things I've ever seen!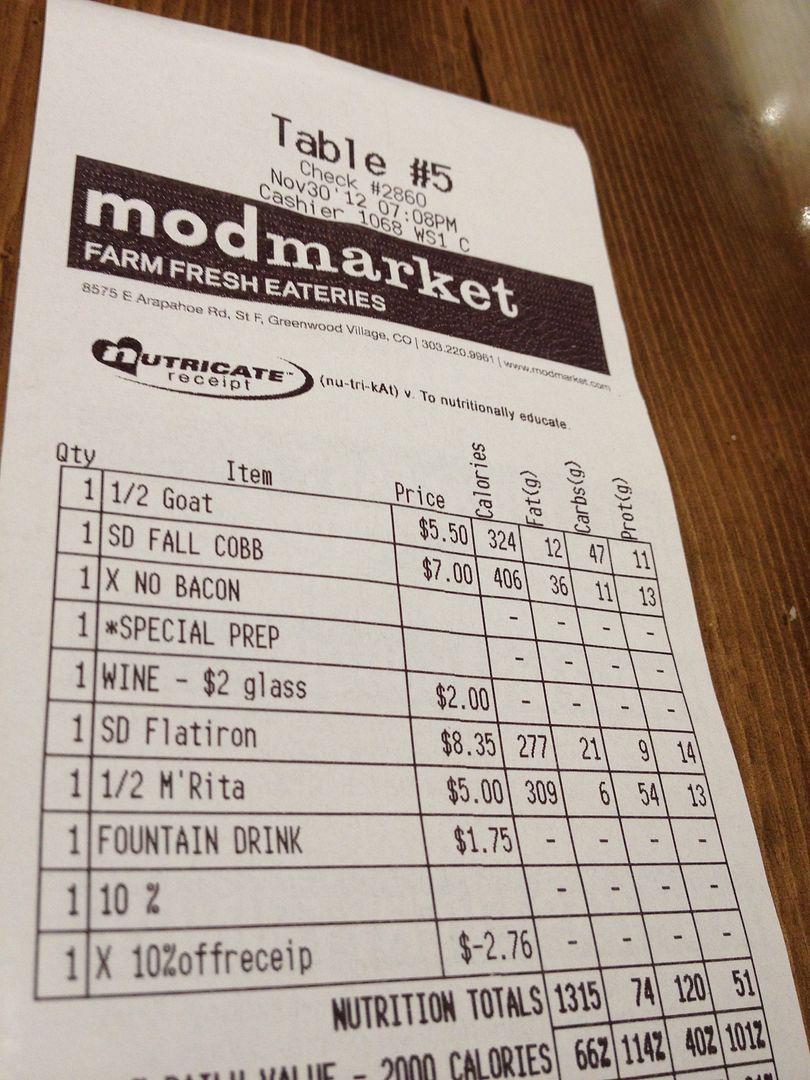 Mod Market was a bit pricey for my blood but if you're looking to eat healthy and have some extra bills sitting around, it's a wonderful place. It's nice that they they have a variety of items ranging from organic to gluten free to vegetarian and in the end, I went with the fall cobb salad and goat pizza combo. I don't know why they don't have publish the price on the menu though, which is a tad annoying since I'm a girl on a budget. It turned out to be about $12 for the combo which isn't horrible but again, I would have liked to have known beforehand how much it was costing me.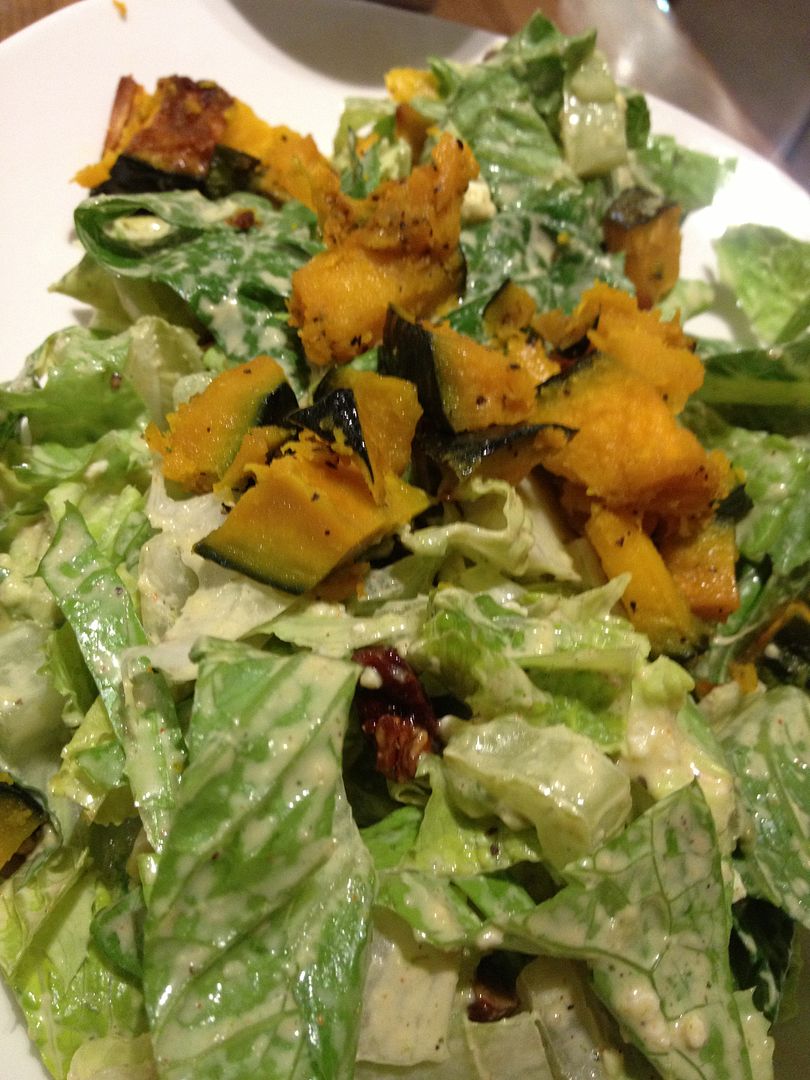 We sat down and were soon buzzed to go pick up our food. You get it on an old school metal tray then feast your heart out. The fall cobb dressing was comparable to Outback's Caesar dressing and love that they added it on (my boo didn't like his salad being doused in salad dressing though, you say tomato, I say tomaaahto). The pizza was thin, crispy and loaded with goat cheese which made my goat cheese loving self smile. Add that along with the funky yet simple wood and metal décor that is dare I say, mod, and friendly staff and this place is a winner……as long as I keep getting bonuses at work that is.
Patxi's recently came to Denver from Palo Alto, CA and Yelp hosted a First Taste event to introduce us to the place and menu.  Little did I know we would be hooked up with a gift bag complete with water bottle and gift card for our next visit! From there, everything was just about perfect. They have a good amount of seating with booths, tables and high tops in the bar area. They sat us down at a spacious booth and were greeted by multiple servers who were beyond attentive and helpful. It was freakishly refreshing—there was always someone there and they had menu knowledge out the ying yang and offered us a drink at every turn. Not since college frat parties have I been offered so many drinks and I gotta say, I liked it!

As with any Yelp Elite event, I wasn't sure what the food situation was. Sometimes it's appetizers only, other times a full meal and I'm happy I came hungry because it was a foodies dream!  Lets start off with appetizers–a beautiful arrangement of meats and cheeses on their antipasto plate but the hot artichoke dip and creamy burrata bruschetta won my affection at first bite. It was like a warm taste bomb smothered on carby goodness. So good that I went up for seconds, totally ignoring the fact that there would probably be more food. I was right…..tons more food like their chopped, Caesar (thanks for providing anchovies!!) and arugula salad. But I think we all know what stole the show at Patxi's…..their deep dish Chicago style pizza.

I'm still trying to collect my thoughts about the pizza because the deep dish pizza at Patxi's was waaaay better than the pizza I had in Chicago a few months ago! We split a piece of each–the traditional pizza and the bbq chicken topped with a generous portion of jalapenos–I can't decide which I liked better because I was mouthgasming with each bite. Warm, delicious, meaty, buttery, everything I shouldn't have but it's so good I was pulling out the moderation card and more! Then a few people on the staff came over and told us to drizzle honey on the crust to make it a little bite of dessert right there. I've never even thought of that before and it was a perfect end to the meal. They also serve thin crust if deep dish style isn't your bag but I was generous and offered it to someone who hadn't had pizza yet.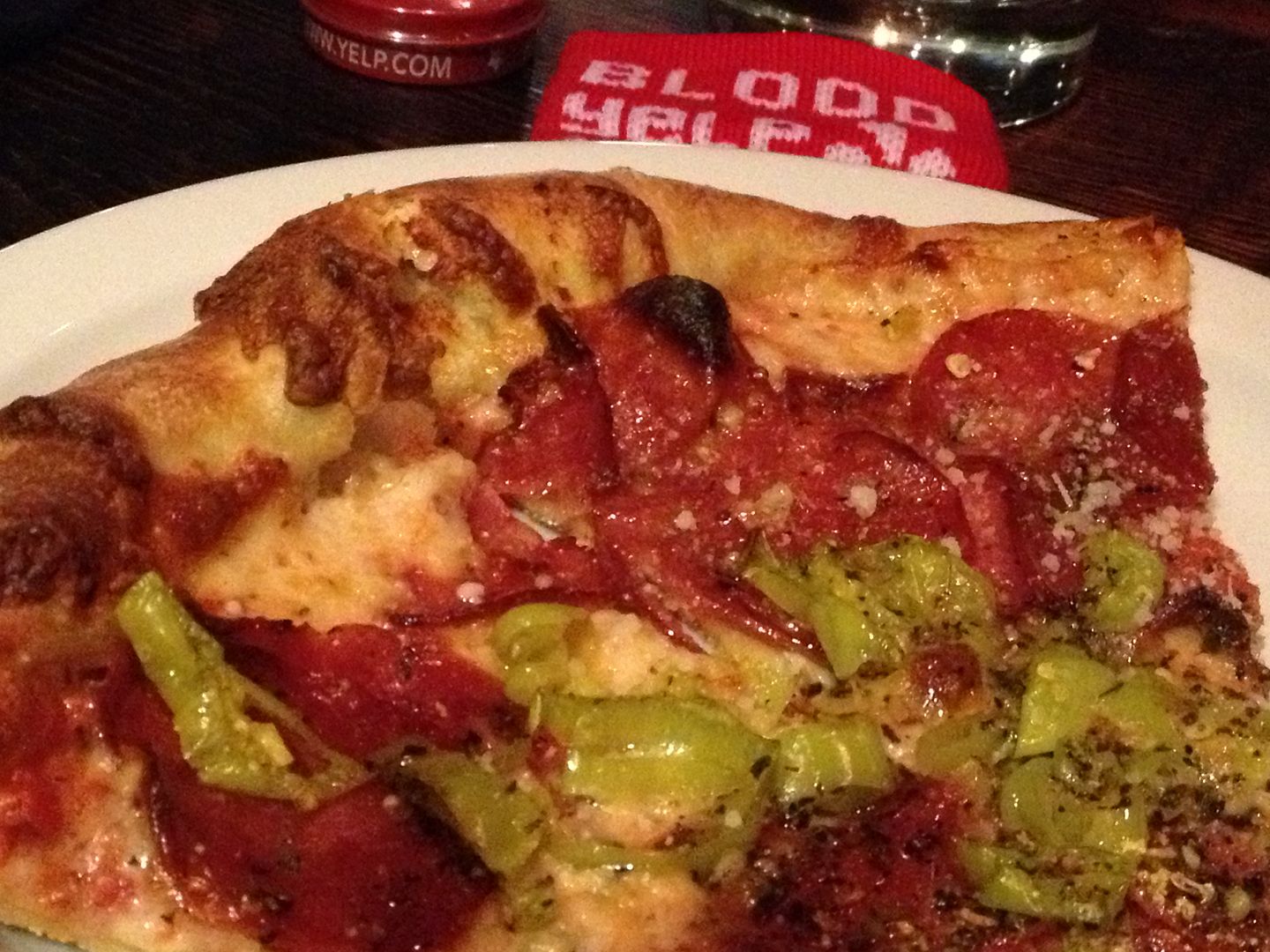 Seriously, everything about this event was amazing. From the ultra attentive service to attention to detail, creativity and owners coming around to each and every table telling us about how they decided to come to Denver from Palo Alto–it was a night to remember. I can'twait to try them as a full running restaurants because I will be there with my fat pants on!
I've tried Biker Jim's once at the Justice League of Street Foodand have been dying to try the real thing. We stopped by here and it was the ultimate hipster haven that I knew it would be. As much as I despise hipsters, I wanted to embrace the hipster spirit and ordered a PBR with my meal……and you know what? It's still nasty.
I got the southwest buffalo dog complete with caramelized onions and cream cheese because Biker Jim's thinks this is a good idea for a hot dog topping……and they are absolutely right! I added some banana peppers, jalapenos and brown mustard because I'm saucy like that and dove into it the best I could. Like gyros and big sushi rolls, hot dogs are really awkward to eat, especially when you're sitting with two boys. I kept taking a bite but the dog was too big and not matter how hard I bit in, I couldn't tear it with my teeth. Plus it kept slipping out of the bun and yeaaaaah, this description of the hot dog just got really awkward. In or out of the bun, it was bliss.
To finish this post about my recent restaurant adventures in Denver, we will end on a high note from the other night. I finally got to meet up with the fabulous Kelly from No Thanks to Cake. We've been tweeting back and forth for months trying to figure out a date to get together and it finally happened! We went on a Tuesday night and there was a ton of people there and as Kelly would say "the staff was hustling". The restaurant was like a revolving door with customers coming in and out the whole time and it was by far the busiest place in the Vietnamese plaza it's located in.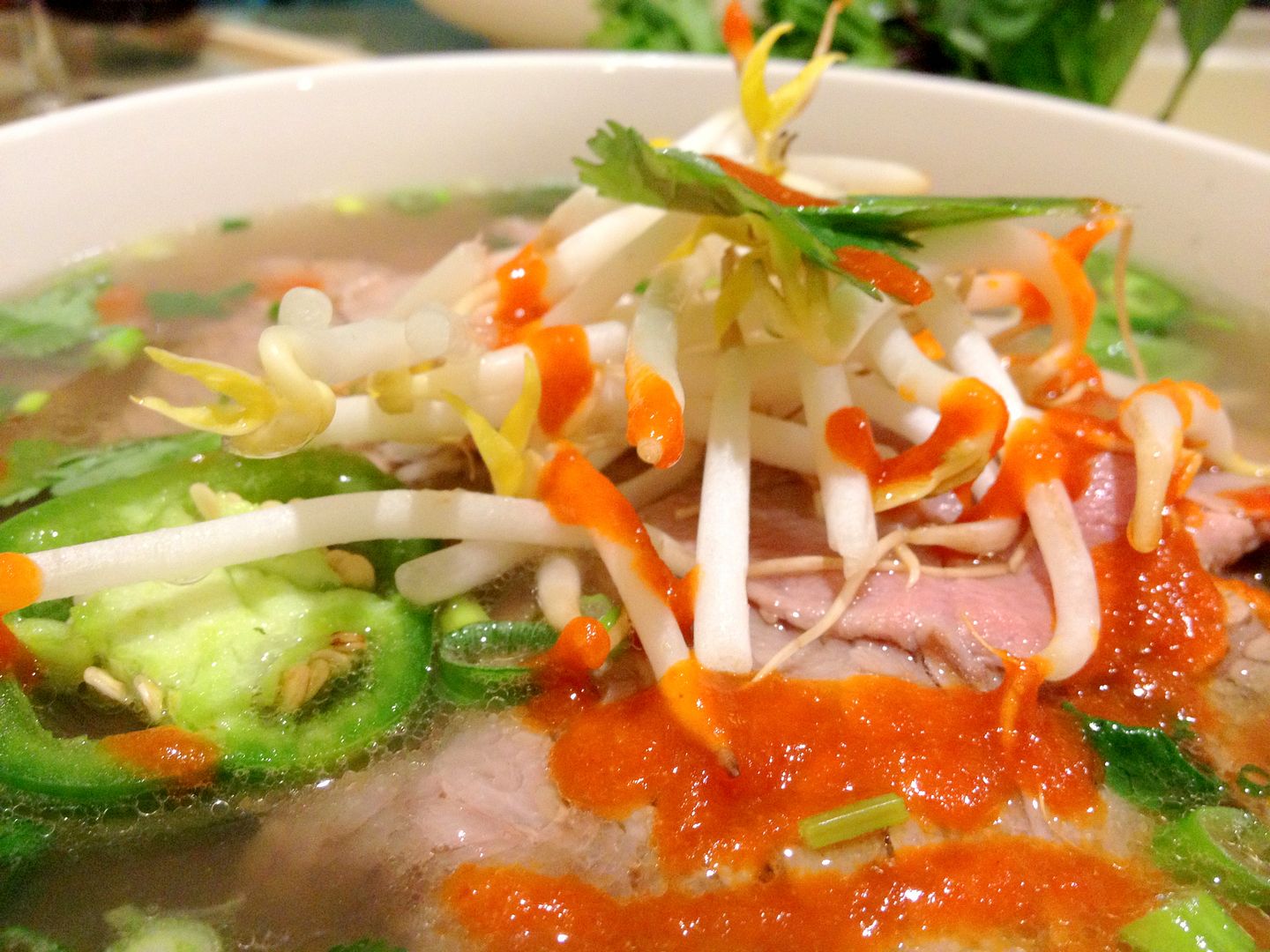 I got the rare beef and brisket pho for only $7 and it was bomb.com. It was the perfect end to a hellacious day at work……new friends, good food and a glass wine, always does the trick! Stay tuned for more Denver Dining Adventures!