Greetings.
Well, that was a weak "Greetings", you would think it would be jovial but not so much.
The last few days have been mentally, emotionally and physically exhausting. I really forgot how tiring just sitting in a car and driving could be. At least I have a co-pilot this time around and by co-pilot I mean a human, not Lincoln who I had to say good bye to yesterday along with my parents dog.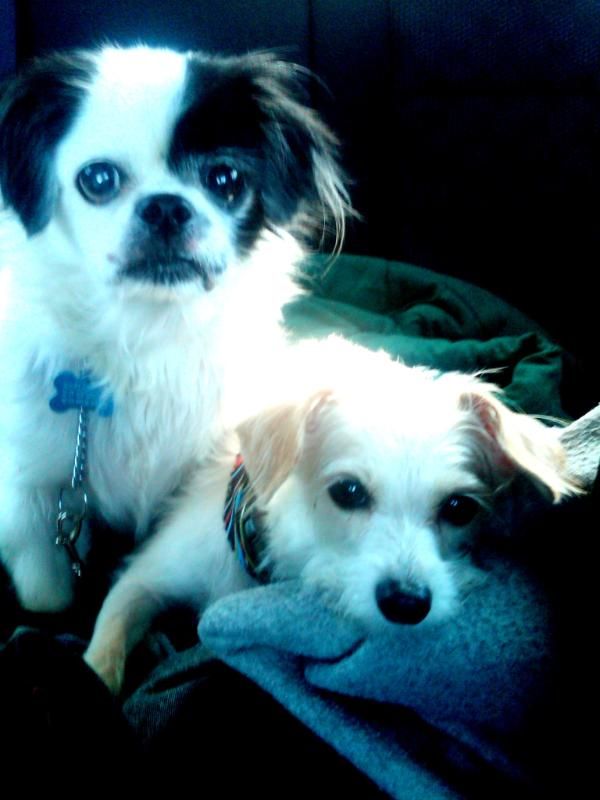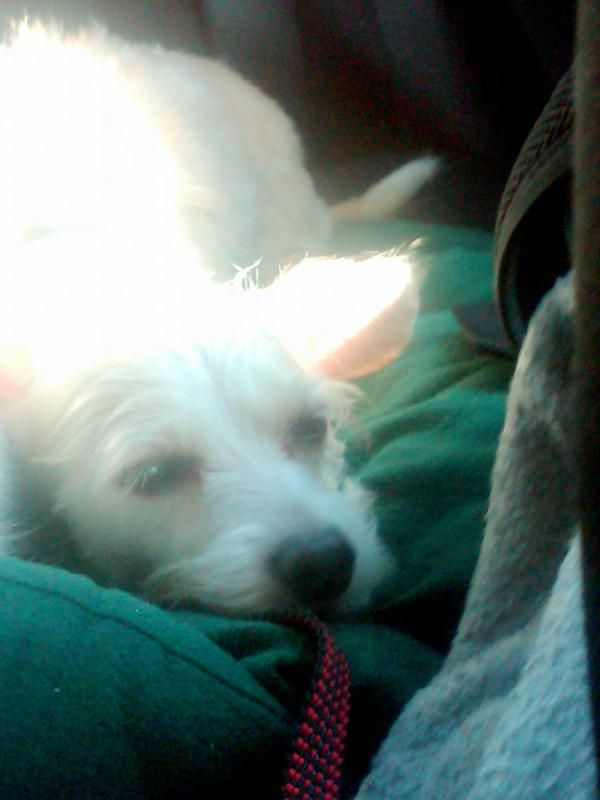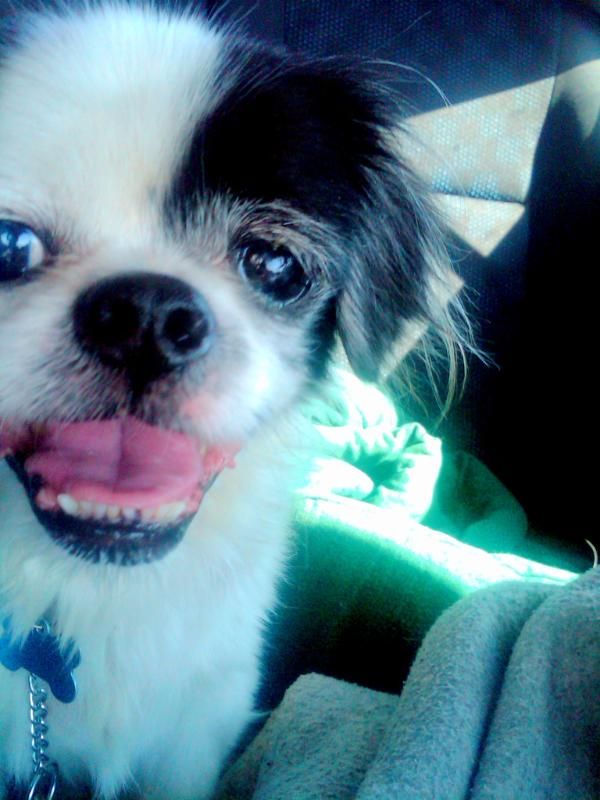 I've spent 15 hours on the road the past two days, my back hurts, I feel nasty and I need to slap some makeup on because this no makeup thing is not a good look for me (even if it's just my sister and me in the car). I'm ready to get to Colorado already and hope we do so without hitting any horrible weather on the way there. I picked up my sister yesterday and hit the road this morning. 
Seriously, there is barely any room in the truck or the backseat  of my car so I  hope we don't run into any thrift stores along the way. Having to put my coffee mugs inside of my sneakers as packaging is embarrassing enough. The drive through Florida and Georgia was nothing to get excited over. We made a quick stop in Gainesville and thank God, the Gators weren't playing at home because it would have been an absolutely zoo.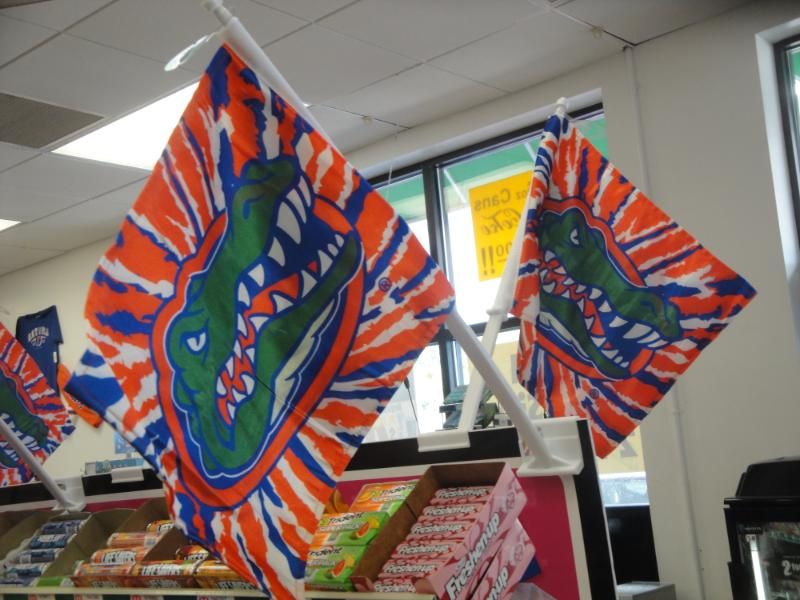 I remembered $.99 large iced tea coupon with me from my DD calendar, nothing like scoring a deal on the road! As for the taste of the unsweetened raspberry iced tea, it was straight up nasty. Even after pouring in four splenda's to taste, it was rank. I can say with confidence I won't be trying that again, even if it was only $.99.
We sidetracked in Valdosta GA for a few minutes just to see something other than I-75. After two minutes of driving through the historic downtown, we were ready to get back on the interstate and continue to look at fall foliage.
We were crashing at one of my sisters friends house for the night right outside of Atlanta.  Then I started to think, well, the original Chick Fil A must be somewhere near Atlanta right? Enter in the Chick Fil A Dwarf House in Hapeville, GA.
Yes, dwarf house. I started to have visions of dwarfs working there and I wasn't sure if the house was dwarf sized or if the former was true. I saw many positive reviews for the place on Yelp and didn't want reviewers to spoil what the true deal was on the dwarf house so before I could read any further, we stopped there before going through downtown Atlanta.
We walked in and there are two separate sections: one with the traditional Chick Fil A menu and another that is a diner set up
In the foregound is Tricia, our wonderful server. We sat at the counter and started chatting with her. She instantly took a liking to us (as well as the creeper next to us) and gave us the scoop on the menu, including a scoop of their white chicken chili complete with tortilla stripes and sour cream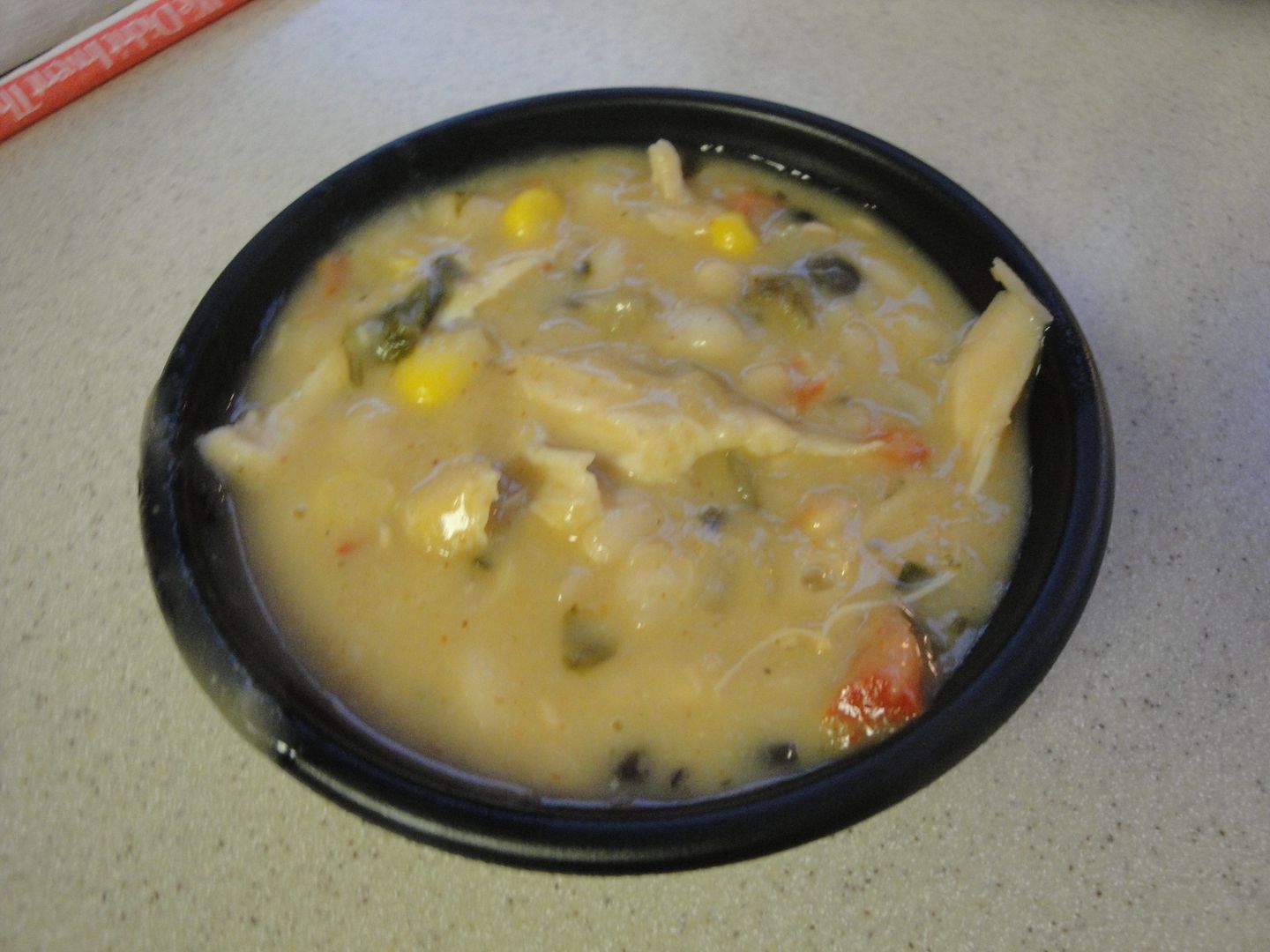 Delicious. However while skimming the Yelp reviews, I kept seeing people mention an item called the Hot Brown.  They have the regular items you can find on any Chick Fil A menu and then some including BLT's, mac n cheese, sweet potato souffle and a number of breakfast items. But for some reason the item Hot Brown stuck in my head. From my understanding, it was a hot sandwich covered in gravy but she soon corrected me, a sandwich it was not.
Try a casserole of mashed potatoes, cheese, chicken bits, bacon and toast.
Casserole?
Cheese?
Potatoes?
Mashed potatoes?????
Can you hear my head exploding from excitement?

Yep, I was sold right then and there even if it meant a coronary afterwards. The plan was to have salad or some kind of vegetable during the day but  c'mon, could you refuse something like this?
I present to you the Hot Brown. I swore I was only going to have a few bites but of course that didn't happen. As soon as I got one bite with all of the items in one, I knew I was toast (pun intended) and it wouldn't be long before it was finished. Hell, I even finished the fried cheese stuck to the plate. It was that good…..and that worth it! We were sure to leave from the little red dwarf door in the front of the restaurant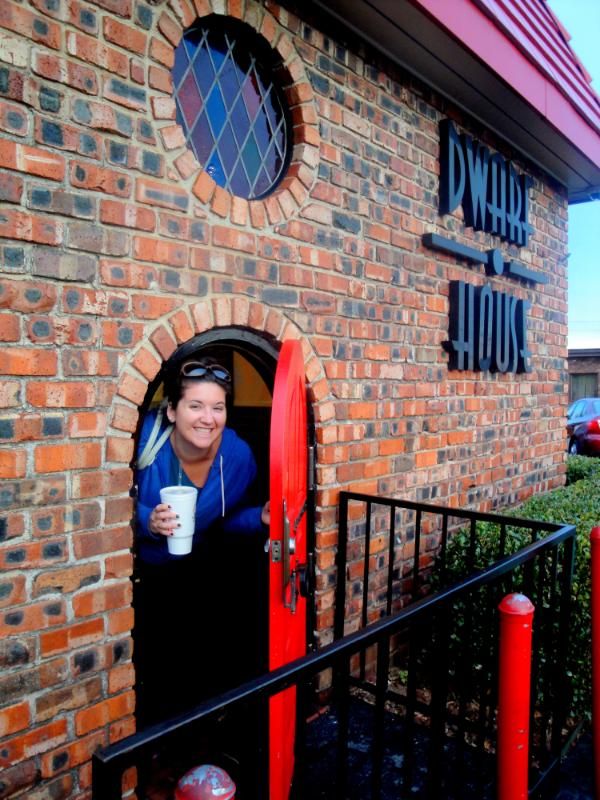 Off to cry because I am that tired and really not looking forward to another 10+ hour day of driving tomorrow. Hope your Saturday night is more hopping than mine!