Sunday April 22 is Earth Day!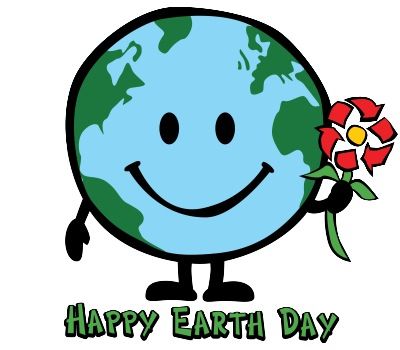 Earth Day freebies and giveaways!
Free drip coffee at Caribou Coffee when you bring in a reusable cup (word on the street is that Starbucks is offering free coffee as well on Earth Day when you bring in a reusable cup but I haven't found anything on it!)
Get a free reusable bag at Target on Sunday  at Guest Services
And at Disney store too when you bring in five plastic bags
Ok and at H-E-B
Last one, I promise–Free Earth Day tote to decorate at Michaels from 1p-3p
Free full size cleanser at Origins when you bring in an empty cleanser container (any brand!)
Free admission to National Parks April 21-29
Also, for those of you in Denver free admission to the Denver Museum of Nature & Science on Earth Day!
Enter to win a year's supply of Cascadian Farm products
Win a upcycle lunch bag filled with Ella's Kitchen samples on Facebook
And while no freebies, I've found a new-to-me website this past week and have been reading non stop! Mother Nature Network  is a website that promotes healthy living and a cleaner Earth!

They have an array of articles ranging from travel to eco friendly businesses to gardening and organic living. One of my favorite articles that I recently came across was "Living cheap is the new green"
Earth Day tips!
*Use reusable totes when you can
*Buy a programmable thermostat and dress cool in the summer, warm in the winter instead of cranking up the heat and A/C
*If you're going to be out of a room for longer than 10 minutes, turn off the lights (I remember hearing this at a Earth Day lecture when I was younger and it always stuck with me. It drives me absolutely batty when people leave lights on all the time).
*Create a garden of your own. Apartment dwellers, even you can do this! If possible, create a compost in your garden or yard. Compost helps improve soil so it holds more water and plants grow better. Food scraps and kitchen waste make great compost, and you save money on fertilizers by doing so!

*Reuse any materials you can. I am adamant about reusing tin foil that hasn't been botched, wash out Ziplock bags and let air dry instead of just throwing them out and love hitting up thrift stores for gently used threads. This can be applied to all areas of your life!
*Use public transportation or those two things you call legs when you can. I rode public transportation when I lived in Charlotte and miss is dearly. Denver has a renowned transportation system however it's not feasible for me to take it since it would take almost two hours just to get to work. I can't wait to get a bike this summer so I can ride around instead of driving!
*When doing laundry, wait until you have a full load to wash instead of doing mini loads throughout the week. The average laundry load used 40.9 gallons of water! Conserve water and wait until you have a lot to wash!
Speaking of Earth Day and all things good for our planet, I recently had the pleasure of trying out Driscoll's berries. I've come across Driscoll's many a times in the supermarket and have never let down by this family owned and run company. They have blackberries, strawberries, blueberries and raspberries plus they offer organic and USDA Certified Organic berries so they are grown without pesticides or synthetic fertilizers. I perused their site and found out both interesting and useful information and love that they have a Live Healthy section with tips on healthy living, recipes and nutritionist advice. All of these tidbits impressed me but especially love how they work with independent organic growers which are mostly family run farms. Yay for supporting the little guy and keeping small businesses running strong!
I could've tried them out in my normal fashion such as in a smoothie, mixed with Greek yogurt or just eat solo. But I wanted to get creative and venture out of my comfort zone. Coincidentally Shrek was on and it was like the movie (and Donkey!) were speaking directly to me!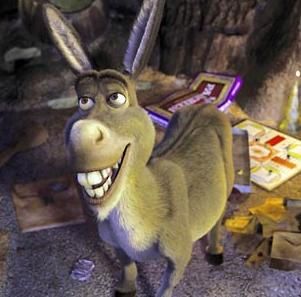 "Have you ever met a person, you say, "Let's get some parfait," they say, "Hell no, I don't like no parfait"? Parfaits are delicious!"
Amen brother! Who knew a donkey would inspire my breakfast for a morning? I've never made a parfait before but surely it couldn't be too hard, it's just layer upon layer with no real rhyme or reason.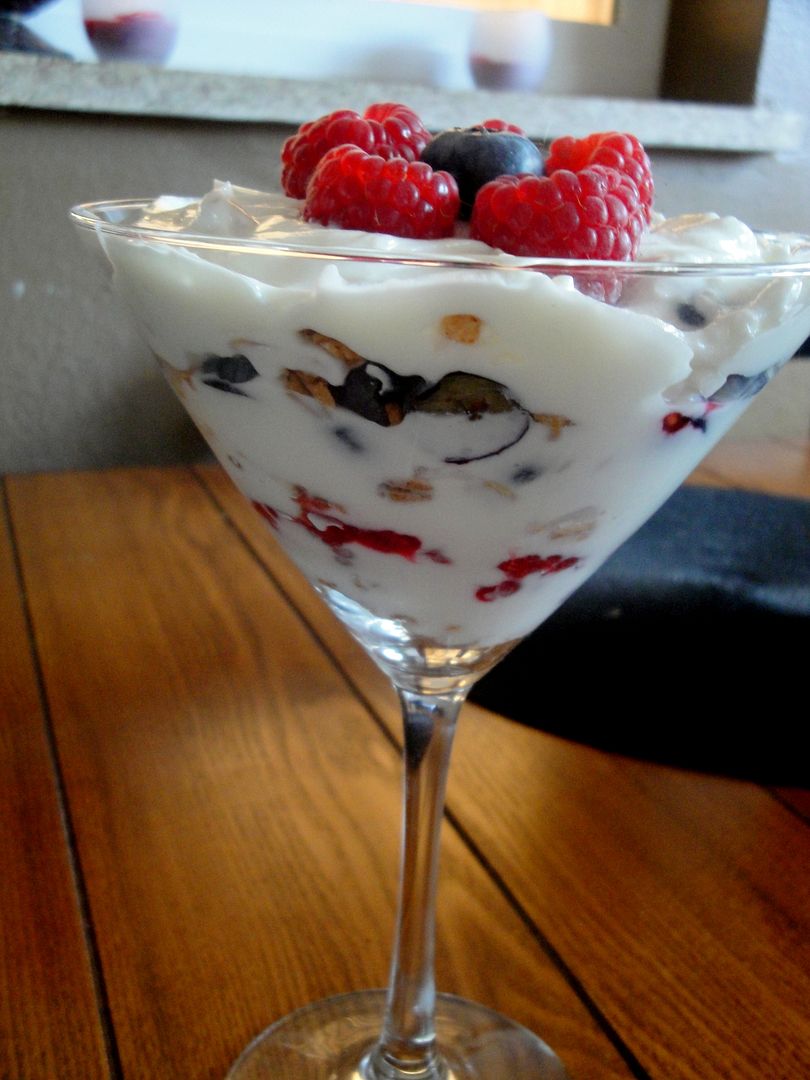 I made mine with greek yogurt, cherry granola, Driscoll's raspberries and blueberries to make a sweet treat to enjoy on a Sunday morning! Thanks Driscoll's for hooking me up with some natural, healthy goodness!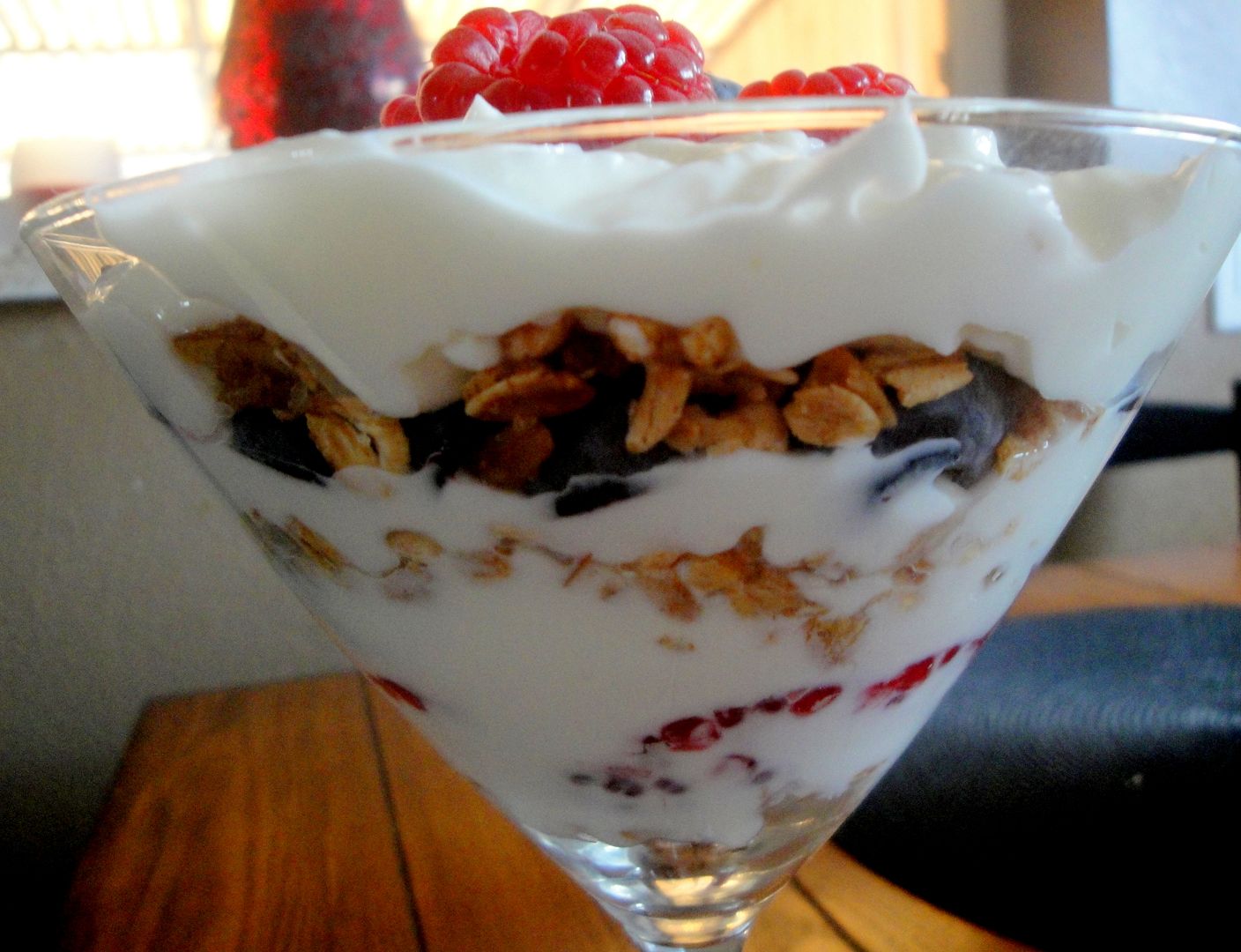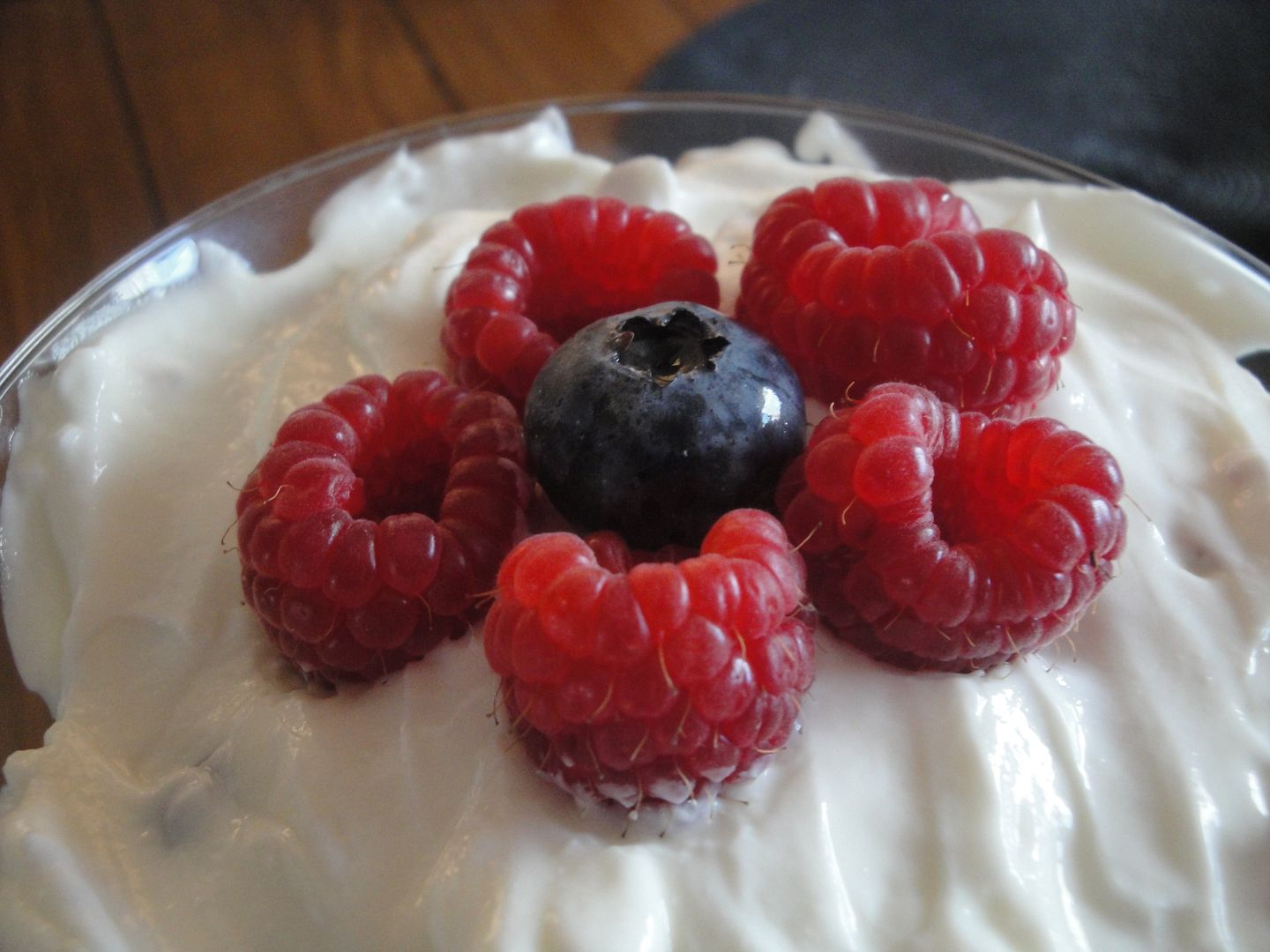 Share with the class-what are your Earth Day tips?