What is a trip to Italy without visiting Florence?
A peaceful one, I'll tellyou that. We drove from northern Italy to Florence in the afternoon and got in around 5pm. There weren't any tolls on the entire trip, only coming into Florence and the amount made up for all the ones we thought we missed—25 Euro—eeks! Driving into Florence was just like driving into any major city: an absolute mess. Take traffic in New York City and throw a tremendous amount of scooters zipping in and out of the lanes along with round abouts and that's Florence for you. We were driving in and swerved to miss one scooter than almost hit another and the thing that sucks is in Italy, the drive is responsible if there is an accident with a pedestrian, cycler, scooter rider, etc. I was riding shotgun and was even stressed by this whole process! Next time I go there, I will be taking the train into the city.
We checked in at Hotel Giglio, a quaint hotel located a few blocks from all the major sites. But we didn't stay inside for long-we were ready to get out and explore the city. Ok, not really wine and food were on my agenda so passing by the Gran Caffe San Marco was perfect timing because I was about to bite someone's head off if I didn't get one or the other soon.
Nothing on the menu was really calling out to me especially with their prices. I got a glass of the house red to help me mull over what my first meal in the city would be.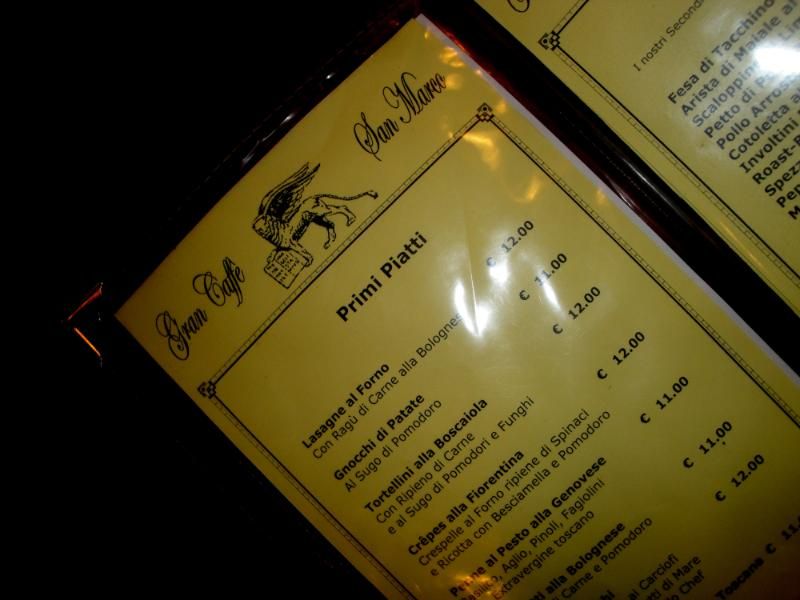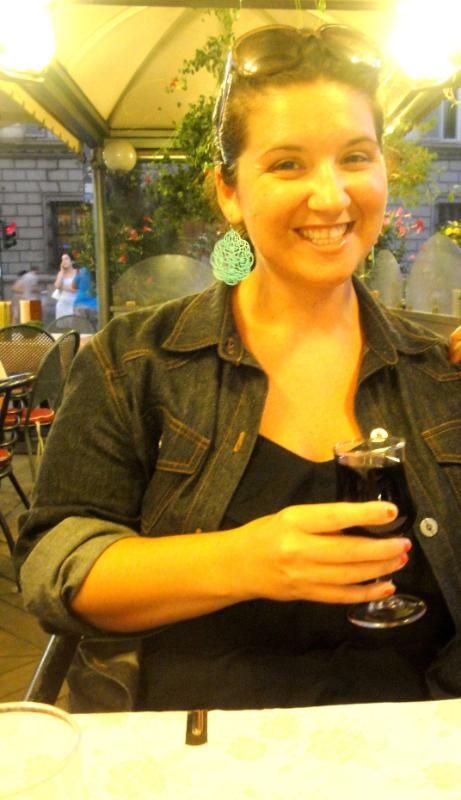 I ordered the eggplant parmesan which was good but not anything memorable. I felt like I had the same thing out of the freezer sometime in my past. But it was edible so it worked for me.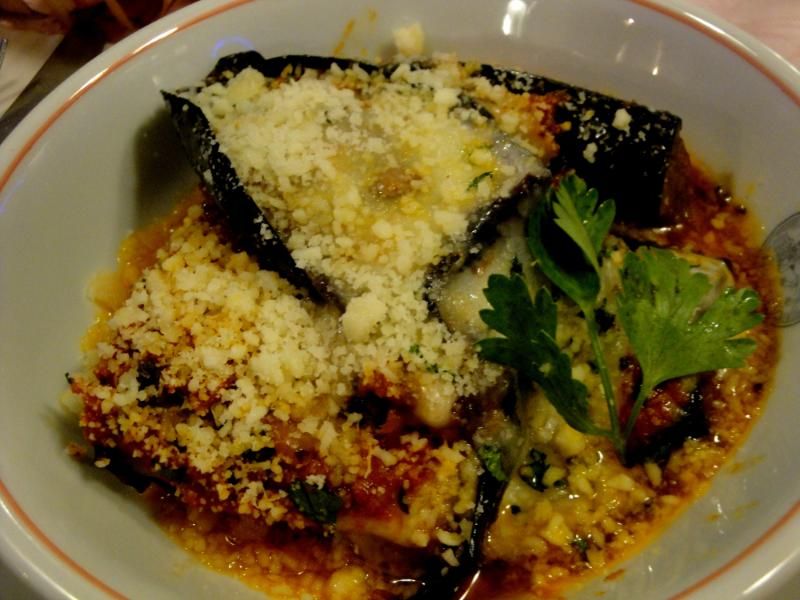 The atmosphere left alot to be desired-they have a nice outdoor seating area but seemed like the location is where all the city busses convene so lots of noise, distractions and skeevy people. If I wasn't so tired and hungry, I would have been annoyed but I just needed food at the point.
Waking up the next day, the first thing we did was check out the breakfast buffet at the hotel. Cappuccino was definitely in store and it looked so pretty I didn't want to drink it.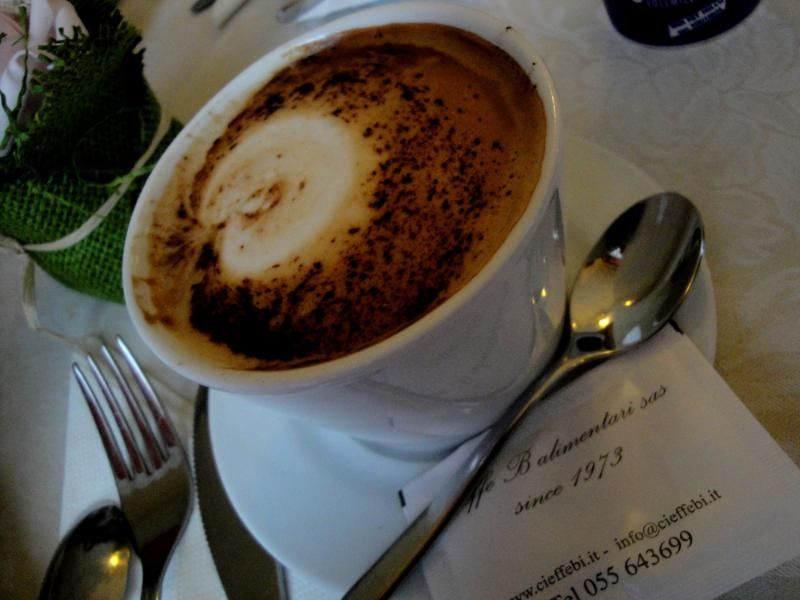 More little cappuccino, I barely knew thee.
I could go on and on about their spread but let's talk about the most important thing there: Individual packets of Nutella. GAH!!! This just made me a happy girl.
We made our way over to the area of the Duomo to check out the orange tiled dome and the Basilica di Santa Maria del Fiore.
I can see a little……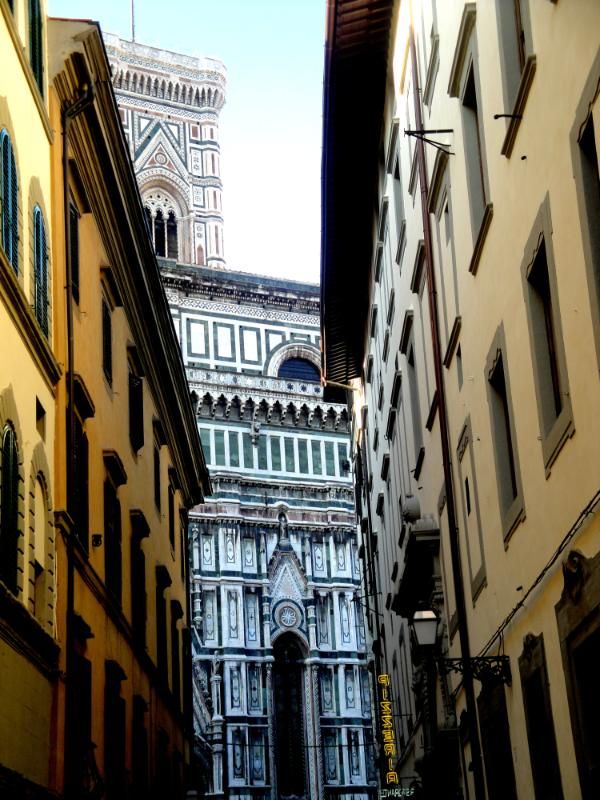 There it is! It was absolutely stunning and surreal to see it in person. The area was crazed full of vendors, street performers, tourists, etc. Even at 9am the lines to go up into the Duomo were pretty long but we decided to walk around and check out the surrounding area instead.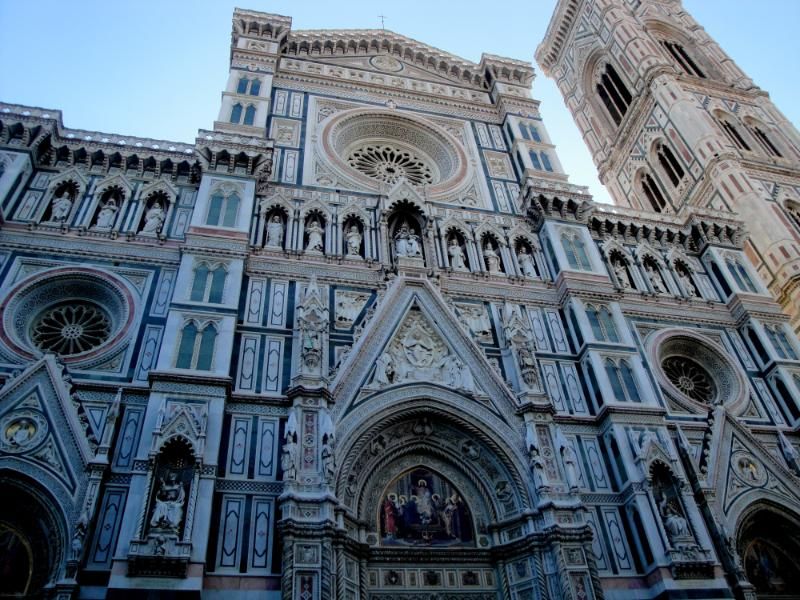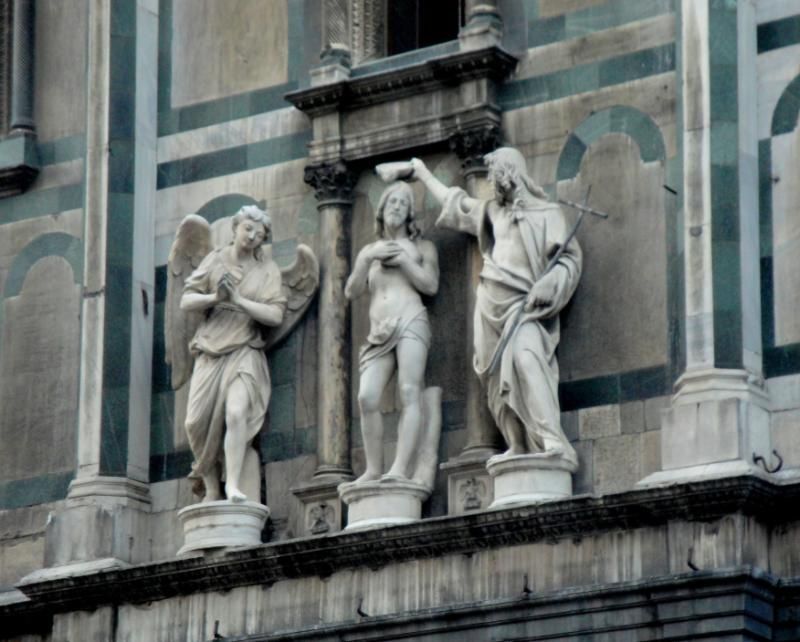 All I could do was stare. The Duomo and Basilica were so intricate, I would stand in one spot for a minute, walk seven steps then stop again.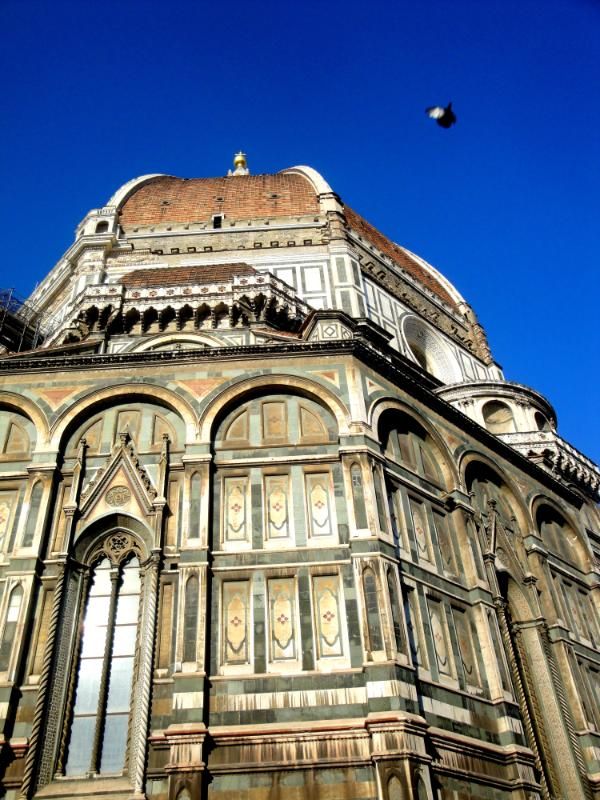 In front of one duomo, then another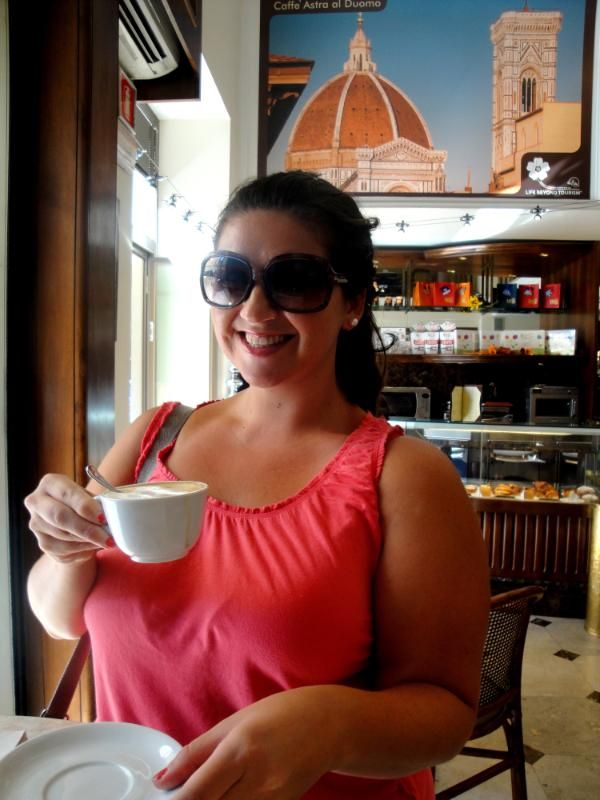 So much history, so much culture, so much……Ben & Jerry's?
Waited in line at the Academia. There was a line down the block when we got there but once they opened up it moved pretty quickly.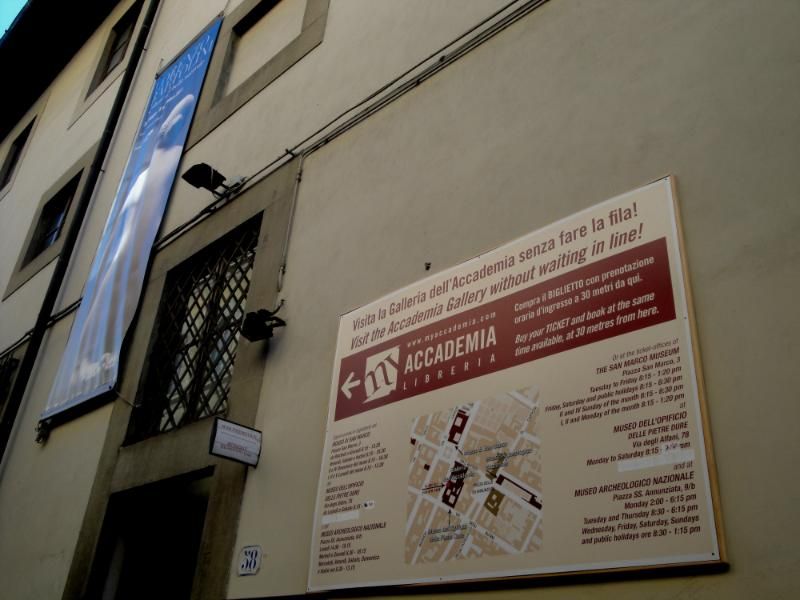 I obeyed the rules and didn't take any pictures so sorry friends. The most famous piece of work the Academia houses is the statue of David and that guy is huge…..in stature! I thought it was going to be life sized but I believe it's over 15 feet tall.
Then we ran into the Arno River. Seriously, we were searching for it and went one direction, then went in another. Then I saw a bridge and aha, we were there.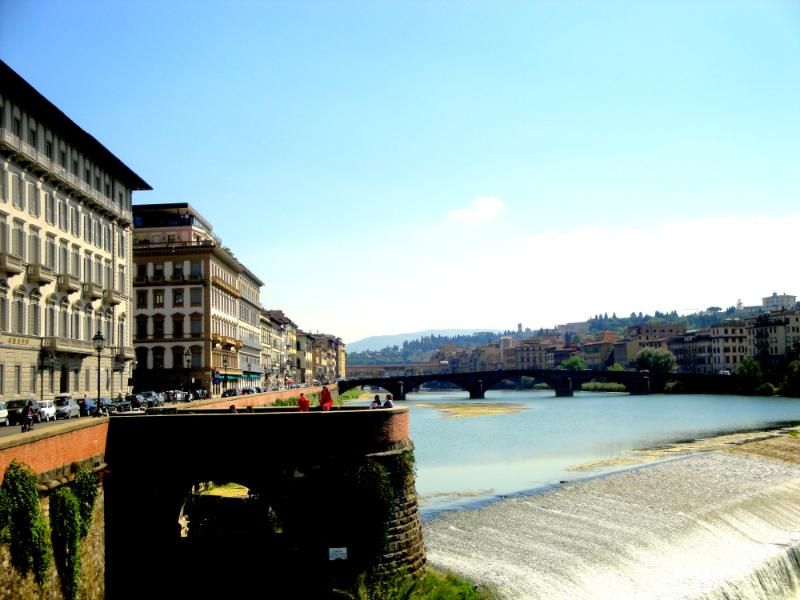 We were just walking along then we found it. It was getting to be steamy outside and all I wanted to find at that point was some shade. Don't see any? Yeah, I didn't either. It was just a brutal day out even for September and I was in dire need to get back into the shade. But still, it was gorgeous and fun to walk along the river and take in the moment.
We found a great restaurant a couple of blocks from the river, La Grotta Guelfa
I don't know how we got onto the subject but we started talking Jersey Shore with our server who muttered something about them being there a few times when they were filming. Despite us not being orange or sporting a bump it, we tried to tell him all Americans aren't like that but he didn't look convinced.
This restaurant was a breath of fresh air compared to the crap ri[p off of a restaurant the night before. They have a huge selection of anti pasta, first, second course, pizza, salads and pasta at very reasonable prices. Plus, give me a huge area of outdoor seating and I'm a fan (too bad I can't review this on Yelp!)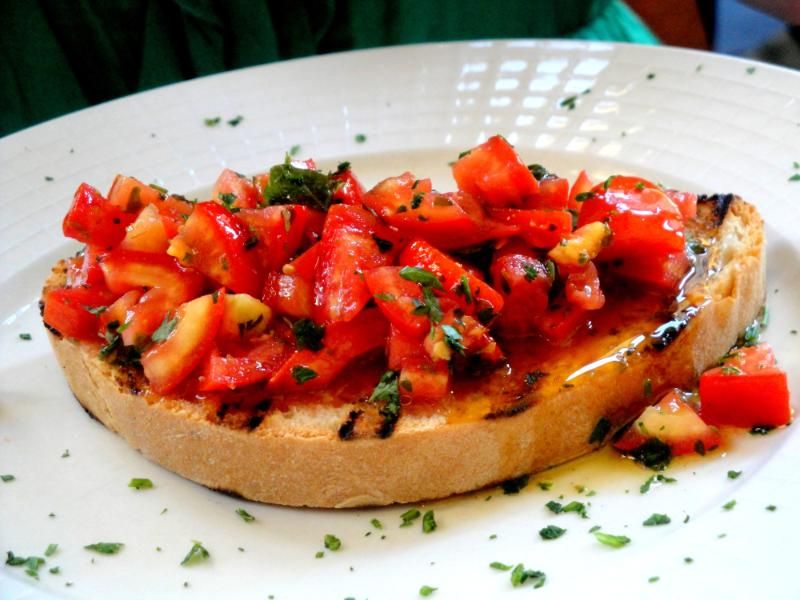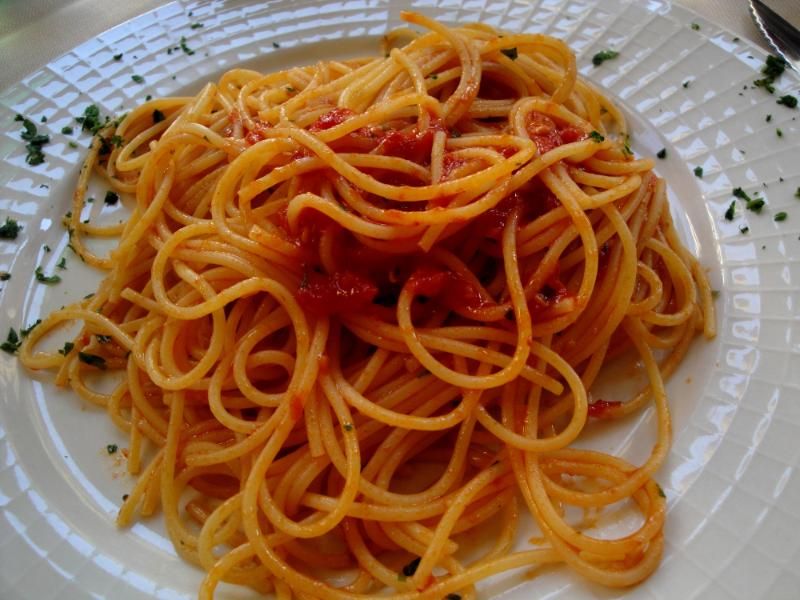 Mmmmmm, perfecto.
The day ended shortly after that since we had a hotel reservation in Siena, about an hour south of Florence. I wish I had some crazy stories from Florence but it was a pretty tame time complete with food, history and shopping.
My take aways from Florence:
*The city is David crazy
*The scooter drivers are just straight up crazy
*If you're not an aggressive driver, do not attempt to drive in the city
*More expensive food does not equal better quality
*The house wine is amazing since it's from right there. Don't be a snob and pass on it, like I usually do!
*If you forget to buy something for a family member or friend, don't fret, there will be another cart within the next 100 feet of you
*same goes for gelato
*The street vendors welcome bartering for their goods. I got a print of the city of Florence for five euro.
*Bring your water and be sure to hydrate, Florence was steamy!