You want an update on how my commute is going these days? Well, if Goldmember is my nemesis, Blue Demon is my friend! I see this dude almost as often as Goldmember and while Goldmember is horrible, Blue Demon is wonderful. He goes fast but not too fast and let's people pass and doesn't drive like the asshat that Goldmember is. Even if his car and license plate confuse me at times, sometimes I want to call him Red Demon or Blue Wing. Perhaps we can form an alliance and fight the evil powers of Goldmember and
his/her bad driving skills?
And speaking of commuting, why in the world would someone get the shocker symbol on the back of their car?
Are you that adamant about letting the world know about what you dig (or dig doing) when the lights go out? Nothing says responsible driver like two in the pink, one in the stink. One Denver drivers, you crack me up.
Operation cut down on carbs is still going well, much to my surprise. I even made tofu stir fry the other night without rice or noodles and it was a bit
depressing. Like I said before, I'm not cutting out carbs completely
but was bummed to see that I was out of noodles and was too lazy to
throw rice in the rice cooker (how sad is that?) But oddly enough I
had enough energy to peel and slice a bunch of veggies like zucchini,
red peppers, mushrooms and onions and throw in the pan with stir fry.
I usually just throw in low sodium soy sauce, rice vinegar and/or
Sriracha into the mix but that's been getting stale lately. I've seen
some recipes for chow mein and stir fry using oyster sauce so when I
went to H-Mart for the first time the other week, I picked up a
bottle.
I wasn't sure what the consistency would be like or what even to do
with it. I opened it up and it was thick like Hoisin sauce and mixed 1
½ tbsp  in a bowl with ¼ cup vegetable oil, 1/3 cup water,  1 tbsp red
pepper flakes and 1 tbsp garlic powder. I let the veggies and tofu
cook for about three to five minutes on their own before pouring the
sauce over then let the sauce do its magic.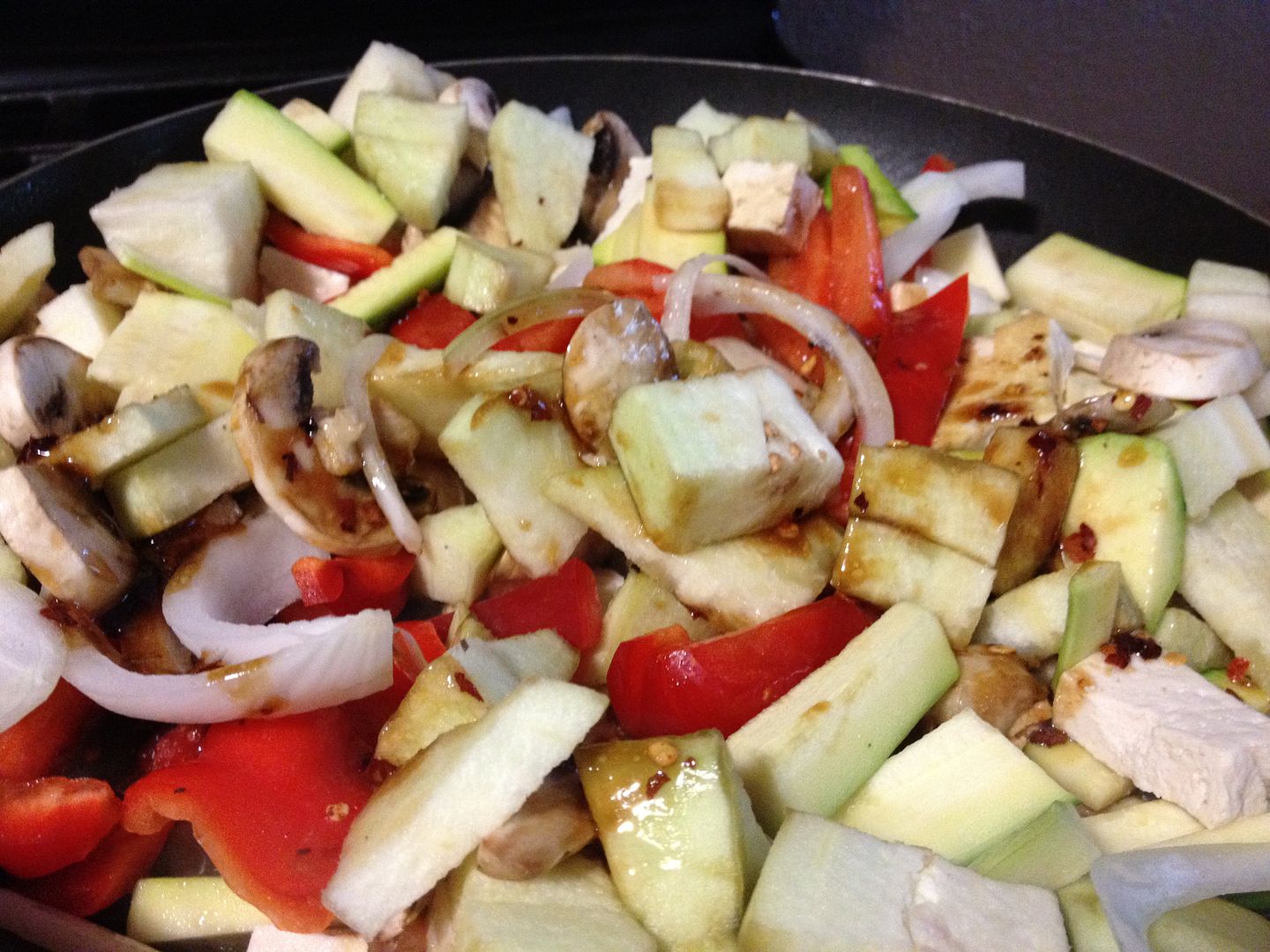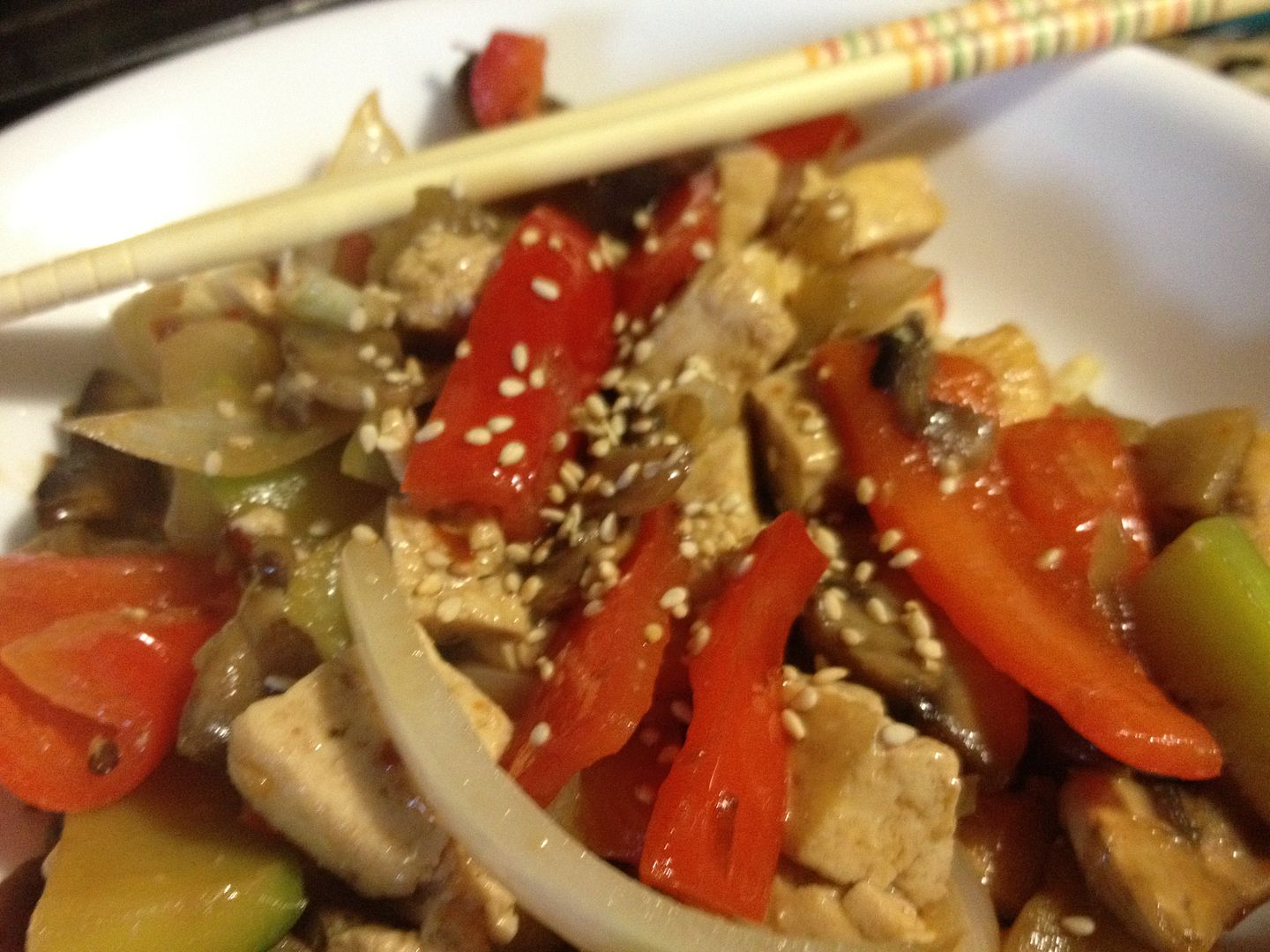 It didn't take long to cook down and before I knew it, the meal was done and I was reading to chow down on at least one meatless Monday meal.  The oyster sauce brought a strong flavor to the dish but to my surprise, it wasn't fishy at all. I've had suggestions to also try it as a rib glaze and when making beef and broccoli and will most definitely be trying those in the future. This made a big portion so I've been having it as a second lunch after my walks each day (first lunch consists of a salad and that is not going to hold me over for six hours).
And I just need to vent about this next thing although it comes from a different side of the world. There's this creeper of a man who works in my building and I've affectionately given him the nickname Rico Suave (I can't help it, it's a bad habit as I love assigning people random nicknames, I was born this way!!) I run into him all the time and he has such a violating stare about him and apparently he is a pimp daddy because he has a different girl each day of the week at lunch. And I think he wants to add me to his harem. We were in the elevator the other day and he gave me the creeper lookover and did this weird thing with his lips. I swear to god the hairs on my arms stood up and not in a good way! I don't want him to be my papi or anything and I would be completely happy if I never run into the dude because he makes me feel uncomfortable x 100. But in a weird way I kind of want to have a conversation to see what the appeal of him is, he gives me the creeper vibe but he has a following of women that seem to be into him.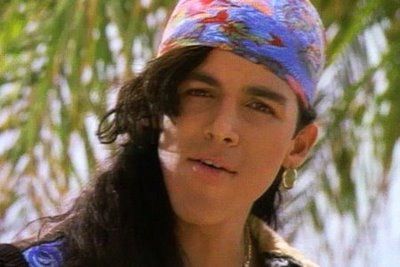 But I guess it's not his fault that his addiction has to do with the female species
I wonder if he eats them raw like sushi?