Kidding!  Even though I'm not there yet, I feel like I've been in Asia recently thanks to Denver and all the ethnic restaurants it has to offer. I am pretty much down for any kind of food out there but Asian food is hands down my favorite out of them all. Whether it be Chinese, Japanese or Thai, I love it all.
We'll start out with one of my true loves-Pad thai. Pad thai is my go to dish whenever I go out for Thai food. While I normally have
salads every day for lunch, sometimes I need to get out of the office
and have something else to keep things fresh. I was having a mean
craving for some kind of saucy noodle dish and knew that if I didn't
find pad thai, something bad would happen. We went to Thai Lotus for
lunch since I read reviews saying they had quick service and great
lunch specials. We must have hit the jackpot when we went there
because even though the place is tiny (eight or nine tables max),
there were only two other tables seated. They have a small operation
but it works, with only three people work there and one of those being
the hostess/ waitress/ cashier. Their lunch specials run $8.95 and you
get a drink and either salad or eggroll along with that which is a
great deal. Even though the salad was the most miserable salad I've
ever seen (it was basically a ramekin filled with iceberg and
carrots), the pad thai portion made up for it.
I snarfed it down even though it was more spicy than the traditional sweet, peanut sauce that it usually has and took the rest with me for lunch the next day.  Fast
service here was much welcomed especially since every time I go out
with Lynne for lunch, we've had slow service. I'm not used  to getting
fast service anymore so this will definitely be a factor with me
coming back to Thai Lotus. The only downside is the size of the
restaurant and limited lunch menu items.
Unlike pad thai, I rarely have cravings for pho. But something about
being by the pool on Saturday must have sparked an interest in it
because once the boy asked if I wanted to go for pho, it's all I could
think of. I went to my bff, Yelp, to search for places and found Pho
Saigon nearby and rated well among the masses. When we walked in, I felt assured that the people on Yelp were telling the truth because the place was packed. There were at least six tables and this wasn't right around the lunch rush but more towards 2:30pm.  I ordered the beef pho and when it was placed in front of me, thought it was gorgeous but
needed a little oomph. I pimped it out with cilantro, sprouts, jalapenos and
sriracha to make an even more gorgeous bowl of pho. I like that they
have three different sizes of bowls to choose from and for the small
bowl, the serving size was ginormous!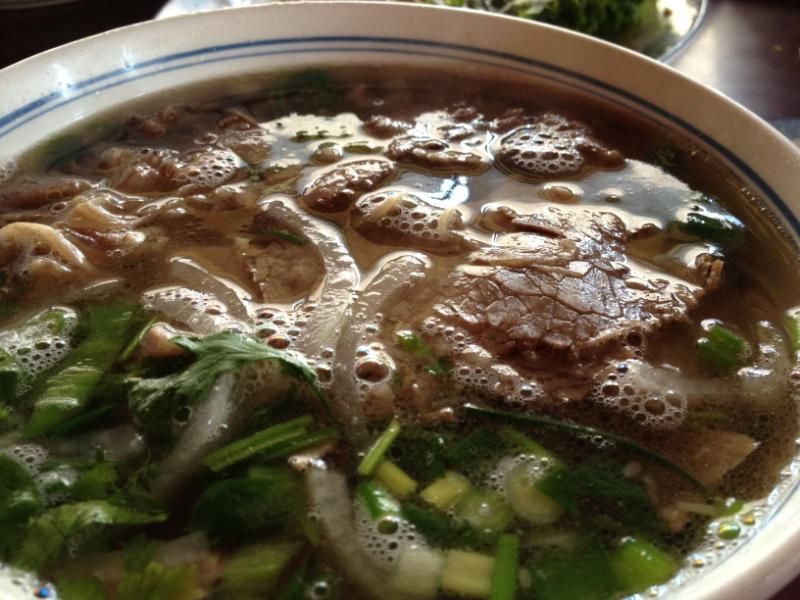 I hope you all didn't think I would do a post on Asian cuisine without hitting up my favorite food out there (and what I consider the fifth food group), sushi. I just like to save the best for last, that's all. I tried two new sushi places and they are definitely a tale of two cities. Even though Banzai boasts a powerful, more than 100 rolls on the menu, the experience was just odd. We stopped here on a Sunday afternoon
after buying a Groupon Now deal ($30 worth of food for $18).
Our server was awkward and barely stopped by and it just seemed like there
was no one in charge or really taking initiative service wise. I don't know why but we seem to have the worst luck with service, especially at sushi places so I was hoping Banzai would change our luck. No dice though, she just seemed baffled at the notion of us wanting to order food. While we got a lot of bang for our buck, the food was hit or miss. We ordered calamari to start with and to start off with, there were only four pieces. And not big pieces to make up for the lack of quantity,
they were little and I think they were actually fish sticks instead of calamari. But on a brighter note, the sushi was fresh, fantastic and full of flavor (give it up for alliteration!)
Onto a much happier sushi experience at Sushi Train. When I heard
about the concept of sushi train, I was quite intrigued. Maybe because
the whole concept is centered around the name—sushi train meaning if
you sit at the sushi bar, your sushi comes to you on a train! I've
never seen anything like that before and it's kind of my ultimate lazy girl dream so I had to see what it was all about.

We went on Tuesday night and found out not only do they have a kick
ass train but they also have all you can sushi which not only includes
sushi but also appetizers and hot dishes. For $24, we felt that was
the best way to explore the menu and fill our bellies with sushi until
we puked (which we didn't thankfully because I think that would just ruin for me forever….or would it?) The sushi train was working at first and it was awesome
going back and forth around the sushi bar, delivering sushi to those
who sat there. Even though the sushi chefs weren't wearing a conductor
hat while operating it, it was amusing and I kept giggling every time
it passed us. A little time passed though and the sushi train started to derail (thankfully without any sushi on it because Lord knows I would be diving onto the tracks to save the sushi). They ended up fixing it and thank god they did because I believe the concept of their restaurant would completely fall apart if the train didn't work, yes? The sushi chefs were amazing-entertaining but not in your business, personable and efficient. Plus they had a tip jar that said "Tips are like jars only without the awkward contact", how cute is that?
Plus we went while it was happy hour which means $1 beers and $2 sake
which is absolutely insane. While ordering another beer, the waitress
asked me if I wanted this time around since happy hour was ending
soon. I looked at her in shock and said "Happy hour?" She never told
us about the happy hour so of course I wanted a $1 beer. But sadly enough the beer did not help the all you can eat sushi fest.
I wish I was joking about filling up on sushi but round-who-knows
what of sushi, I was done. We had a few pieces left and since not only is "No
sushi left behind" my motto, they also charge you for food left
untouched. Even though I am cheap, I think it's wonderful that they do
this since people tend to go overboard at buffets and often leave food
untouched which is a waste.  So I choked down the last few
pieces and wished that I wore my fat pants.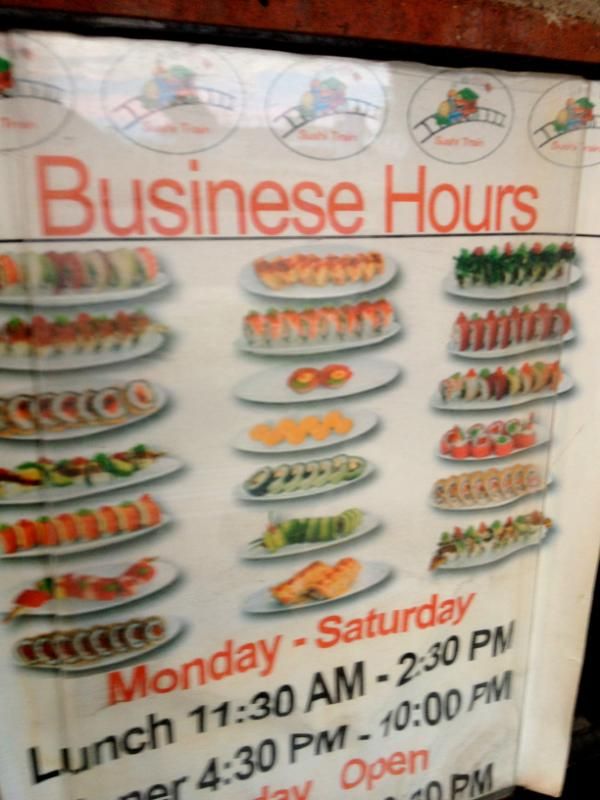 Even though they don't have stellar spelling, Sushi Train has been my favorite sushi spot in Denver yet. I've been looking for a place that's affordable, innovative with great service and just about every place I've been to has fallen short in some department making me not want to go back. This may possibly be my new go to place.
While on the way back, we decided to stop at the pool. I wasn't getting into a bathing suit after sushi fest 2012 but instead we chose to lounge, enjoy the evening and digest. I just wanted to lay down forever and unbutton my pants but check out all those balconies surrounding the pool, you never know if a peeping Tom is out there (not do I think they would want to see my sushi filled belly). 
So it's official, if I ever do get to Asia, I will be in fat pants. And I will enjoy ever single bite as I eat my way throughout the continent.