A few things I am just loving lately……
Garnier Skin Renew

This has been my favorite cosmetic product as of late! My sister gave
this to me because she bought the wrong shade and I was a bit
reluctant to try it out since I've never used Garnier's facial
products. It was just sitting in my bathroom collecting dust until one
day I dropped my $25 Benefit Erase Paste concealer in the toilet! I
have limited space in my bathroom so add that with a horrible habit of
not putting the toilet cover down and you have a recipe for disaster.
That was a few weeks ago and I'm still bitter than $25 literally went
down the toilet. So I tried out the Garnier Skin Renew instead and
instantly fell for it. I'm still a little confused if it's supposed
to be foundation or moisturizer or both. Whatever it is—I'm loving
it! Now that the summer months are behind us, I can wear foundation
vs. powder that I switch to in the summer time. Skin Renew is creamy
and lightweight and goes on smoothly and last the entire day. I've
been using it for a little over a week so it hasn't correctly my skin
to a flawless state but I have been breaking out less so I will take
that as a win.
Nashville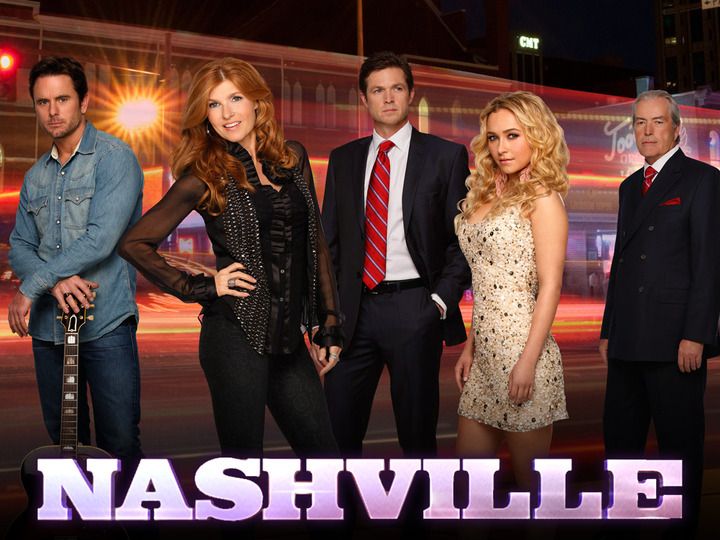 Alright, if you're not watching this show you must check it out!  I don't even like country music that much but this show is killing it in my book! It has everything-competition, deceit, sex, music—me love it long time. Not only is it entertaining but it also reminds me why I don't live in the South anymore (southern hospitality really wasn't something I experienced too much and many of the people were too faced). But for an hour each week Damn you Hayden Panettiere, you portray such a wonderful trollop!
Spaghetti Squash
Now that I have to watch my carbs, I'm on the lookout for any healthy
alternative there is to pasta. Even though I'm Italian I never thought
I ate that much pasta but looking back to past meals, pasta was
usually incorporated in it, if not pasta then brown rice, bread, etc.
But now that I really have to watch what I eat, I'm cutting down on
pasta big time and maybe have it once or twice a week. When I do have
it, it's in a teeny weeny portion that makes me long for the days of
old. So to trick my mind and make it think nothing has changed,
spaghetti squash has been my go to in the past few weeks. If you
haven't tried this as a pasta alternative, go out and buy one right
now (only if it's reasonably priced of course!) Once the squash is
cooked, you fork it out and it has a consistency that is spaghetti
like without all the carbs! I cook my whole in the oven at 375 for 55
minutes. First I poke some holes in it then seductively rub it down
with extra virgin olive oil (Yes, I realize seductively is a creepy
adjective to use but I feel quite creepy rubbing down a squash). When
it's done, cut in half, scoop out the seeds then start scooping out
the squash. I can usually get four to five generous servings from one
squash and the best part is the toppings!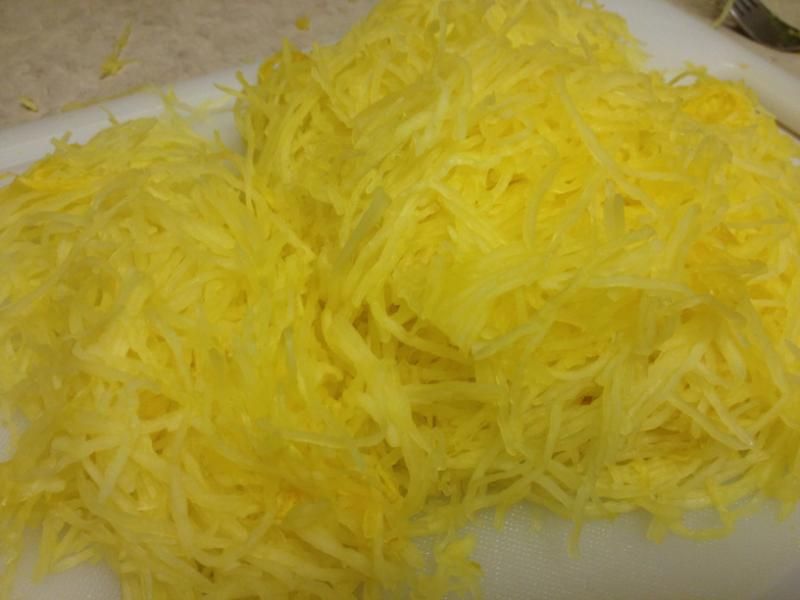 You can put virtually anything your heart desires on top of the squash and I like to go all out and add protein and cheese since I know I'm saving calories and
carbs big time by using spaghetti squash vs, spaghetti.
Surprise meals
That being said, I still like to splurge and have a real pasta dish.
The other night I had shrimp defrosting in the fridge and had no clue
what I was going to do with it. It was a chilly, windy day here in
Denver and I was in the mood for some comfort food (Seriously—when I
went walking I looked like Super Mario).
But back to the comfort food–I had whole wheat linguine on hand which I could make a small portion in no time but what else to add to that? Cut to me rummaging through
the fridge and freezer trying to find items to add to the shrimp. I
found frozen spinach, red pepper and onion, which seem to be my
staples when it comes to making random dinners. I simply chipped,
threw in a pan with some extra virgin olive oil, garlic salt, pepper
and let it do its thing. Flavor wise I knew I was working with lemon
and wine and then it hit me—there was heavy whipping cream in the
fridge. This stuff? Fatty deliciousness in liquid form. I'm not saying
that anyone should use it on the regular but it's handy to have in the
fridge for occasional use. I put the shrimp in the pan (about 12 shrimp) with 4 oz white
wine, 2 tbsp extra virgin olive, about 3-4 tbsp heavy whipping cream
and a few shakes of grates parmesan and let cook until it was nice and
bubbly. I used the sauce from the pan as the sauce for the linguine
and I'm still in shock by how good this tasted.
This was like restaurant quality and I made it at home! It was rich, creamy and full
of flavor that gelled well. I'm a little annoyed with myself for not making more of this but we will meet again lover.
Chia seeds
Since I'm watching my carb intake that means less fiber and my stomach
*ahem* doesn't feel too well with less fiber. I don't talk about gross
stuff like that but let's just say I'm looking for alternative ways
for adding fiber into my daily intake. Metamucil and prunes are out of
the question since I'm under the age of 60 plus if I'm getting my
fiber on, would like to enjoy it a little. Chia seeds are not only a great alternative but they are also beneficial for your help in many ways such as balancing blood sugar, packing a bunch of omega -3 fatty acids and are good for your heart.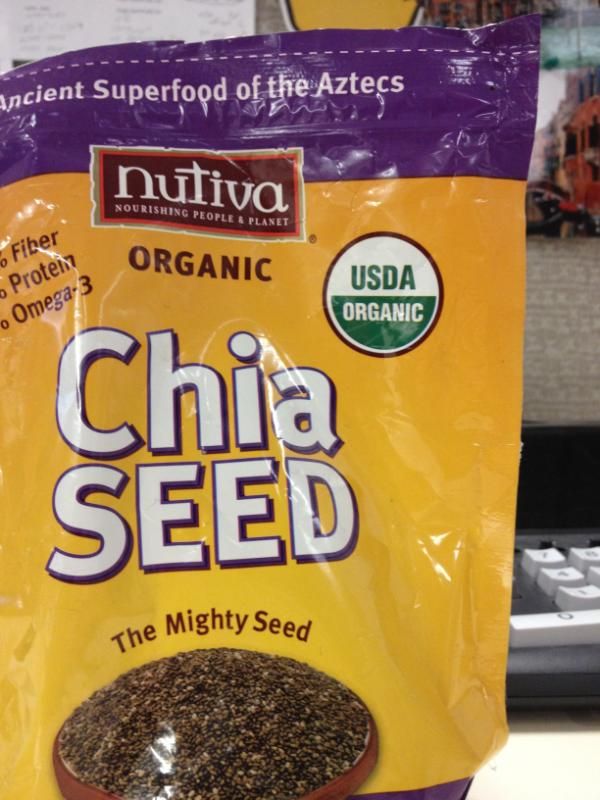 I tried chia seeds before and still had ½ a bag left in my pantry so in an effort to use what I got, I've been adding them to my daily breakfast. Who knew chia seeds
went perfectly under cottage cheese, raspberries and chocolate pb2?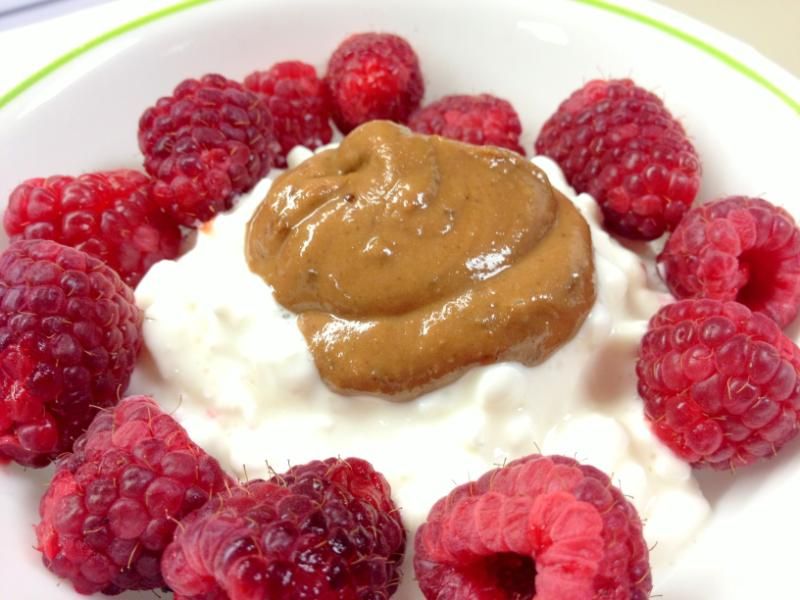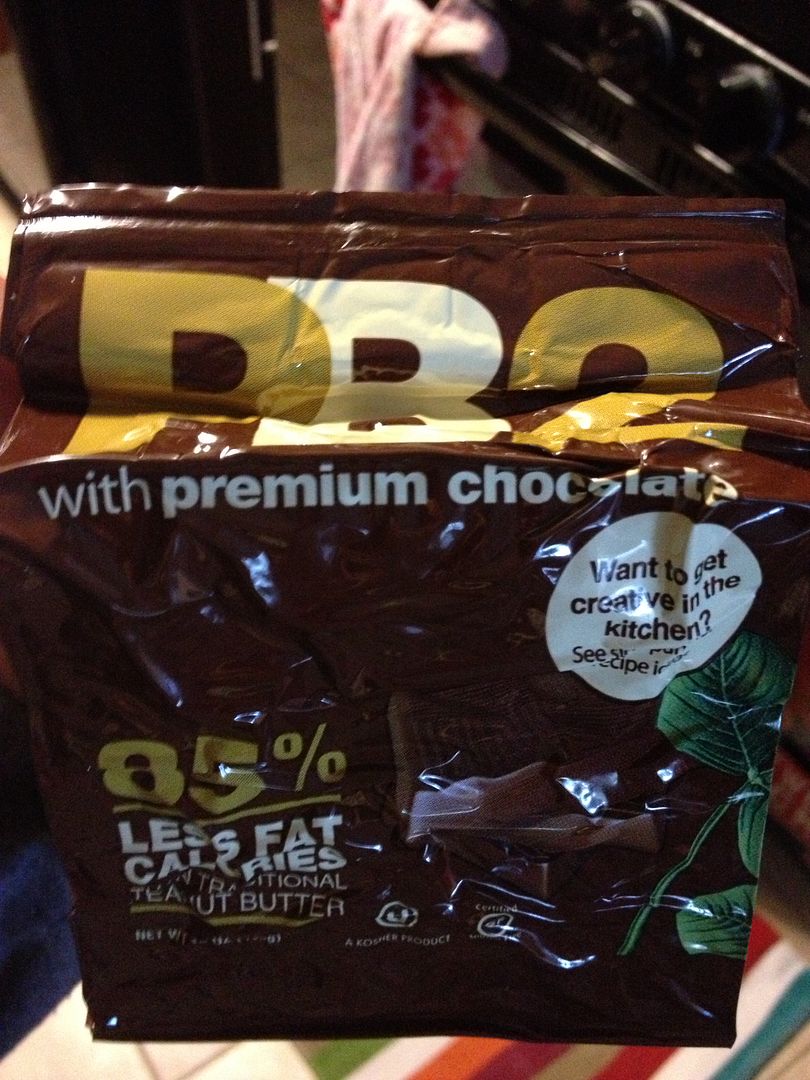 Ok, The combination may sound questionable and looks nasty but trust me, it's a winning combo!
Mint M&M's
Need I say more?
What are you loving lately?