Greetings all! Well, not from Philadelphia but Philadelphia airport but I'm still here so that's all that matters. I'm currently waiting through a four hour layover here then roll over to Venice. My valium is ready and so am I.
Thanks to Chick Fil A, I got a free breakfast this morning. When we rolled up there I was shocked to see only one guy working the counter. You would think for the few days they are offering a free breakfast entrée, they would have multiple people manning the counter. But nope, just one guy who was really sweet but didn't seem to be too happy with the fact he was flying solo. Not that that was bad enough, our slot was prime breakfast time 7:30-8:30am right before heading to the airport. So we waited in line and I soon learned that all the hot guys go to Chick Fil A for breakfast! Seriously. I don't know what they are putting in their chicken biscuit but it's working because every single guy (even the DILFS!) were hot. Maybe they could be nice as well since the staff is all "my pleasure" this, "my pleasure" that.
I had the oatmeal and it was pretty meh, they include raw nuts, dried fruit and brown sugar in separate packets to mix as you chose but I wasn't too impressed with it. I think they should stick to the birds but I really cant complain since it was free so I really can't complain. I should've hung out there longer and took in the eye candy because the Fort Lauderdale airport was completely dead.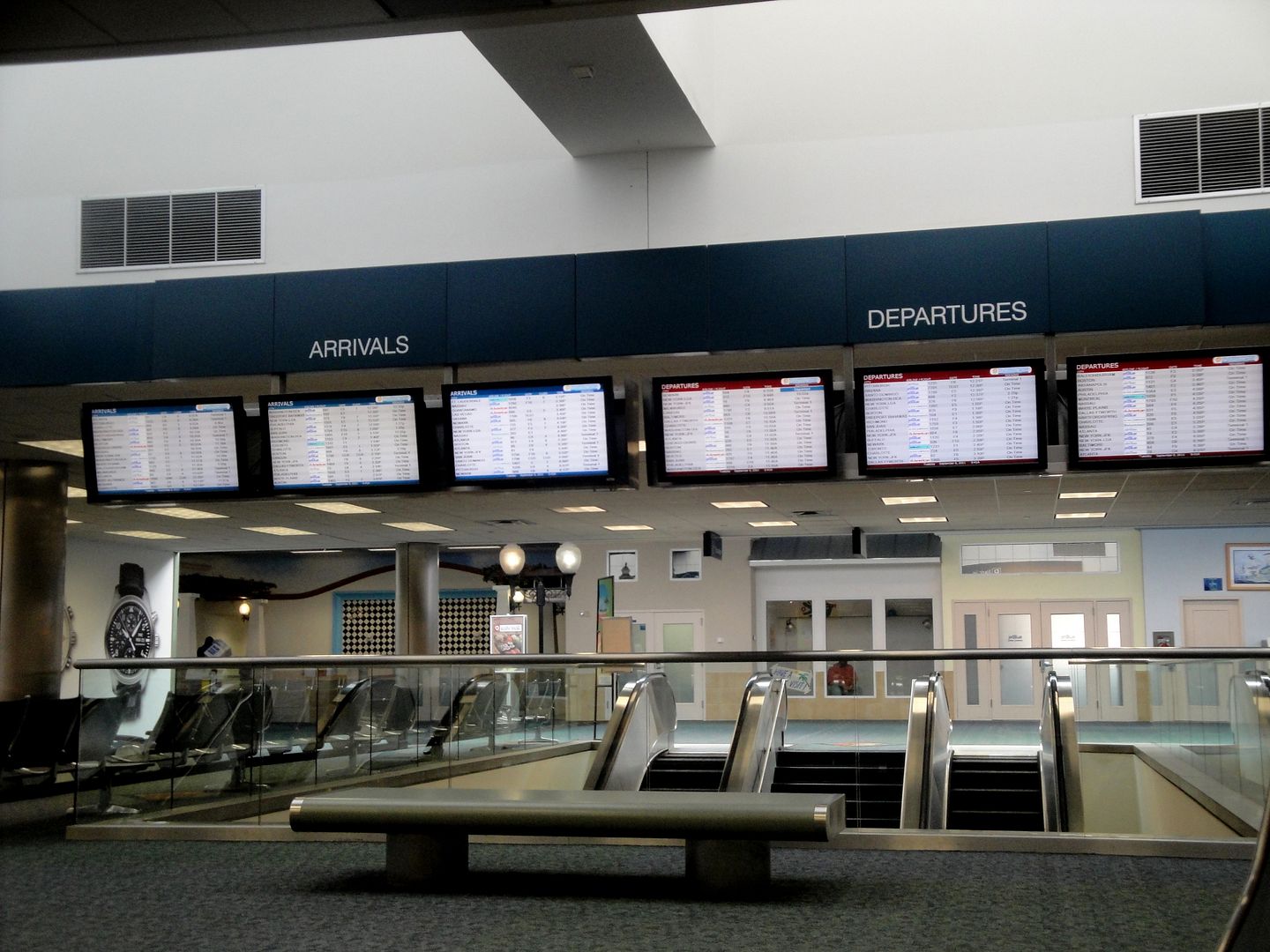 As for the flight? It started with the waif who refused to wait for me to get up and instead, climbed over me. The little waif couldn't wait two seconds for me to get up? Of course I spat back at her "Oh I'm so sorry, excuse me" and nothing from her. If you're going to do wrong, at least answer back to me and man up (she spoke the English) So that annoyed me plus I really wanted to feed her a cheeseburger because home girl slice looked like she was in bad shape. IThen there was the condensation.
We were delayed due to rain and still sitting on the tarmac, The flight crew would turn on and turn off the air conditioning and when they did, this happened.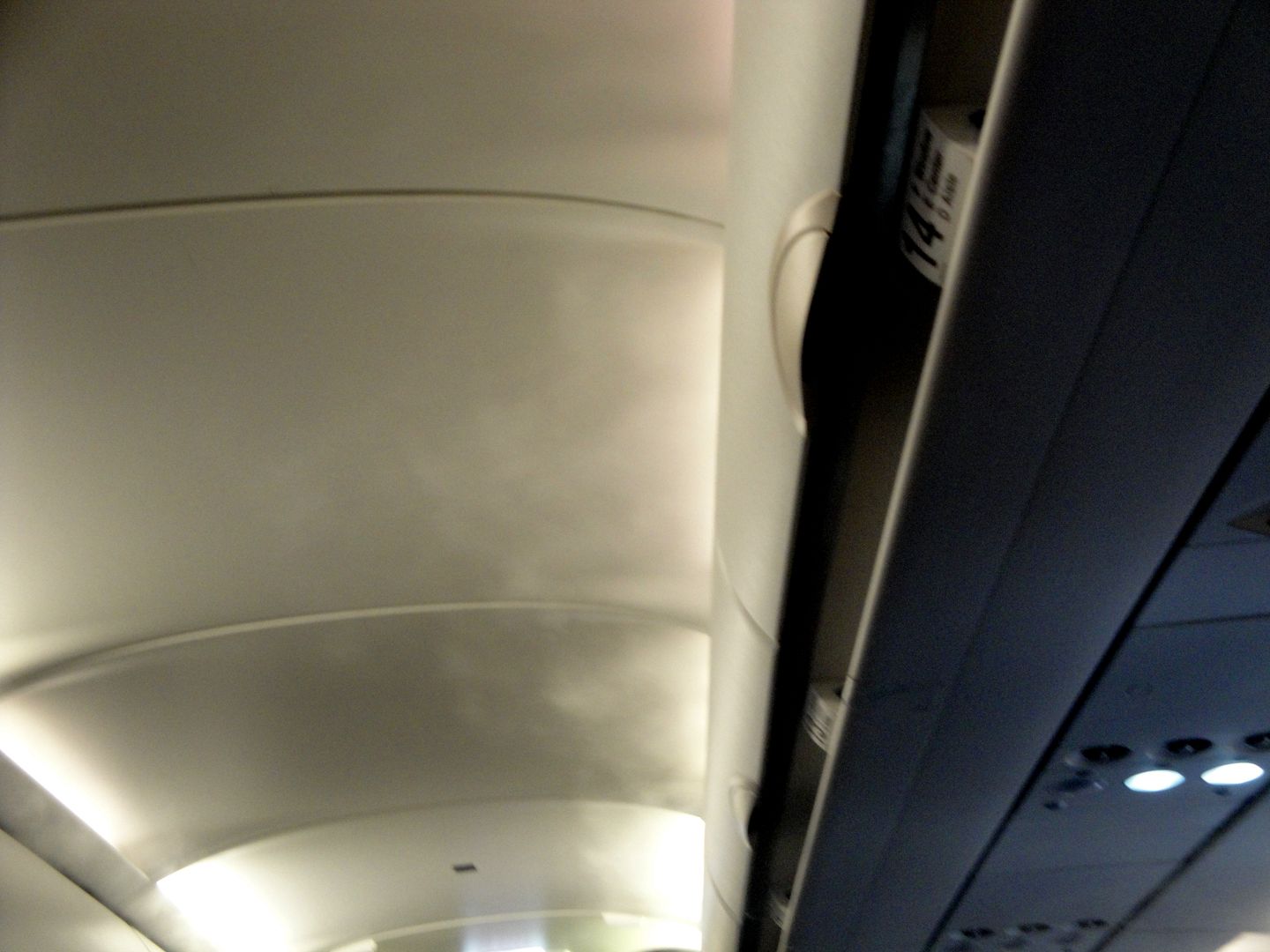 Well, that's how it started out, it soon turned to this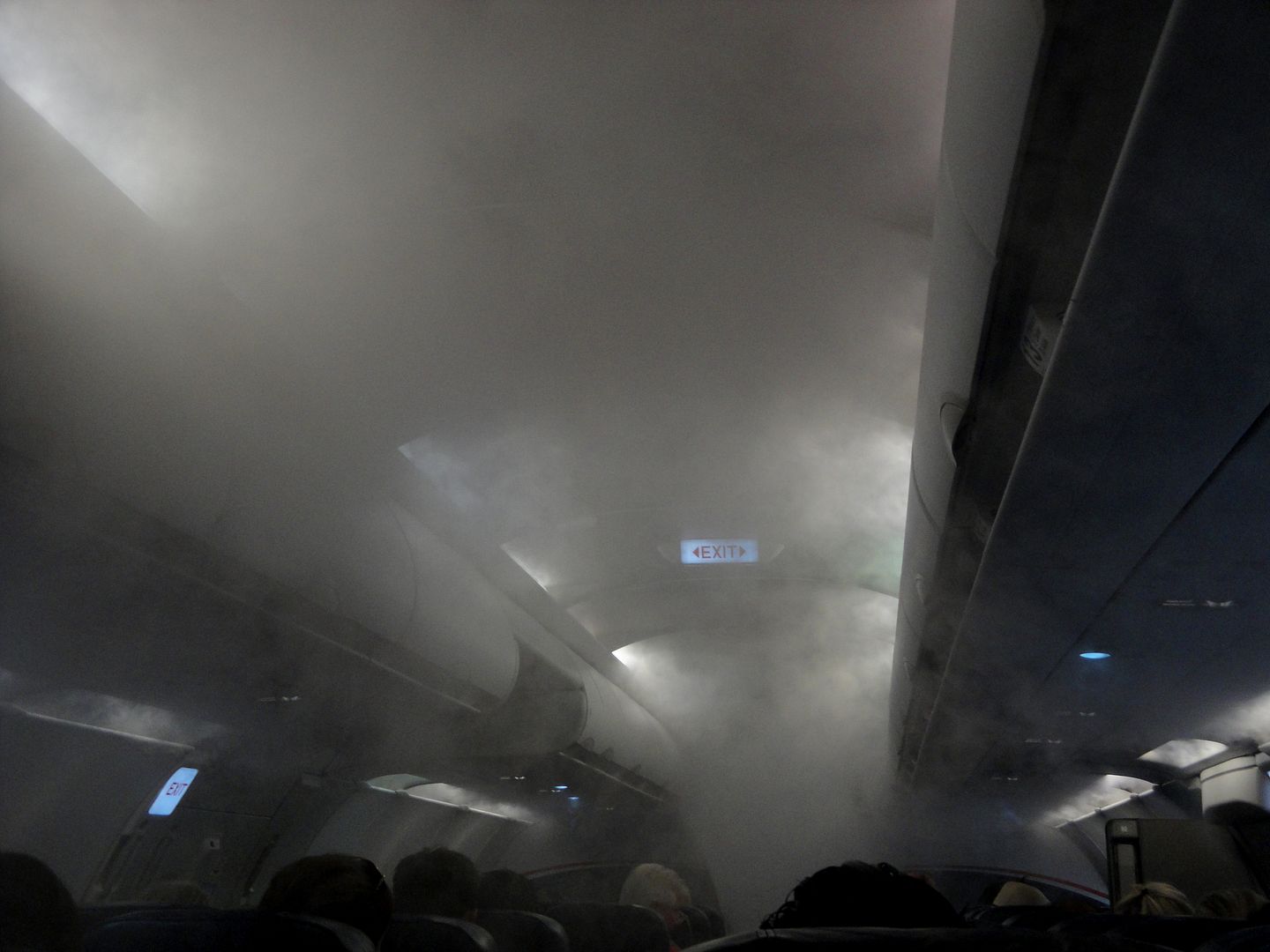 It looked like a smoky club and expected LMFAO's "Party Rock Anthem" to come on (I would like to note I loved that song for two days then it got old when it was on every hit radio stations rotation) so we sat the flight was supposed to take off at 1145am but got pushed back to 1230PM because in true South Florida fashion, the rain was coming down. I sometimes forget that we are in the middle of hurricane season so I guess the rain has a reason to come down.
The lady next to me (non waif) was from England and very excited for my trip. She asked if I've ever been to Europe and I told her it was my first time. She told me I will love Italy (no one has told me I will hate it) and the food is reason enough to go. My ears perked up, keep speaking sister! She went on to tell me about her trips there and the cheese, the bread, the wine, the gelato! I told her I will definitely be trying all of those and have my fat pants with me. When I said fat pants she looked at me with a confused look and shook her head. Maybe it was because I was sitting she didn't think I would need fat pants. No such luck for be thinking I was skinny, she soon asked me what fat pants were. I went on. I went on to explain how they are the loose pants you wear so you eat a lot which soon led into the term food baby, which she hadn't heard of either. I like to think I Americanized her in a way. But then she will probably go back home thinking Americans are ignorant or piggy's….or both. Besides that, I listened to my ipod which soon realized maybe Ke$sha's "Blow" wasn't the best song to listen to and for some reason, I made mental note to rent "We are Marshall" when I get back home. I really need to stop thinking about disasters in the air because no good can come out of it.
Now that I'm sitting in the Philadelphia airport (which has free wifi btw) I have the songs from the Night Man Cometh in my head. seriously you would think I would be embraced by Philadelphia's history but nope, only it's finest show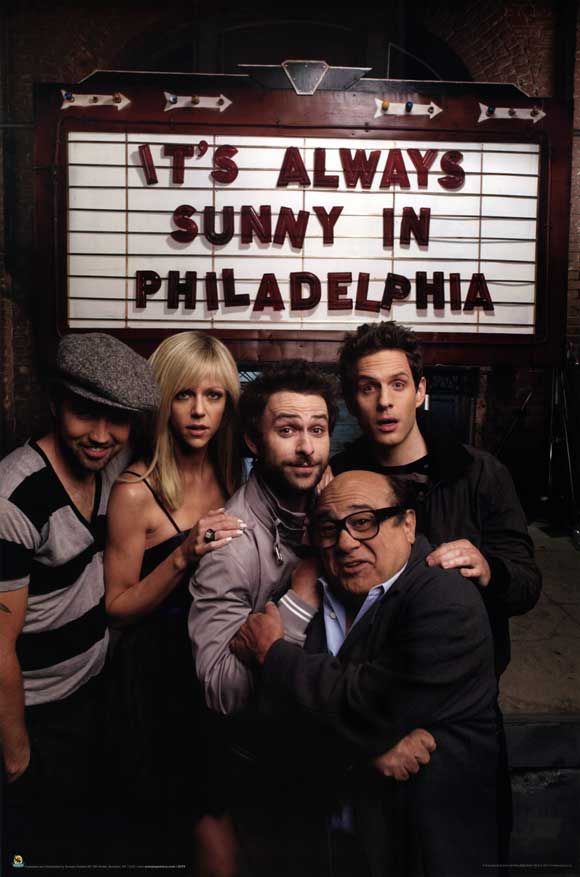 Gah I love that show. and you know what? From the cloudy skies and 63 degree weather, it's not always sunny here.
I wish I had time to go explore while here because I am all about this weather. I don't want sunny and 80's, I want dreary and 60's. Damn you Mick Jagger for always being right.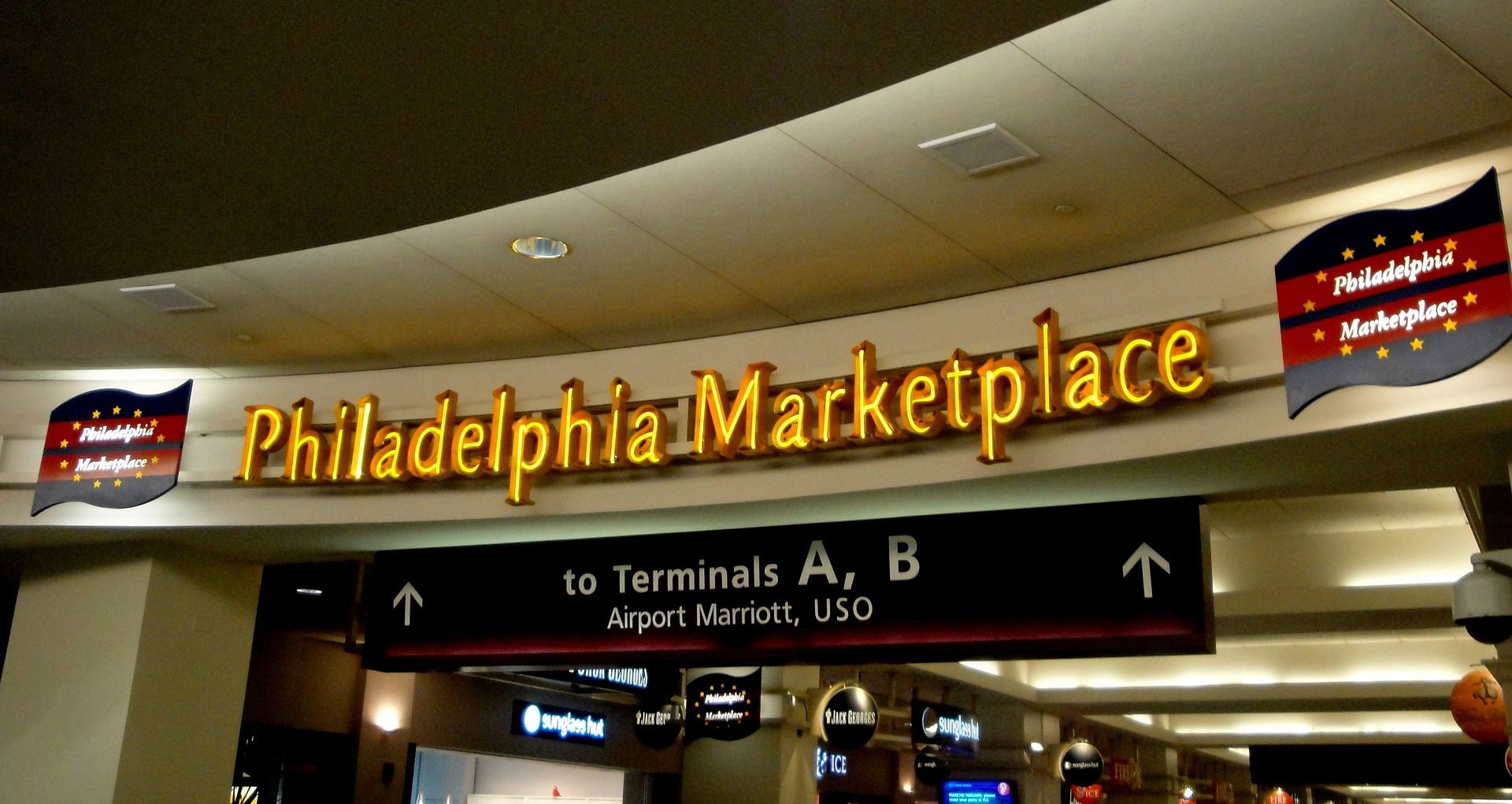 But I've gotten some culture while at the airport, while on the hunt for a Chickie & Pete's per Jessica's request, I got a lot of walking in. The Philadelphia airport is a very walkable and not to mention huge airport so it was nice to get some exercise in for the day. On the way to the other frickin side of the airport, I ran into a clock constructed by bottles
Yuengling bottles to be exact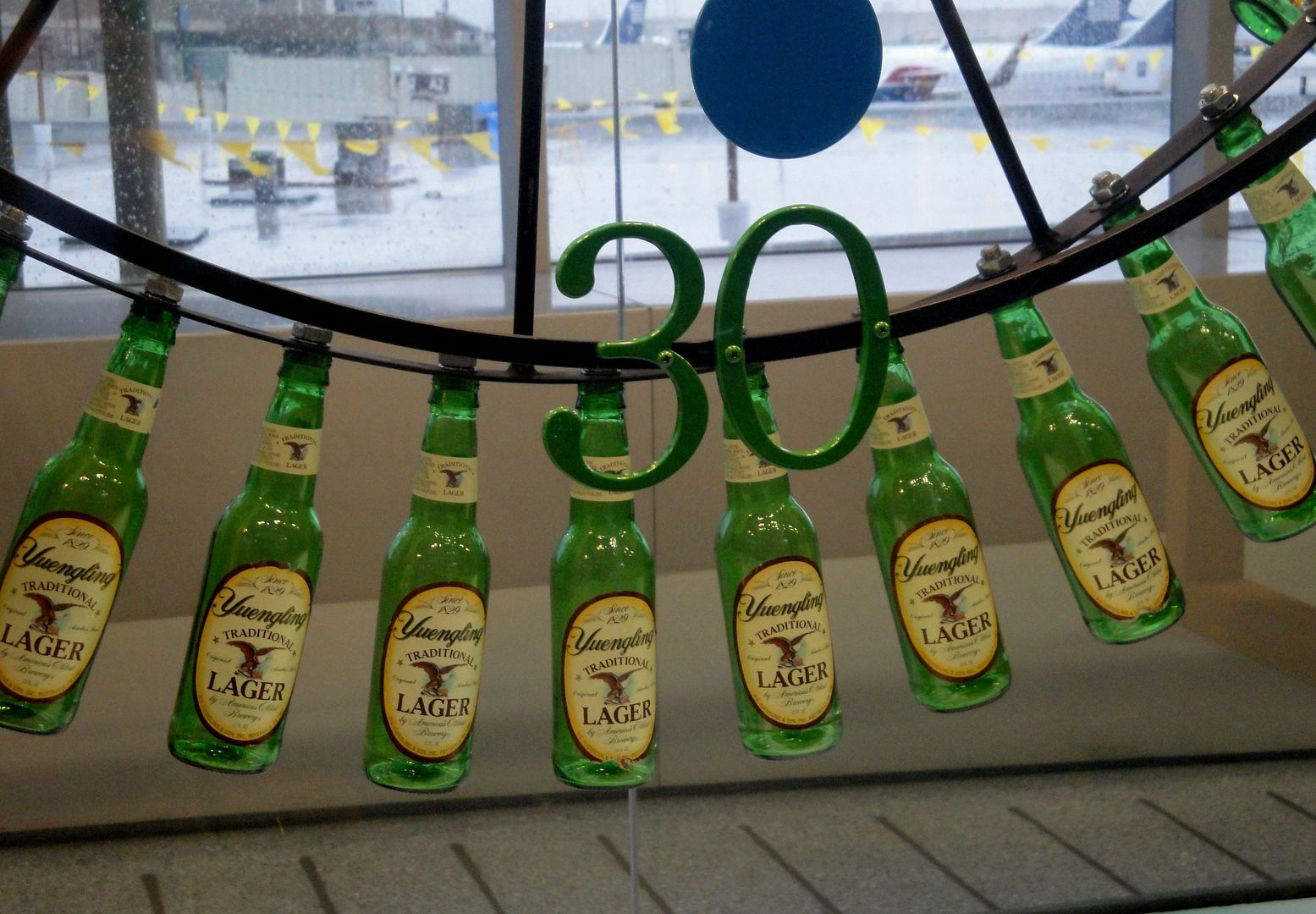 Which soon led to my drink at Chickie & Pete's
Maybe art can influence afterall?
I was always influenced to have a cheesesteak (while humming Motown Philly to myself at the bar-yeah I'm that girl)
I was a bit disappointed there were no onions or peppers on it but let's be real, they could have given me the meat and cheese and I would've been a happy gal.
On the way back to my gate, I saw the Liberty Bell…..made out of Legos. I can still say I've seen it though if it ever comes up in every day conversation….I will just leave out the lego part.
Gotta go find my gate—have a fun week friends! Maybe you'll hear from me while I'm in Europe, maybe you won't-we shall see!
How do you kill time in an airport-sleep, people watch, read, sit, sleep, etc?