I need to cross off yet another thing on my Colorado bucket list—visiting Red Rocks Park and Amphitheater! I'm going to be honest, I never even knew that the Red Rocks were an actual park, I just thought it was a concert venue thanks to this cd.
This is still one of my favorite live cd's to this day– such amazing acoustics and I don't care about the haters, I will always be a DMB fan. It's the music that reminds me of my youth and five wonderful years in college. When I moved here and heard people talking about going to the Red Rocks Park to hike and take on the beast that is the stairs of the Red Rocks, I was taken aback. So it wasn't just a concert venue? I could go there during the day, walk around and explore…..for free? Sign me up.
So I packed my things and headed towards the Red Rocks. I hate that awkward time on Sunday smack dab in between breakfast and lunch where I don't know how long I'm going to be gone and if I should grab something to eat. But Subway was along the way so I grabbed a sub there and noticed they have little cards with their subs that are six grams of fat or less, very cool. However I should have just ordered a foot long and saved the other half for later since the six inch was $4.30 and it's Febru-ANY with any foot long for $5. Can we just say #frugalfail? Don't worry, I'm not going to become one of those people who posts hashtags in every single post…..just every three or four posts.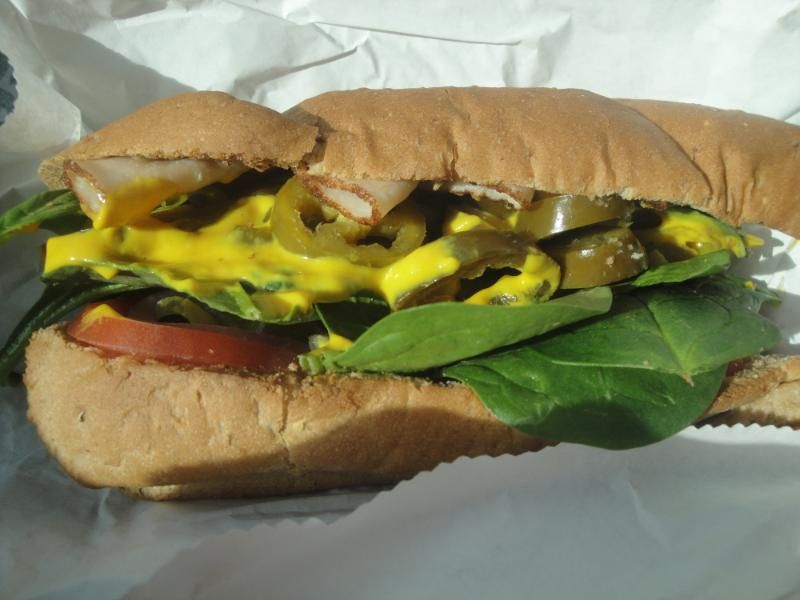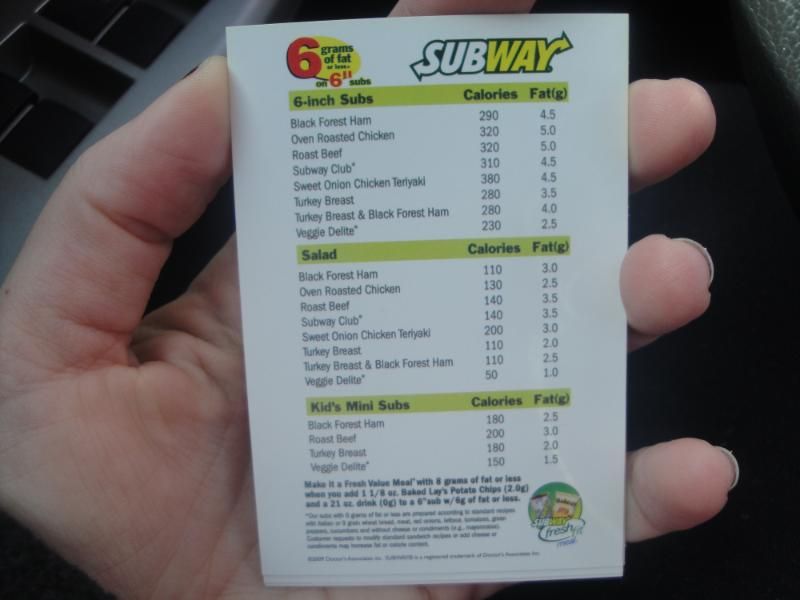 Red Rocks is located in Morrison, just 25 minutes west of Denver so the drive wasn't bad at all and it was a gorgeous day to be outside—48 degrees and all! I knew I was going to be in for a treat just from the formations driving up to the park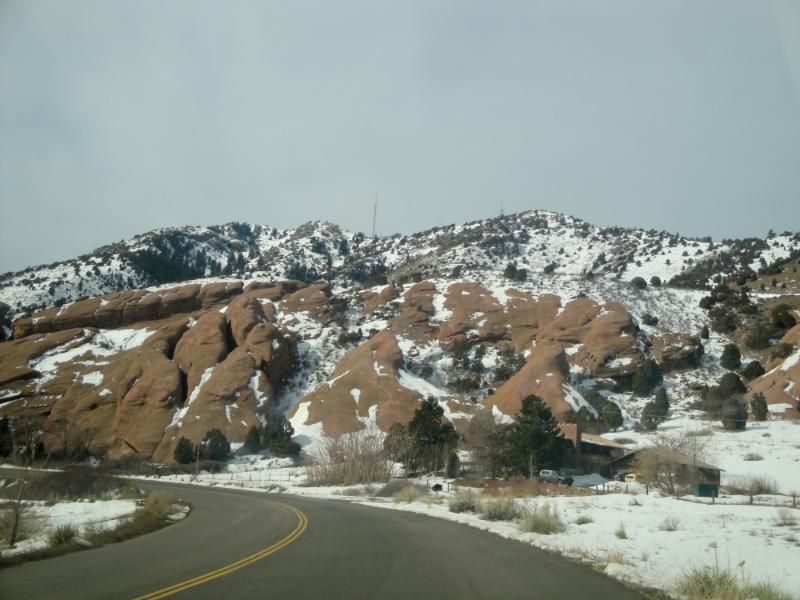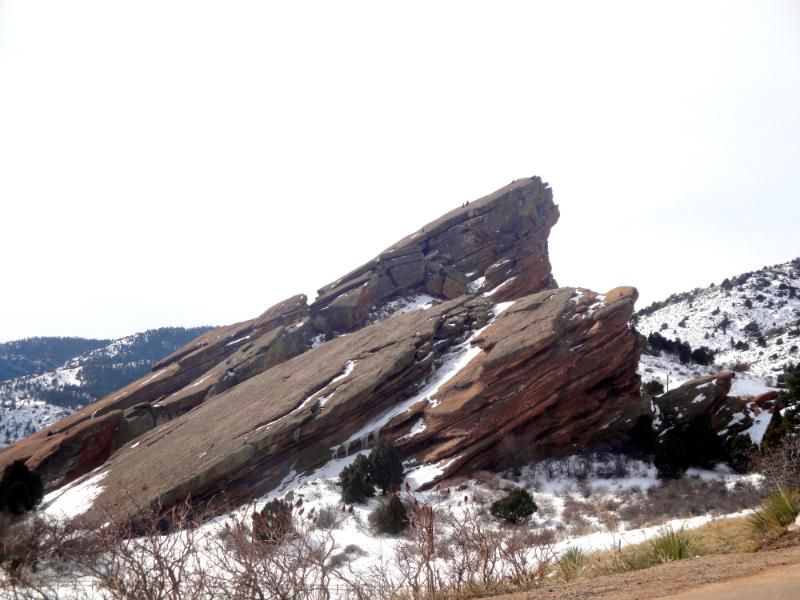 I found a parking spot in the north lot and put on my new hiking boots that I bought the day before (thanks Uncle Sam!) I wasn't sure where exactly where to go or what to see first so I just followed the crowd and made my way towards the amphitheater.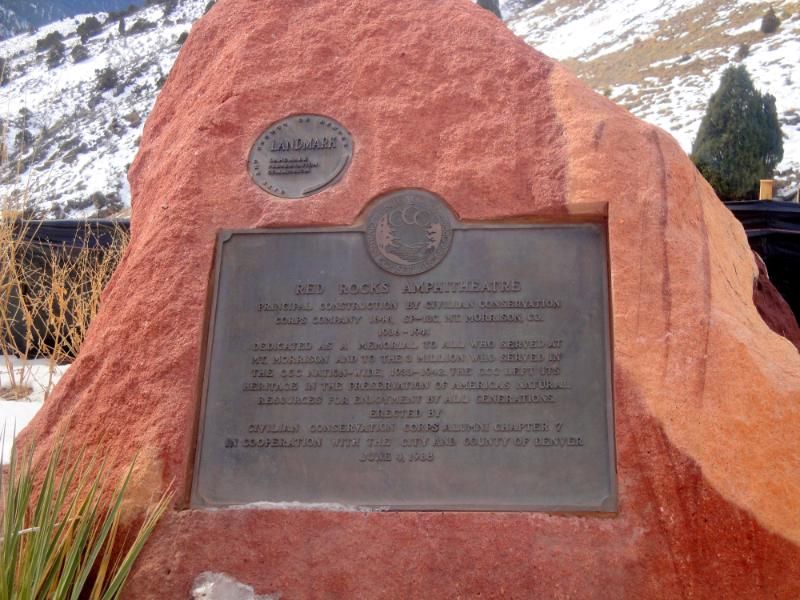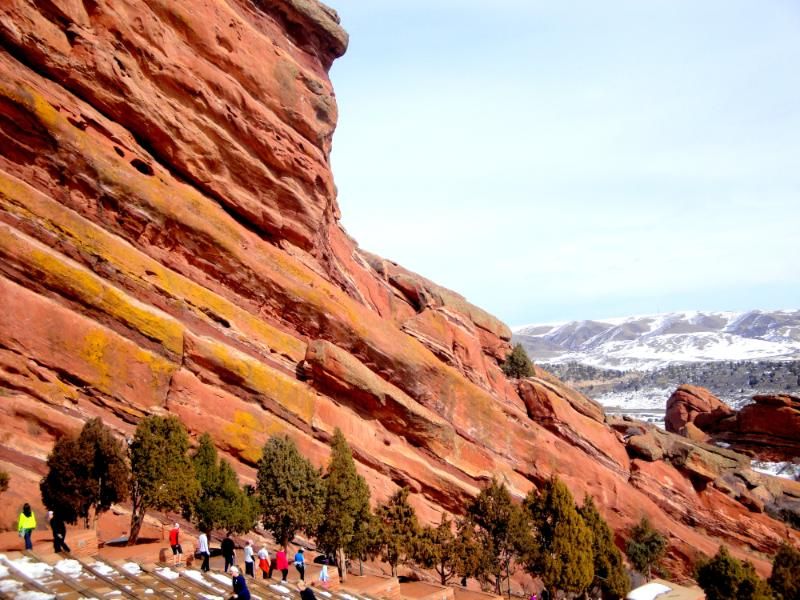 Good god, how beautiful is this place?? I just stood there for a few minutes taking in the sites around me. As you can see the steps and seats still had a good amount of snow on them but that didn't deter people from going up and down them. I just stood there thinking "this is where I live now" and wondering how people could live here and not want to see amazing sights like the Red Rocks. Even though it was hazy when I left Denver, there was a perfect view of it from the Morrison.
It took me a few minutes to get moving because my mouth was agape while shaking my head at it's beauty but I finally got to moving and went down the stairs and made my way down the steps.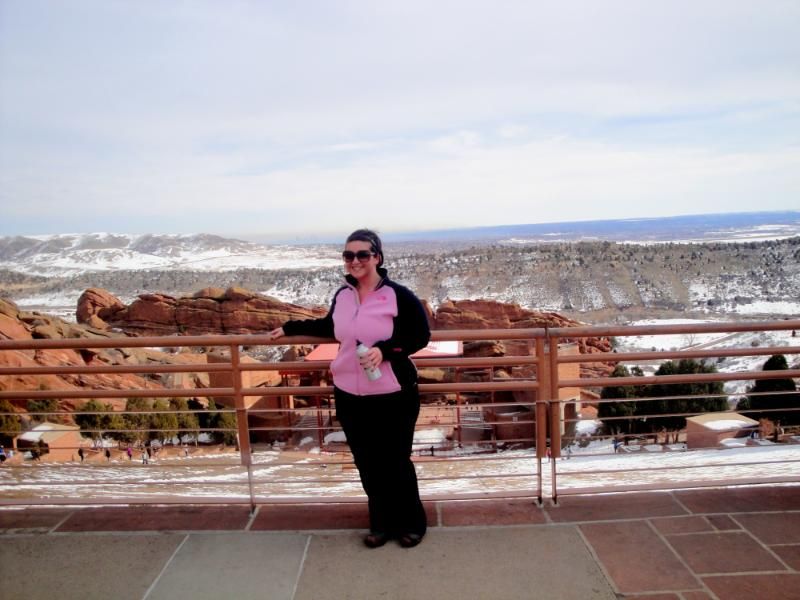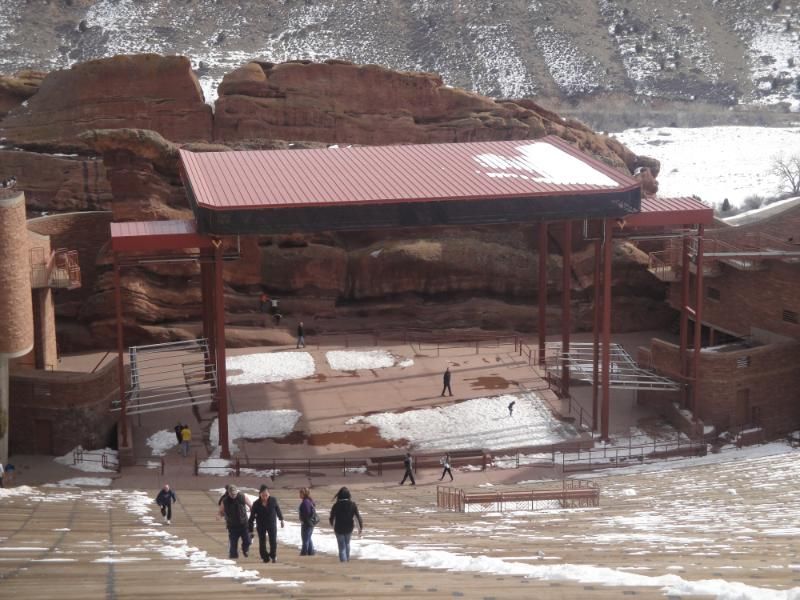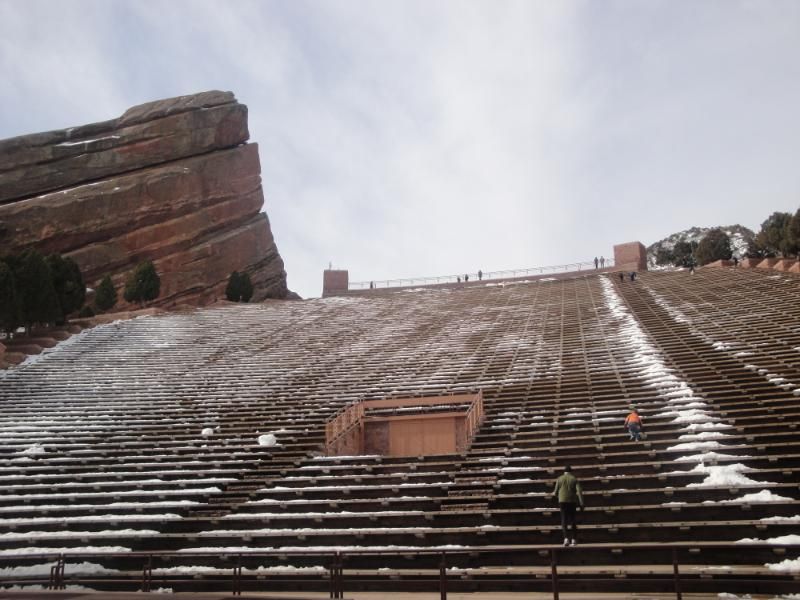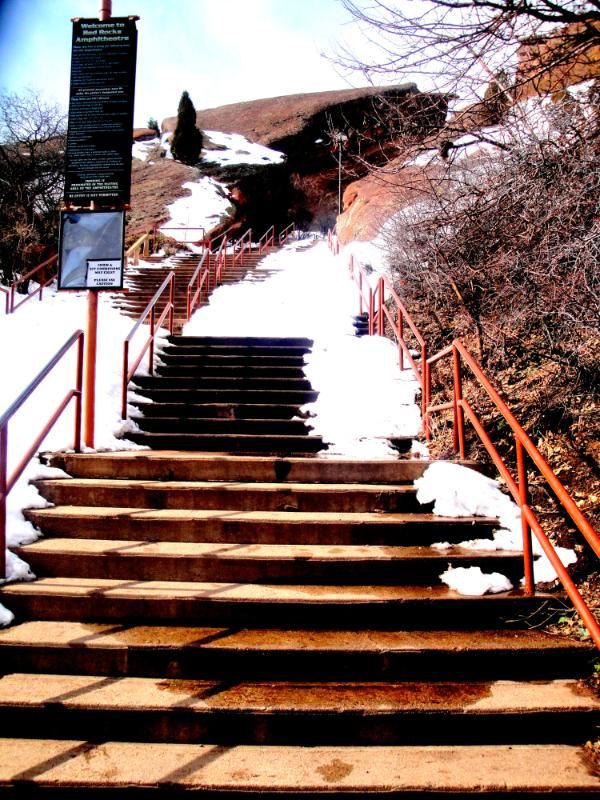 And there's really only one place to go once you're at the bottom. That would be up if you didn't catch on to that……so up I went the stairs and I actually made it up to the top without keeling over from a heart attack. Yes, it took some time to get up there but I made it despite feeling like my heart was going to pop out of my chest at any second. Apparently I need to start going here on the weekends because the people who were going up and down the stairs (multiple times might I add) looked absolutely amazing. When I got back to the top I realized I left my water bottle in the car so I grabbed it and went back down but this time around opted to walk back up to the parking lot.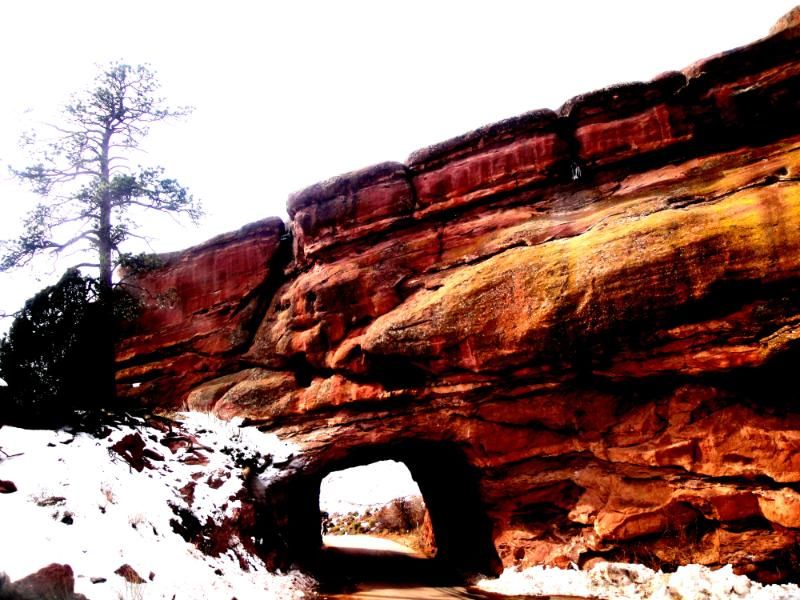 I really wanted to climb on the rocks but really didn't feel like paying over $900 in fines or going to jail because you know, the whole financial situation and let's be real, my mouth would get me shanked within the first day there. Plus the park was swarming with rangers so they're pretty seriously about keeping people off the rocks so if you go, beware of the rangers-they're everywhere! So I stayed a law abiding citizen and just admired from afar, it was best for all of us.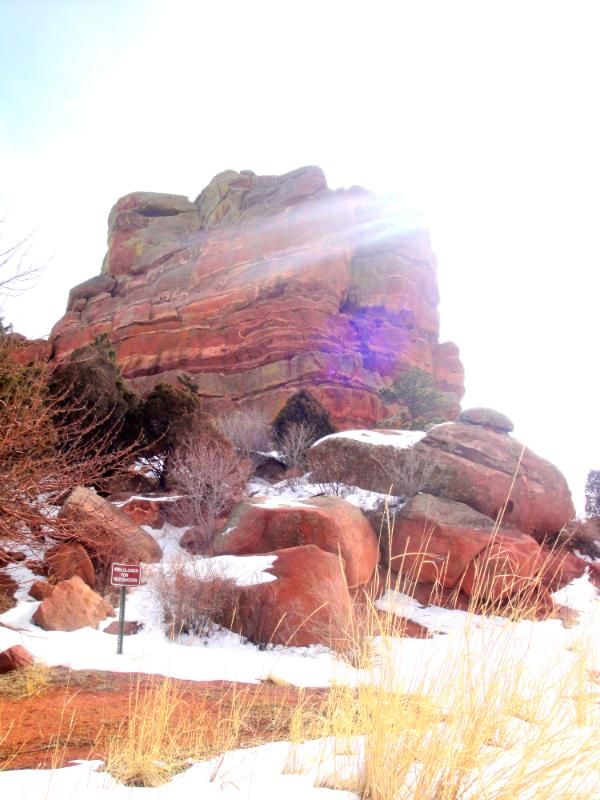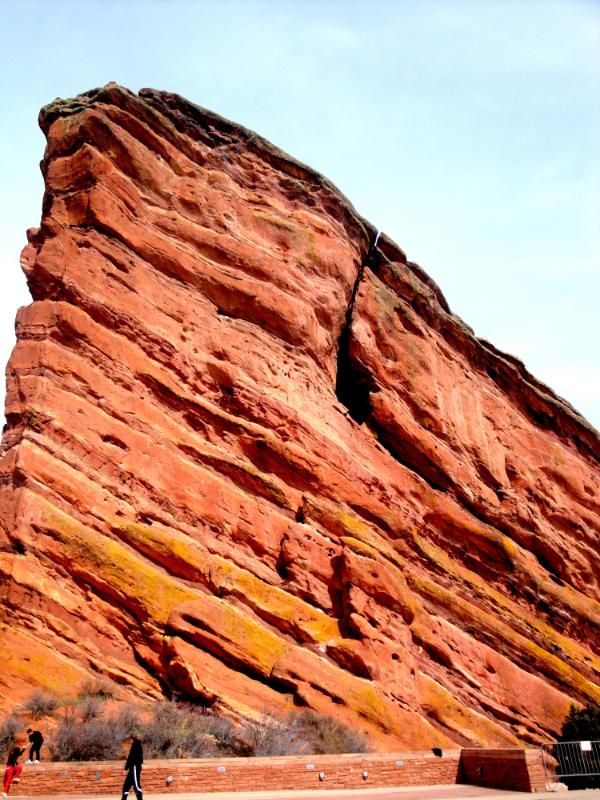 By the time I got back to the parking lot I was on a bit of a high so I filled up my water at the visitors center (which has even more stairs to go up and down!) and made my way down the steps in the amphitheater again. Instead of going the same way I went last time, I made my way over to the south side of the amphitheater. Instead of stairs there is a descending ramp that leads back to the main road and trading post.  I walked along the main road and by the time I got to Red Rocks Trail my legs were starting to burn a little but I wanted to break in my hiking boots so I kept on trucking. I love the Red Rocks of course because of the natural beauty and to make it even better, it's free! It's like the Garden of the Gods of the Denver area and I can't believe I waited this long to visit here. Fun fact—the Red Rocks were known as the Garden of Angels up until 1928 when Denver acquired it. After an hour and a half of exploring, hiking and walking up steps, I decided to call it a day. I was feeling great but knew that Ibuprofen was going to make an appearance in the near future.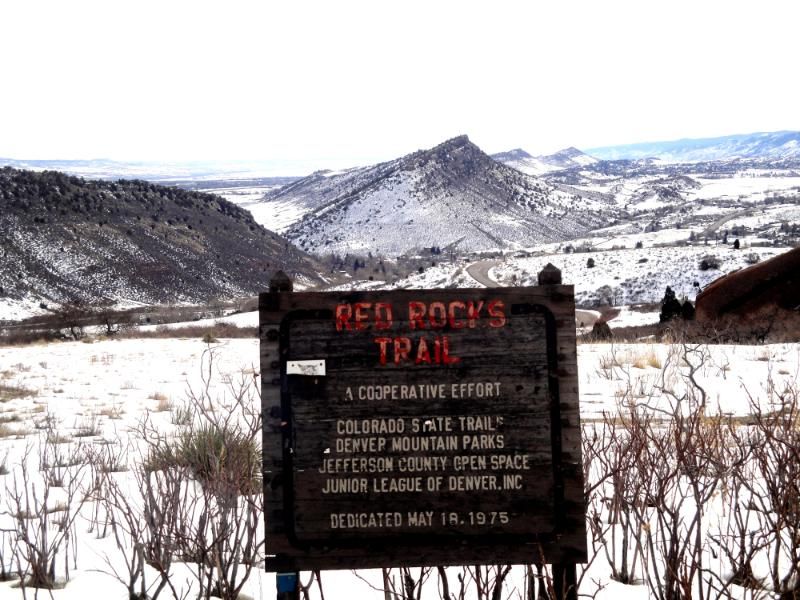 I had no real plans for the rest of the afternoon so I made my way to downtown Golden to redeem my $10 Living Social deal at Panino's Sandwich and Bakery. Talk about a picturesque downtown area! I had no clue about their quaint downtown area with cute little shops, cafes and such (not to mention it's two blocks away from the Coors Brewery).
I wasn't sure what to expect atmosphere wise with this place since there were only a few reviews on Yelp with the majority raving about Panino's. I noticed two themes with the reviews-excellent sandwiches and even better service…..and I couldn't agree more. When you walk in you order at the counter and the girl working there couldn't have been more helpful. She was friendly and asked if I had been there before and started giving me suggestions and told me what their best sellers were such as the Mambo Italiano, Din Don and Shrimp panini. When she said shrimp I'm pretty sure I made some kind of nasty face because she insisted that I was one of their best sellers and not fish-y at all. The thing is I love shrimp but would have never thought to put shrimp in a panini but then again I would have never thought that shrimp, remoulade sauce and French bread could be a genius idea but love a good po boy. So I took a chance on the shrimp and was hoping that it was going to be good because I didn't want $5 to go down the drain. The paninis are $6.99 and you can get a drink and bag of chips for $1.99 more. I wasn't at the $10 mark so I got a soda and two cookies to take home with me. I sat down and was only 1/3 done reading an article when my food came out, props for quick service!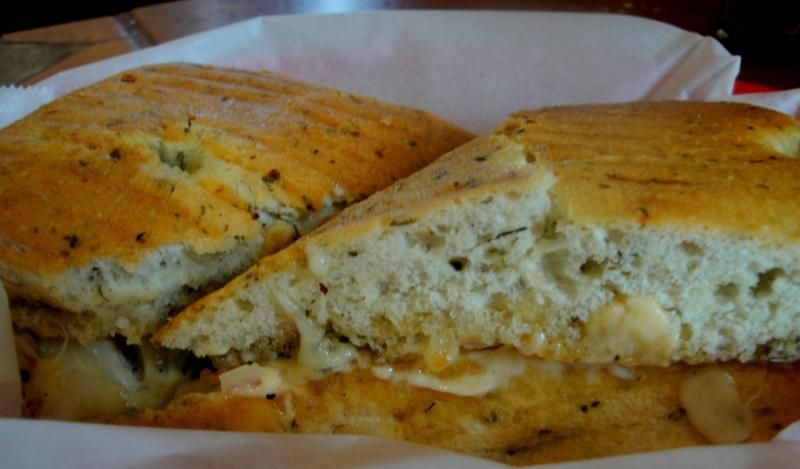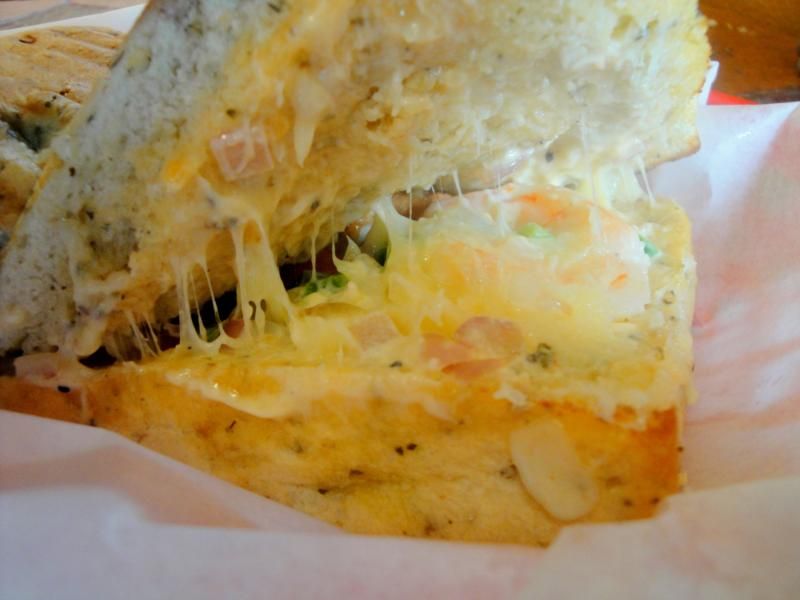 Now that's what I call a panini! When I make paninis at home my most definitely don't look like this and I attribute it all to their fresh and hearty bread. I wanted to dig into it right away and did so but it was piping hot so I had to wait a couple of minutes for it to cool off. I can't believe that I ever doubted the shrimp panini because it was absolutely perfection (I think, I've never had a shrimp panini but if I had to imagine others, it would be perfection) The sauce was a cross between a pot pie and alfredo sauce and mixed in were sautéed onions and spinach, there was a hint of garlic that didn't overtake the flavor of the sauce. I had to stop myself from woofing this down in four bites! I don't even live near Golden but I would definitely go back to Panino's for their paninis, this place is a hidden gem!
On the weekends I like to have some kind of game plan for how I'm going to spend the two free days I have. This wasn't on my agenda at all but I'm glad I got out and explored the Red Rocks on my own. I love being around others but there are times I find solace in being alone and only with my thoughts. When I was staring at the Red Rocks all I could think about was how a year ago, I would have never imagined that I would be living in Colorado, it wasn't even on my radar. The last few weeks have been filled with both self doubt and reassurance due to my employment situation. I try not to focus so much on what's not going wrong with my life but rather than what's going right. While things aren't working out as I planned, I live in an absolutely breathtaking place and can honestly say that I'm happier than I've been in a long time. Even though my legs would like to differ, this was pretty much a perfect day for me-I got to see the Red Rocks, fit some exercise in and check out a new restaurant.