Ever have one of those weeks that passes by so quickly that you can't really remember what has been occupying your time? Yeah, that's one of those weeks. I know I've been going to work and each day has been an excruciatingly long day. The 10 hour days on Mondays and Tuesdays are still going on and that's what we have the most work. But Wednesday-Fridays are absolutely horrible, I got to work today at 8am and we were out of work by 9:30am. When thinking about jobs in the past, I would have killed for the amount of down time I have now but to be honest, it's getting a bit old. Acting like you're busy and doing something on the computer is really hard. I will sit at my computer, move my mouse around every now and then so I don't look idle on my IM and will occasionally get an item that needs to be processed. Thank god I have friends who give me interesting books that help pass by the time.
I feel like I've been hearing about this book everywhere I look, especially in the blog world. I was curious about it but wasn't going to go out of my way to check it out at the library but to my surprise, I'm flying through it at work. She talks about growing up an overweight Indian girl in Massachusetts and how she got into the business (she went to Dartmouth, I never even knew that! That makes me respect her much more as opposed to some tart with acting only experience).  But unfortunately our boss sits ten feet away from me so I have to disguise my reading most of the time or just wait until she leaves the room. It's so slow that they did layoffs last week and am a bit anxious that any day now they are going to do more layoffs. That being said, I'm officially looking for other jobs that would give me a solid 40 hours a week and a permanent role instead of contract work like I'm doing now.
At least I have some cooking to help pass by the time plus I get to take out my frustration by chopping vegetables and meats. Eggplant was $.99 at the supermarket and I had a slew of random ingredients on hand so decided to get creative in the kitchen. And a star was born…..sausage, spinach and eggplant polenta dish of some sorts. I may be creative with making this up the other night but when it comes to the actual name, I got nothing.
Ingredients:
2 cups spaghetti sauce
1 Eggplant
1 cup chopped spinach
1 cup mushrooms
1 polenta log
1/3 cup grated parmesan cheese
Cooked Italian Sausage (I used what I had left in my fridge, about 3/4 cup)
Garlic, red pepper flakes, salt and pepper
Chopped up the mushrooms and sliced the eggplant vertically without the skin.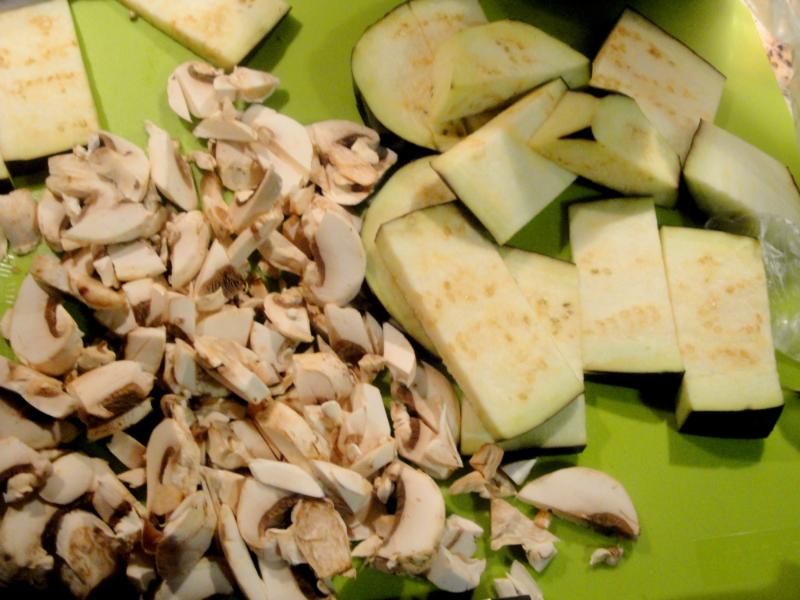 Broiled the eggplant at 350 for 20 minutes to soften them up (seasoned with garlic and red pepper flakes and spritzed with extra virgin olive oil from my Misto)
Cooked the mushrooms on the stovetop along chopped spinach with extra virgin olive oil, salt and pepper.
When I grabbed the polenta from the pantry, I got a little surprise.  It was green chile and cilantro, not the plain kind I thought I bought. Oh well, I was still going to use it and wish for the best!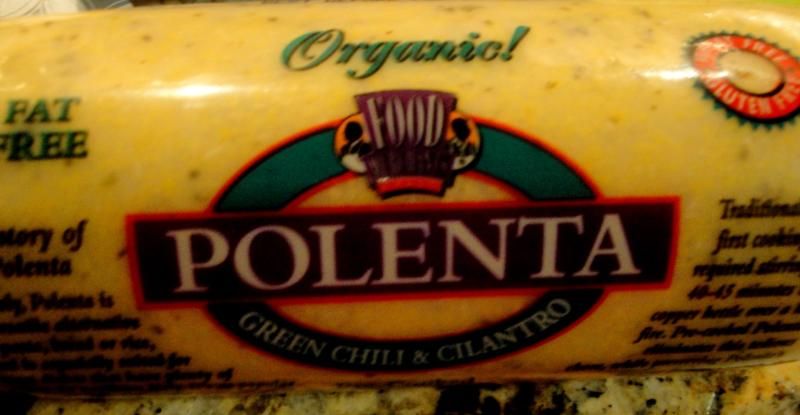 Sliced the polenta into little rounds then laid over spaghetti sauce
Topped with the eggplant and sausage, spinach, mushrooms and grated cheese mixture.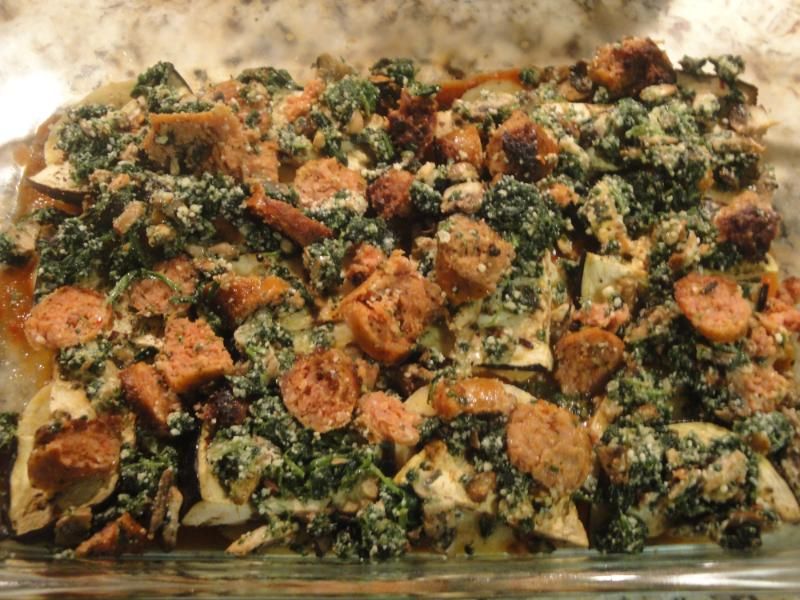 Covered with the rest of the spaghetti sauce and bake at 350 degrees for 30 minutes. Despite the green chile and cilantro polenta, it turned out wonderful—kind of like a poor man's lasagne!
I enjoyed with a glass or two of vino and it was a good night!
Other than that, I've been kicking kids. And yes, you read that right. You see, unlike Charlotte it's rare to just be driving around and spot a Chick Fil A, you really have to keep an eye out for them in Denver. I did a search and most of them are out in the suburbs leaving me with a limited selection of locations to go to. There is one right by my work so I will stop by there if I have a coupon some mornings when I have extra time or when I have no plans for lunch. Since today was my half day, I went in to get my  free order of Chicken Nuggets thanks to my Chick Fil A calendar I got for Christmas.
I started talking with who I presume was a manager thanks to his cheery demeanor and Chick Fil A bowtie. I *may* have been talking to him so I could score some extra dipping sauce but thank God this time I didn't have to show cleavage or worse, That was my strategy in Charlotte and it worked every time mama wanted some fat free honey mustard (the best I've ever had) but I guess the Colorado Chick Fil A's are an easier crowd. I grabbed my food and sauces and quickly spun around to walk out and that's when the kick heard 'round the world happened. There was a small child, probably about three years old) running around the restaurant while his mom was ignoring him and more preoccupied by the menu (not like I could blame her). So when I spun around there he was and I didn't even see him and almost tripped over him as I was kicking him. Usually I'm aware of all things under my feet since Lincoln is constantly following me around so I have to be extra careful because he is only eight pounds. That being said, you would think I would notice a small child on the ground, right? And what the hell was he doing on the ground? All I know is that I ….ugh….this sounds horrible, kicked him and he started crying his eyes out right then and there. I don't blame him since I wasn't watching where I was going and probably socked it to him pretty good. I couldn't believe what just happened. I kicked a mothereffin kid….at Chick Fil A. Chick Fil A is a happy place where dreams are fulfilled and cows are funny along with some of the best damn chicken I've ever had…..not a place where 32 year old women kick children.  The horrible thing is that anyone who knows me knows that I'm not the most patient person when it comes to kids. Ok, honest, if I don't know them and they aren't adorable, quirky or quiet, I shoot them mean looks but I would never deliberately harm or hurt a child much less kick one. I didn't know what to do, the mother scooped her child up and tried to shhhh him. I started to apologized profusely to the mother but she didn't speak the English so I hope that she could tell that I was sincere in my apology. I felt absolutely horrible but wasn't sure exactly what to do so I got out of there right away and had a pity party in my car while eating my nuggets. And January 25 will forever live in infamy as the day I kicked a child, let's just hope this won't affect him in the future and he will one day enjoy the Chick Fil A as I do.