I totally fell in love with Missouri and Kansas on my trip out to Colorado.  I think the love affair started when I saw $2.99 in St. Charles. I don't even know the last time I saw gas under $3 and for that, my wallet was grateful.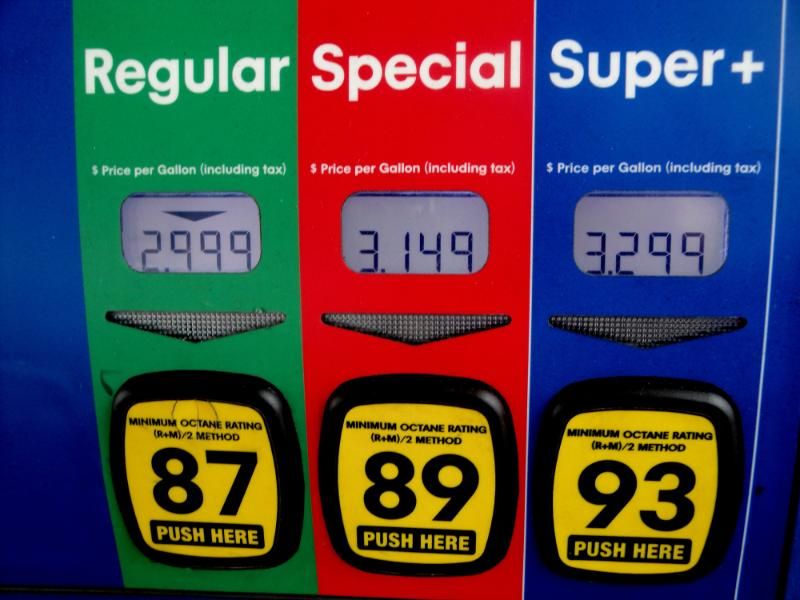 Thanks to Yelp, my sister and I found Trailhead Brewing Company while staying in St.Charles. I'm always up for a brewery visit, especially after spending 10 hours on the road.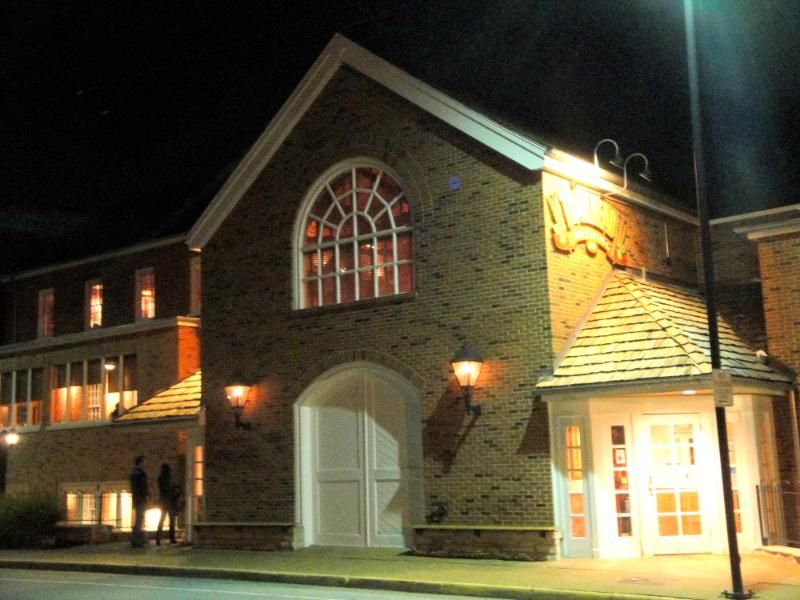 I'm a huge fan of restaurants and bars operating out of a house.  I was  in overload with their beer selection since I wanted to try everything so I got a flight of their six beers for only $7!
Not only was I pleased with the price of the flight, I was extra excited to see that their seasonal beer was their Spiced Pumpkin Ale…..yes!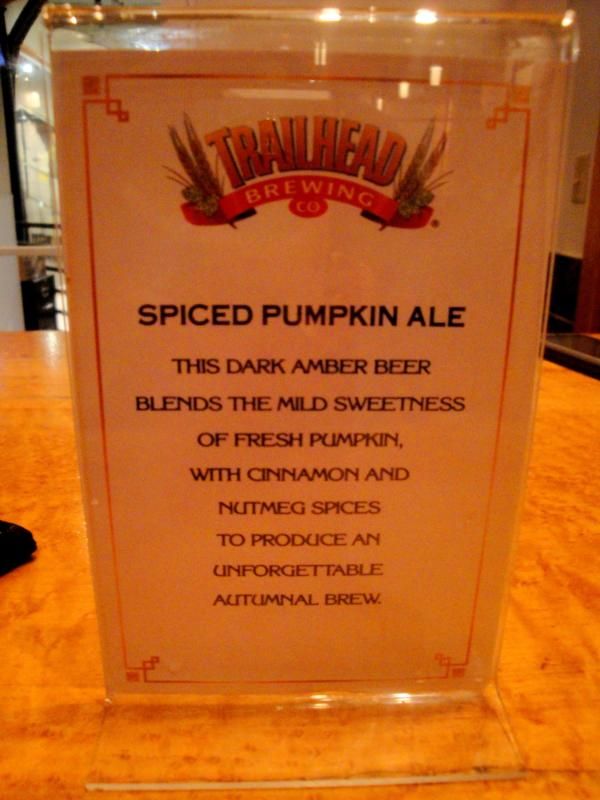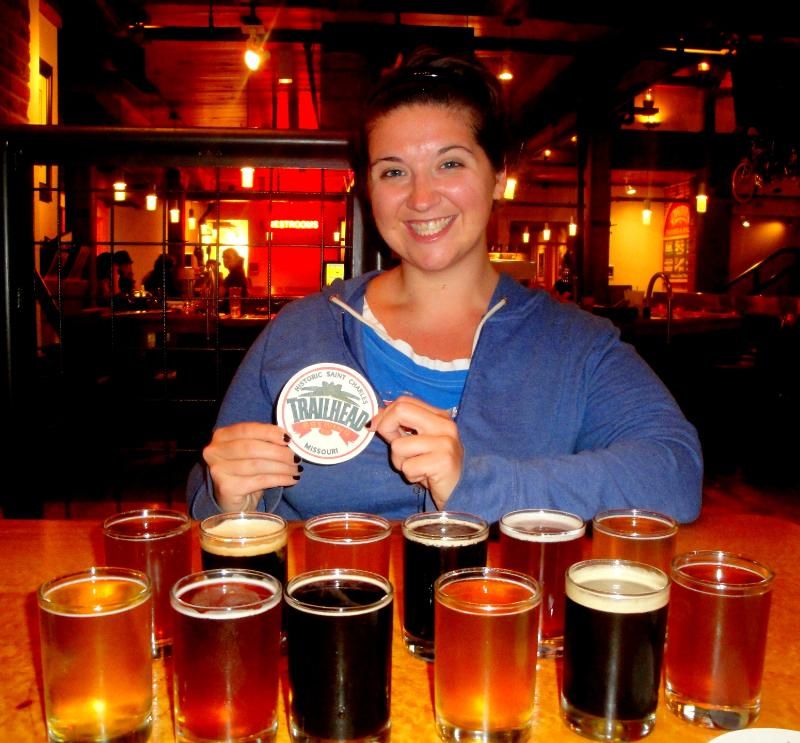 It doesn't take that much to make me a happy girl. Just six mini glasses of beer. I enjoyed all of them but my favorites were the Missouri Brown Ale (third from the left) and Riverboat Raspberry (second from the left) which reminded me of a bolder Abita Purple Haze.
Because we didn't get to St. Charles until after dark, we didn't know the area that the brewery was located was the historic district of the city. After a weak buffet at the Comfort Suites (ok, it wasn't horrid but there was an incident with me confusing ketchup for jelly which made a funky English muffin sandwich) we ventured around downtown St. Charles. It was a dreary day out so that was fine with me since I like the sad weather but I was also surprised to hear that it was 71 degrees out. I thought the weather in Missouri in November would be horrid so I like to think that we brought the warm weather with us from Florida.
Historic area is a cute strip of shops and restaurants a block away from the Missouri River. Two fun history facts about St. Charles-this is where Lewis and Clark set off on their expedition and it was the temporary capital of the state in 1821 until 1826 when Jefferson City became the permanent capital city. Knowledge is power yo!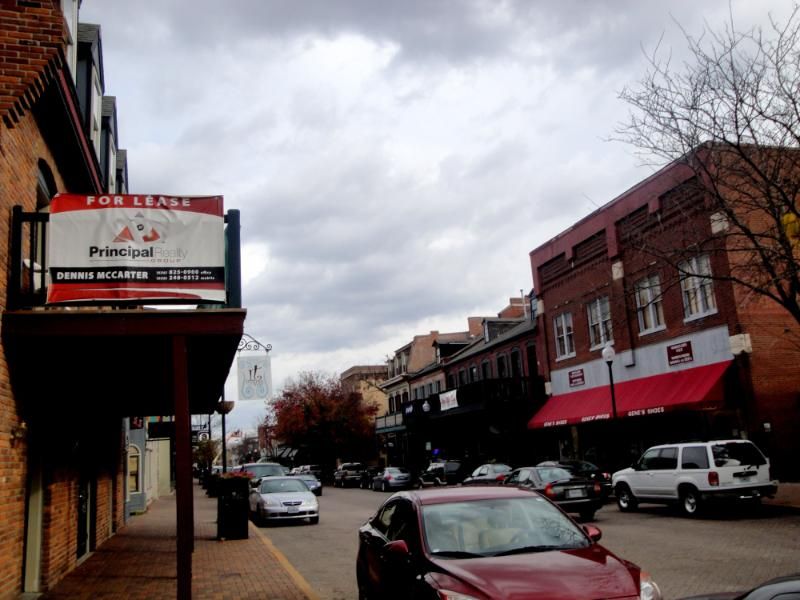 It didn't take long for me to find the local coffee house in the historic district- Picasso's Coffeehouse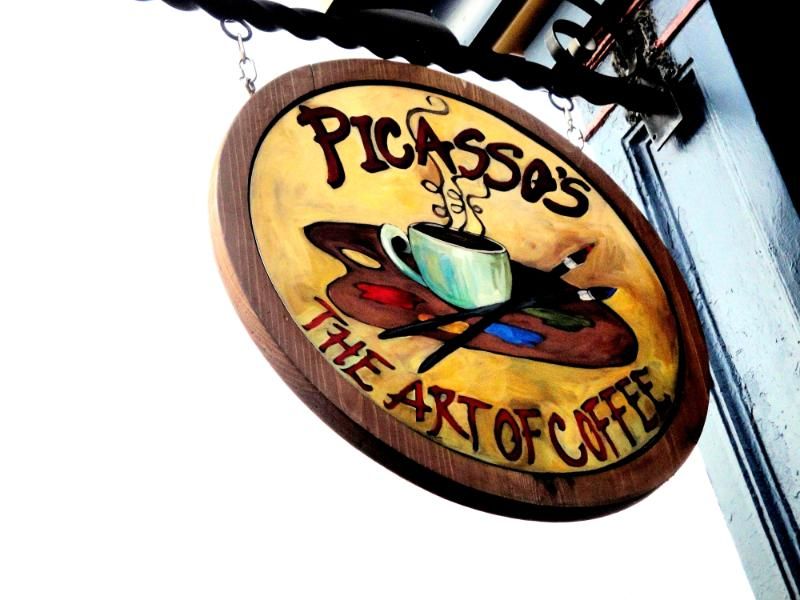 They have the standard selection of coffee drinks along with some brews of the day they brew for you right then and there, whether it be a 16 oz or 24 oz cup. I tried the Apple Crumb Cake because I've never seen an apple flavored coffee before and now know why. It was too bitter for me but I love the hints of spice that came with it.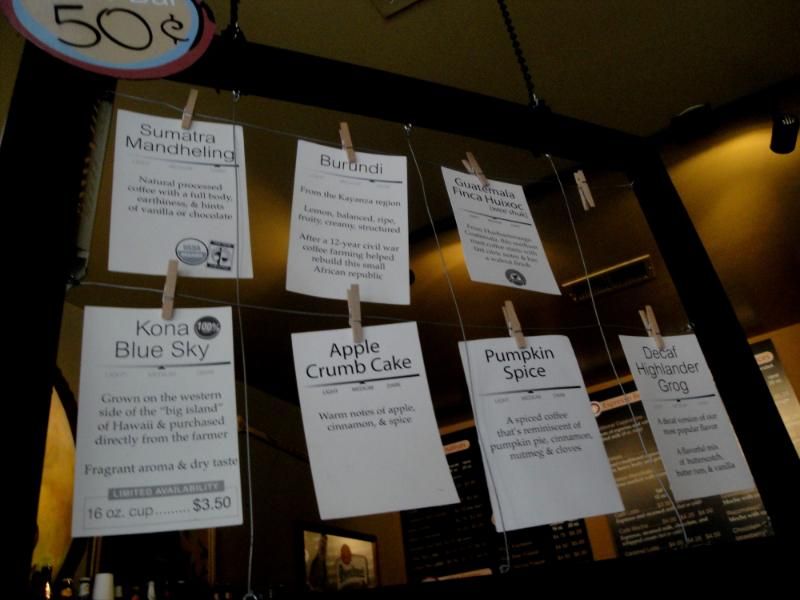 Like any local coffee shop, it was decked out in funky décor and art work. I really wanted to ask them if they would sell the zebra chairs but then remembered the car had no room in it. But now that I think about it, I could probably make that a home project one of these days if I find the motivation.
Thanks to the Kansas City Yelpers, Oklahoma Joe's was our lunch spot on Monday afternoon. I went to the Yelp forum on the KC page asking what their opinion was on the best bbq place was to stop at if we were just stopping there for a couple of hours. I got a lot of suggestions but Oklahoma Joe's was by far the winner of them all.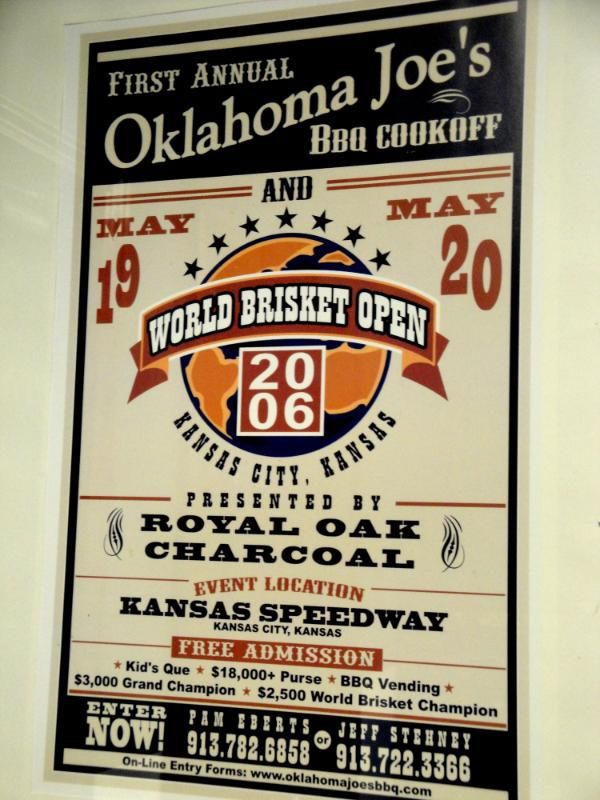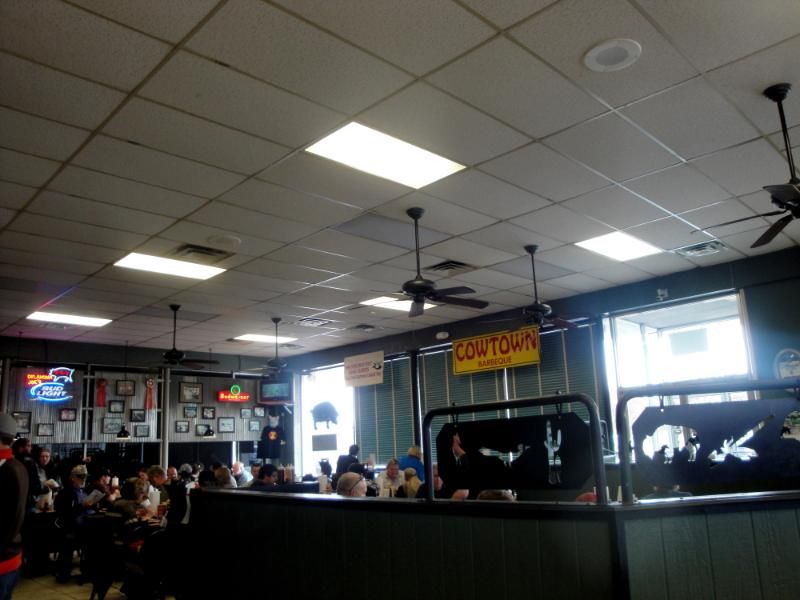 After having to put up with crappy NC style bbq for awhile, I was excited to try out KC style since their sauce is tomato base with hints of sweet, spicy and is molasses based.  Plus, as you all know, I love any convenience store that offers food! Apparently we weren't the only ones ready to chow since we got there around 1:30 and the line was alive and kicking. The people of Kansas City are sneaky taking late lunch breaks like that.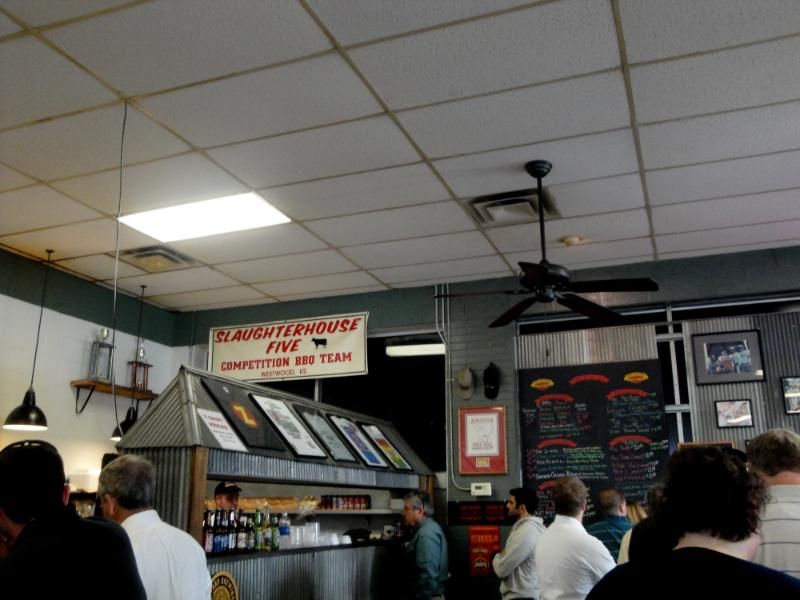 We had to wait about 15 minutes to order but it moved pretty quickly and we made friends in line. They were super quick with the turn around of the food prep. I paid, got my drink and heard my order being called. Nothing like some efficiency. I got the Z Man sandwich (brisket topped with provolone, onion rings and bbq sauce) with a side of potato salad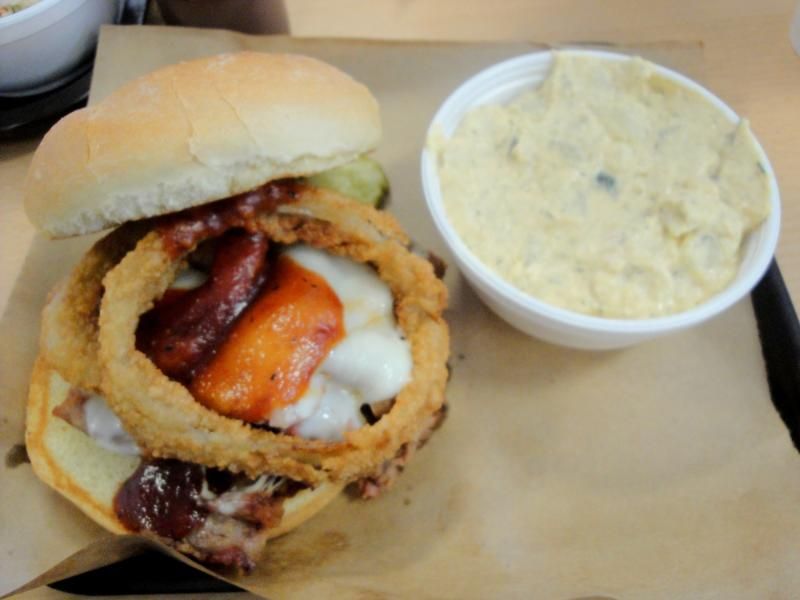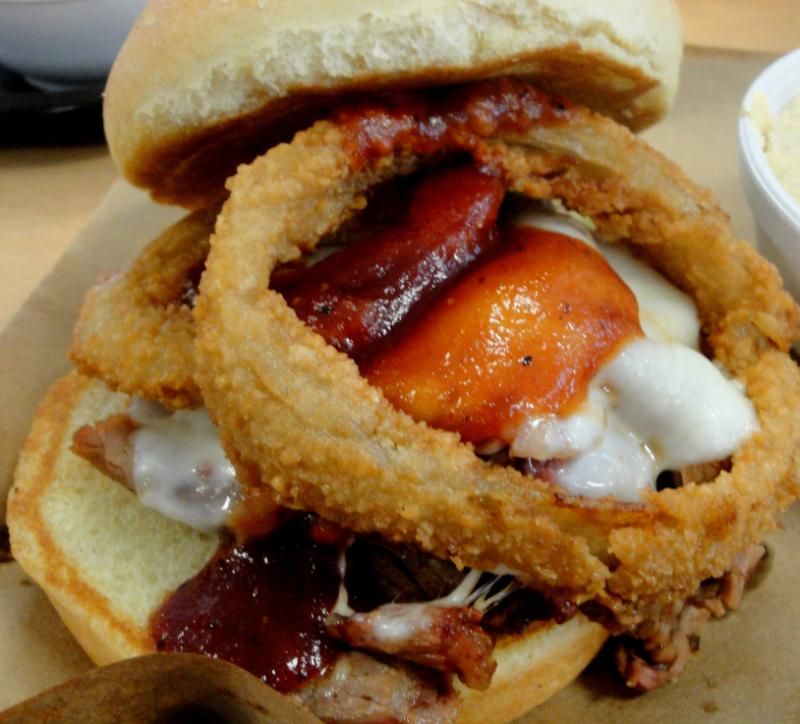 Heavenly. The Kansas City Yelpers didn't steer me wrong . The potato salad was different from what I'm used to, it was more mustard based than mayo based but I was a fan since it didn't need any additional salt or pepper.
Because I'm resourceful (or like to think I am), I looked up Trader Joe's locations in Kansas City and found a few. There are no TJ locations in Colorado and from what I've hear from them, won't be for another five or six years due to a lack of distribution centers near by so I had to stock up on some goodies to hold me over (if anyone with a TJ's ever wants to send me some goodies, I would gladly send you over a list and some cash…..seriously)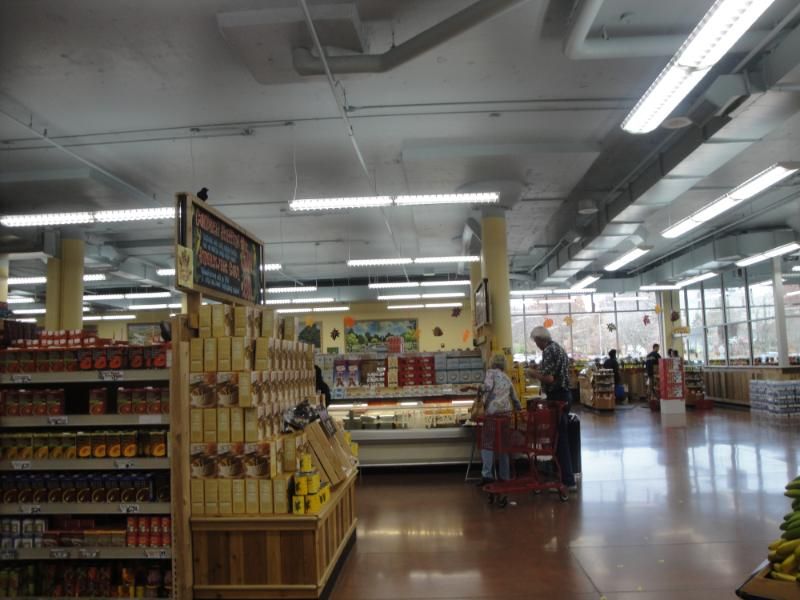 Afterwards, we headed to Lawrence, KS to see the University of Kansas. My sisters friend went there but besides that we have no real ties except both of us have a love of college towns. Like any other college town, it was adorable and I wanted to stay there instead of heading to Colorado. I got to see the chapter of my sorority at KU and their house puts ours to shame since it's completely pimped out. Plus their bookstore had adorable clothes, none of which WVU has.  I'm still confused with with University of Kansas is referred to as KU though? Or why I crossed paths with a Mer-hawk instead of their Jayhawk?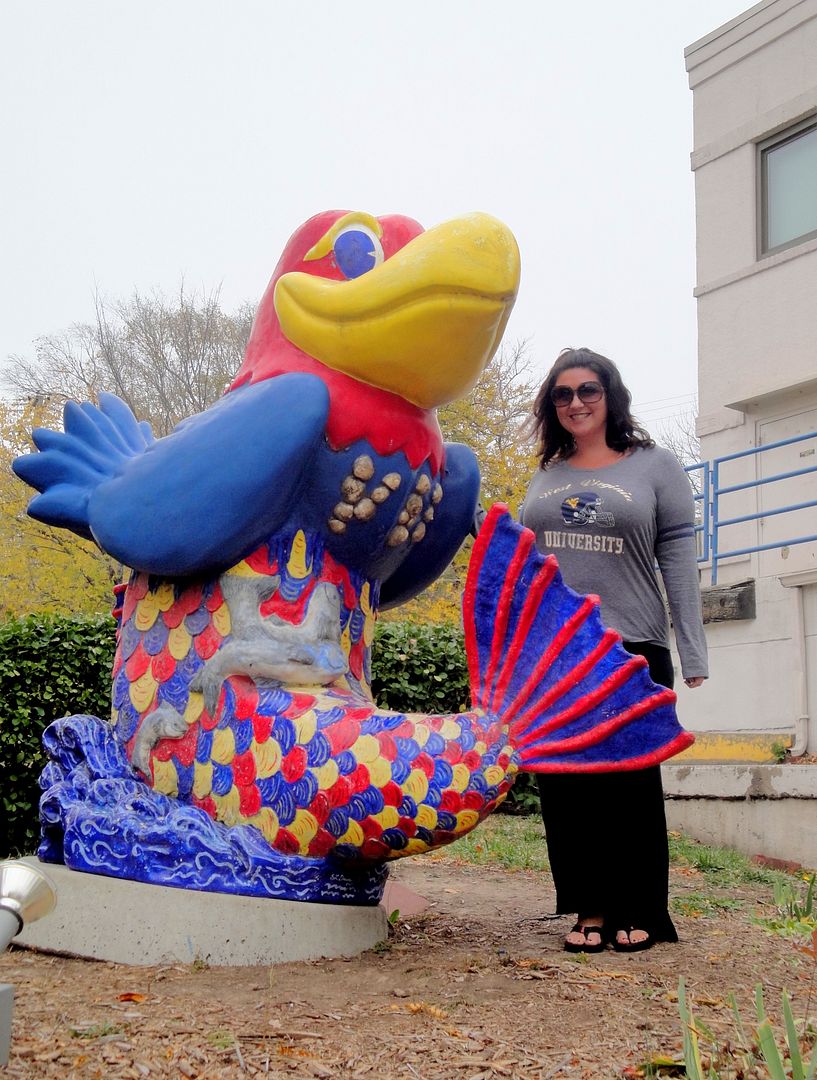 Shortly after, we headed west and I witnessed one of the most beautiful sunsets I've ever seen. And it was in Kansas, who knew?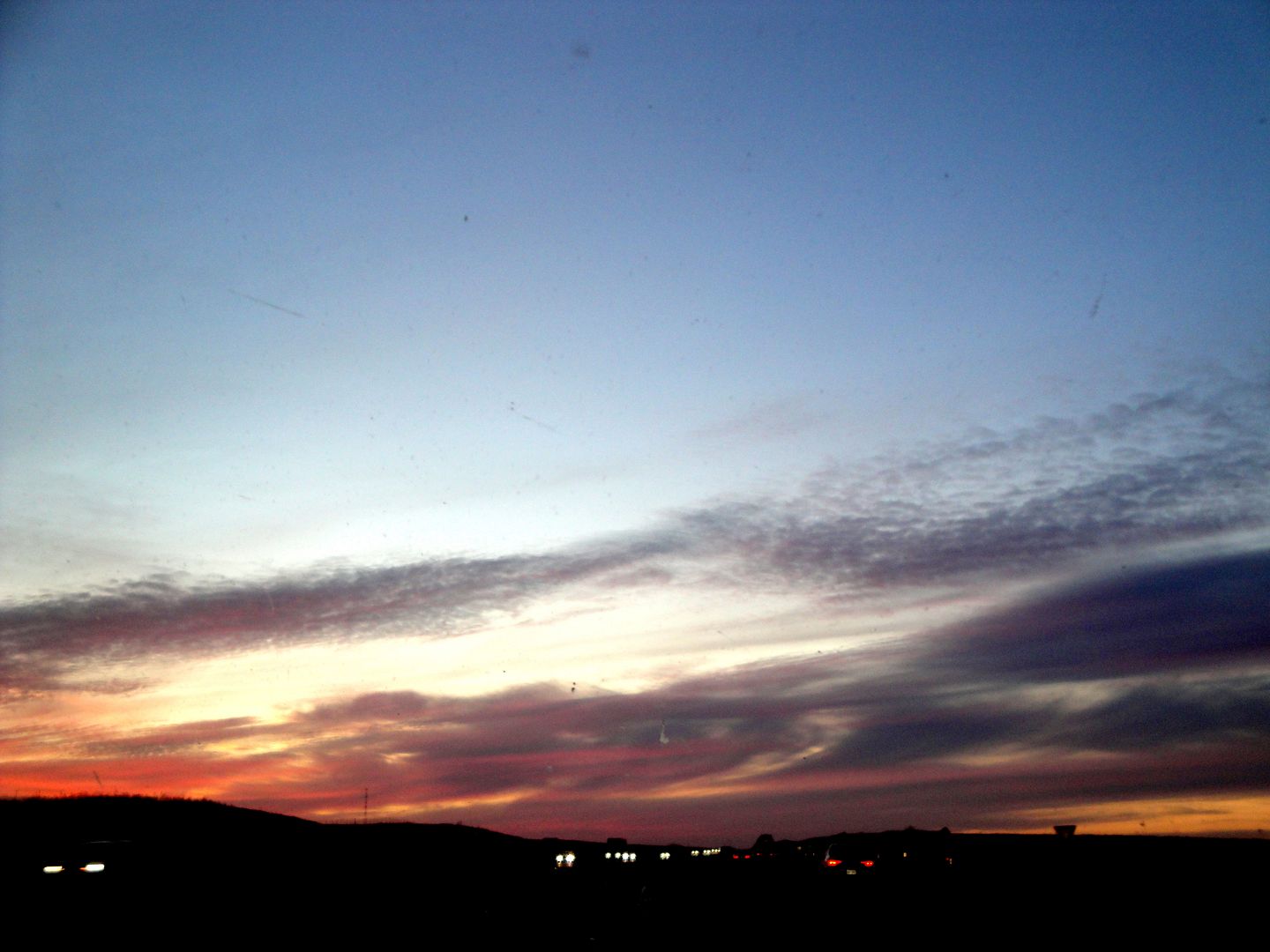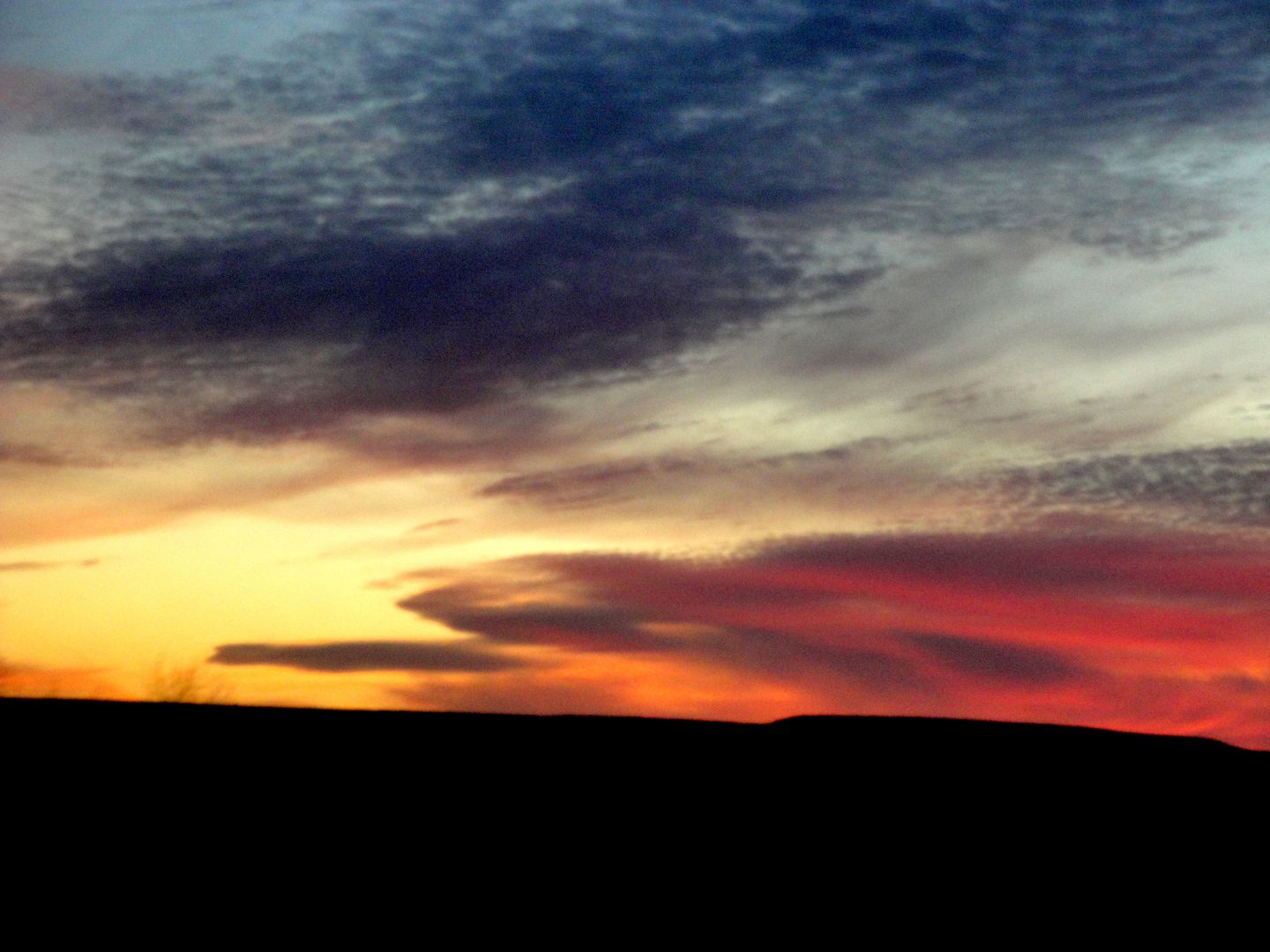 We stayed the night in Hays, which is barely a blip on the map and looked like a town that relies on revenue from people traveling on I-70 so I was curious as to why the rate was higher for a hotel there than St. Charles. And I soon found out why-pheasant hunting season had commenced that weekend. Our hotel was completely packed with hunters and the restaurant we went to that night had a huge "Welcome hunters!" sign so I guess it's a really big thing out there?
Everything with Missouri and Kansas was great-cheap prices, friendly people and nice views. Hell, even the cops are nice! Sad to say, I broke my five year streak of not getting pulled over. Supposedly I  was going 88 in a 75 mph speed zone when I thought I was going 80. I almost wanted to do the whole fake crying thing but could barely talk since I was so nervous and a ticket is the last thing I need. The officer asked me for my license and insurance card and while he was waiting, an 18 wheeler flew by us almost hitting him. He had to jump out of the way, threw me back my license and told me to drive slower then burned rubber to catch up to the trucker. Thanks trucker for a) not hitting the officer and b) getting me out of a ticket!