Hola friends! Even though I usually wish for weekends to go by as slow as possible, this one is going by a little too slow for my liking….but we will get into that later. I've had the house to myself this weekend since my roommate went out  of town and as much as I miss living alone, kind of miss someone around. Lincoln is nice to have by my side but he isn't huge on conversation so that has just left me lonely. At least I got some human interaction in on Saturday when I met up with Diana to get some cardio in and also catch up. It's been ages since I've seen Diana and what better way to catch up on life and gossip than going for a walk on a beautiful morning? Well margaritas or wine excluded of course……
After walking, we made our way to the Cherry Creek Farmers Market. There is nothing more I love than a hippie-licious farmers market so I was stoked to check it out. I've heard wonderful things plus I haven't been to any markets here because this is my first summer in Colorado.Ok, let's talk farmers markets—after going to this one, I now realize that all I've been to have paled in comparison. This was like a farmers market on crack! I had Lincoln with me and put him down to walk but his Woody Allen-like anxiety soon set in and I had to hold him the majority of the time. That worked because each time I turned someone was trying to pet him while telling me how adorable he was. That makes me popular, we like that.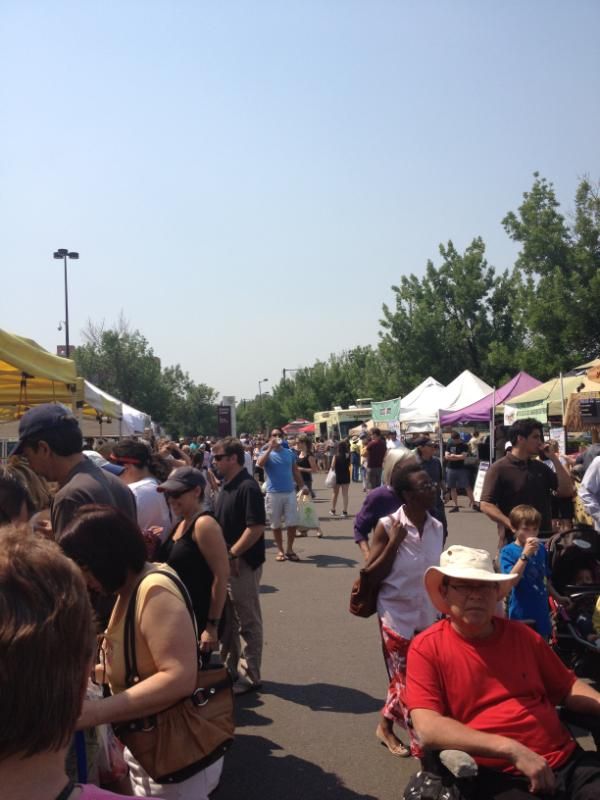 Look at dude in the red giving me the stink eye, hmph. While I was excited for the produce, I soon saw they had a few produce stands but more food stands and local businesses. This was perfect because not only do I love to eat but also love to support local business! I didn't want something really heavy but needed a little something something in my belly. Tres Pupusas was right there and a pupusa was the perfect sized bite I was looking for.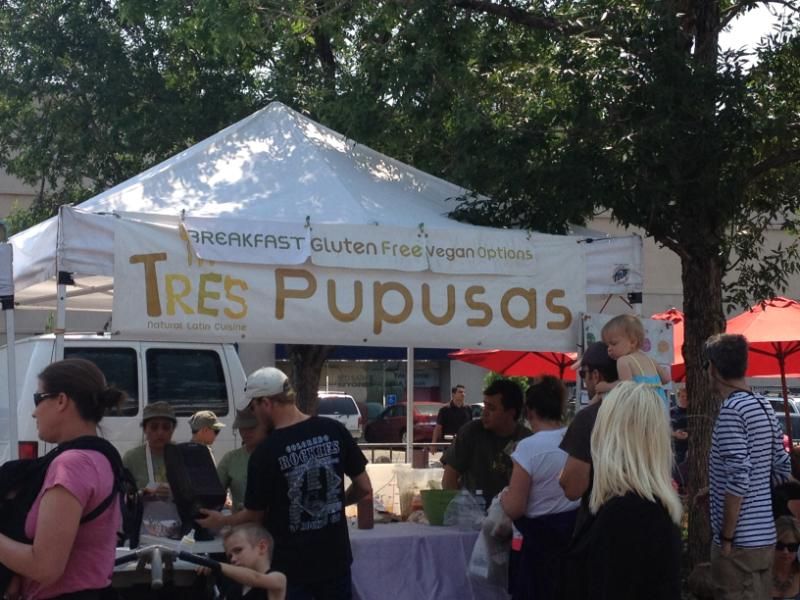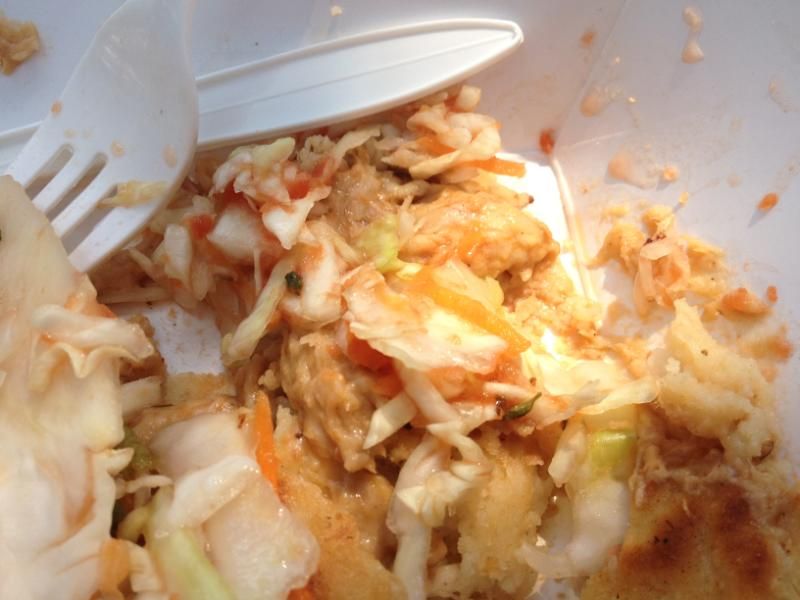 I heart pupusas and order the carnitas pupusa. Diana promptly pointed out that I could've gotten more bang for my buck by taking them to go but I needed something right then and there. She asked me how much it was and I told her I thought it was $4 so I checked my wallet to see how much change I got. Thank God Diana asked me that because the cashier forgot to give me $10 back and only gave me six from a $20. So that was annoying but not as annoying as the woman in line asking me how much I gave him and butting in for no reason whatsoever. Old Tiffany would've told her to shove it and wondered why she was all up in my business but I'm trying to be a) a lady b) calmer and c) not one to be arrested for fighting. Wrong change excluded, the pupusa was amazing and the fresh slaw they served was a perfect compliment to the slow roasted pork.
But the best part of the Farmers Market?
Goat cheese, baby, goat cheese—compliments of Stone Creek Farmstead. Goat cheese is one of my top five favorite foods EVER. Just thinking about gives me a jonesing for the Goat Cheese and Prosciutto sandwich I had last year in South Florida. If you're thinking about a meal from almost a year ago, that's how you know it was a legit meal!
They had a display of different goat cheeses on their table like garlic, jalapeno, dill and herb and more, like their flavor of the week.
Are y'all ready for it?
Maple bacon goat cheese.
Kill me now because I can go to heaven! Sweet and salty combined into one? Yes yes yes. This was perfect because I've been wanting to buy goat cheese lately because I've been thinking about adding it to lasagna in place of some of the ricotta I normally use. So when I got home, there was one thing on my mind-the most wonderful lasagna I would ever make all thanks to the maple bacon goat cheese.
Ingredients:
One box no boil lasagne noodles
2 cups mozzarella cheese
2 cups baby spinach
1 cup mushrooms
1 lb ground beef, cooked and drained
10 oz ricotta cheese
4 tbsp maple bacon goat cheese
2 tbsp minced garlic
2 tbsp extra virgin olive oil
1 tbsp red pepper flakes
salt and pepper to taste
Lasagna is such a consuming meal that I often get frazzled where to even start. I've found it's best to start from the inside then work my way out. Cooked the chopped spinach and fresh mushrooms in 1/4 cup water and 2 tbsp extra virgin olive oil
While that was cooking, I spread sauce on the bottom of the baking pan then placed the no boil noodles over the sauce then start layering. I mixed two eggs with the ricotta, minced garlic and maple bacon goat cheese (I just love typing that out because it gives me warm fuzzies) and spread over the noodles then continued layering. I love how you could see bits of bacon in the mixture—gah!!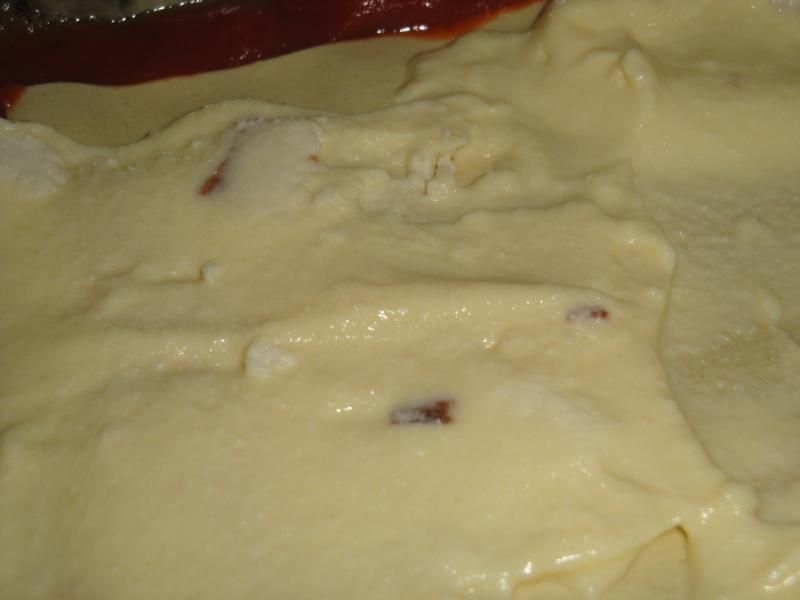 Next was the spinach and mushroom mixture then topped with meat, mozzarella cheese then continue to layer until you reach the top of the pan (should be three to four layers)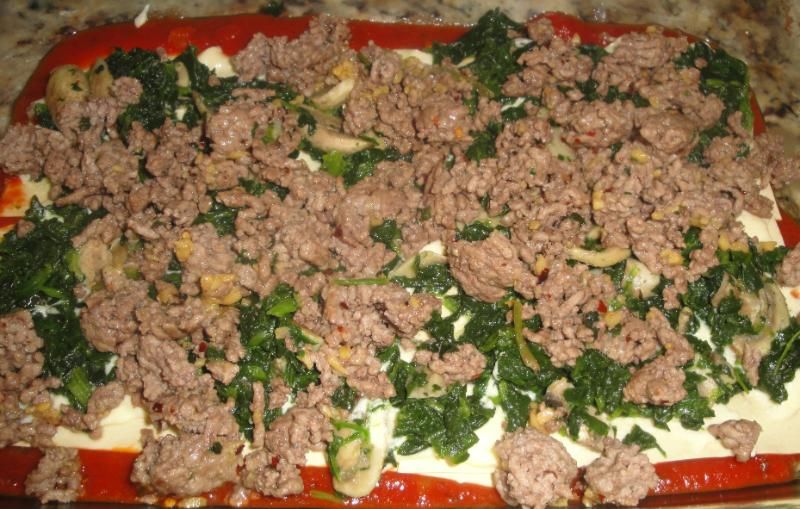 Cover the top layer with sauce and remaining mozzarella cheese, cover with tin foil and bake at 400 degrees for 50 minutes. I like burnt edges so at the 50 minutes I took it out, topped with some more mozzarella then let cook for eight to ten minutes.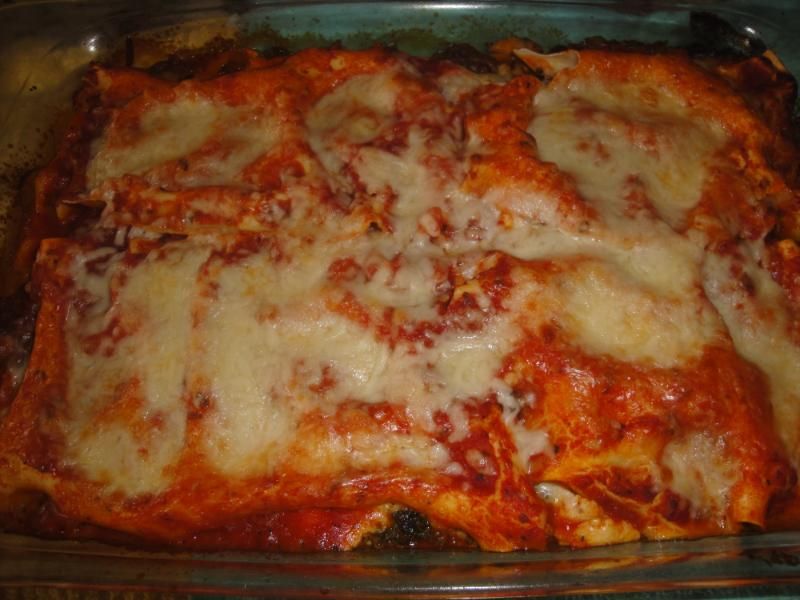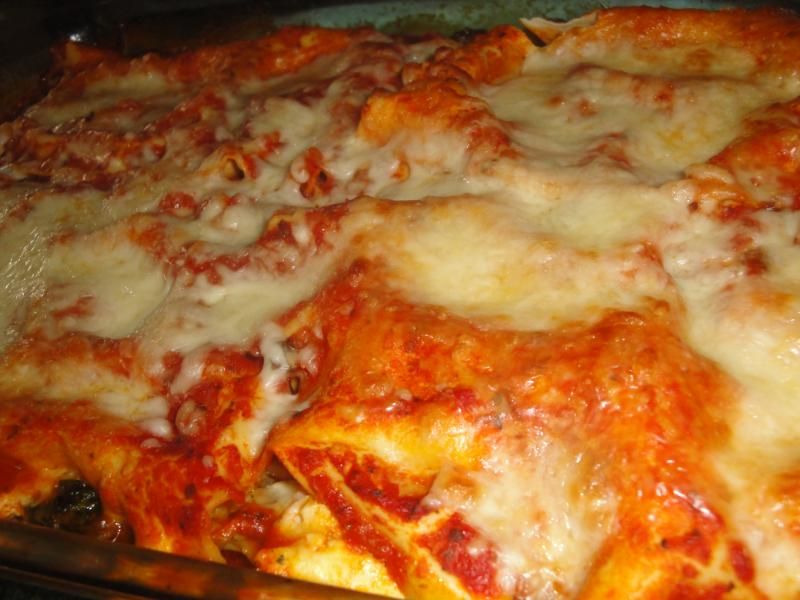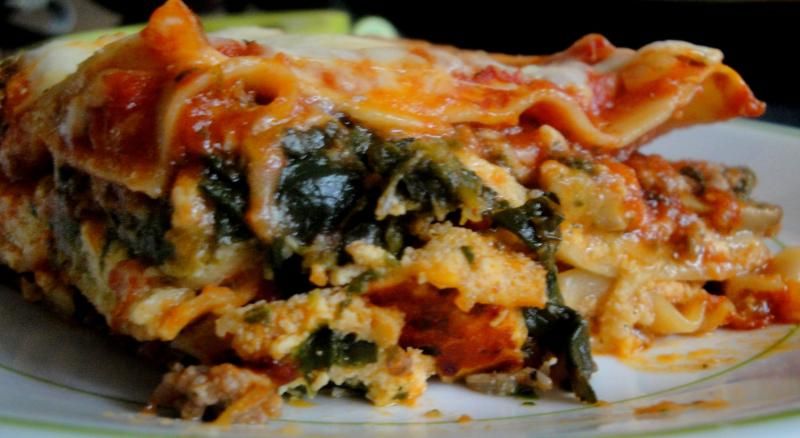 This lasagna was absolutely delicious and packed with flavor thanks to the maple bacon goat cheese. I tend to make lasagna only a few times a year because it makes so much and is easily freezable. This entire pan made about eight servings so I can feast on it during the week and freeze a few portions as well!
Other than that, I've been trapped at home since Saturday afternoon.
Yeah, good times. So last year I had a little incident with a metal squirrel in my friends driveway that detached my bumper. I got it fixed without my insurance and everything was fine and dandy until I couldn't measure my distance and scraped the siding of the awning and it detached once again. Being that it's Memorial Day weekend, no places are open which means that I will have to wait until Tuesday to get it fixed. I tried duct taping it up but there is still a scraping noise going on while I drive thanks to the fog light hanging down so I'm trying to lay low until Tuesday morning.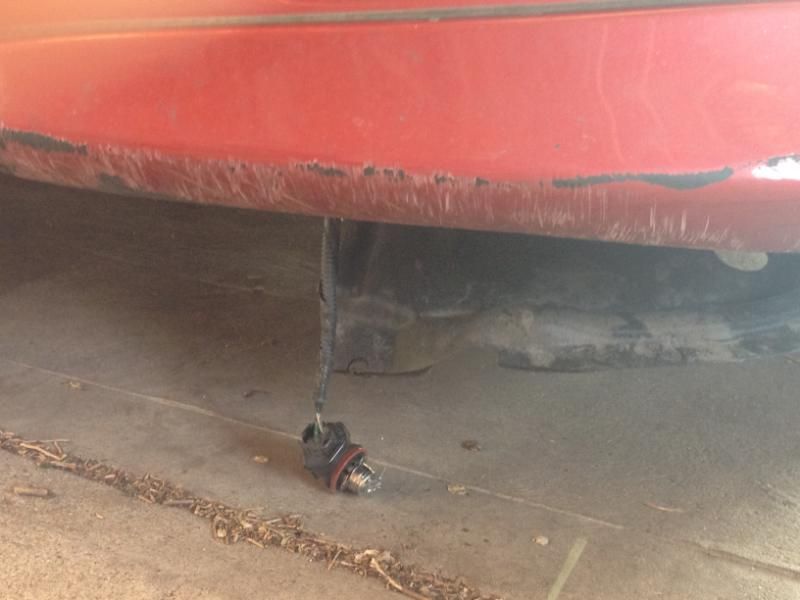 So yes, since that little mishap I've just been hanging out with my little man. Although I've been a little diabolical when it comes to Lincoln. Sometimes he has a little too much energy so we've been going on three mile walks to get our cardio on and also tire the pup out. And it's been working!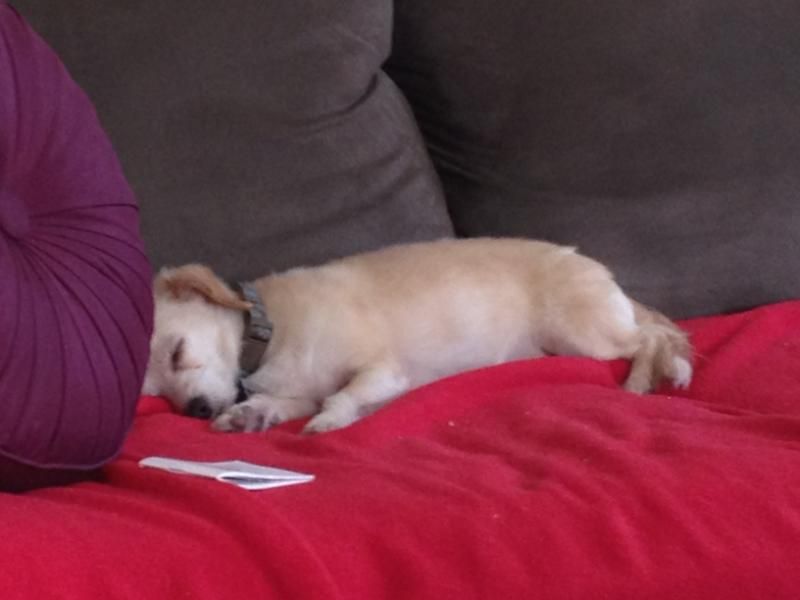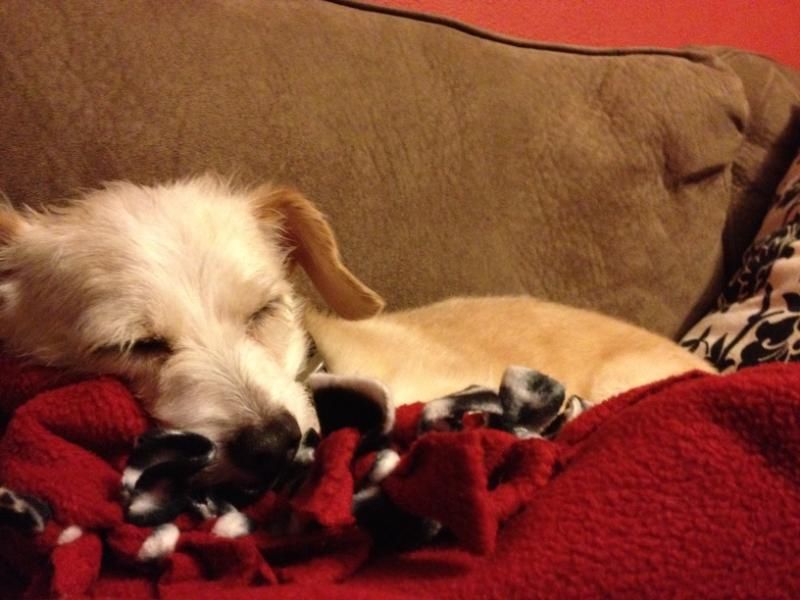 Besides that I've been working on my tan, cooking, cleaning and primping. Everyone and their mom has been sporting orange nails lately so I decided to jump on the bandwagon and do it as well. The OPI color "Are We There Yet?" is both cheery and subtle thank god because I do not want to be waving a fluorescent orange nail in the air. And now that I'll be back in the banking world I will have to be more self conscious of what I'm sporting.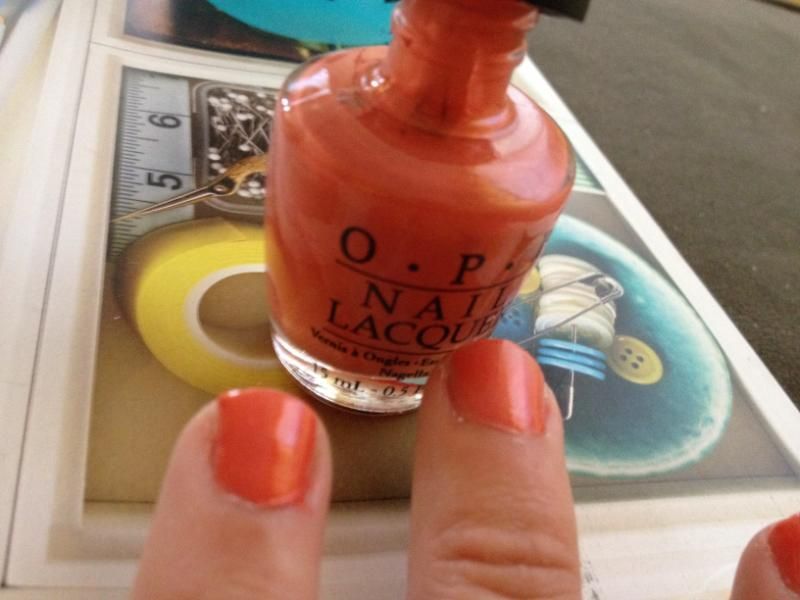 Hope you all are having a splendid weekend!