Are you there homemade pizza?
It's me, Tiffany
I know we haven't seen each other in awhile but I wanted to let you know I haven't forgotten about you. You see, when I lived in Charlotte, you were my crutch and my rock. You were so cheap at Trader Joe's coming in at only $.99 for a huge ball of pizza dough, it was hard to resist you. But now that I've moved to Denver, you're a wee bit more expensive and you know how I am when it comes to pinching my pennies. But I was thinking of you this past week and had to give in. Let's not let this much time pass again, k?
Thanks,
Tiffany
Pizza and I usedtobelikethis (insert two fingers crossed) but our relationship quickly slipped away once I moved away from Charlotte and Trader Joe's where it only cost $.99 for a ball of dough. I want it to be back in my life and not have it be a rarity like it's been this past year. I bit the bullet and decided to buy it this weekend at King Sooper's so I could make homemade pizza. I figure since I will be making more money I can now shell out the $2.99 for pizza dough instead of buying it for special occasions. Or maybe instead of griping about the price I should just start making my own pizza dough?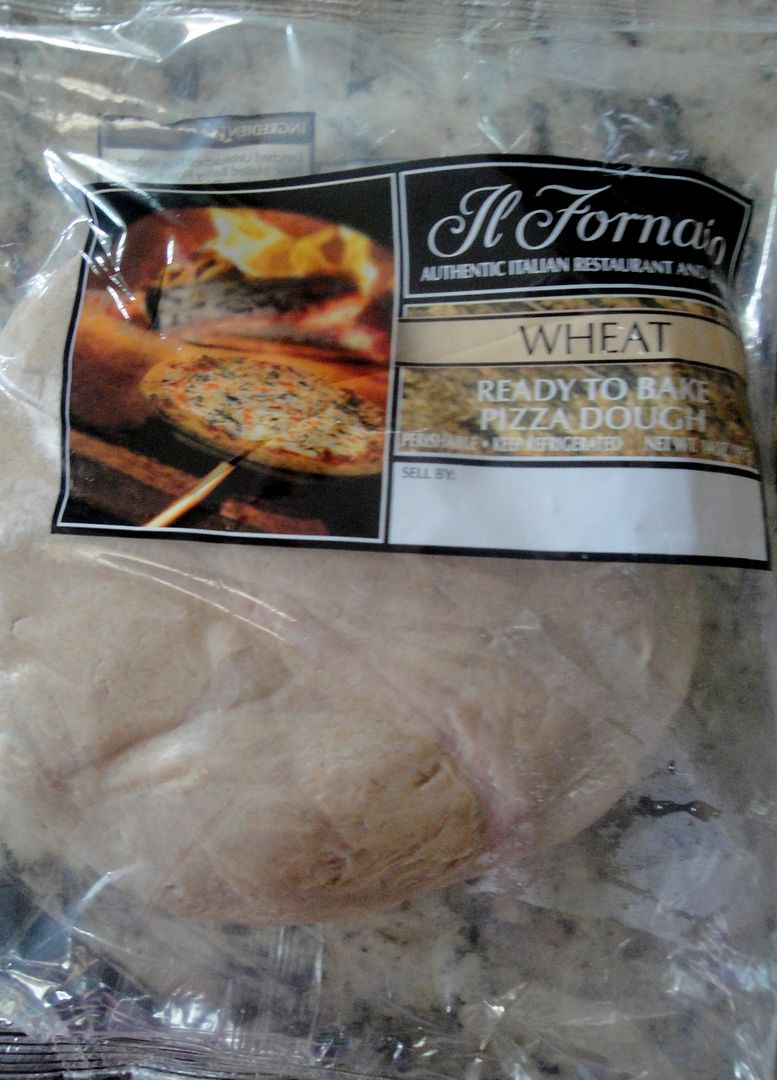 The nutritional info says it's eight servings so I separated into four pieces to use at different times and the best part is they freeze well! Just take out in advance and let it thaw out naturally.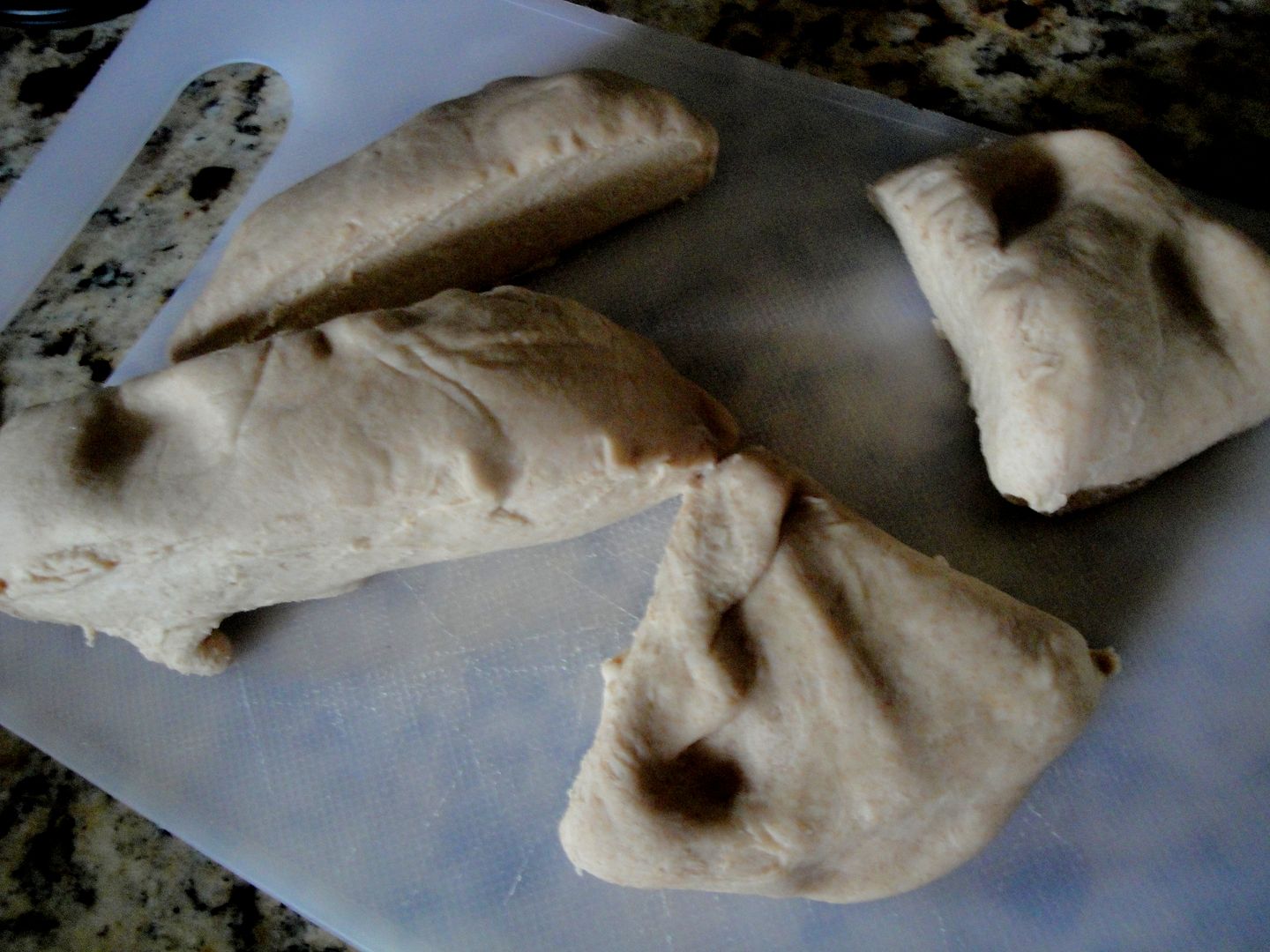 I took one of the bigger pieces since my stomach was telling me to eat as much as possible for dinner and started to stretch it out.
I rolled out the dough with a rolling pin as far as I could. I love rolling dough out because it's a pretty good workout and I give it my all to roll it as thin as I could and put my back into it. Where I promptly started singing and popping my booty to You Can Do It by Ice Cube
Pizza dough and Ice Cube go together like peas and carrots! Always a sucker for new products, I bought Hormel Pizza Toppings while at the store this past weekend. It's not the best value since it was $2 something for a bag with only two servings. However me being the frugal gal I vow to get four meals out of it!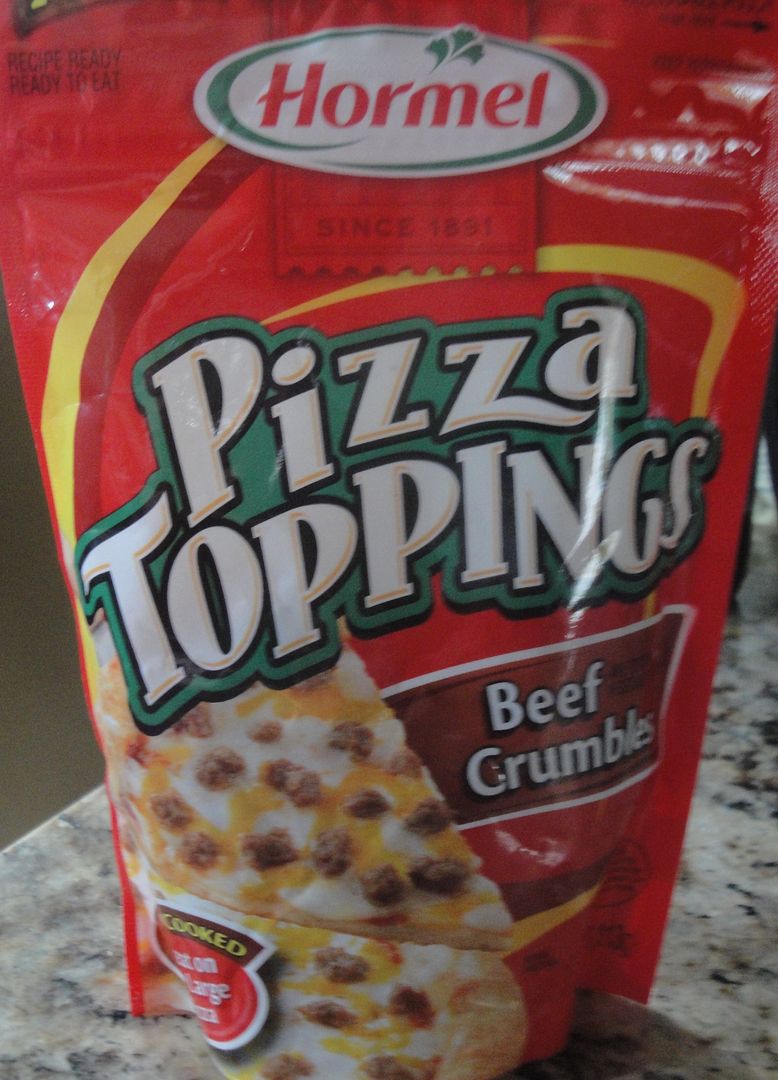 I let the dough cook on it's own for about eight minutes at 400 degrees then topped with sauce, beef crumbles, mushrooms, peppers, ricotta cheese and mozzarella. I rarely use ricotta but had some leftover from lasagna so I thought instead of wasting it I should put it to use. I mixed it with a few shakes of powdered garlic and can I just say this was the best idea ever?? After an additional 10 minutes at 400 degrees, I pulled this beauty out from the oven……
It was perfection.
But that wasn't the only rarity that made an appearance this weekend. I remembered to bring my heart rate monitor to the gym for once and despite not wanting to workout had a decent workout.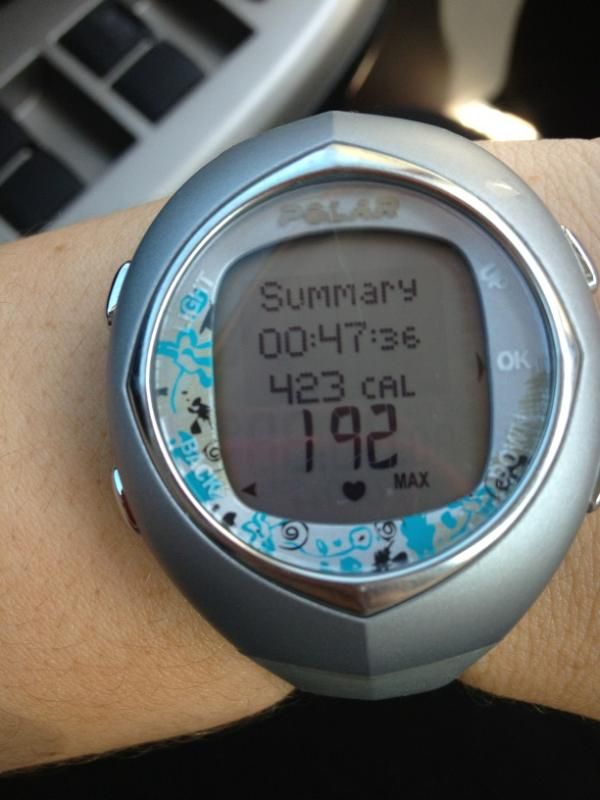 Along with that came more weirdos at the gym, a rarity here in Denver. Yes, we have some interesting characters like grown adult twins who dress alike and a dude who is the spitting image of Nacho Libre. Yet none of them seem to hold a candle to the weirdos who made an appearance at the YMCA in Charlotte. But Monday I had a chance meeting with a weirdo at the gym. I was on the Precor elliptical doing my thing and chugging along. Lately I have been having more and more days where I tell myself I'm only going to do 20 minutes on a machine and end up doing 35 to 40 minutes—we like this. Since no one else was at the gym and all the ellipticals were free, naturally a woman stepped on the one right next to me. I just don't get this logic, it's like when you're in a restroom and all the stalls are free yet someone steps in the one right next to you (can you spare a square?) Don't people want their space when doing their thing? If you really think about it, it's quite unsettling, having someone within arms distance of you is kinda gross. Take down the stall walls and hello neighbor!
But back to the gym, this chick steps onto the elliptical and from the way she was singing her heart out, you would have thought she was Celine Dion or something. I was trying to ignore her and focus on my music by turning it up and shutting her off but then she switched from English to what I thought was French (really making her Celine-esque!). At that point I could no longer ignore her, I had someone next to me singing in French! But then she started to sing emo French songs and that's when I decided to put my music back on. Kanye West and the Killers are a little more along my lines of solid workout music.
Another rarity? Me craving peanut butter. It just doesn't happen a lot but when it's only $.57 and covered in chocolate I just can't resist.
Um, buy this now. I feel like there is going to be yet another trip to Target in the few days just so I could stock up!
Last rarity…..sometimes I look through previous blog posts of mine to see what I was doing on this day a year or two ago. Last year, I was at the Indy 500 Parade. It seems like a lifetime ago! Does anyone else do this?
I went out shopping yesterday afternoon and screw night, the freaks come out during Memorial Day. I was at JCP and was in the lingerie section looking at bras, panties and what not. There was this family of four about 15 feet away from me with a father, mother and two teenage girls. The mother would hold up a piece of lingerie, the husband would approve in an animated way and they would move onto the next piece. The teenage girls started to chime in voicing their opinion……on their mothers lingerie! I don't know if they realized that her wearing said lingerie may result in them getting a baby brother or sister but you could telling getting it on was on papa's agenda. It was all very bizarre…..even more so when they made their way over to the panty table where I was. All five of us were huddled around the table and while I was just sifting through the goods, they started to feel what seemed like every single pair at the table. As if that wasn't weird enough, the father started to pick up pairs and hold them to his face!! He was holding up the panties to his face, I repeat, strange man was holding up new panties for sale to his face. I didn't know what to do, I couldn't laugh because I would have started to cry from laughing too hard but I couldn't keep a straight face. His family thought this behavior was normal which makes the scenario even odder. I decided to take the high road and leave before I started laughing or blurted out a loud "Ew" and choose to blog about it instead.
An oddity indeed.