I've had many loves in my life. Some have been good to me, other have been so much. Some I've chosen to ignore and turn my cheek when I see them, some others I have an endless desire for and know we will cross paths again. The latter happened this weekend with a multitude of past loves. Sometimes it does feel so good to be reunited with things so familiar and dear to my heart.
1) Musicals. The last musical I saw was American Idiot and while I wasn't a huge fan of it, I've been wanting to slap on some pearls and my mink and make my way back to theater. One of my best friends came in town this weekend and not only did I get to hang out with her, I got to hang out with her and go to Wicked!!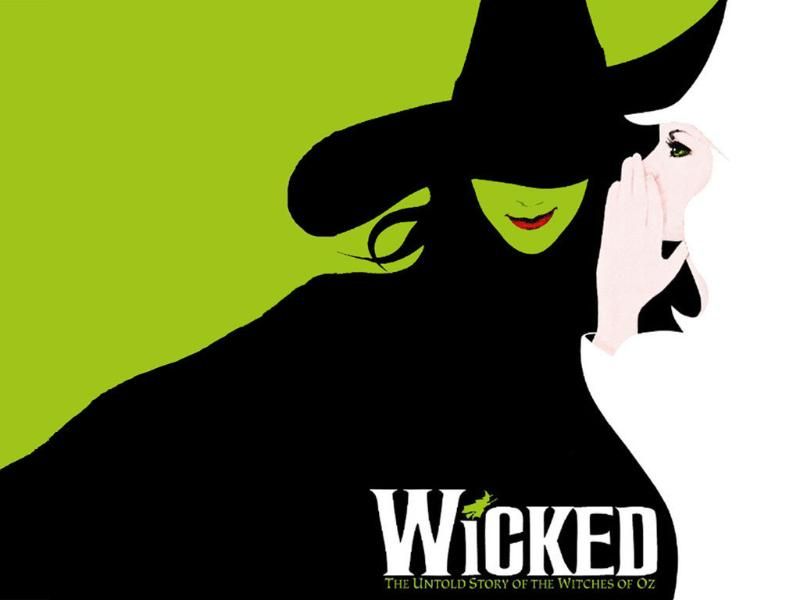 I've heard time and time again how wonderful the musical is and found it quite amusing that even my 10 year old niece had seen it but I haven't. Despite the flying monkeys, I always enjoyed watching the Wizard of Oz as a child and when I was in college enjoyed watching it along to the cd Dark Side of the Moon (am I the only one who did this??)
Even though it's obvious who the main character of Wicked is, I wasn't sure what exactly to expect or what the premise of it was. Turns out, it's the story of how the wicked witch came to be so "wicked", why she's green, her story and all. It's truly a touching story and I must say that after seeing it, feel a little bad about hating on her for so long. The musical was absolutely beautiful, far exceeded my expectations and lived up to the hype that I've been hearing for so many years. I'm going to try to read the book soon because the musical was that entertaining along with the gorgeous voice of both lead witches.
2) Baseball. I don't even remember the last time I went to a MLB game. Charlotte was completely lame sauce and didn't have a team, only a minor league team in South Carolina. Since I'm not a huge fan of crossing a border to go to a baseball game, I only went a few times and that was for $2 beer night. Truth be told, I don't know why baseball and I parted ways. I used to love going to games and watching as a kid and to call out how huge of a tomboy I was, still have my baseball card collection (dear Barry Bonds you suck and have ruined the value of your cards). I used to be so into baseball then the interest started to slowly fade away until I took more of an interest in football. Now that I live in Denver, I finally have a team to follow and see live.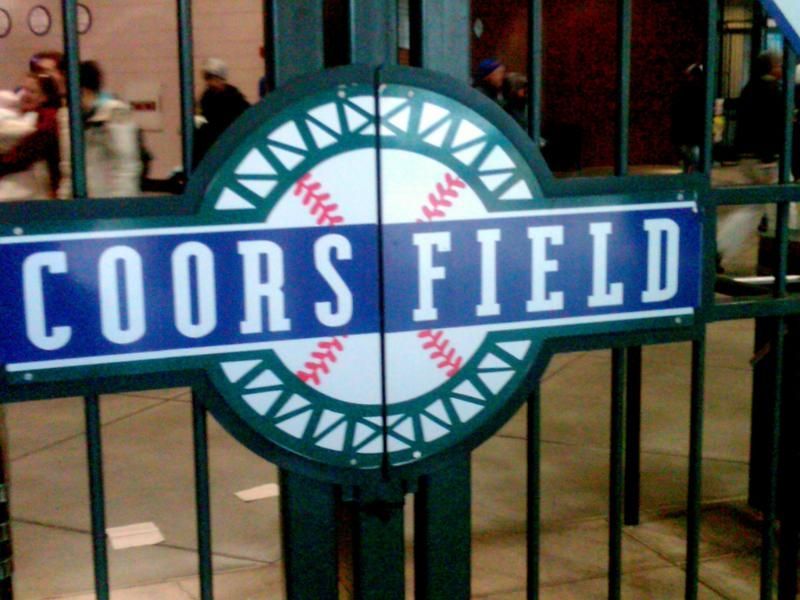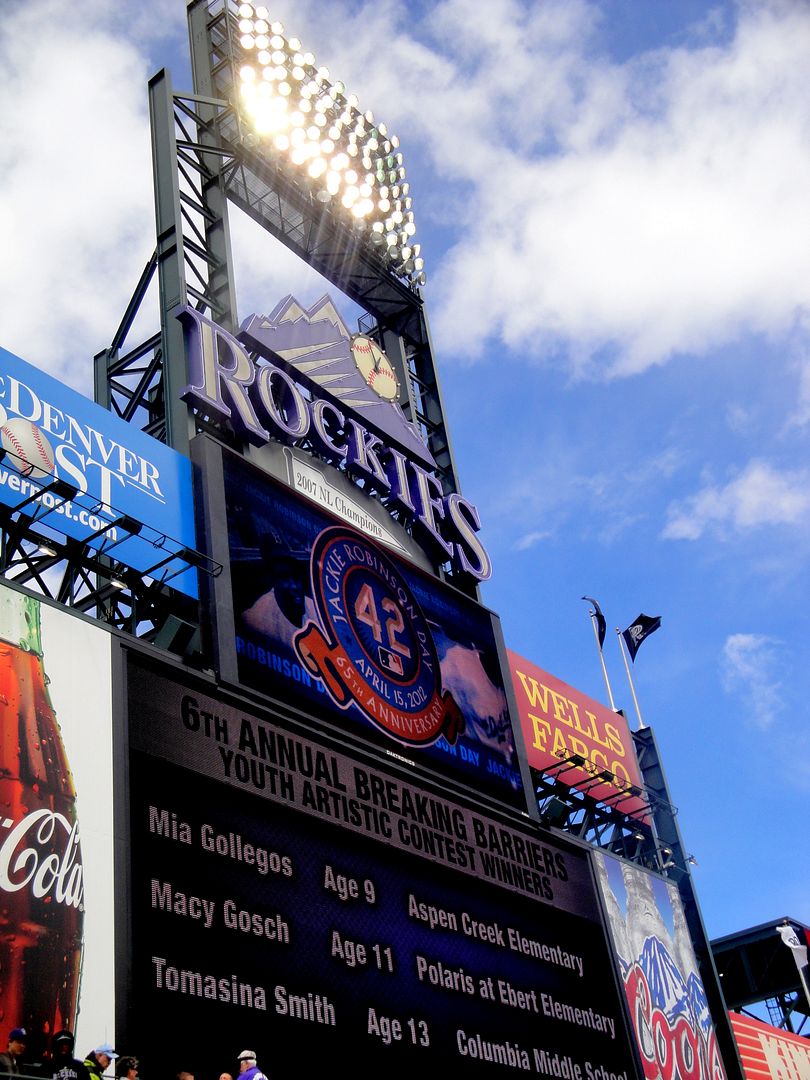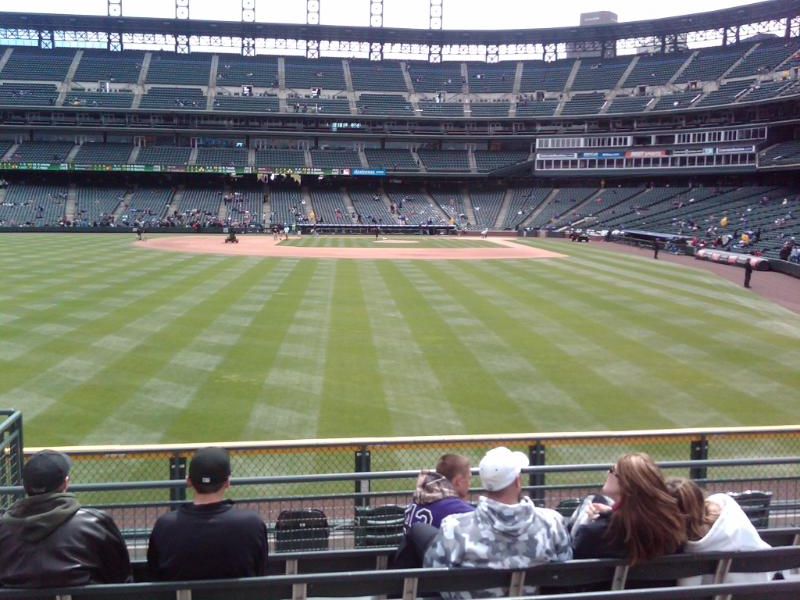 We went to see the Diamondbacks take on the Rockies Sunday afternoon. As you can see, we had seats with a clear view of the field. Unfortunately, weather was not on our side on Sunday—the day started out nice, then rained, then went back to nice and so on and so on. The moments we had decent weather I got to enjoy the game until I realized I have absolutely no clue who plays for the Rockies. At least there's Jason Giambi, the only recognizable name I heard throughout the game so I'm on a mission to learn more players! And I kinda want to go back to the seats I had since one of the drink men was singing about his hot chocolate he was selling and I'm more apt to buy something if someone is performing (plus the man had a can of whipped cream to serve with the hot chocolate…..hello awesome!)
I haven't been to Mellow Mushroom since I've left Florida which is just downright depressing. Denver has two locations so when I saw a Groupon deal one day for $25 at the Mellow, I jumped on it (damn you Groupon and your limit on how many offers I can buy at a time!) I visited the Mellow Mushroom in downtown Denver on Saturday night and I'm still conflicted about my visit. When you walk in, the dining area is below you and it didn't look like any Mellow Mushroom in the past. And that is not a compliment—this place was straight up trendy and didn't give me the warm fuzzy feelings Mellow Mushroom usually gives me.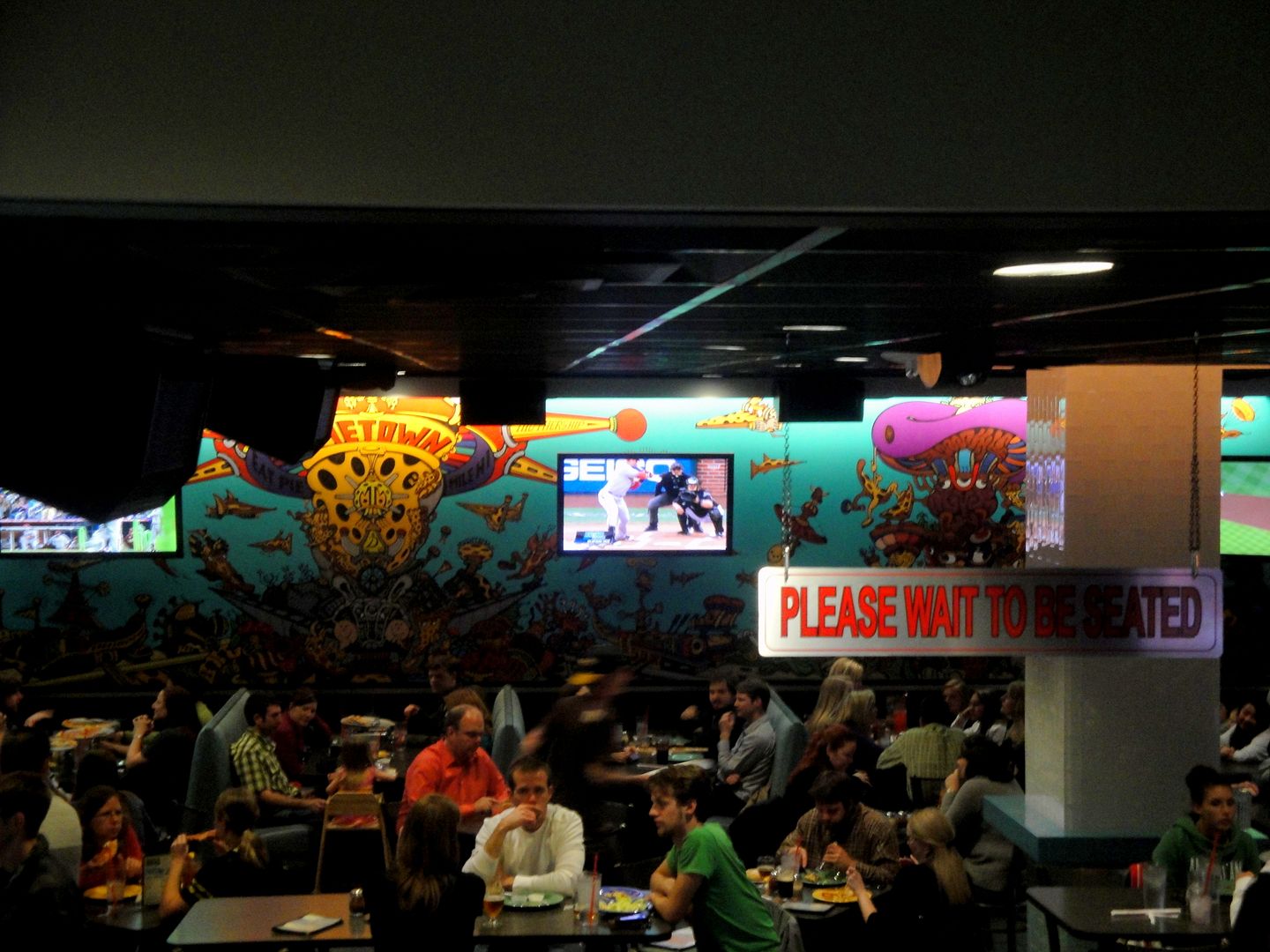 First off, there is no seating or waiting area which is a bit awkward. You have the host stand with some open space which is surrounded by tables so it's weird just hanging out, waiting for your shot at a table while some major food envy takes place. The bar area is on the smaller side and the bar is white, um, what? MM is hippified, where are all the bright colors and warm atmosphere? My friend had her baby so going to the bar was a no go (although I really wanted to bring the baby over with me while ordering a drink so someone could shoot out the famous "You have a baby……in a bar" line from Sweet Home Alabama). But then again, when I went to the Mellow Mushroom in Charlotte there was a child sitting at the bar so it's probable that they wouldn't have cared anyways at the Denver location.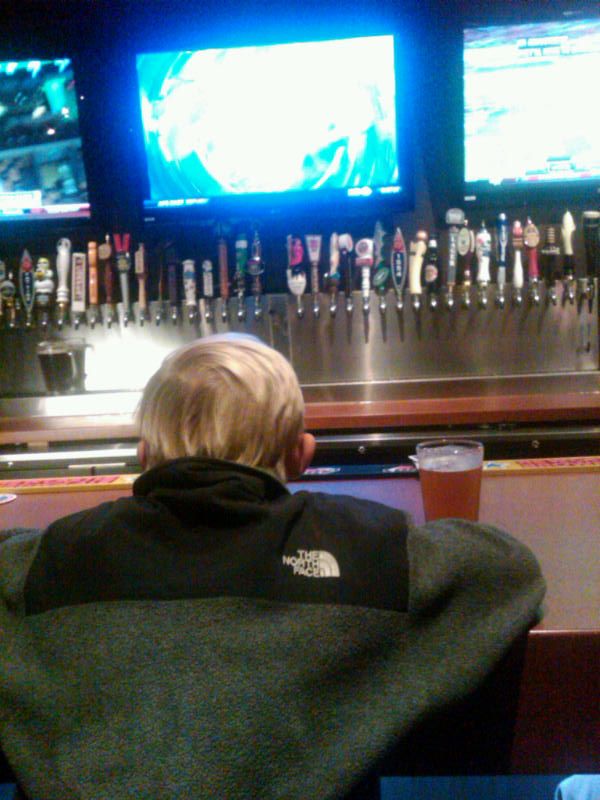 Seriously, he wasn't a midge and he had a beer in front of him! Where were his parents?
We finally sat down and the weird (not trippy, just weird) experience continued. It was prom night so they were really busy so I kind of expected the service to be slow. When our waiter came over, grabbing a beer was the first thing on my mind. I got the Odell 5 Barrel Pale Ale and didn't even need to look at the menu since I knew I was going to order old faithful-Magical Mystery Tour.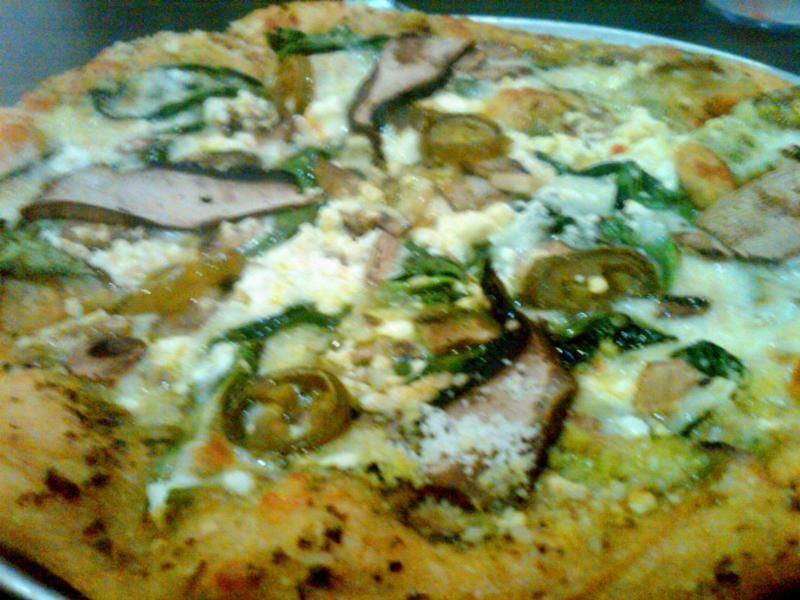 It didn't look like the ones I've had in the past and just didn't taste as good. It's possible that the atmosphere may have had to do something to do with it or maybe that the service was lacking the entire night. That, plus the weird aesthetics of the place kind of turned me off and saddened me since it was my first bad experience at a Mellow Mushroom. I won't write them off completely but I think my next visit to Mellow Mushroom will be to the other location.
4) Chicken Piccata Oh chicken piccata, how I love thee. I haven't made this in forever but I was talking with someone about it the other week and it sparked an interest to make it once again. I absolutely love the buttery lemon flavor of chicken piccata however since it's basically flour coated chicken soaking I extra virgin olive oil/butter sauce I tend not to make it too often.
Ingredients:
2 chicken breasts
½ cup lemon juice
¼ cup flour
6 oz. capers
6 tbsp extra virgin olive oil
3 tbsp butter
3 tbsp chopped parsley
Butterflied the chicken breasts to create four pieces them brought the mallet over to them and let some aggression out. I cut each piece in half to create eight thin cutlets and let me tell you, sometimes the feeling of beating a piece of raw chicken to a pulp does the trick!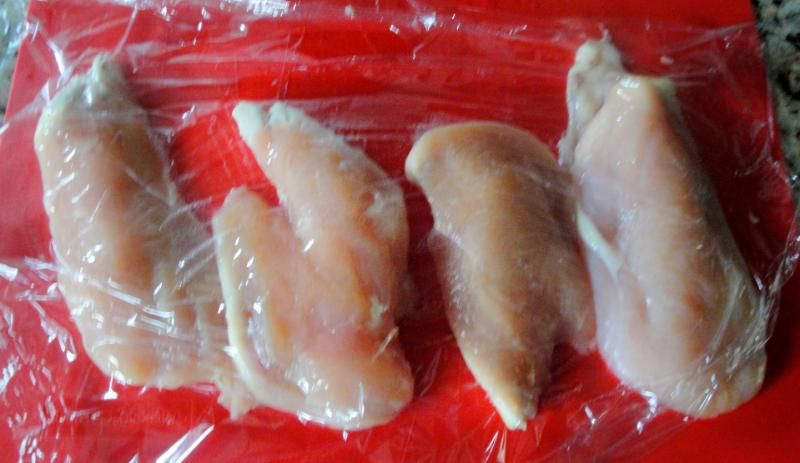 Dredged in flour then let cook in 3 tbsp extra virgin olive oil and 1 tbsp butter for about three minutes.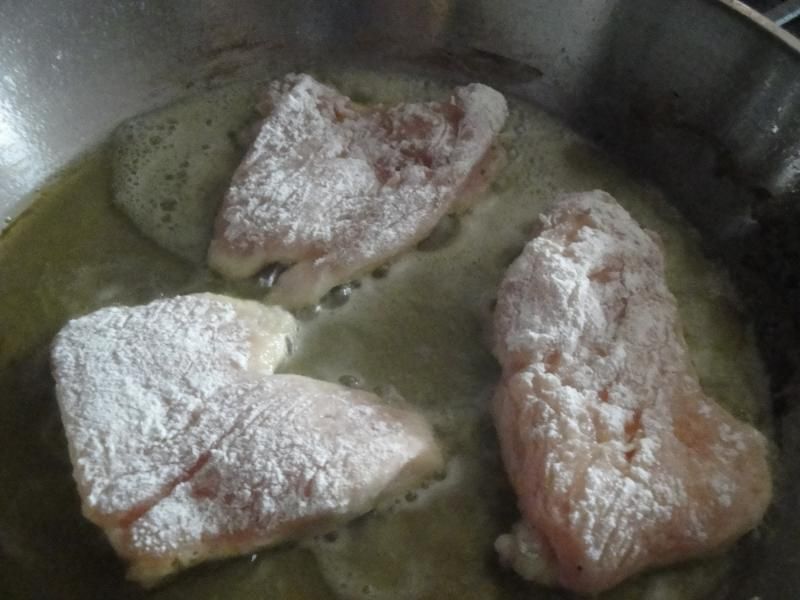 Once the chicken was cooked to a golden brown color, I let sit them added the lemon juice, capers and remaining extra virgin olive oil and butter to the pan and let simmer at a low heat. After a few minutes, I added the chicken to the pan and let the sauce and capers cook into it.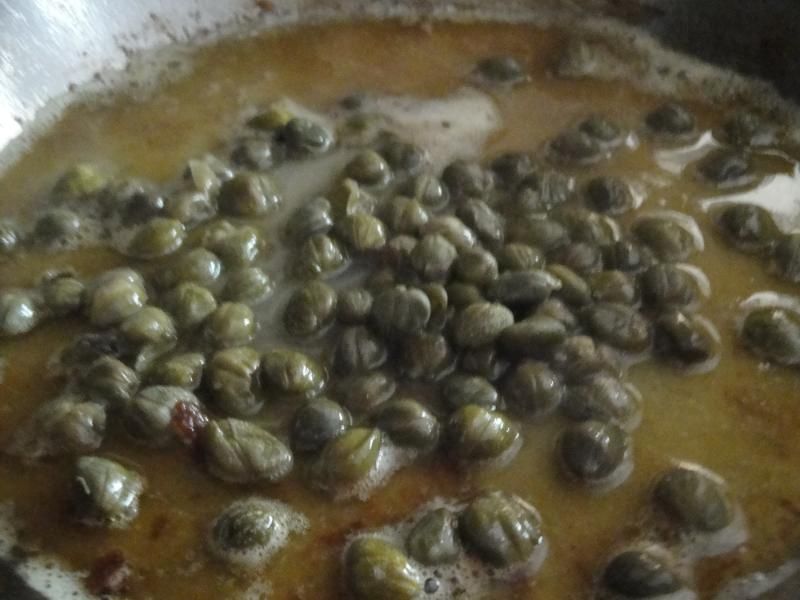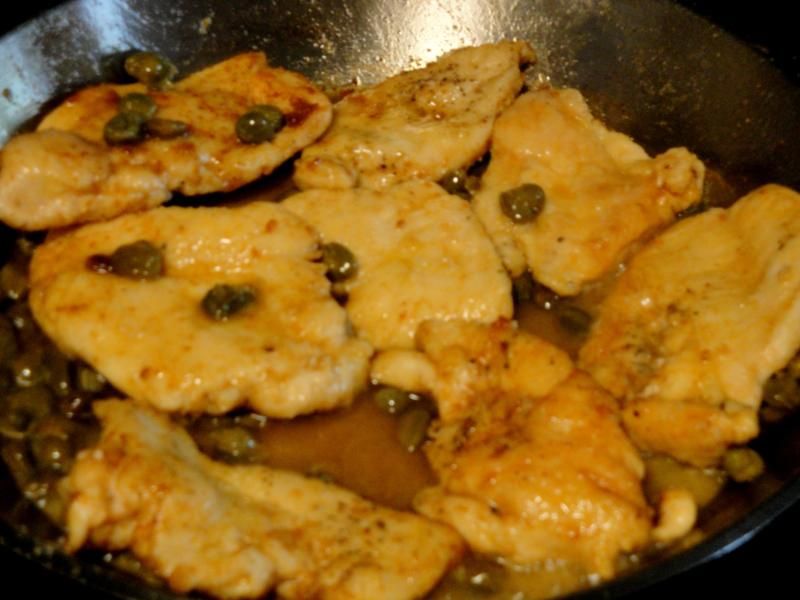 I had Trader Joe's Garlic Basil linguine sitting around and thought it would be a great time to break it out since I wanted to use minimal sauce and the pasta would bring more than enough flavor to the table.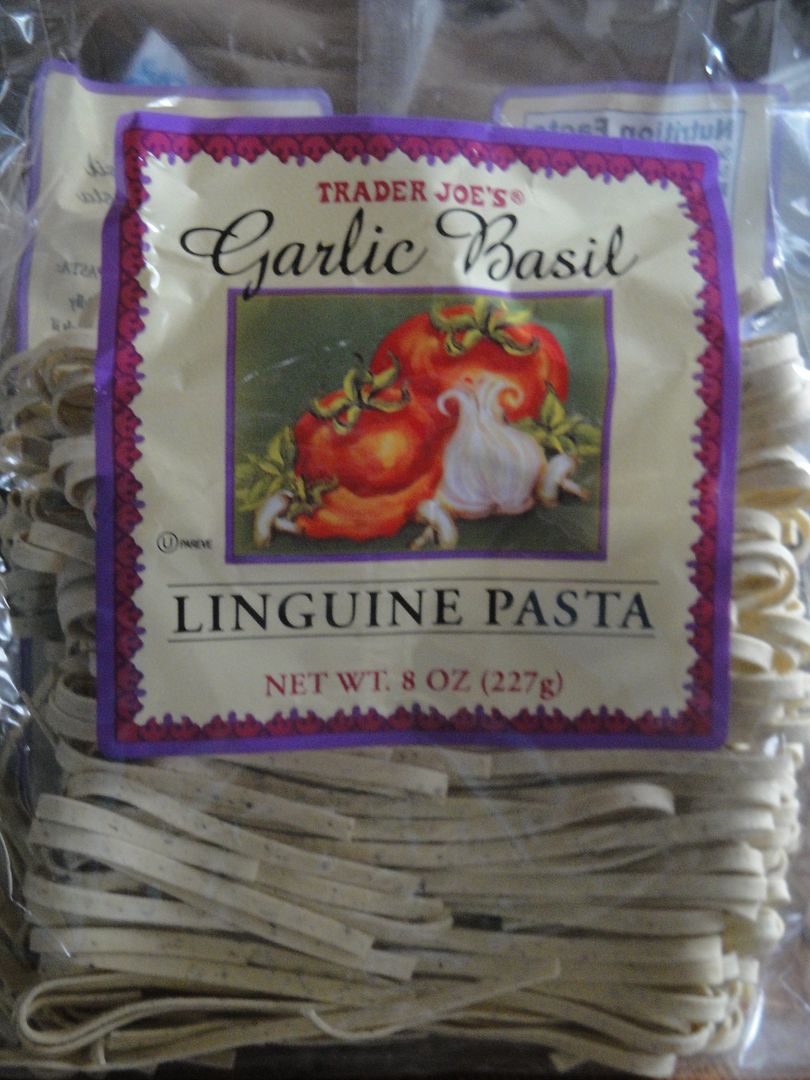 I garnished the chicken with parsley and threw some veggies onto the plate because vitamins are fun and voila-I was reunited once again!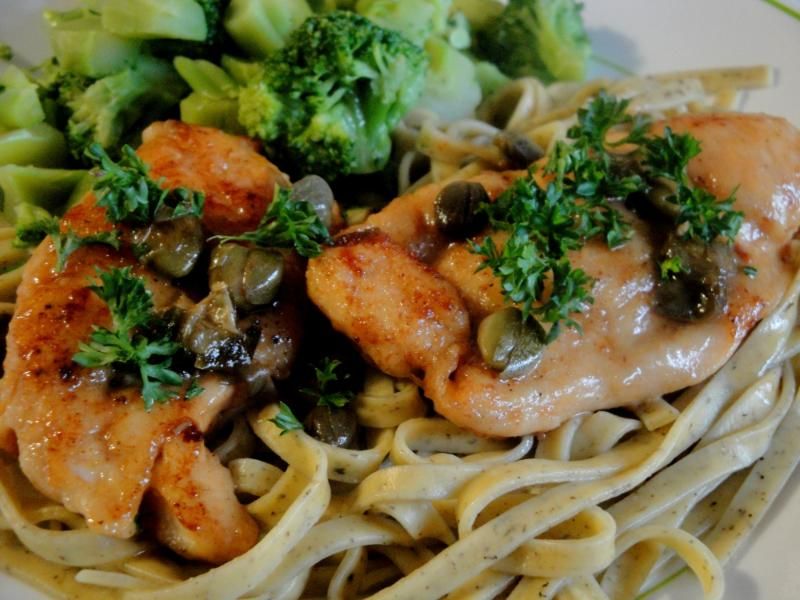 5) Clearance candy. I can't help it, the siren song of 70% off Easter candy captured my heart.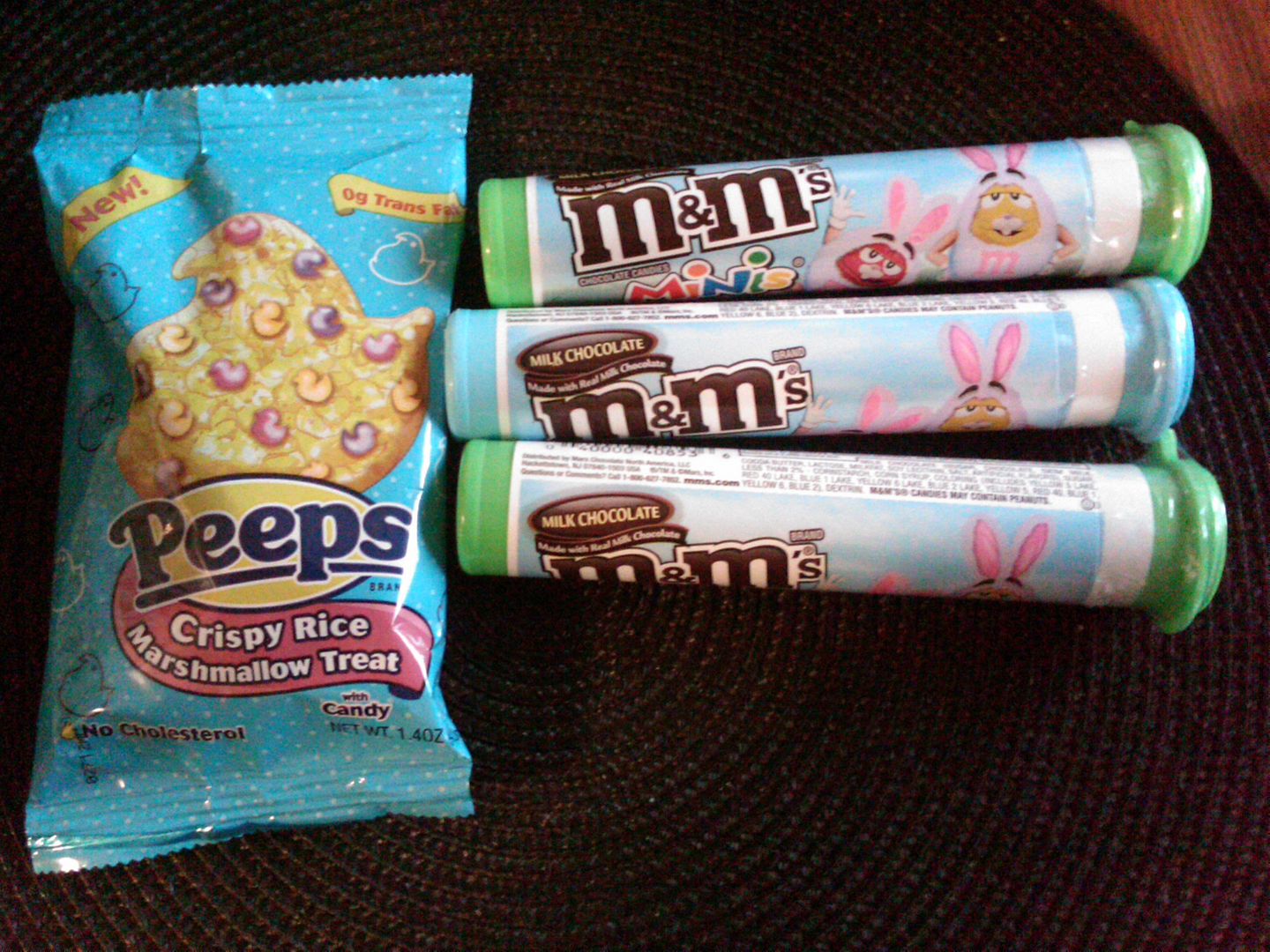 Could you really resist $.40 mini M&M's or a rice krispie bunny covered in Peeps? Yeah, me either.