Ahhhhhhhhhhhhh.
You know what this is? The sound of me sighing very loudly because this is really the only chance I've had this weekend to sit and just be. This weekend was bananas with getting stuff for Christmas Eve and Christmas which is sad because I finished my Christmas shopping a few weeks ago. The majority of it was dealing with returning items, buying groceries, forgetting one item at the store so going back, etc. The busy bee in me came out on Friday when I actually got together with one of my co-workers and we did happy hour at Hapa Sushi. This is a huge rarity because I rarely hang out with co-workers outside of work and it's been tough making friends at my new job. While everyone is friendly, it's been difficult to form any bonds that could potentially be long term and something outside of work so when she agreed to go to happy hour I was stoked. The one perk of going to work at 7:30am is getting out early so we can take full advantage of happy hour specials in the area! We noshed on appetizers and sushi and got out o there for under $20 apiece so it wasn't bad at all.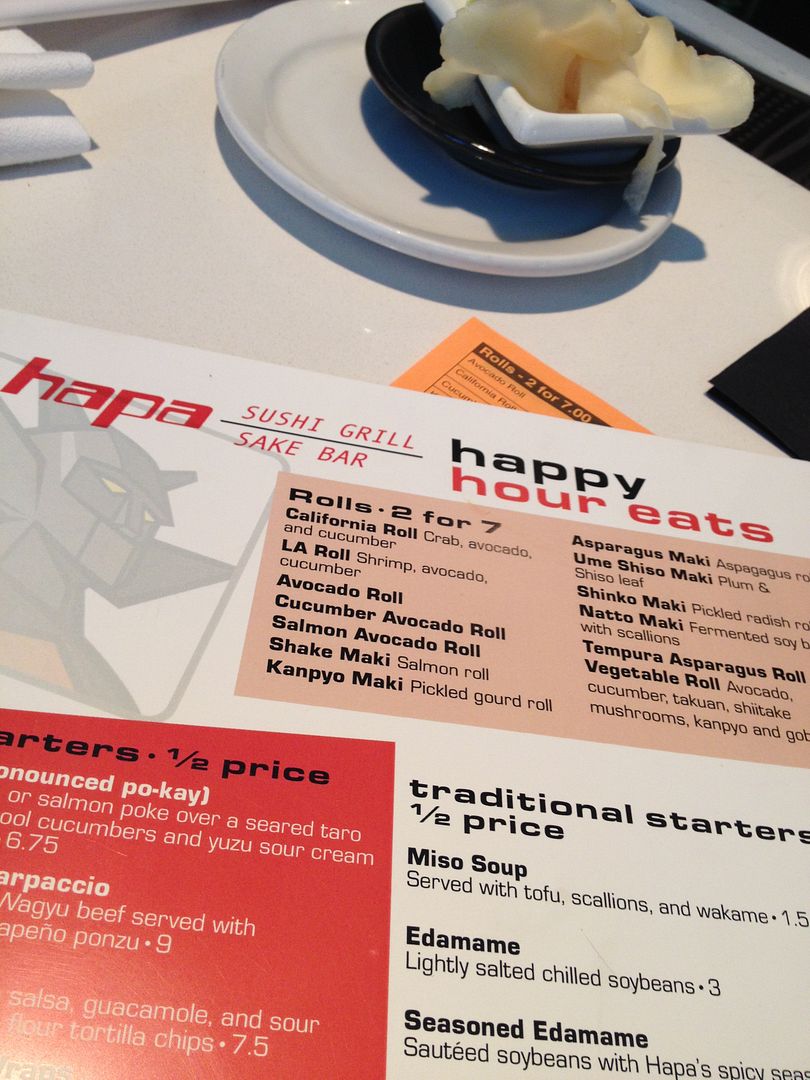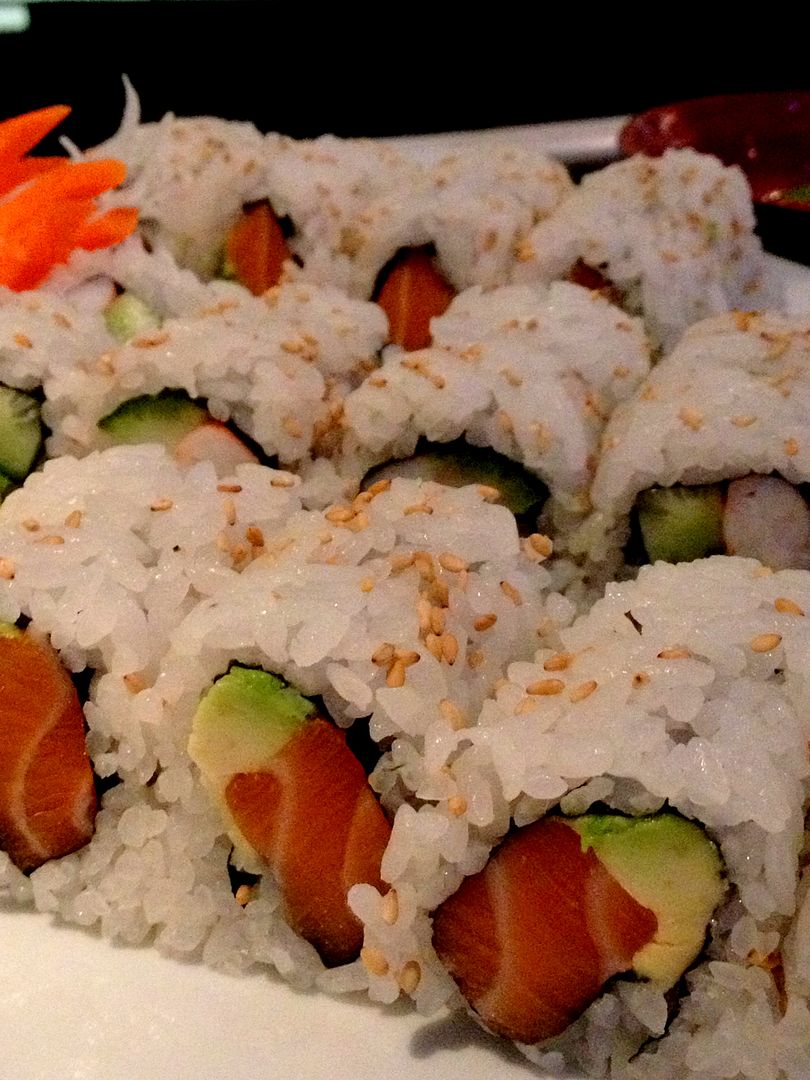 We shortly left after happy hour which was needed because my plan on Saturday morning was to wake up early and get all my errands done. I made the smart move of going to Northfield at 7am and there was not a soul there but to my surprise, most of the stores were open! While I normally shy away from malls, I love Northfield because it's an outdoor mall with a wide open structure so everything isn't crammed into one spot. Even though it was 34 degrees out, I had my walking shoes on and Pandora ready so I could get some exercise in for the day and all in all fit in a little over a mile in of walking while going from store to store.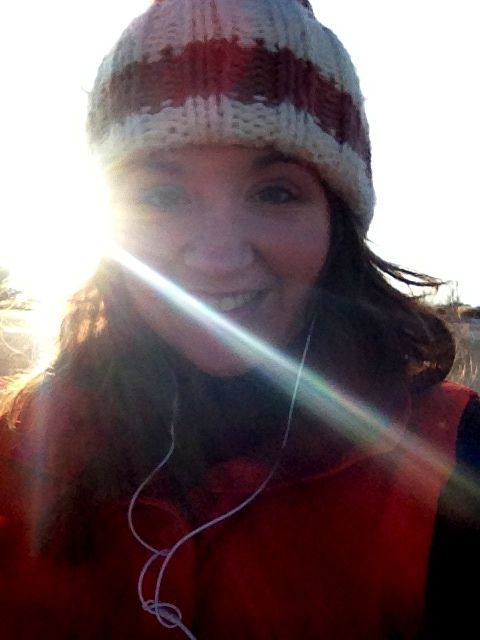 After going from store to store, I got home, unpacked all my goodies and got to work on pierogies from scratch (recipe here). While I usually buy a sack of potatoes and boil, skin and mash them myself, I was in total lazy girl mode and bought the Bob Evans mashed potatoes that you heat up for six minutes. These were a godsend and saved me so much time so really the only manual labor I did while making the pierogies was punching then rolling out the dough.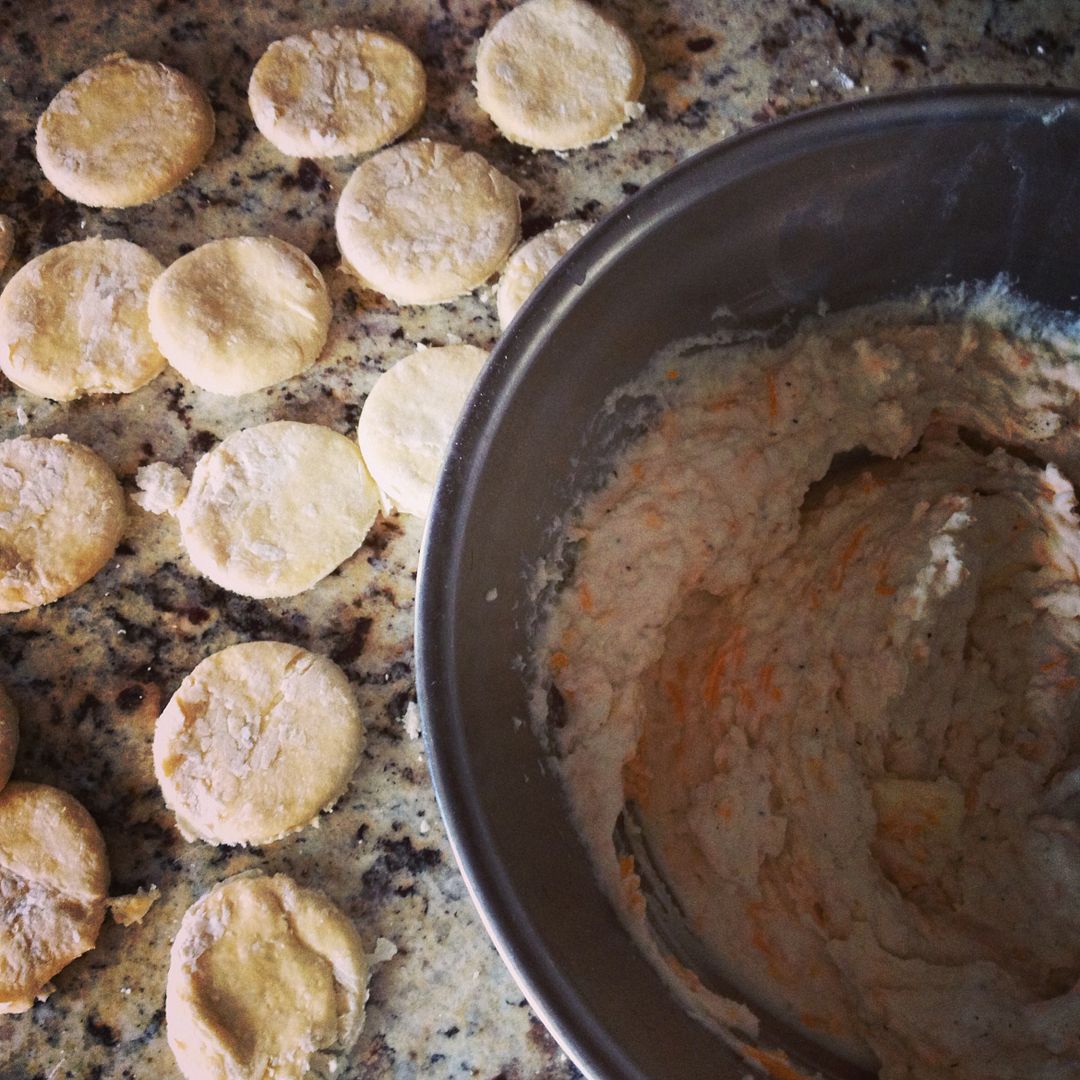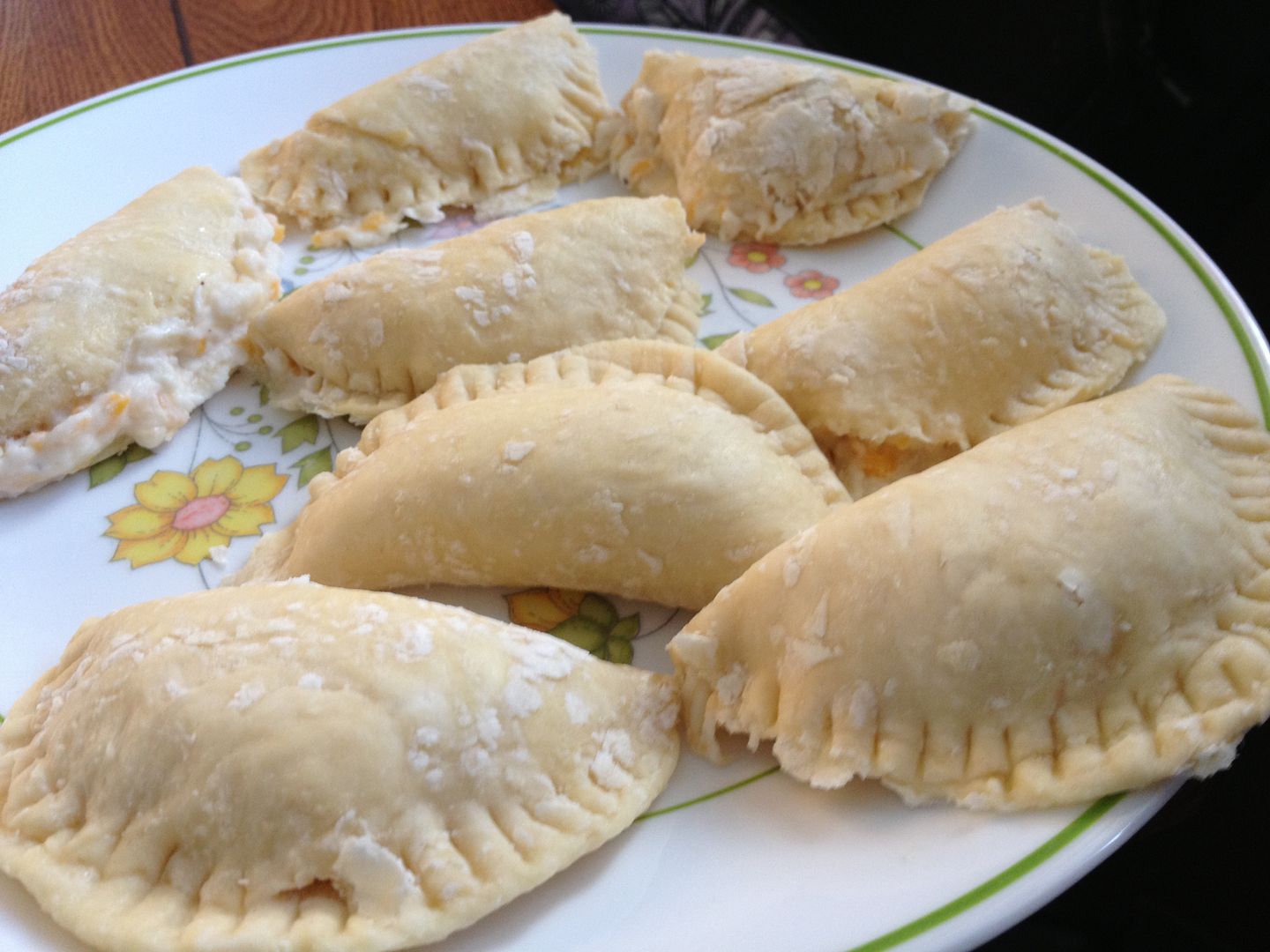 After that I took the pups out to City Park where we got some more cardio action in
My boo and I went to DP Dough for dinner with a Living Social deal I had and I was giddy with excitement. Passing by DP Dough, you wouldn't think it's anything special but this place holds a special place in my heart. There was a DP Dough in Morgantown, WV where I went to college and I went there many a times after a night of fun, always ordering the Buffer Zone with chicken, bleu cheese, mozzarella and buffalo sauce. Soooooo…..when we walked into DP Dough and I saw not only the Buffer Zone but about 20 more calzone varieties I've never seen, I could barely speak. So many choices I tell you but true to my past, I stuck with the Buffer Zone and it was absolute bliss. Ooey, gooey, cheese with just a little kick of buffalo sauce, I was in calzone heaven!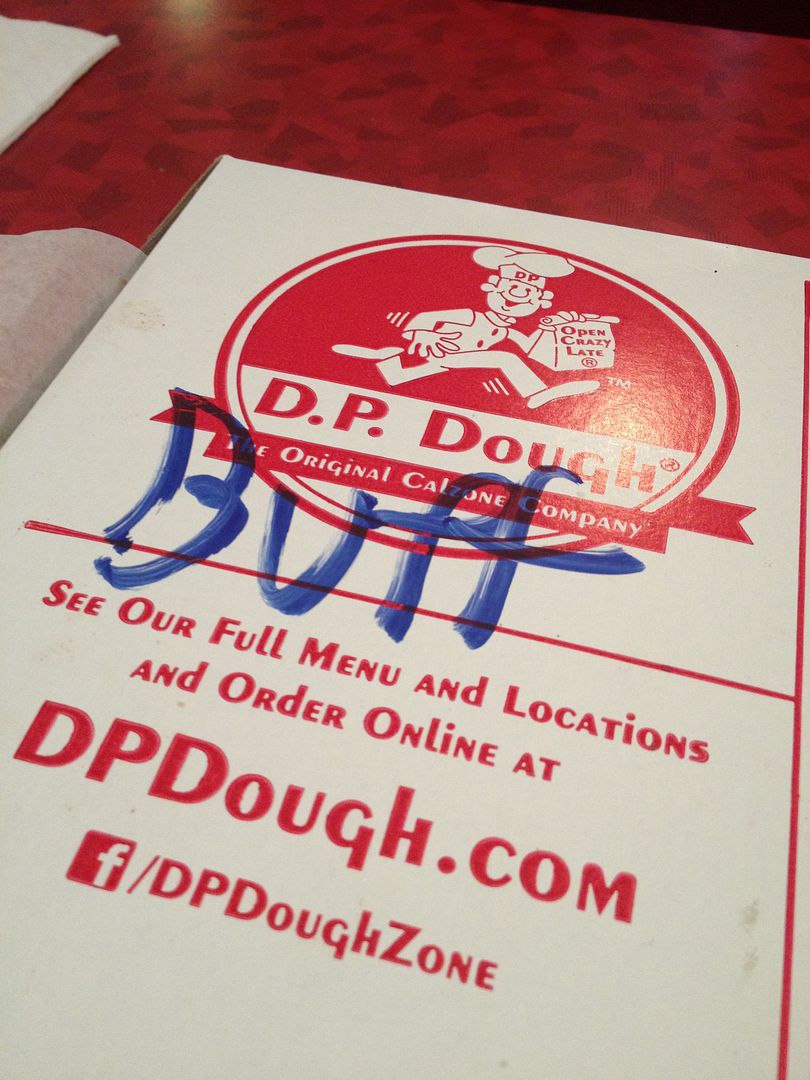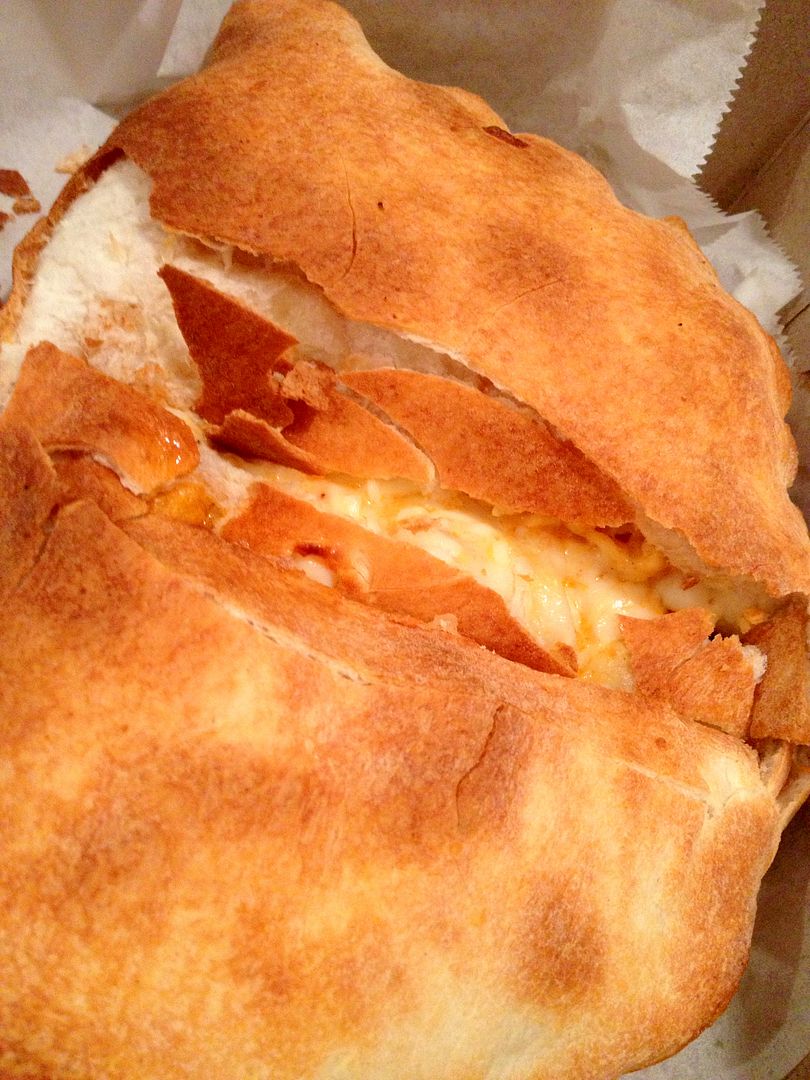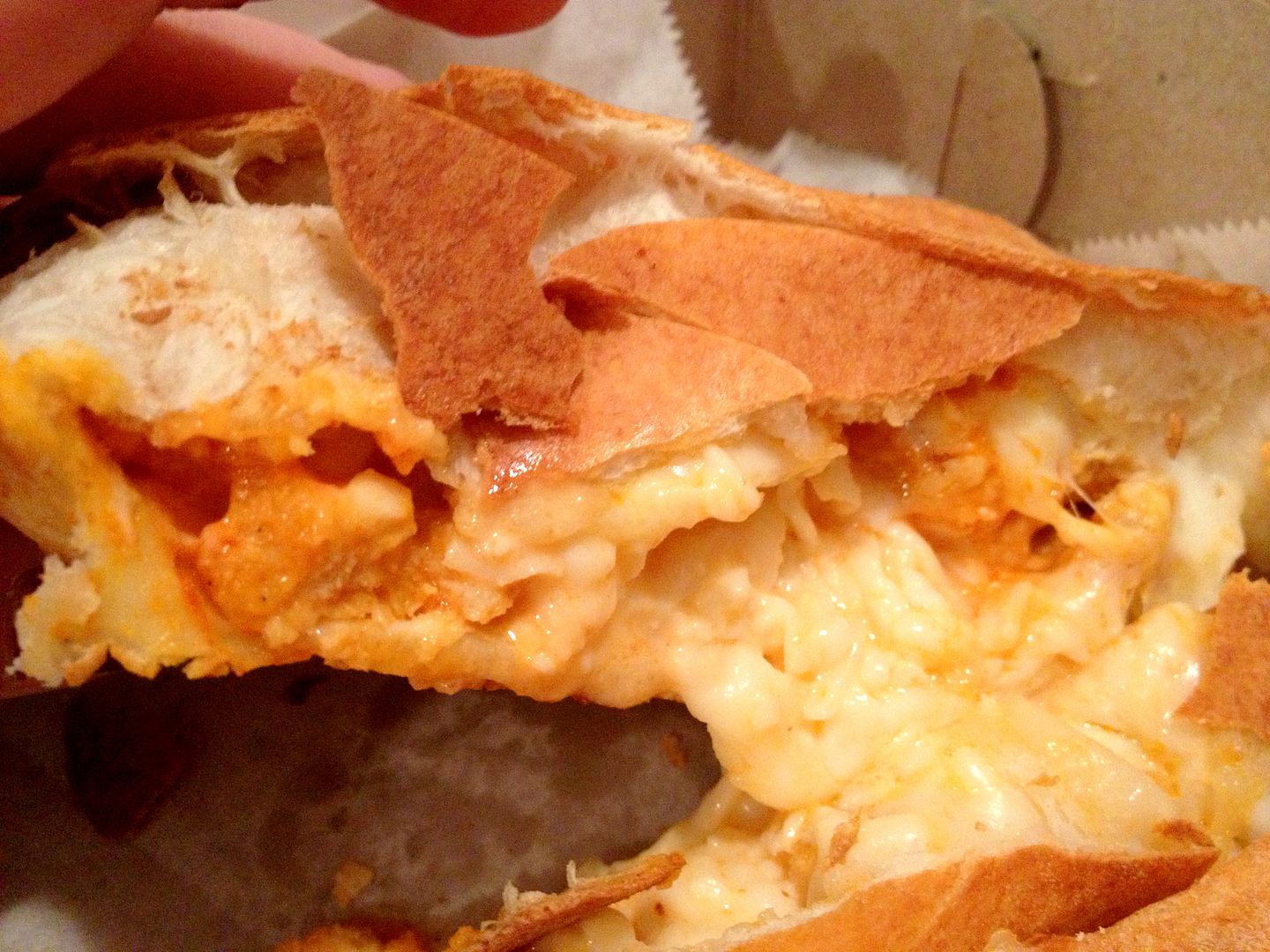 Afterwards, I attempted to go ice skating in downtown Denver. Notice the word "attempted", it was bad and I was such a sissy about it. There were tons of people but also tons of kids and there was one little minion who kept falling and slipping and sliding all over the place. So in my mind, I pictured him falling down, taking me down with him while I took down others and it would be like a big old domino effect on the rink. I was scared to death and my legs kept locking thanks to my fear of falling so I held onto the rail the entire five minutes I was out there. It was such a shame because I was proud of myself for agreeing to go in hopes that I would be a natural and start doing triple axels ala The Cutting Edge. But almost to the point of tears, I told him I was going to sit down while he skated around a few times. At least the lights were pretty and the whole thing just affirmed that I am a Florida girl at heart.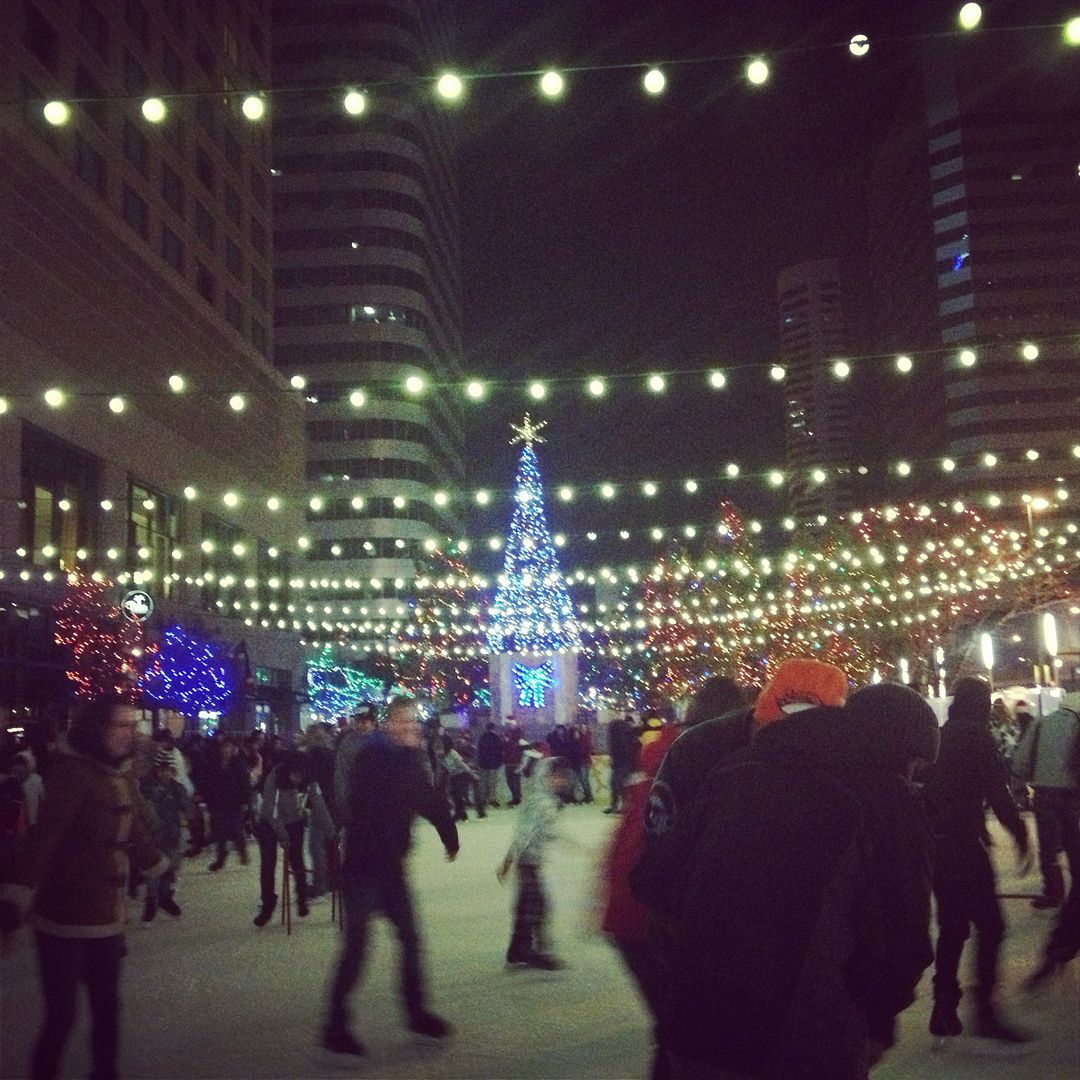 Oh yeah, I made Lincoln dress up in Christmas clothes but there will be more on that later…..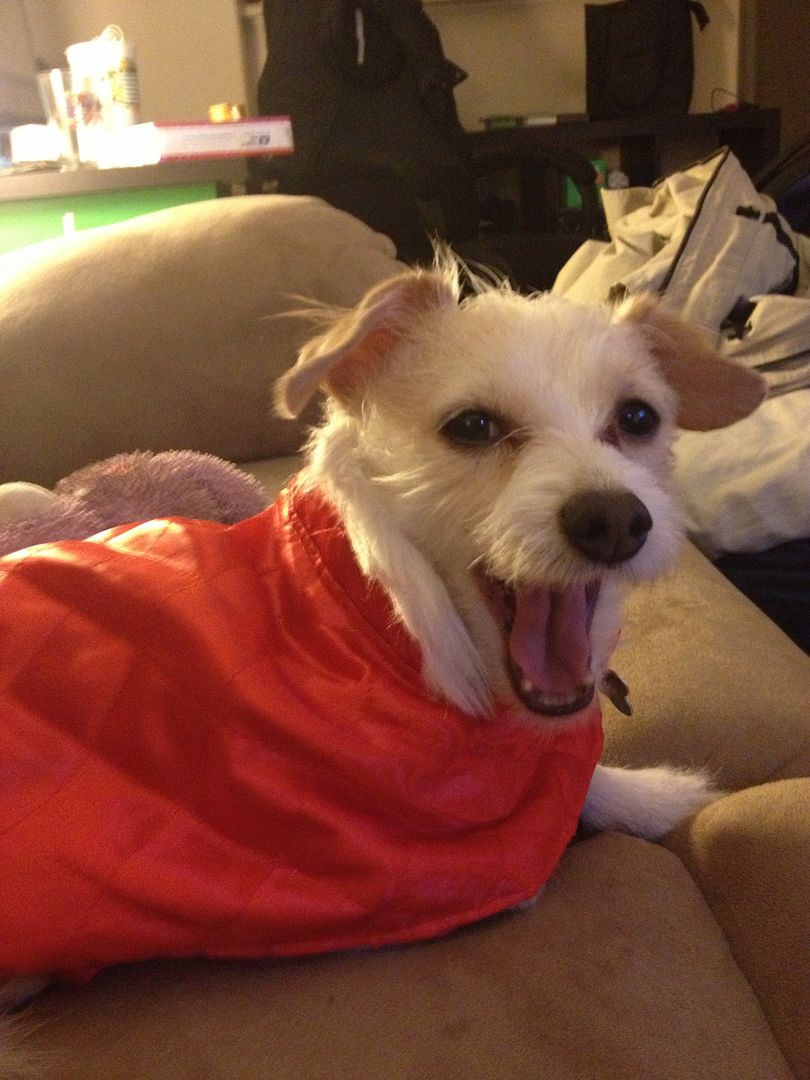 Along with sitting here right now, the only other relaxing thing this weekend was that I finally stopped to try out Sambazon smoothies. I got offered to try Sambazon and jumped at the opportunity since I love anything involving the word smoothie and let's be honest, I've never heard the word "Sambazon" so I was instantly intrigued.
I read up on anything I get offered to try out and Sambazon has a really cool story. The founders are surfers and originally went to Brazil in search of waves but naturally, fell in love with all that Brazil had to offer. The food, people, spirit, environment and the acai fruit. Since acai was quite supple in Brazil but had not reached the US in terms of where it is today, they felt the need to share with others not only the powers of acai berry but also the delicious flavors it entails along with other super fruits and here they are today! After reading some more about them, I kind of fell in love with the story of how they came to be since I'm all about small businesses making it in this day and age.
Also, I just adore Sambazon's Principles of Purple Love:
1.   Foster a healthy disregard for the impossible.
2.   Be fiercely committed to Sustainability + all things Organic/Non-GMO.
3.   Share Superfoods that energize the Body + Soul.
4.   Live an active lifestyle that's centered around vibrant Health + Wellness.
5.   Be honest, upful, playful, open, curious, driven and humble.
6.   Trust in "One Tribe. One Vibe." by being earnest, approachable and radically inclusive of all.
7.   Measure success through a Triple Bottom Line: Social + Environmental + Economic.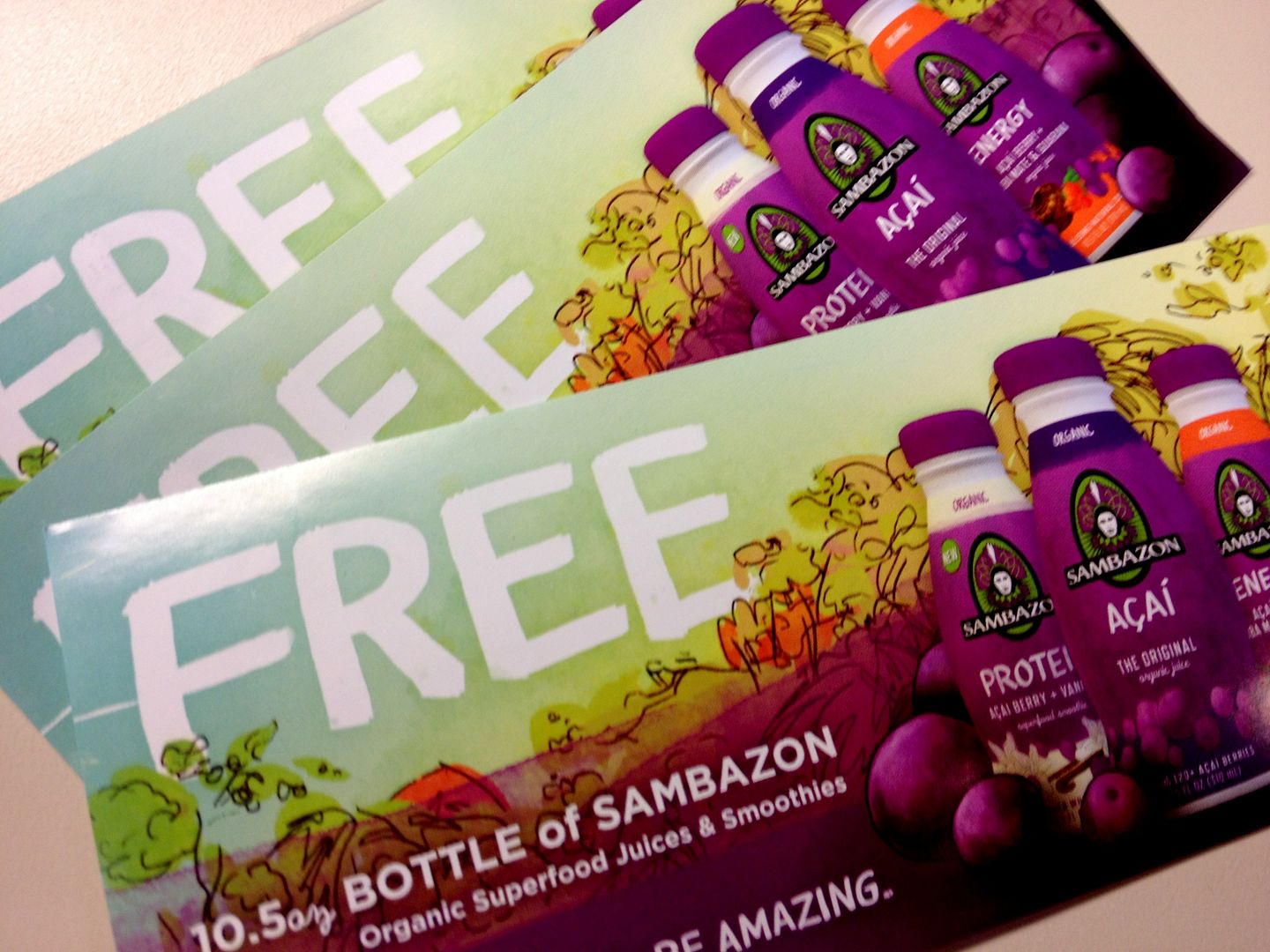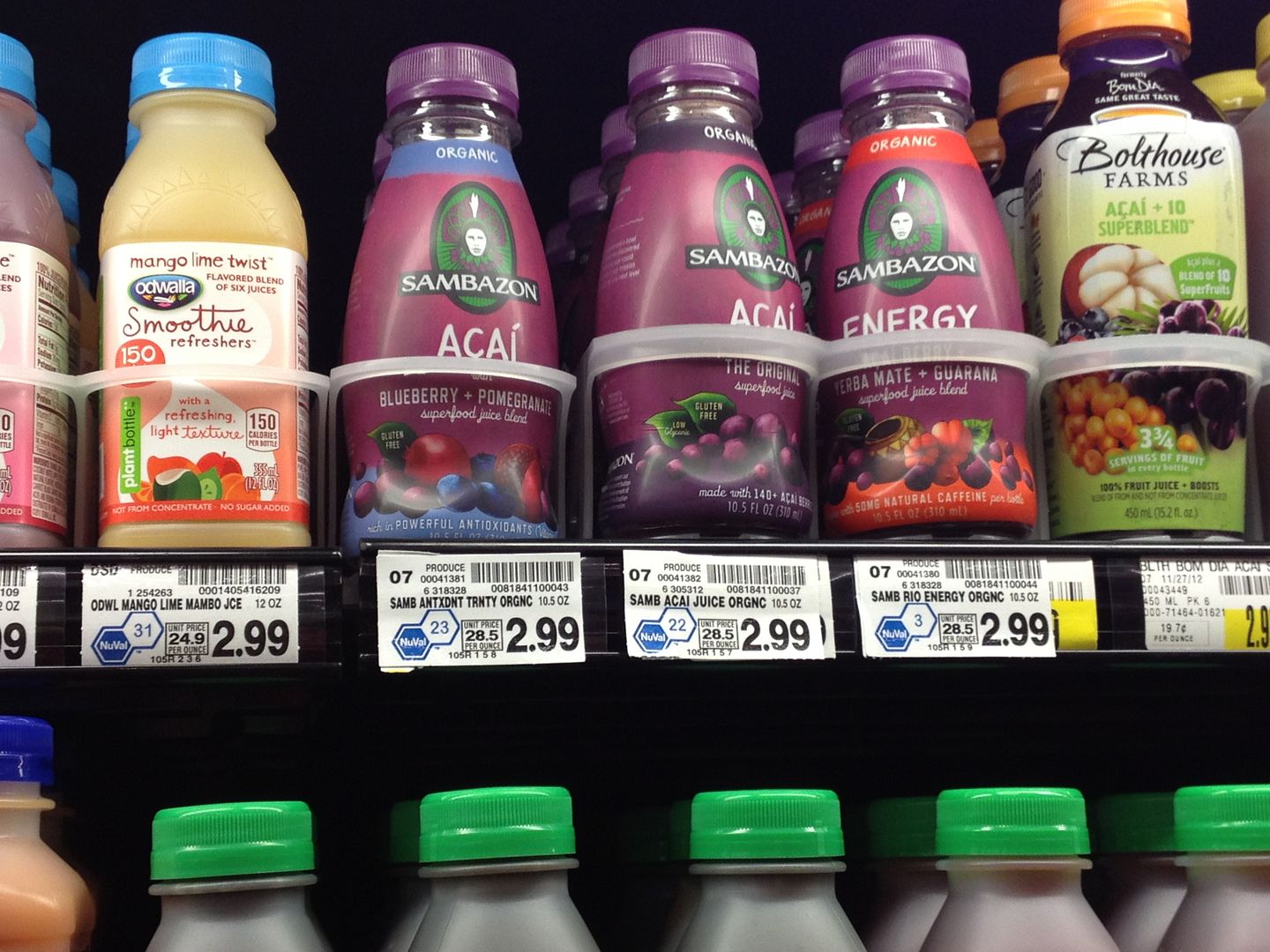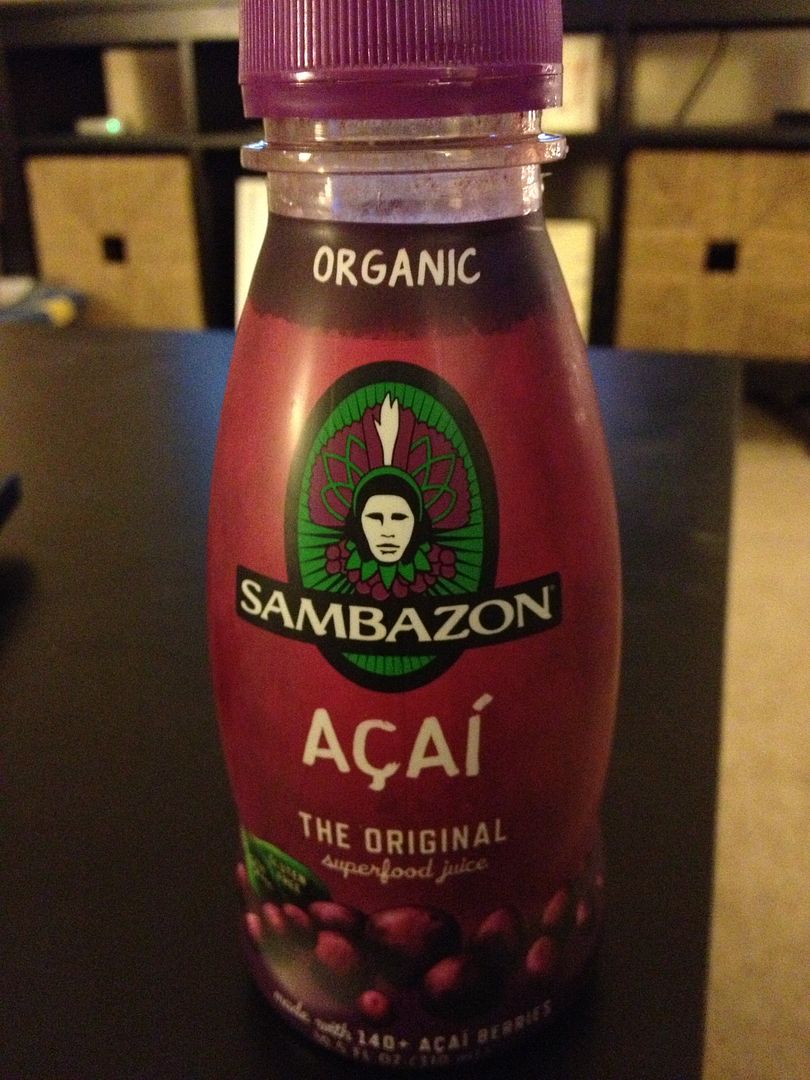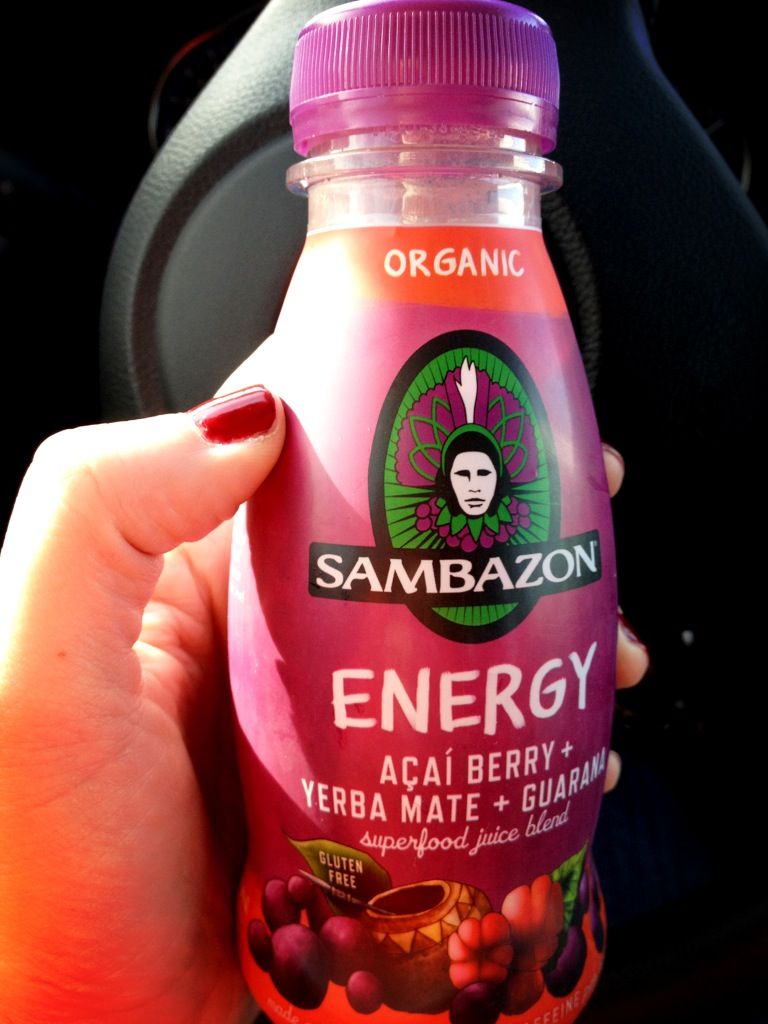 The Energy drink was like nothing I've ever had before…..it was good…..just different possibly due to guava or yerba mate, both of which I've never had before. The consistency was very think and it wasn't overly sweet like many other fruit drinks which I can appreciate.  My favorite by far was the Acai Blueberry+ Pomegranate, it was like a liquid fruit roll up!!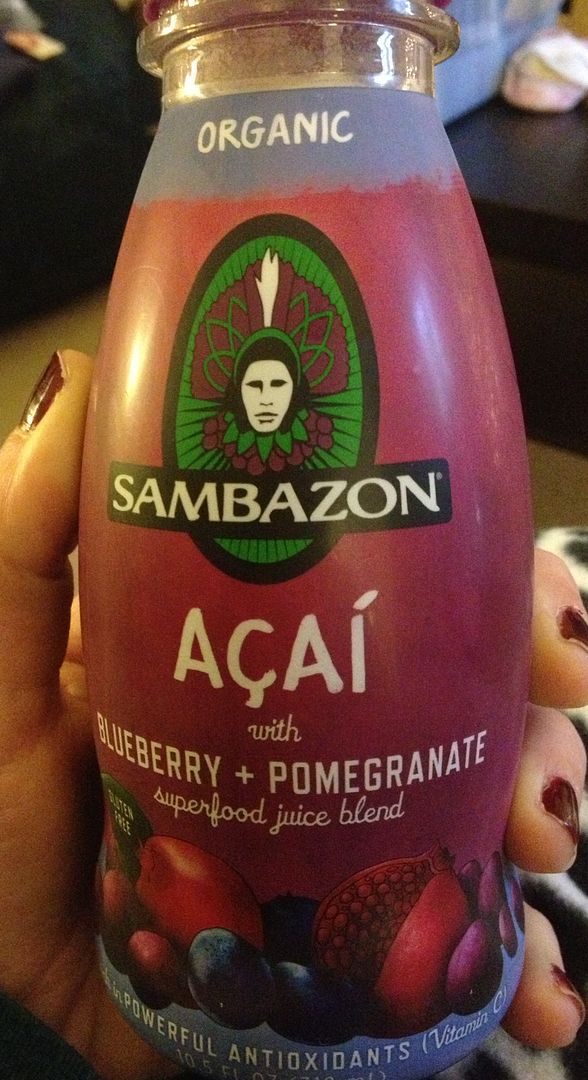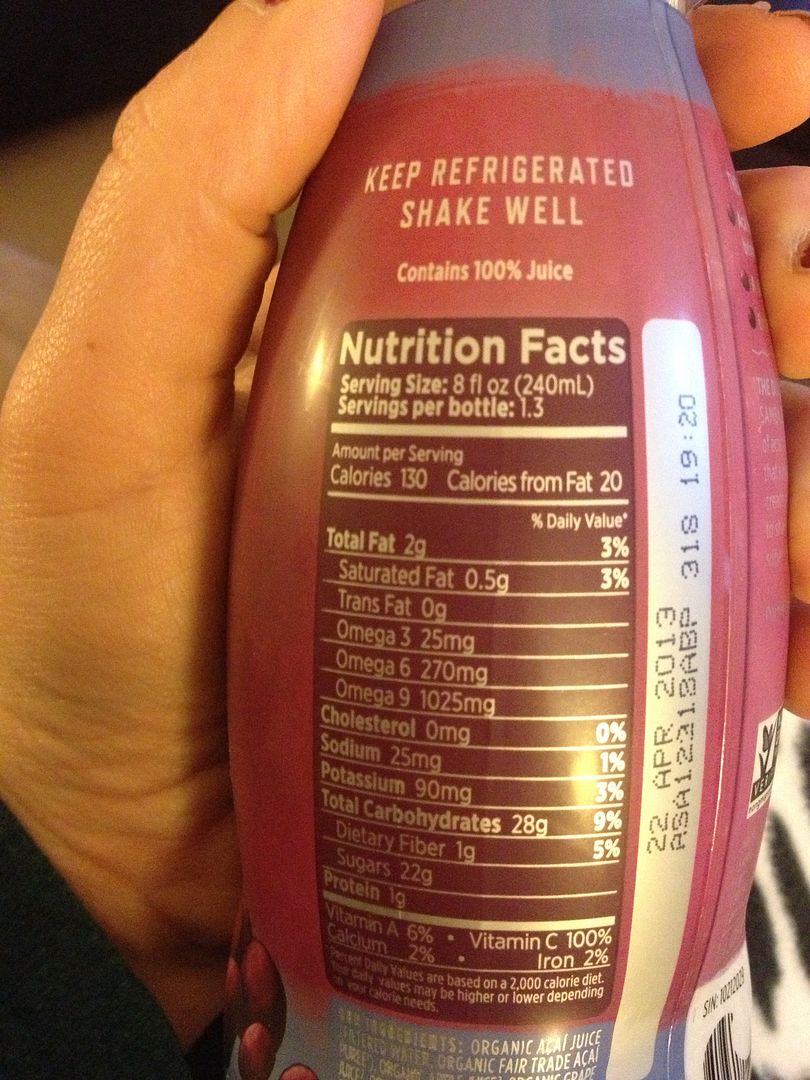 Along with some VIP vouchers to try their smoothies (which can be found at a number of stores such as Whole Foods, Krogers, Vitamin Cottage, etc. I also got hooked up with a wooden bowl and spoon to make yummies at home.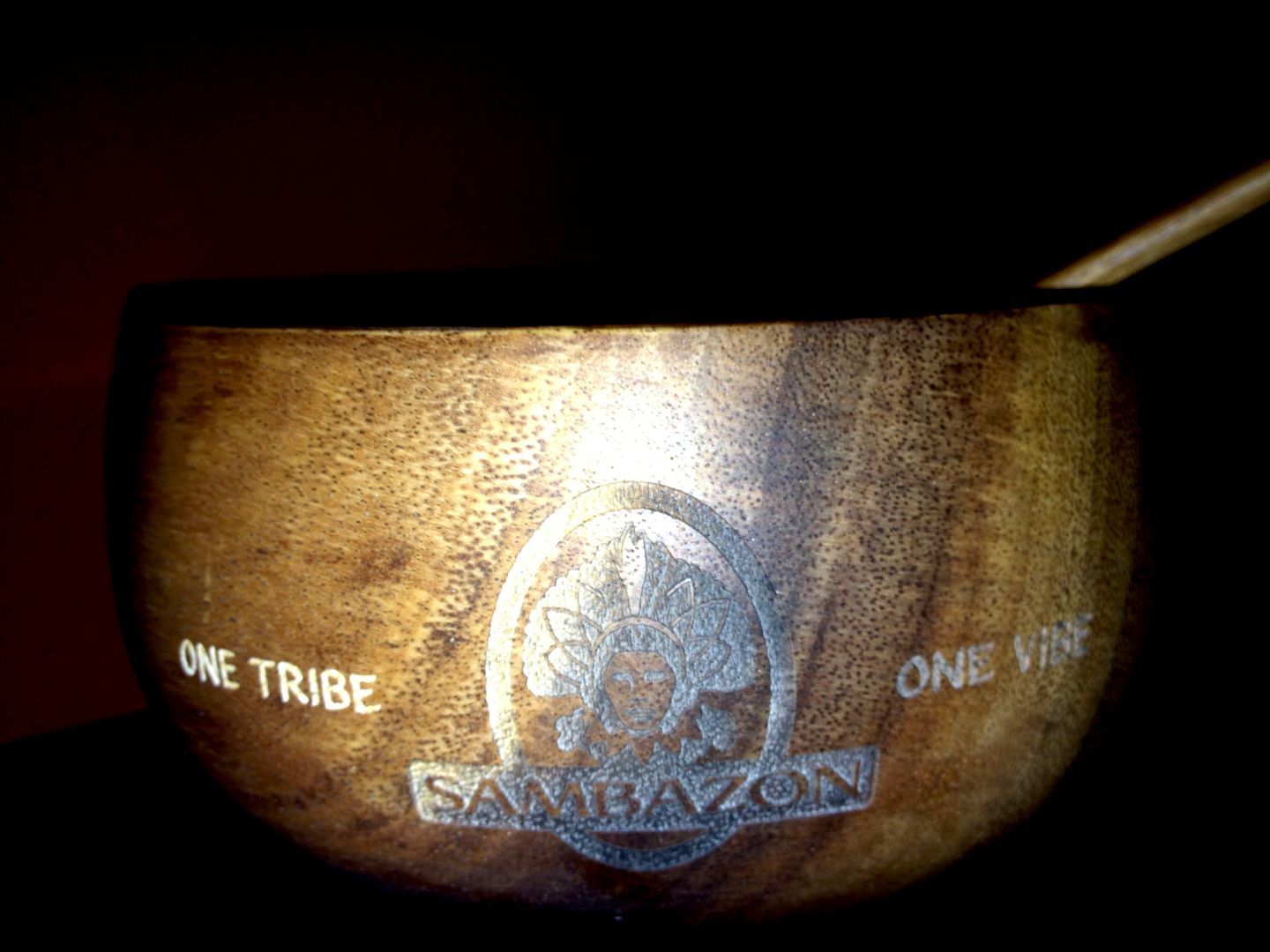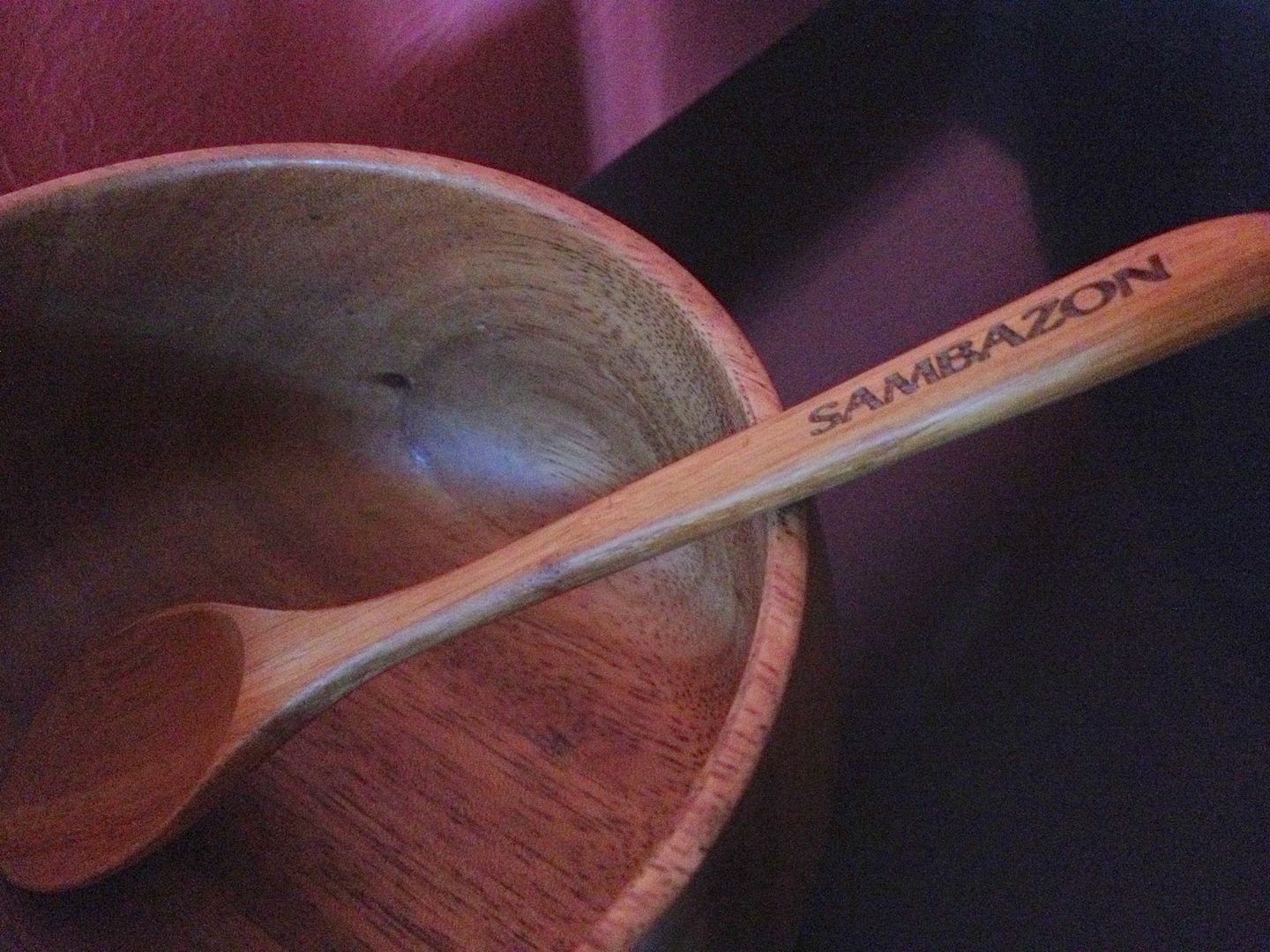 I thought the bowl was a little random seeing they primarily produce smoothies but after reading up on their website, found that they have a couple of Sambazon cafes in the Southern California area. That being said, Sambazon wants to hook up one lucky person with 5 vouchers to try Sambazon smoothies and a wooden bowl and spoonjust like the one I got!
Want to win? Here's how to enter!
1) Follow Sambazon on Twitter and leave a comment letting me know
2) Tweet the following "My body can use some acai berry goodness from @Sambazon on @SnackSnarkBark http://wp.me/p1K1ws-1tE " (or something to that effect) and leave a comment letting me know
3) Follow me on Twitter and leave a comment letting me know (or let me know if you already do!)
3) Leave a comment letting me know why you want to try Sambazon
See, easy as pie! 1 entry per item, giveaway ends at 1/1/13 at 5:00pm MST—good luck!