Can we talk about the game on Sunday night?
I'm talking about Puppybowl VIII of course!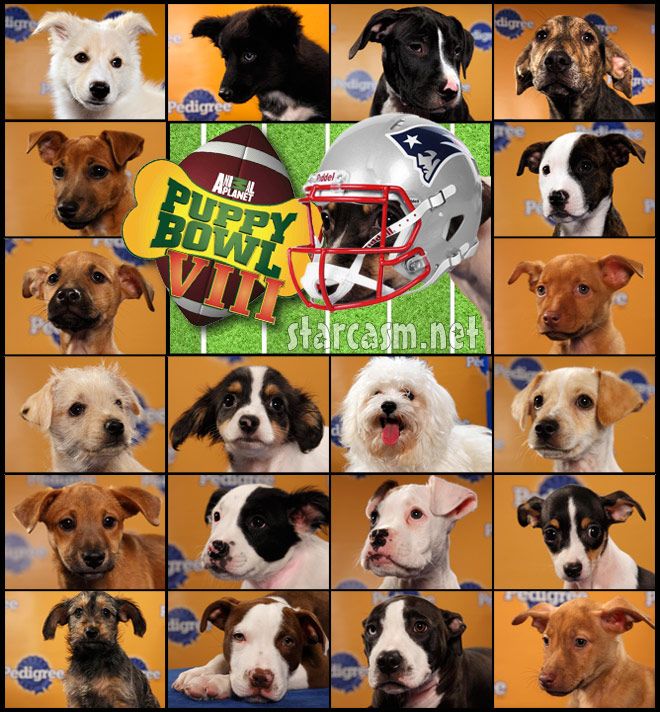 Did anyone else watch this? I look forward to Puppybowl VIII each year but it somehow escaped my mind this year. Now I wonder if extreme dog lovers throw Puppybowl parties with tons of dogs and Puppybowl themed treats? Lynne threw a Superbowl party and we flipped to it a few times and the puppies were absolutely adorable, playing with all of their toys and scoring touchdowns. I love my Lincoln but these dogs were breaking my heart (in a good way of course) and every time they switched the camera to a new one, I would coo and squeal. If you were to place someone in front of a tv with the Puppybowl playing and they didn't smile, I would have to call them a communist. Seeing that the actual Superbowl was a total yawn fest, I would have preferred to watch Puppybowl more than anything but didn't think anyone else would be down for that! Oh well, at least I can still peruse their site and look at their precious lineup.
Truth be told I really didn't care about the Superbowl this year. Giants vs Patriots? Yawn. If there was a wild card or underdog of the two maybe that would have sparked some interest with me so really I was just looking forward to the commercials, food and friends. regardless I do love the Superbowl because it's when I make an oldie but goodie—pizza rolls! I made them last year when I was watching the Superbowl solo in Charlotte (hello, depressing!) and this year was going to be a repeat. I'm always tempted to try a new recipe and a dip of sorts would have been a more traditional route to go. But I would rather stick with a food I know how to make and know that tastes well especially when bringing it to a group of people to judge eat. The best thing about these is that they only have three to four ingredients not to mention they make a great dish to make for parties like the Superbowl because who doesn't love finger foods? I used genoa salami and provolone for the filling although you can tweak it to your liking. I've always wanted to try these with roasted red peppers and mozzarella—one of these days! I also usually add turkey pepperoni to these but turkey pepperoni is expensive here! One of the major drawbacks of living in Denver is that the food is mad expensive….even after my intense coupon clipping. I could get turkey pepperoni for $2.50 back in Charlotte but here it is $3.50 to $4.50.  Pizza dough is expensive as well, in Charlotte I could get it for $.99 but here it ranges from $2.99 to $3.49. My only options at the store were Pillsbury or Il Fornaio so I went with the fresh stuff (plus I've tried recipes from Il Fornaio so I want to support them!)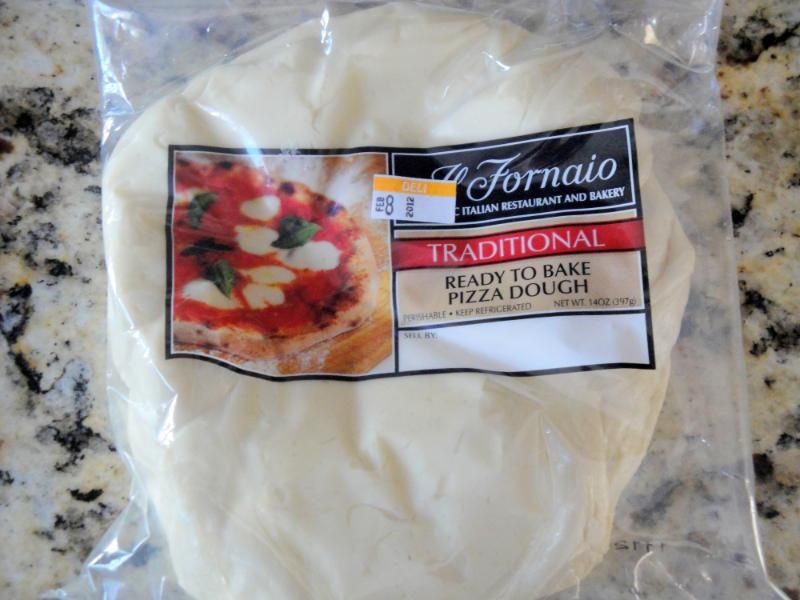 I took the dough and rolled it out as much as I could then cut into little pieces (don't worry, I cleaned the counter top twice before laying the dough right on there. I mean, not washing, doing it, taking pics and putting it on the Internet for all to see? Gross, not my style).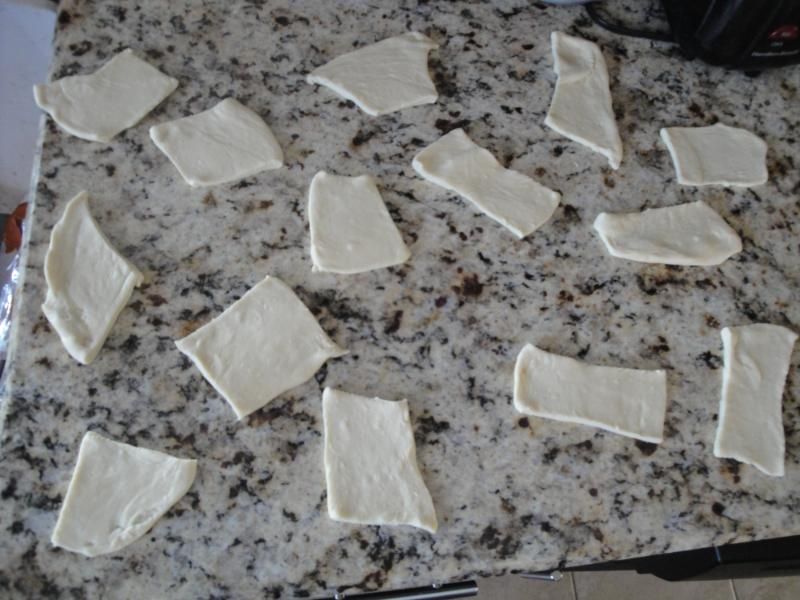 I got about eight slices or salami and cheese and cut them up into strips.
But before I could even get to cutting up the meat and cheese someone was right there waiting for a piece to drop. He's tends to be lazy when I'm in the kitchen and hangs out on the couch but that supe strength snout of his led him to the kitchen right away.
I can't blame the pup though—it's salami and provolone cheese. The good stuff too! Plus he got really spoiled when he was with my parents in Florida. Even though I asked my dad not to give him scraps from the dinner table or human food, he would get a daily dose of Swiss cheese. So when Lincoln came back to me he was soon in for a rude awaking since all he is going to get here is Canine Carry-Outs or Pupperoni. But look at him—I cannot refuse that face! A little piece of each wasn't going to hurt him and even dogs have to splurge on Superbowl day, right?
Plus if I really have to justify it, he's been a good sport lately with all the snow we've been getting.  Normally we will go on a 30 to 45 minute walk daily but that just hasn't been happening. Slowly we are getting back into our routine of going out for longer but there is still a substantial amount of snow on the ground so there is a possibility of him sinking into the snow. And I could keep talking about Lincoln because I've turned into crazy dog lady…..back to the pizza rolls!
Layered each piece of dough with a couple pieces of salami and provolone then rolled from one corner to the other.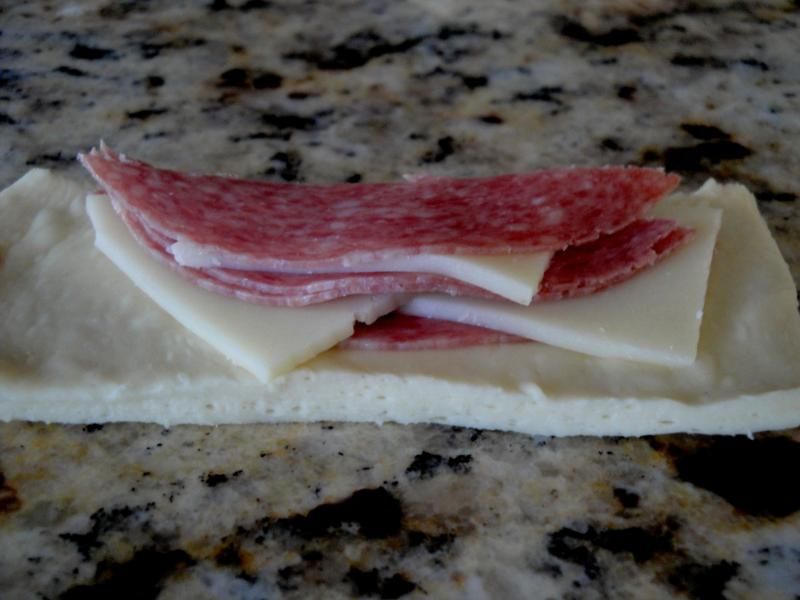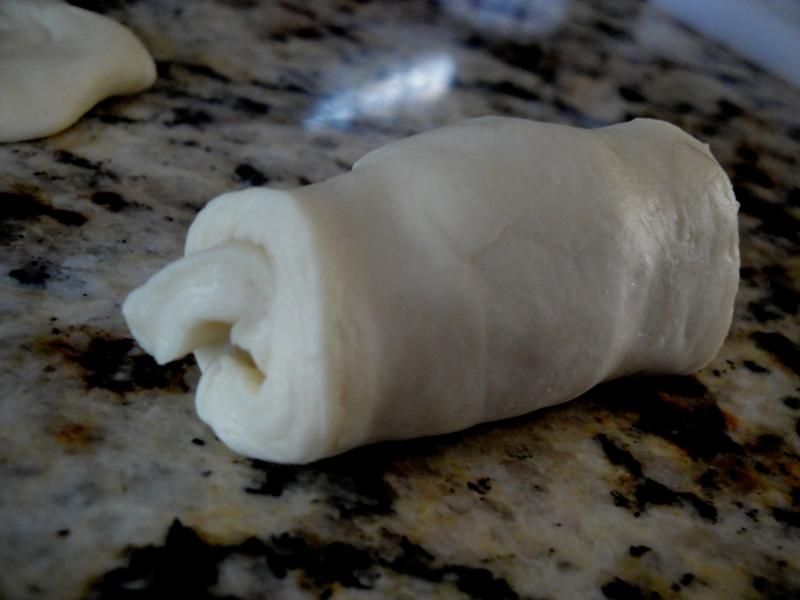 There's nothing wrong with the pizza rolls but personally I like them to have a little more pizazz flavor wise. I took extra virgin olive oil, grated parmesan cheese, garlic and red pepper flakes and brushed on top of the rolls to give it a little zing.
The mixture came out a bit thicker than it has in the past which worked to my advantage since it wasn't sliding off the rolls and all over the baking sheet. I baked at 365 degrees for 15 minutes. This was my first time making pizza rolls in Colorado so I reduced the cooking time by 5 minutes because I didn't want these to burn.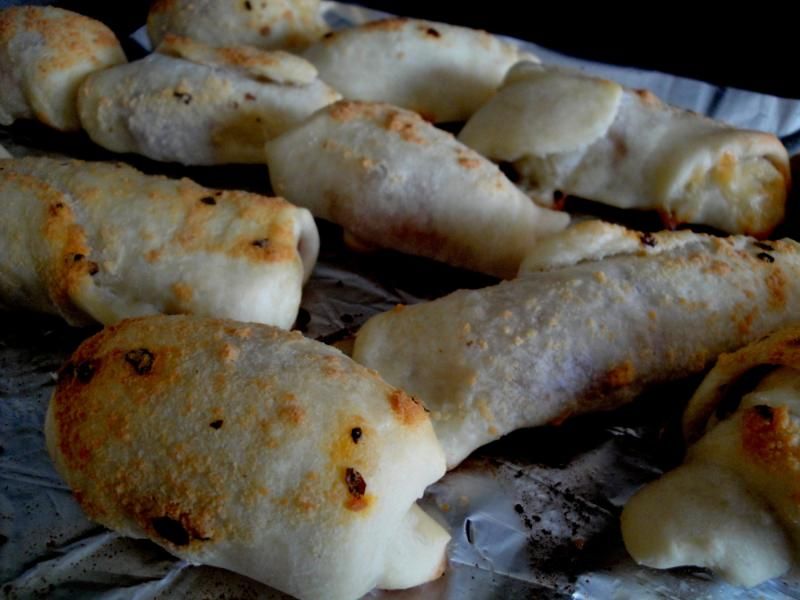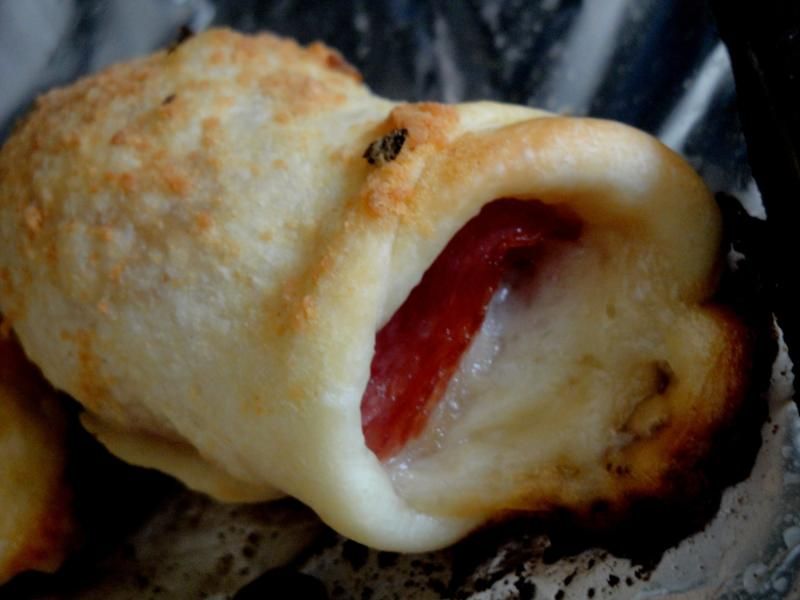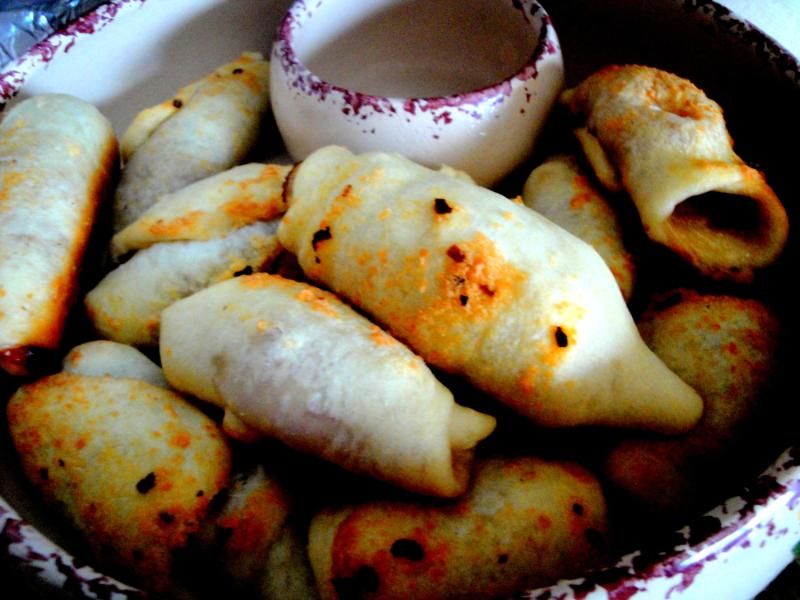 I tested one…..or two and they turned out perfect! I usually serve with a marina dipping sauce but of course forgot that when walking out of the house. I even bought a crafty little platter because of the individual cup for the sauce but yeah…..it went sauce less!
Ok let's talk—did you watch the Superbowl, Puppybowl or any kind of bowl?
What's your favorite Superbowl food to nosh on? Lynn made her Buffalo Chicken Dip and it was absolutely magical. I had about three helpings of it and feared that I was going to end up in the corner with the bowl because it was that spectacular.