After this weekend, I only have one song in my head:
Where'd you go weekend? We were just getting off to a nice start then as soon as I knew it, you were gone.
I packed a lot into this weekend, which of course was supposed to be a weekend of relaxing and lounging. But if you plan for something, the complete opposite happens so I was taken by surprise by this weekend starting on Friday night when I was surprised with dinner and a movie!
I've secretly been wanting to see this movie since I love all things Kevin James and it rocked! I thought I was going to liz (for you non 30 Rock-ers out there, laughing and whizzing) during a few parts. It wasn't as stupid as Adam Sandler movies usually are and it had a positive message to it despite being about mixed martial arts and UFC fighting.
Even though Friday night was fun, Saturday was a much needed me day. I haven't had one in a while which kind of sucks but at the same time, nice since I'm not bored all the time like I used to be. I have been staying at the bf's during the weekend and while he usually works on Saturdays, Lincoln and I just chill there, it's quite nice. I always say I'm going to go home for a few hours and get stuff done and never do mostly because of laziness. But this Saturday, I woke up with him since he had to work early, made breakfast and packed my stuff and Lincoln up right away so I wouldn't be sucked into his apartment all day. Good thing I did because I got so much accomplished! I got home, had my coffee, cleaned the kitchen, did my laundry, listed stuff on ebay and then finally got started with my real errands.
The first thing on my agenda was getting outside since it was a gorgeous day out—sunny and 45 degrees which is near perfect in my book. I went to City Park, walked a couple of miles and took in the sights. Next on the list was getting my butt to the library at Cherry Creek. I used to be vigilant about going there on Saturdays but haven't been there in four or five months. I picked up some reads and cds then started to get my Shopkick on. Shopkick is an app I've been using for the past month and my current obsession! You sign up for an account then check into places like Target, Old Navy, Best Buy, Macy's. etc. for "kicks" (points) which you can collect and redeem for gift cards and such. Not only can you get kicks by checking in but you can also scan select items in stores for extra kicks and link your credit or debit card so you get points for purchases.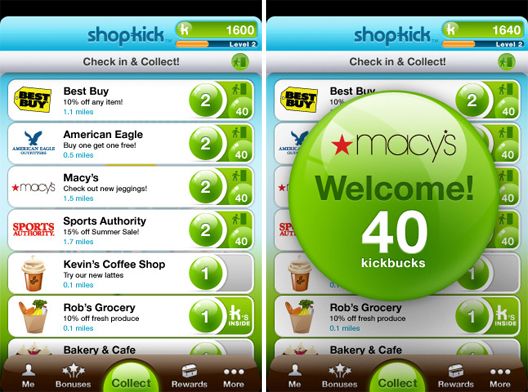 Seeing I go to Target twice a week, I could not not download this app and it's completely free with no catch! My sister turned me onto this app and I got a sweet bonus for signing up so if you are interested please use my referral link and we can both collect kicks!
I made my way all around North Cherry Creek, getting extra walking in and checking into places like Crate and Barrel and West Elm. While making my way around, I saw this glorious sign outside Sur La Table.
Hmmmmmm, free? I had to go inside and investigate what this was all about. I walked in and they offered me a drink, doing so to display their machines. Even though it was a tiny portion, it was enough to get me by and the staff didn't even blink an eye when I spilled it all over a display (you cannot take me anywhere near nice things). Going in there was just a bad idea on my part though, that place is like kitchen porn! So many shiny, new appliances and gadgets to play with, it made me wish I had a sugar daddy or some winning lottery numbers coming my way soon.
After that, DSW was the next item on my list and the one I was looking forward to the least. I despise shoe shopping and even more so when I'm shopping for boots because I can never fit them over my fat calves and even when I do, rarely do they look as good as I envisioned. But I really need to invest in a good pair of boots for the winter instead of the craptastic Xhilaration boots from Target I get each year and getting a $20 off $49 boot purchase was the nudge I needed. I found this pair of boots and it came to $50 total. All I need now is Apple Bottom jeans.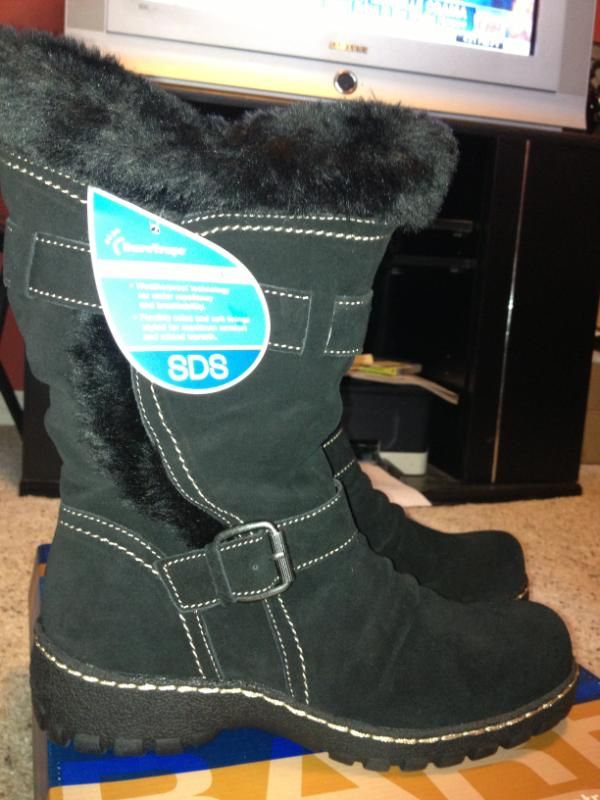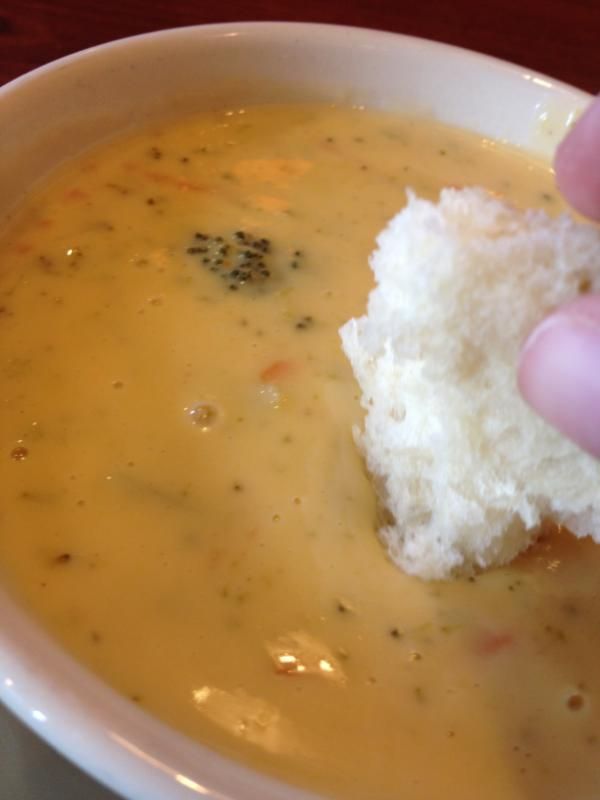 After some grocery shopping and a bowl of comfort that goes by the name of Panera Bread Broccoli and Cheddar soup, I was finally on my way home hoping to relax for the rest of the evening. It must have been the cold weather because I was craving beef stew. Sounds great right? Well, except for the fact that I've never made beef stew before so that was going to be a challenge…..or not because it was one of the easiest things I've ever made. I found this recipe for beef stew on Pinterest and tweaked it a little.
2 lbs Beef Stew Meat (cubed)
3-4 potatoes, diced 2 lbs new potatoes, diced
4 carrots, sliced 1/2 cup baby carrots
2 stalks of celery, sliced
3/4 teaspoon salt
3/4 teaspoon pepper
1/4 cup flour 1/4 cup soy flour (to cut down on carbs)
1 bay leaf 2 bay leaves
1 tsp. paprika
1 tsp. Worchestershire Sauce
1 cup beef broth 2 cups beef broth
1 cup Red Wine (if you don't want to use wine, use another cup of beef broth)
1 white onion, diced
Instead of my crockpot, I made this on the stovetop since I didn't have too much time. I threw the meat into the pot and covered with the soy flour and let cook. After that I threw everything else in and cooked for two hours on low and by the time it was done, a nice aroma had filled the house and the stew was ready! It was different to me because in my book, it was bland. I put garlic or hot sauce on everything so eating something without that seems boring. While it was tasty and savory, it was just odd to me to not sprinkle hot sauce or bbq sauce on it. I resisted temptation and ate it as is and it was perfect for a cold night—the only thing that would have been better was some bread to soak up the meat and potatoes with!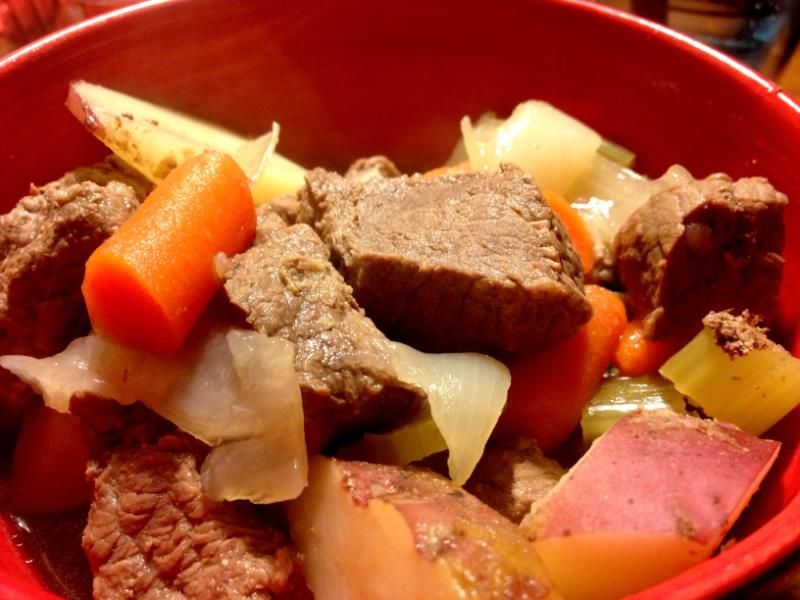 Add some wine into the mix and that was my Saturday evening!
Sunday was much more exciting because I got out of the house and headed down to Colorado Springs with the bf. I keep saying how we should do something during the weekend like go see different sights in Colorado but we never do. I made the executive decision to see Pikes Peak because A) It's been a year since I've been there B) Its gorgeous and would be fun to see before it closes for the winter and C) Bf has never been there so what better time than the present?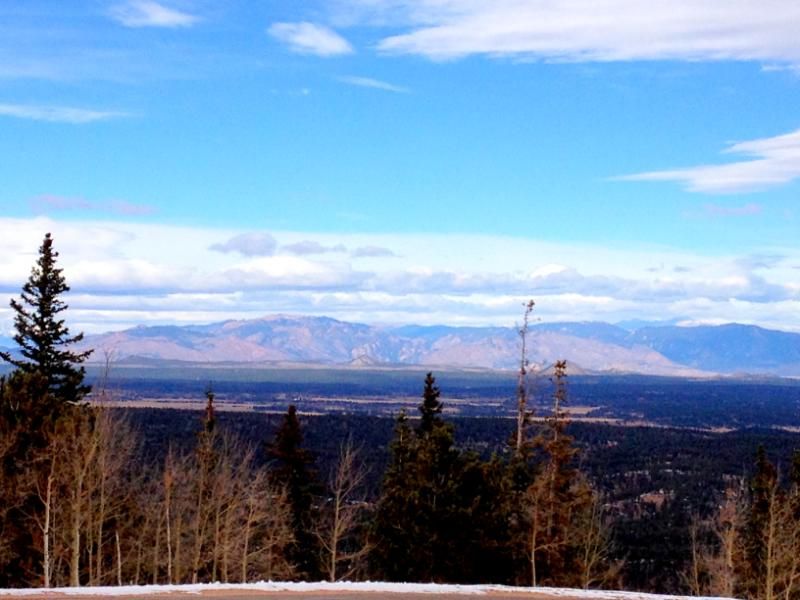 We got there and I drove up half way then made him drive because the roads get scary up top. I'm talking ice, no railings on some parts and sharp turns……. at 6,000+ feet. I can't handle that so I sat in the passenger seat and soon we were 14, 110 feet above sea level. And you know what? 14, 110 above sea level at the end of October is frickin cold—I'm talking four degrees cold!
But the sights we took in from the summit were absolutely beautiful and worth the drive up…..even if we were up there for a total of 30 minutes. The weather + the altitude got to us and we were ready to get down the mountain again. We ended up going to Rudy's BBQ afterwards just like last time I went to Pike's Peak.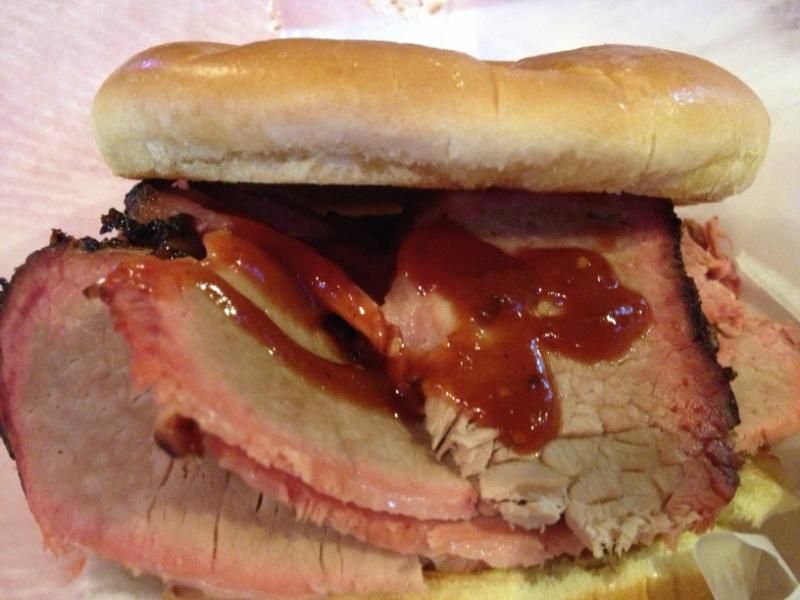 Even though I wanted a weekend of nothing, this was exactly what I needed. I feel like things have been so redundant lately…..go to work, hang out, sleep, repeat that I needed a little change up, even if it did mean my whole weekend went by in a flash. After all of this, all I wanted to do was be like Lincoln…..who somehow tucked himself into bed the other night. The powers of my dog never cease to amaze me!